Disclaimer
This review is written based on a "private purchase" or "product rented for a price".
No remuneration or compensation, such as a manuscript fee, has been received for publishing this, and it is an honest evaluation based on measurement data from personal testing and personal opinion.
Please read the privacy policy of this website.
Recommended for people like this
People who like stage monitor sound
People who are looking for the best earphones for singing or practicing instruments
People who like to watch educational videos on Youtube
Overview of Westone Pro X30
This review will give an overview of Westone Pro X30. A complete review of this product can be found here.
audio-sound Score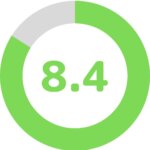 Total Score: 8.4 / 10.0
Package: 8.5 / 10.0
Build quality: 8.5 / 10.0
Fitment: 9.5 / 10.0
High range: 6.5 / 10.0
Mid range: 9.0 / 10.0
Low range: 9.0 / 10.0
Less distortion: 8.0 / 10.0
Want to see the score ranking? Click here!
Basic Specifications
Frequency response: 20Hz to 18kHz
Impedance: 56Ω
Sensitivity: 124dB/mW
Cable connector: T2
package
The Westone ProX package meets the price level.
The accessories include a high quality cable made of aramid fiber that is very thin but free of touch noise, a lightweight and sturdy case that we are familiar with from Westone, and a wide variety of earpieces.
Package contents
There is no shortage of accessories.
Westone Pro X30
Many eartips
Carrying case
Explanatory documents
Build quality
The build quality of the exterior is above the standard of the price range.
Fit
The housing fits relatively well and is comfortable to wear.
Sound quality
REW Frequency Response
Sound quality description
In this review, I use the standard eartips size L and drive it with the FiiO M15.
The Westone Pro X30 is a stage monitor that emphasizes the sound of the midrange. Even on a stage where the audience is buzzing and the lights are dazzling, the artist can still hear the songs and the entire show. As a result, vocals and rhythms are clearly captured, but the sound is inorganic and utilitarian, lacking dynamism and subtlety, making it less suitable for music appreciation.
Please see here for detailed reviews on sound quality.
Sound quality general comment
Original Sound Fidelity: B-
Recommendation: C+
Personal preference: D
The Westone Pro X30 is a very well built performer's monitor. It is optimized to prioritize listening to rhythm, vocals, foreman instructions, and narration, which are essential for stage performances. It is made to be ideal for very limited applications, not suitable for use in music appreciation or DTM, and is too expensive.
They are designed for people who practice their own instruments or songs, want precise rhythm expression for sound games, or need to use earphones for a long time for study, and can be listened to for a long time without getting tired and maintaining a comfortable fit.
If you are looking for earphones that are suitable for DTM or music listening, you don't have to pile up a high amount of money because for $30 you can get the far more optimal and sound quality Tripowin Lea.
Sound quality features
Pros
Mild listening comfort
Rhythms are easy to understand
Vocals are easy to hear
Cons
Lacks dynamism
Lack of exhilaration
Lack of clarity
Lacks depth
Lack of high frequency extension
Not suitable for listening to music in the first place
General comment
The Westone Pro X30 is a very good stage monitor, it lets you hear rhythms accurately, it sounds great even after long hours of listening, and it has a stable fit. However, it is not at all suitable for ordinary people to listen to music. This is because they are not designed for that purpose. The narration is easy to hear and the rhythm is easy to understand, so they are suitable for singing, practicing sound games, and watching lecture videos.
Purchase link