Disclaimer
This review is based on a sample provided by HiFiGO to convey a sincere quality review to our readers.
No remuneration or compensation, such as a manuscript fee, has been received for publishing this, and it is an honest evaluation based on measurement data from personal testing and personal opinion.
Please read the privacy policy of this website.
Recommended for people like this
People who value sound balance
People who value sound image consistency
People who like warm sound
Overview of AFUL Performer 5
This review will give an overview of AFUL Performer 5. A complete review of this product can be found here.
audio-sound Score
Total Score: 8.5 / 10.0
Package: 7.5 / 10.0
Build quality: 8.5 / 10.0
Fitment: 8.5 / 10.0
High range: 9.5 / 10.0
Mid range: 9.5 / 10.0
Low range: 9.5 / 10.0
Less distortion: 6.5 / 10.0
Want to see the score ranking? Click here!
Basic Specifications
Frequency response: 5Hz to 35kHz
Impedance: 35Ω
Sensitivity: 110dB
Cable connector: 0.78mm 2pin
Features of AFUL Performer 5
Five-driver hybrid configuration.
1 Powerful Dynamic Driver for lower-end.
Four High-Performance Customised Balanced Armature Drivers(2 for mids, 2 for highs).
EnvisionTEC High-Precision 3D Printed Acoustic Tube Structure.
High-Damping Air-Pressure Balance System.
RLC Network Frequency Division Correction Technology.
Ergonomic & Lightweight.
Unique designer face covers.
Performer 5 is a brand new five-driver hybrid set of in-ear monitors from AFUL Acoustics. The pair houses a combination of a powerful dynamic driver and four high-performance balanced armature drivers on each side tuned precisely using in-house developed RLC Network Frequency Division Correction Technology. AFUL Acoustics has featured ergonomic and lightweight ear shells with uniquely textured face covers. With several different patented technologies from AFUL Acoustics, the Performer 5 is made to deliver a quality performance for its listeners with impressive sound delivery!!
Specially Developed EnvisionTEC High-Precision 3D Printed Acoustic Tube Structure
Using high-quality 3D printing technology, AFUL Acoustics has designed a precise 3D printed acoustic tube structure for the Performer 5. They have named it EnvisionTEC acoustic tube structure. This features a 60mm ultra-long and ultra-thin bass tube with a 30mm mid-bass duct structure for a powerful, slamming bass response. It helps maintain a proper phase correction between different frequencies.
Unparalleled Sound With Five-Driver Hybrid Configuration
AFUL Acoustics Performer 5 gets a five-driver hybrid configuration for unmatched sound performance. The pair houses a custom dynamic driver with four balanced armature drivers. The dynamic driver here produces a powerful lower end while the Balanced Armatures are arranged for a clean midrange and accurate treble response.
RLC Network Frequency Division Correction Technology
In order to get the best out of the five-driver hybrid configuration, Performer 5 features in-house developed RLC Network Frequency Division Technology. It not only allows the different drivers to have accurate frequency division but also corrects their non-ideal frequency response for certain frequency bands presenting the listeners with a smooth frequency response without any peaks or irregularities.
High-Damping Air-Pressure Balance System
AFUL Acoustics Performer 5 is designed with a high-damping air-pressure balance system. It releases the air pressure inside the ear canal when the pair is worn promising a comfortable listening experience. With this specially designed air-pressure balance system, the bass texture and slam of the Performer 5 are also improved.
Compact & Ergonomic Design
With precise accuracy and ergonomically designed ear shells, the comfort level of the Performer 5 is top-notch. The pair has been designed to deliver a super comfortable listening experience for most users.
package
The packaging of the AFUL Performer 5 is mundane. A mundane carrying case, a color-coded set of three sizes of ear tips, and a mundane manual, all of which are commonplace in this price range.
The quality of the packaging meets the price standard, but it is not the sort of thing that brings a luxurious unboxing experience.
It is a very ordinary experience.
Package contents
AFUL Performer 5
Eartips
Carrying case
Manuals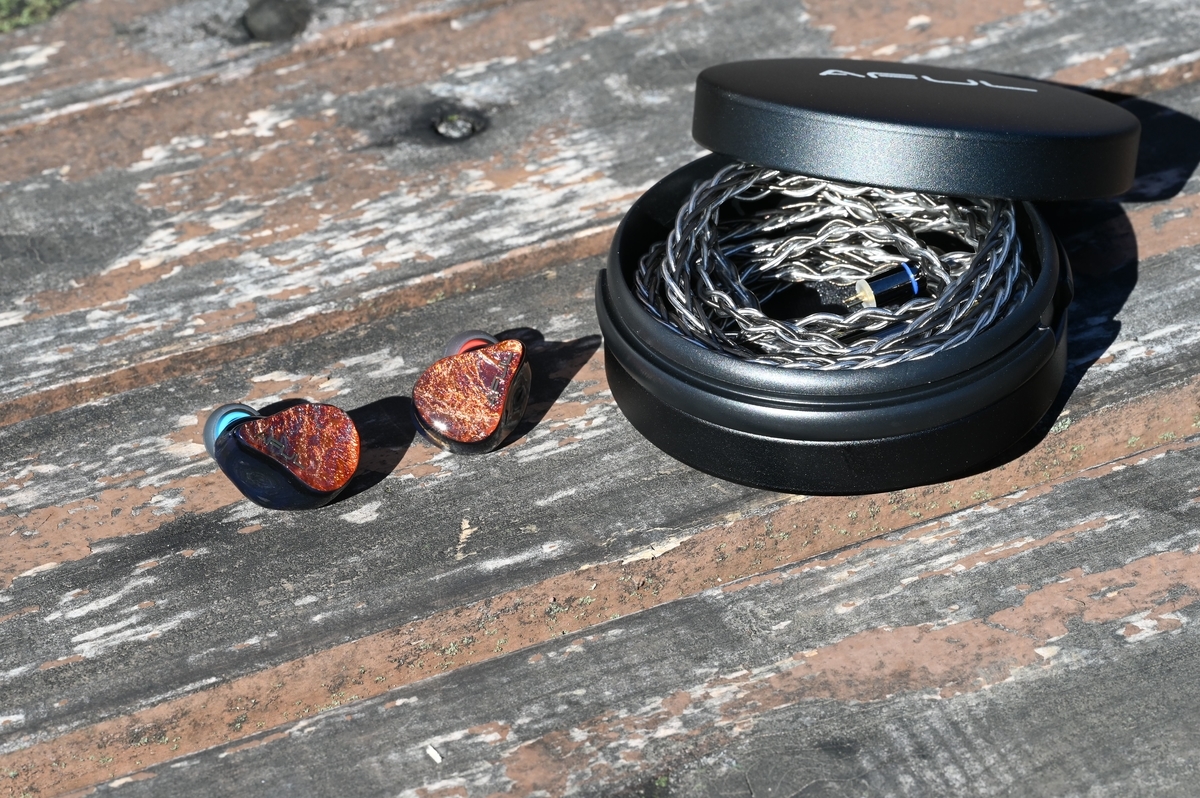 Build quality
Build quality meets price standard.
The faceplate is beautiful.
The black areas of the Performer 5 ear shells tend to be fingerprint magnets and tend to show fingerprints somewhat easily.
Fit
The fit is good.
Sound quality
REW Frequency Response
audio status
Sound quality description
In this review, I use the standard eartips size L and drive it with the FiiO M15.
AFUL Performer 5 has a balanced, near-neutral sound signature.
Please see here for detailed reviews on sound quality.
Lows / Bass
The low frequency range of the AFUL Performer 5 is excellent for this price range, both in terms of extension and perspective. The balance with the midrange is also of a good standard.
Generally, the AFUL Performer 5's low frequencies sound clear and well-lined, as they are sufficiently linear and distortion is very low.
The deepest part, the heavy bass, is a bit lacking in energy, and rumble, for example, may seem a bit weak, and perhaps the weight of the kick may also be a bit lacking for low frequency lovers. Personally, I prefer a heavier kick with more impact. The tightness is also a bit loose and sounds slightly expansive to me.
The electric bass has enough depth and breadth, with a touch of blackness.
The low frequencies are likely to sound slightly more impressive than the mids, depending on the difference between presence and clarity, and they seem to serve well as a starting point for a sense of contrast in the overall music, but the level may be lacking for heavy bass enthusiasts, both in terms of depth and volume.
Mids
AFUL has adjusted the midrange of the Performer 5 well with neutrality in mind, and for many there is little to complain about in terms of sound balance. The balance between the low and high frequencies is also excellent.
However, the midrange tends to have a higher distortion rate than the rest of the range and suffers from a lack of transparency.
Performer 5's midrange is slightly noisy even at the correct volume level, giving the warm impression of lack of clarity, and it is easy to think that the reproduction of three-dimensionality and the delineation of the sound image is not very good.
Vocals and instrumental sounds are likely to sound a bit fluffy with a lot of incidental sounds, and the separation from the background is likely to seem poor. Audiophiles who value the midrange may rate the Performer 5 lower in this respect.
At the same time, the Performer 5 suffers from shortcomings in the upper high frequencies, which are somewhat lacking in energy and tend to be rendered with less subtlety, at least to me.
Highs / Treble
AFUL has done a good job of adjusting the highs on Performer 5 so that they are fairly smooth and naturally attenuated.
While the highs can be expected to be a bit lacking for many, they are not so lacking and are at a level that is not too bad. However, the cymbal crash and hi-hat presence are a bit less sparkly and less distinct in my opinion.
Strings and wind instruments extend with very smooth and natural overtones, and the sound image is very consistent. The connection is very good, not unlike that of a multi-driver hybrid, but the height is lacking.
Sound quality general comment
Original Sound Fidelity: A+
Recommendation: A-
Personal preference: B+
It is immediately apparent that AFUL has put its heart and soul into tuning Performer 5. With smooth, well-connected instruments and vocals with a sense of sound image consistency, and a sound field expression that successfully reproduces a speaker-like sense of forward localization through careful attenuation of the high frequencies, it is almost beyond reproach in terms of sound balance.
However, the lack of clarity in the midrange is a future issue for AFUL. Its sound simply lacks transparency, the reproduction of three-dimensionality is not good, and instruments do not sound fresh and lively.
While it has a pleasant warmth to it, the degree of distortion, unlike, say, the Open Audio Mercury (also 1DD + 4BA), seems a bit outside the comfort zone. Of course, my preference for the Mercury has more to do with bass volume and depth, so it is not my intention to simply place the Mercury above the Performer 5. However, to me, the midrange is much more worth listening to on Mercury.
Sound quality features
Pros
Excellent sound image consistency
Good sound balance
Massive
Comfortable to listen to
Lustrous sound
Excellent fidelity
Warmth
Nostalgic sound
Natural overtone expression
Speaker-like localization
Cons
Lacks in high frequency extension
Lacks transparency in the midrange
Quantity and depth of low frequency range may not be enough to satisfy low frequency lovers or bass heads.
General comment
The AFUL Performer 5 is a multi-driver earphones with a very smooth and well-connected sound image consistency. The clear drawback of high distortion is likely to divide this earphone's reputation, but it is a relatively good choice in its price range.
Purchase link