Disclaimer
This review is written based on a "private purchase" or "product rented for a price".
No remuneration or compensation, such as a manuscript fee, has been received for publishing this, and it is an honest evaluation based on measurement data from personal testing and personal opinion.
Please read the privacy policy of this website.
Recommended for people like this
People who like powerful low frequency
People who prefer a dynamic sound
People who want to listen to sexy electric guitar and female vocals
People who value balance
People who like high resolution sound
Overview of Audiosense AQ0
This review will give an overview of Audiosense AQ0. A complete review of this product can be found here.
audio-sound Score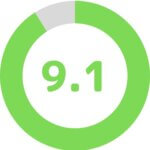 Total Score: 9.1 / 10.0
Package: 8.0 / 10.0
Build quality: 8.5 / 10.0
Fitment: 8.5 / 10.0
High range: 9.0 / 10.0
Mid range: 9.5 / 10.0
Low range: 9.0 / 10.0
Less distortion: 9.0 / 10.0
Want to see the score ranking? Click here!
Basic Specifications
Frequency response: 20Hz to 22kHz
Impedance: 32Ω
Sensitivity: 101dB/mW
Cable connector: mmcx
package
Package meets price standard.
Package contents
The accessories are relatively complete. There are enough eartips.
Audiosense AQ0
Eartips
Carrying case
Manual
Build quality
The overall texture is smooth and well molded. The faceplate is also quite stylish.
Fit
The fit is quite good.
Sound quality
REW Frequency Response
Sound quality description
In this review, I use the standard eartips (balance) size L and drive it with the FiiO M15.
Audiosense AQ0 is a sound signature that lifts the low frequencies while keeping neutrality in mind. Although it is low-frequency oriented, the volume is adjusted with a neutral line in mind and kept at a level that does not interfere too much with the midrange.
Please see here for detailed reviews on sound quality.
Sound quality general comment
Original Sound Fidelity: A
Recommendation: A+
Personal preference: S-
The Audiosense AQ0 has a balanced overall sound, but with a heavy, stable, and comfortable listening experience with a slight lean toward the low end. If I had to choose one of the current AQ series, I would recommend this one, as it offers a more universal and balanced sound than the higher-end AQ4, and it sounds high enough in resolution.
Sound quality features
Pros
High resolution
Sound field with a sense of depth
Perfect texture
Fairly high fidelity to original sound
Heavy low frequency range
Excellent sound image consistency
Forward localized
Cons
Lacks a bit of low-frequency depth
Lacks a little extension in the high frequency range
Midrange that may be slightly too dark
General comment
The Audiosense AQ0 is a very strong choice if you are looking for a well-balanced warm neutral sound for under $100. It offers sufficiently high resolution, low distortion, and a deep soundstage, resulting in an energetic and powerful sound for an enjoyable musical experience.
Purchase link