Disclaimer
This review is written based on a "private purchase" or "product rented for a price".
No remuneration or compensation, such as a manuscript fee, has been received for publishing this, and it is an honest evaluation based on measurement data from personal testing and personal opinion.
Please read the privacy policy of this website.
Recommended for people like this
People who like a punchy sound
People who want to enjoy charming vocals
People who like a mellow sound
People who care about the texture of the sound
People who care about cost performance
Overview of BGVP DM8
This review will give an overview of BGVP DM8. A complete review of this product can be found here.
audio-sound Score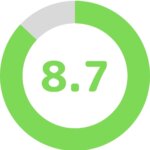 Total Score: 8.7 / 10.0
Package: 8.5 / 10.0
Build quality: 8.0 / 10.0
Fitment: 8.5 / 10.0
High range: 8.5 / 10.0
Mid range: 9.5 / 10.0
Low range: 8.0 / 10.0
Less distortion: 7.5 / 10.0
Want to see the score ranking? Click here!
Basic Specifications
Frequency response: 10Hz to 40kHz
Impedance: 16Ω
Sensitivity: 110dB/mW
Cable connector: mmcx
package
The BGVP DM8 package meets the price standard.
Package contents
There is no shortage of accessories.
BGVP DM8
Many eartips
3.5mm single-ended conversion plug
4.4mm balanced connection conversion plug
Carrying case
Explanatory documents
Build quality
The build quality of the exterior meets the standard of the price range.
Fit
The casing is a little large, but it sits well in the ear and has a good fit.
Sound quality
REW Frequency Response
Sound quality description
In this review, I use the standard eartips size L and drive it with the FiiO M15.
The BGVP DM8 has a near-neutral sound. The center of the midrange is slightly concave and V-shaped, showing an emphasis on depth and three-dimensionality.
Please see here for detailed reviews on sound quality.
Sound quality general comment
Original Sound Fidelity: A
Recommendation: A
Personal preference: A
The BGVP DM8 is the current flagship of the BGVP line, with good balance and high resolution. In terms of simple sound performance, the BGVP DM8 surpasses, for example, the MEZE RAI PENTA in the $1000 range, which is also midrange-oriented, high-resolution, and has a beautiful sound for female vocals, but is more refined overall than the RAI PENTA.
Sound quality features
Pros
Excellent resolution
Fairly accurate texture
Relatively high original sound fidelity
Impressive and appealing vocal expression
Warm
Punchy low frequencies
Glossy and colorful sound
High frequencies tuned for listening comfort
Cons
High distortion rate
Lacks dynamism
High frequency lacking in extension
Lack of depth in low frequencies
Lack of exhilaration
Lack of micro detail
General comment
The BGVP DM8 is a Chinese earphone that can be recommended to those who want to enjoy the midrange harmoniously and mellowly. The resolution is very close to outstanding considering the price, the vocal expression is very beautiful, and classical music can be heard with grace. Although the audio specs have some drawbacks such as high distortion and lack of sound field extension, they are still good enough to compete with higher priced products such as the MEZE RAI PENTA. The packaging is just as luxurious as the high-end products.
Purchase link