Disclaimer
This review is written based on a "private purchase" or "product rented for a price".
No remuneration or compensation, such as a manuscript fee, has been received for publishing this, and it is an honest evaluation based on measurement data from personal testing and personal opinion.
Please read the privacy policy of this website.
Recommended for people like this
People looking for earphones for EDM and digital music
People who like monitor sound
People who like Vocaloid music
People who are looking for a multi-point model
People who value functionality
People who value communication quality
Overview of Bang & Olufsen Beoplay EQ
This review will give an overview of Bang & Olufsen Beoplay EQ. A complete review of this product can be found here.
audio-sound Score
Total Score: 8.4 / 10.0
Package: 8.0 / 10.0
Build quality: 9.0 / 10.0
Fit: 8.0 / 10.0
High range: 9.5 / 10.0
Mid range: 9.0 / 10.0
Low range: 9.0 / 10.0
Less distortion: 8.0 / 10.0
Communication quality: 9.5 / 10.0
Active noise canceling: 6.0 /10.0
Want to see the score ranking? Click here!
Basic Specifications
Continuous / maximum playback time: 7.5h (6.5h with ANC ON) / 20h
Waterproof performance: IP54
Supported codecs: aptX Adaptive / aptX / AAC / SBC
Features of Bang & Olufsen Beoplay EQ
Immerse yourself in pure sound. Noise-canceling earphones with six built-in microphones for clear calls and authentic audio.
Have a quiet moment just for yourself
When life at home is uncomfortable, why not have a moment to yourself? Hybrid ANC function compensates for ambient sound. The earpiece fits snugly in your ear to reduce distracting sounds. Lightweight and compact, the Beoplay EQ in-ear headphones are comfortable to wear even when sleeping with your head resting on a pillow. Immerse yourself in silence whenever you need to. Enjoy your favorite albums without being disturbed.
Sound: Authentic audio
Enjoy Bang & Olufsen's signature sound with noise-canceling earphones tuned by the world's most acclaimed sound engineers. Enjoy rich, authentic sound from the new dynamic drivers. This powerful audio performance is enhanced by passive noise suppression with adjustable ear fit.
ANC: Headphones with Adaptive Noise Cancellation
Adaptive ANC and acoustic technologies ensure complete silence, authentic sound, and clear calls with consistent performance without the hassle of ambient noise. With Beoplay EQ's ability to compensate for a variety of ambient sounds, you can immerse yourself in fully wireless sound wherever you go.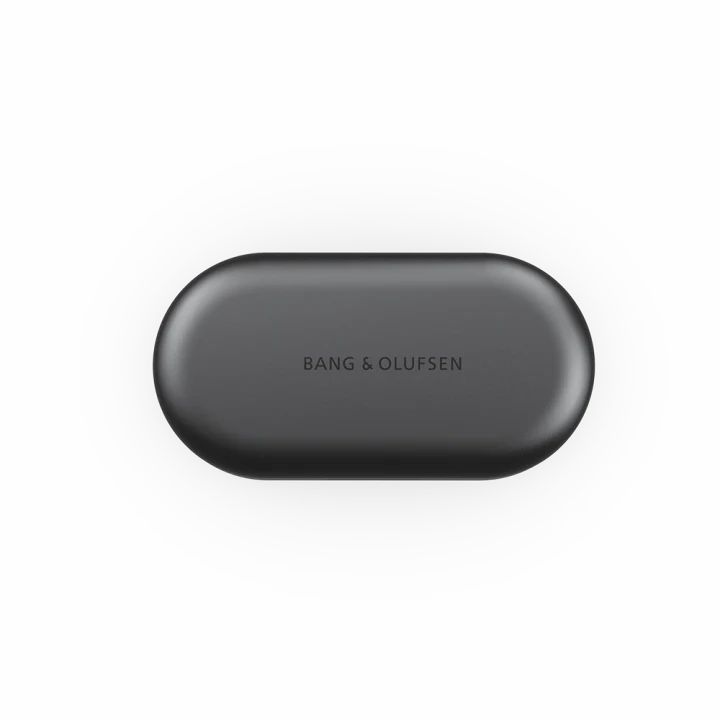 Connectivity: Seamless connection
Designed for a completely wireless listening experience, Beoplay EQ supports a variety of streaming options, including Bluetooth 5.2. Power-saving drive and state-of-the-art technology ensure a stable connection while minimizing battery drain. It can be used for longer periods of time.
Battery: Wireless charging
The high-performance battery provides 6.5 hours of audio playback with ANC function enabled and up to 20 hours without ANC function. It also provides an additional 2 hours of operation after only 20 minutes of charging.
Materials: High-quality materials
Durable, high-quality materials are used, including anodized aluminum and a sweat-resistant textured casing. The compact aluminum charging case is rubberized for ease of use with wireless charging.
Design: Elegant and ergonomic
The ergonomic form of the Beoplay EQ ensures a comfortable fit. Interchangeable ear tips come in a variety of sizes and can be adjusted to fit securely in the ear. An aluminum touch interface provides easy access to the various functions.
package
The package meets the price level.
Package contents
There is no shortage of accessories. The package contains the following:
Bang & Olufsen Beoplay EQ
Charging case
Eartips
USB Type-C cable
Manual
Build quality
Build quality meets price standard. Overall, there is a sense of luxury.
Fit
The fit is good.
Connection quality
I tested it by connecting it to a Cayin N6II/E02 with aptX.
I don't know because I haven't been in crowds, but it is stable in the home. Distance tolerance is excellent, and the connection is seamless and intact even at a distance of about 5 meters. Communication is never interrupted, even across obstructions, and music can be heard consistently.
There may be a small amount of background noise, but most people probably won't notice it.
Interface/operation
The operating interface is a touch type.
| | |
| --- | --- |
| Power ON | Open the lid of the charging case and take out the earphones |
| Power OFF | Place the earphones in the charging case |
| Pairing | Put the earphones in the charging case and press and hold the multi-function button on both earphones for 6 to 8 seconds |
| Play a song | Tap the right multifunction button twice |
| Stop playback | Tap the right multifunction button twice |
| Volume + | Tap and hold the right multifunction button twice |
| Volume - | Tap and hold the left multifunction button twice |
| Answer call | Tap the right multifunction button twice |
| End call | End call |
| Activate voice assistant | Press and hold right multifunction button for 2 seconds |
| Switch between ANC and Hear-Through | Tap the left multifunction button twice |
Active noise canceling performance
The ANC performance of the Bang & Olufsen Beoplay EQ is mediocre for its price range.
Compatible Apps
The B&O app is supported.
What the app allows you to do:
Customize Sound Quality
Firmware updates
Unpairing
Factory Reset
Verify device information
Sound quality
audio status
Sound quality description
The following review was tested on a FiiO M15 with an  connection.
Bang & Olufsen Beoplay EQ has a U-shaped sound signature with neutrality in mind.
Please see here for detailed reviews on sound quality.
Lows / Bass
The low frequencies of the Bang&Olufsen Beoplay EQ extend relatively deep. In the lower frequencies, the separation between drums and bass is somewhat emphasized, and the overall impression is of a slimmer, less fat sound. The sense of perspective is excellent there.
Drums are tight and rhythms are easy to understand, but the body sounds too slim and may feel slightly lacking in power.
The electric bass is also not bad on blacks, but the spaciousness is not great and seems a bit bright.
Bang & Olufsen's low frequencies sound a bit artificial to me, and while I feel like I can hear the speed in EDM and rock, they tend to sound a bit lacking in richness of power. If you like monitor-like low frequencies, it's not bad, but you will easily get a DTM seasoned feel.
Mids
Bang & Olufsen is known for creating sounds that emphasize detail over texture, which tends to make them sound digital and monitor-like.
The midrange of the EQ is no exception, with high brightness and a strong sense of harshness, and the sense of detail is emphasized, making the overall sound a bit dry.
While the impression is a bit delicate and detailed in expression, the overall sound tends to be dry and crumbly, and vocals tend to sound husky.
Instrumental sounds are also highly detailed thanks to the emphasis on detail, but the texture is quite unnatural, and when listening to a full orchestra, the thinness of the midrange is quite apparent.
The overall structure is backward leaning, with a slight emphasis on staging to create a sense of depth.
Highs / Treble
The Bang&Olufsen Beoplay EQ's high frequencies are tuned to emphasize a sense of detail, and the level of extension is not bad.

Brightness is high enough, and the sound image does not feel buried. There is a tendency to sound a little too harsh and raspy. Sibilance is also slightly over-adjusted, but at the correct volume level, it is rarely unpleasant.
Sound quality general comment
Original sound fidelity: A
Recommendation: A
Personal preference: A-
Looking at the frequency response of the Bang&Olufsen Beoplay EQ is almost like looking at a collection of DTM techniques.
As you would expect from a Scandinavian brand that is at the forefront of digital audio, there are digital audio sound creation gimmicks embedded throughout the product that emphasize the presence of each individual instrument by flavoring it well and making it sound separate from the rest while building up the whole. This makes EDM and recent pop music with digital sound design quite enjoyable. On the other hand, when I listen to analog sound sources, they tend to sound artificial and fake, and I feel that they are quite peculiar.
Either way, B&O's sound creation is quite addictive for those who are into it, and since I am also a DTM fan, I rather like its sound.
Sound quality features
Pros
High definition
High resolution in the midrange
Digital-like
Monitor-like
Good range
Good overall sound balance
Good fidelity of original sound
Excellent separation
Cons
Easily sounds artificial
Lacks sound image consistency
Low overall resolution
Unnatural texture
General comment
Bang & Olufsen Beoplay EQ is true wireless earbuds that delivers a well-balanced sound with good overall separation and definition. Its sound tends to sound digital, but it also has a high resolution in the midrange, making it a fairly enjoyable experience for those who prefer EDM, pop, and other electronic musical sounds.
Purchase Link
Bang & Olufsen Beoplay EQ