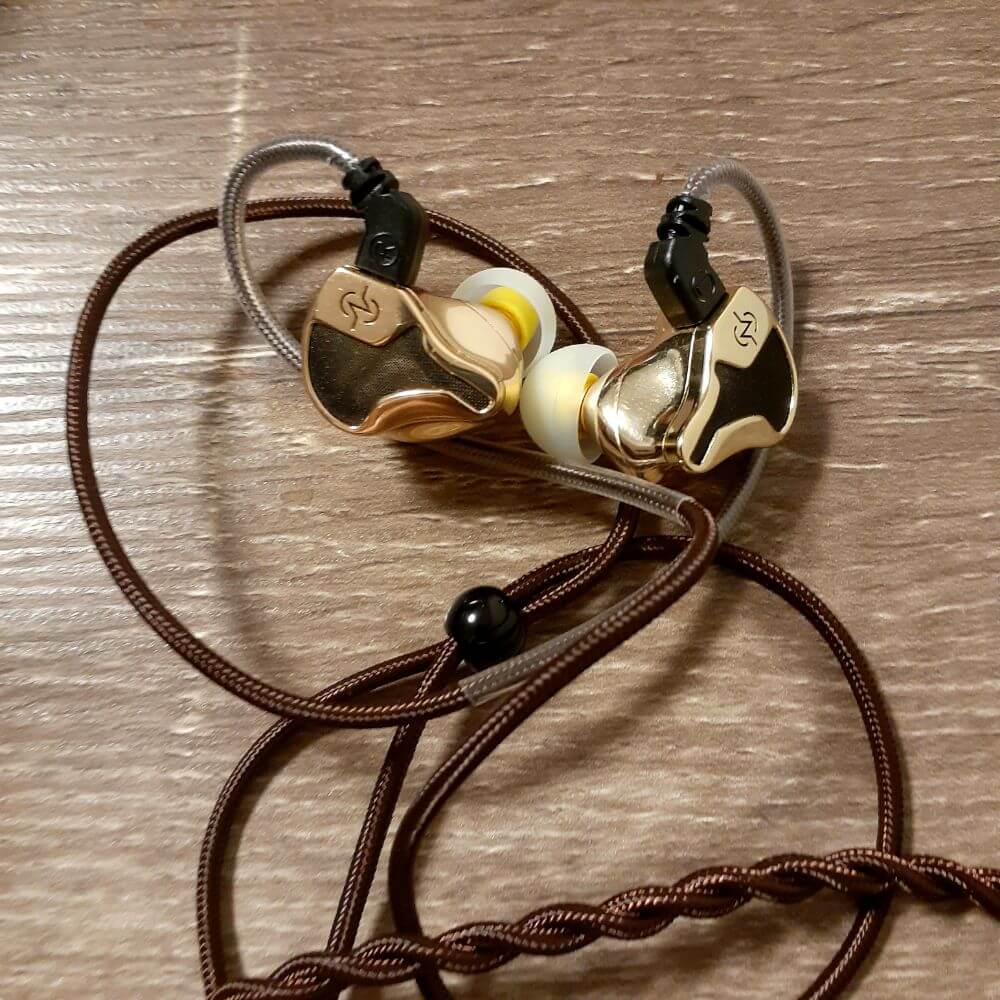 Disclaimer
This review is based on a sample provided by Easy Earphones to convey a sincere quality review to our readers.
No remuneration or compensation, such as a manuscript fee, has been received for publishing this, and it is an honest evaluation based on measurement data from personal testing and personal opinion.
Please read the privacy policy of this website.
Recommended for people like this
People who like the sound of fullness
People who think that gold is the right color for themseives
People who value the thickness of the low midrange
People who value cost performance
Overview of CCZ Plume
This review will give an overview of CCZ Plume. A complete review of this product can be found here.
audio-sound Score

Total Score: 8.9 / 10.0
Package: 9.0 / 10.0
Build quality: 8.5 / 10.0
Fitment: 9.0 / 10.0
High range: 8.5 / 10.0
Mid range: 9.0 / 10.0
Low range: 8.5 / 10.0
Less distortion: 8.5 / 10.0
Cost performance bonus: 10.5 / 10.0
Want to see the score ranking? Click here!
Basic Specifications
Frequency response: 20Hz to 20kHz
Impedance: 16Ω
Sensitivity: 110dB/mW
Cable connector: 2pin 0.78mm
Powerful Dual-Magnetic Dynamic Driver
CCZ Plume features a powerful 10mm dynamic driver with double magnetic flux. It has high sensitivity with powerful magnetic flux producing rich transients and texture in the lower end. This dynamic driver provides a flexible low-frequency with powerful, deep bass response.
Custom-Tuned Balanced Armature Drivers
CCZ has equipped the Plume with four custom-tuned balanced armature drivers for a smooth, highly detailed mid and high-frequency response. The pair features an exclusive CCZ-IF-A composite dual balanced armature unit for mid-frequencies and two independent custom-tuned CCZ-HI-A balanced armature drivers for high-frequencies.
Natural & Transparent Sound Tuning
The five-driver hybrid setup is tuned by professional acoustic engineers to provide a natural and transparent sound output. The pair has mellow, sweet vocals, flexible, well-textured bass response, excellent instrument separation, and natural tonality. It is tuned to suit multiple genres such as Bass, Vocals, Pop, Folk, and more.
Exclusive Full-Metallic Earpieces
CCZ Plume earpieces are made with high-precision 5-axis CNC machining processes that include carving, hand-grinding, polishing, and more. They have a shiny, jewelry-like finish made with high-quality aluminum alloy material. They have an ergonomic design crafted after a deep study on ear-canal data achieving a comfortable and perfect fit for most users.
6N High-Purity Copper Cable
CCZ bundles the Plume with a high-purity 6N copper cable with balanced 2.5mm termination. This cable greatly improves Plume's transparency, separation, soundstage, producing a clearer and smooth sound. The package also includes 2.5mm-3.5mm and 2.5mm-4.4mm connectors.
package
The package is relatively luxurious.
Package contents
Accessories are plentiful. This is especially attractive if you value balanced connections. The package contains the following:
CCZ Plume
5 pairs of silicone ear tips
Cleaning tool
2.5mm to 3.5mm conversion plug
2.5mm to 4.4mm conversion plug
Carrying pouch
User Manual
Build quality
The build quality meets the standard of the price. The design is like the Hyakushiki or Akatsuki in Gundam.
Fit
The fit to the ear is relatively good.
Sound quality
REW Frequency Response
Sound quality description
I will be reviewing the stock eartips, using the L size.
The CCZ Plume is tuned for a neutral sound with an emphasis on overall balance, which provides a rather good quality sound for most people. Although it lacks some expandability, the sound is comfortable to listen to and produces a relatively natural sense of detail.
Please see here for detailed reviews on sound quality.
Sound quality general comment
Original Sound Fidelity: A+
Recommendation: B+
Personal preference: B+
With the name "Plume" and its beautiful golden appearance, I was expecting a light, delicate and elegant sound, like a bird of paradise or a peacock. However, the actual sound of the Plume is much more subdued.

Overall, the Plume is undoubtedly one of the better models in its price range, but its dark and gloomy sounding ambience and tendency to sacrifice details in songs could easily be its week points. It also lacks depth in the low frequency range, so you'll find yourself leaning towards the low end, which is not as tight as it could be. It does offer decent imaging over more expensive earphones, such as the SHURE AONIC 4, but it's only "decent" at best, not excellent or outstanding.
Either way, I prefer the more perfect neutral sound of the much cheaper SoundPEATS Gamer No.1. Furthermore, with so many cheaper models with far superior stereo imaging, choosing the Plume is completely a matter of preference.
In the end, if the Plume's fetish for the lower midrange appeals to you enough, it will stand up as an ideal earphone well enough.
Sound quality features
Pros
Close to neutral
Proper focus on midrange
Calm and elegant
Fullness of sound
Comfortable and stable to listen to
Cons
Dark midrange
Lack of micro detail
Lack of depth
Lack in expandability
General comment
It is true that the CCZ Plume is tuned to be relatively Japanese friendly, so many songs may sound pleasant on first impression. However, the overall sound field lacks extension, and as you get used to listening to it, you will begin to notice that the presence of the low-mid range interferes with the mid-range in some songs, and the lack of brightness and extension in the high range makes the entire music sound hazy. Nevertheless, it is not a bad choice for those who want to enjoy music in a quiet and dark atmosphere. Piano JAZZ is a good choice.
Purchase link