Disclaimer
This review is written based on a "private purchase" or "product rented for a price".
No remuneration or compensation, such as a manuscript fee, has been received for publishing this, and it is an honest evaluation based on measurement data from personal testing and personal opinion.
Please read the privacy policy of this website.
Recommended for people like this
People looking for earphones with a unique sound
People who value design
People who value functionality
People who value communication quality
Overview of SOUNDPEATS Life
This review will give an overview of SOUNDPEATS Life. A complete review of this product can be found here.
audio-sound Score
Total Score: 8.1 / 10.0
Package: 8.0 / 10.0
Build quality: 9.0 / 10.0
Fit: 8.5 / 10.0
High range: 7.5 / 10.0
Mid range: 7.0 / 10.0
Low range: 8.5 / 10.0
Less distortion: 9.0 / 10.0
Communication quality: 8.5 / 10.0
Active noise canceling: 7.0 /10.0
Want to see the score ranking? Click here!
Basic Specifications
Continuous / maximum playback time: 5h / 25h
Waterproof performance: IPX4
Supported codecs: AAC / SBC
Features of SOUNDPEATS Life
ACTIVE NOISE CANCELLING & COMFORTABLE EXPERIENCE - Equipped with advanced noise canceling technology, the SoundPEATS Life wireless earbuds effectively eliminate external noise up to 25dB. You can jam to your music at any time, in the subway, on the street, or at any public place in the crowded. The ergonomic design brings a tight seal with your ear canal to create a cozy feeling with listening and wearing.
AI ENC TECH & TRANSPARENCY MODE - Adopt the latest AI Environmental Noise Cancellation (ENC) technology and dual microphone to pick up your voice clearly, and dramatically reduce ambient noise and echo in the calls. So you can have smooth and clear calls even in a noisy environment. The passthrough mode lets you hear the surroundings easily and will not miss any surprises, and stay alert on the street without taking off the earbuds.
EFFORTLESS CONNECTION & CONTINUOUS JOY - Powered by superior Bluetooth 5.2 technology, the SoundPEATS Life is widely compatible with most current Bluetooth-enabled devices regardless of the system. It provides you true wireless enjoyment with instant pairing, easy switch, seamless connection, and stable transmission. 5 hours of listening time (with ANC off) per charge and another 5 recharges by the charging case keep your music going all the time.
IMMERSIVE SOUND & GAME MODE - The built-in 12mm big driver delivers high-quality stereo sound in an exceptional wide stage to restore rich details of the sound with mellow bass and melodious treble to let every note be heard. 60ms low latency in game mode keeps audio and video in sync to let every sound of footsteps and gunfire be captured immediately, and react ahead of the opponent. Triple tap on the left earbud to enter/exit the game mode.
ORIGINAL DESIGN & CUSTOMIZABLE SETTING - Laser-engraving texture and metal sequin find an ingenious balance between understated and stylish. The matte casing and smooth curves deliver a cozy feeling with soft tactile. The sensitive touch control with the classic logo puts everything at your fingertips for easy control. In addition, the SoundPEATS App allows you to personalize your settings and control the earbuds at will.
package
The package meets the price level.
Package contents
SOUNDPEATS Life
Charging case
Eartips
USB Type-C cable
Manual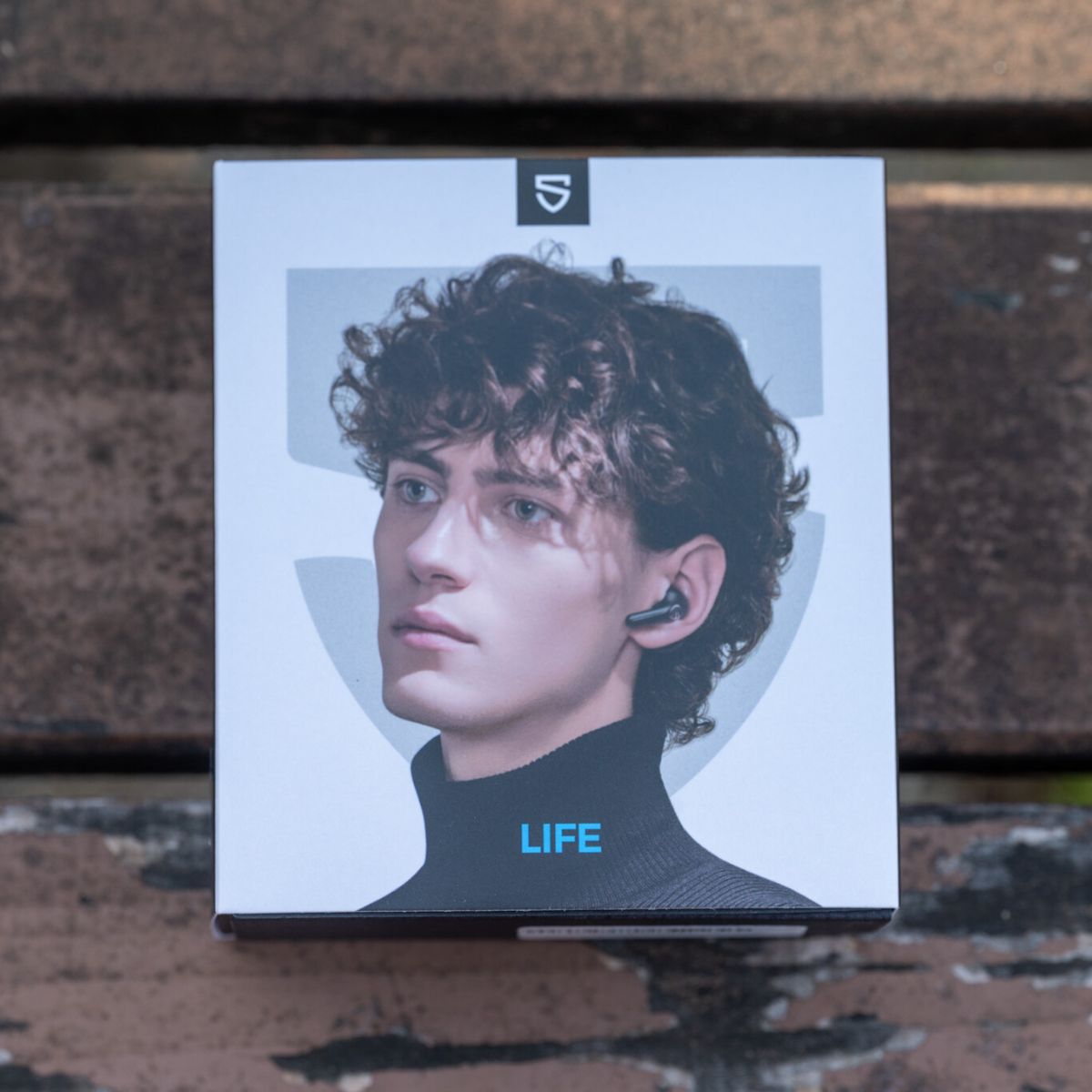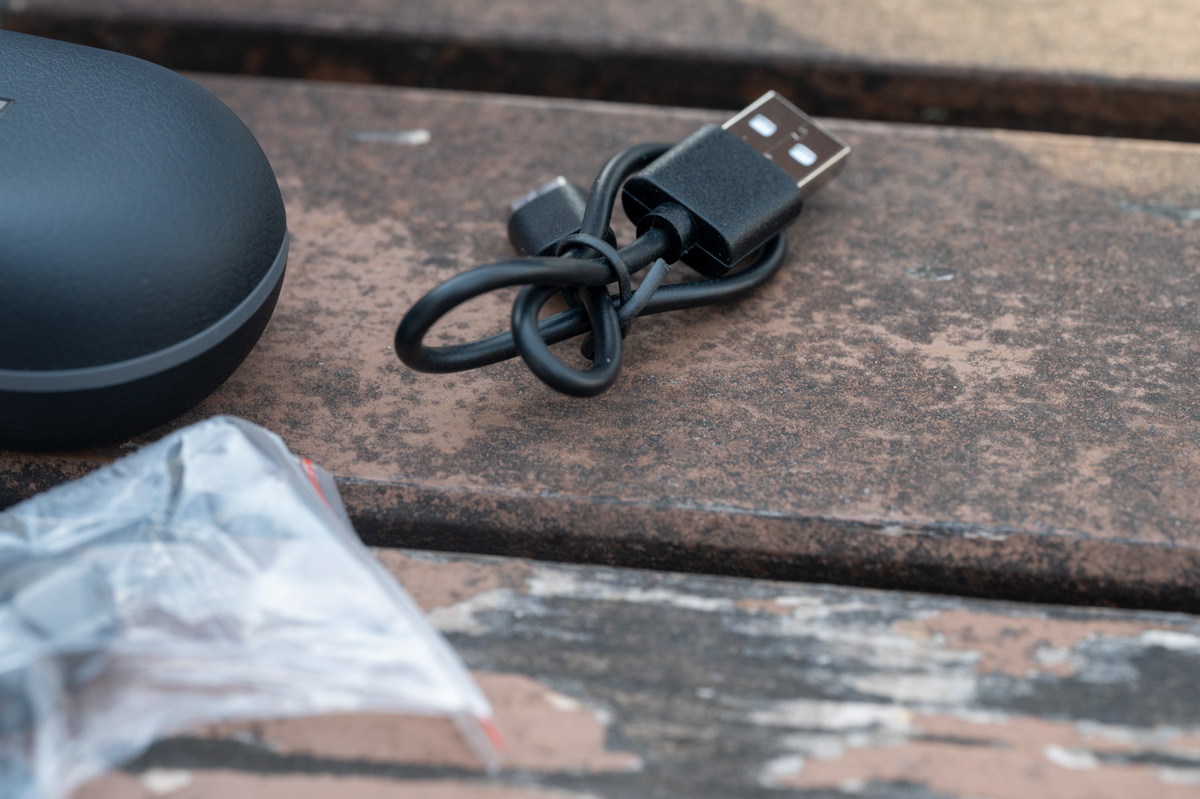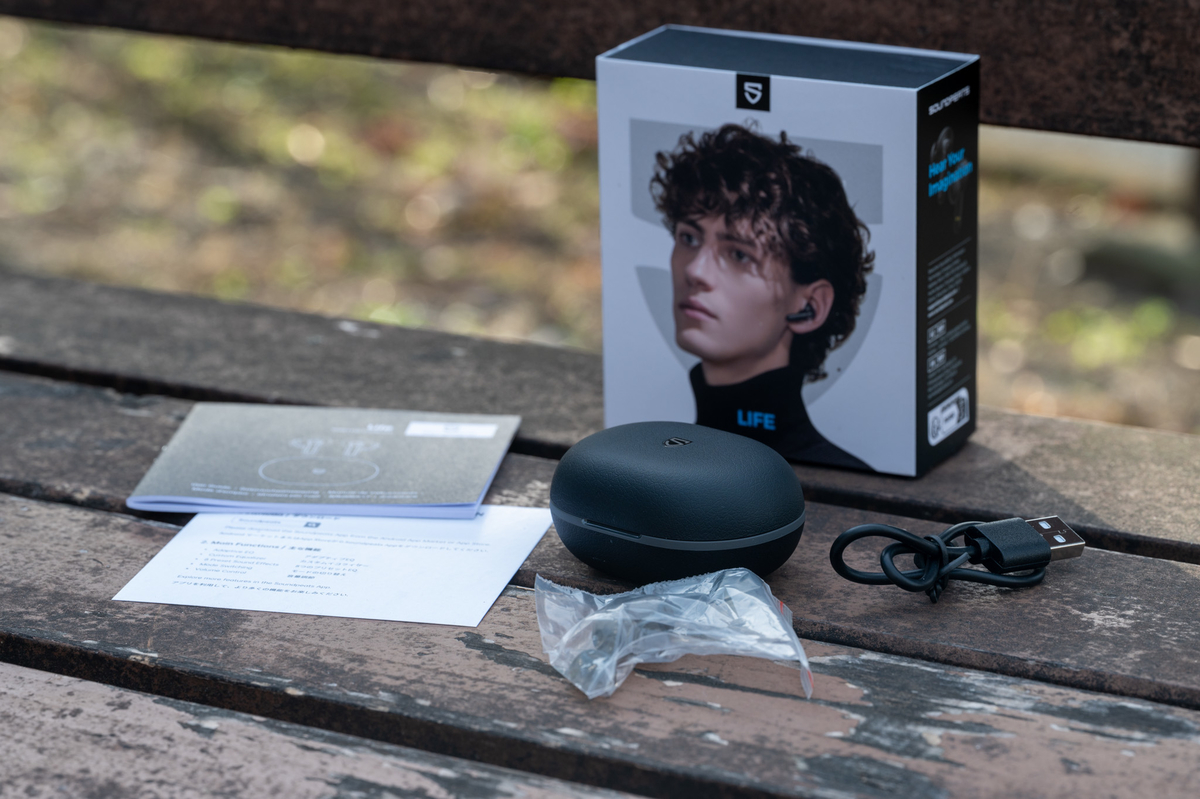 Build quality
Build quality meets price standard.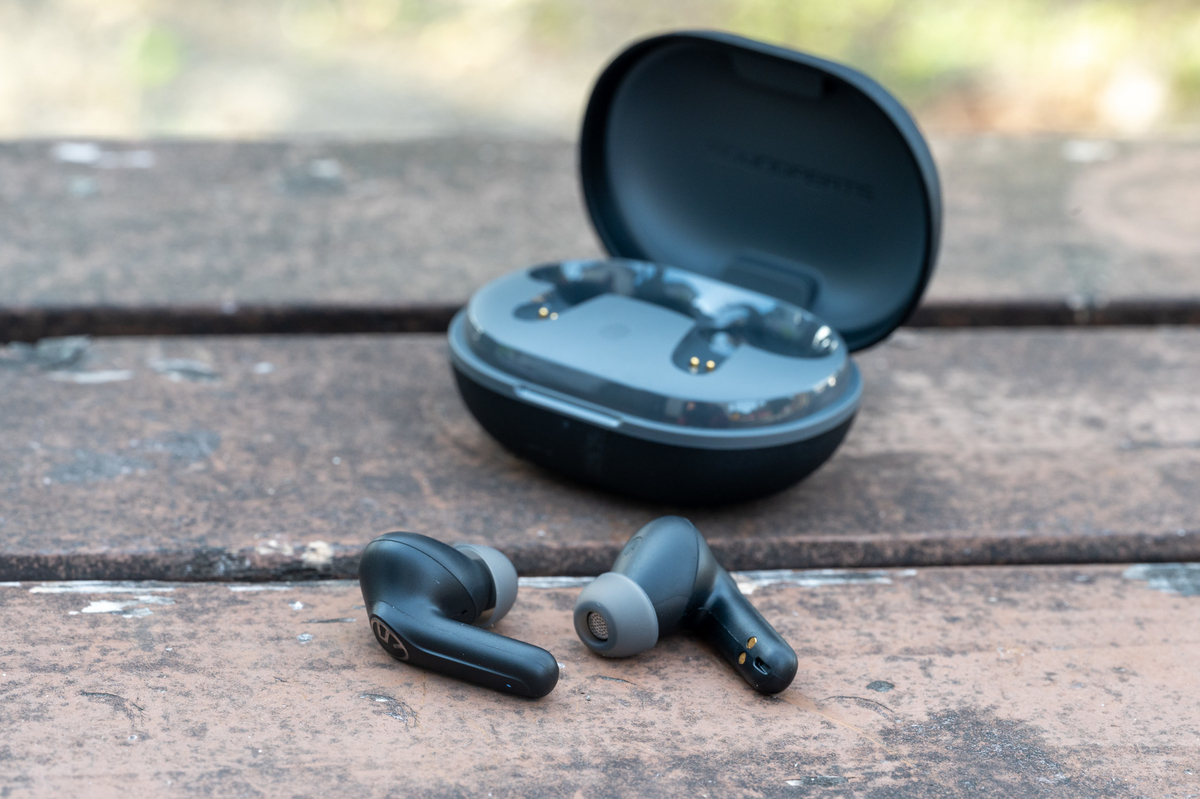 Fit
The fit is good.
Connection quality
I tested it by connecting it to a Cayin N6II/E02 with LDAC.
I don't know because I haven't been in crowds, but it is stable in the home. Distance tolerance is excellent, and the connection is seamless and intact even at a distance of about 5 meters. The connection is almost always good across the obstruction, but is prone to slight interruptions.
There may be a small amount of background noise, but most people probably won't notice it.
Interface/operation
The operating interface is a touch type.
| | |
| --- | --- |
| Power ON | Open the charging case lid |
| Power OFF | Store the earphones in the charging case and close the lid |
| Pairing | Automatic pairing mode if no connection is available when power is turned on |
| Song playback | Tap the multi-function button twice |
| Stop playback | Tap the multifunction button twice |
| Forward song | Press and hold the right multifunction button for 1.5 seconds |
| Volume + | Tap the right multifunction button once |
| Volume - | Tap the left multifunction button once |
| Answer call | Tap the multi-function button twice |
| End call | Tap the multi-function button twice |
| Activate voice assistant | Tap the right multifunction button three times |
| Switch game mode | Tap the left multifunction button three times |
| Switch between ANC and Hear-Through | Press and hold the left multifunction button for 1.5 seconds |
Active noise canceling performance
SoundPEATS Life's ANC performance is standard for its price range. Overall, it reduces outside noise. The bandwidth that is effectively reduced seems to be in the mid to high frequencies, making the effect a bit hard to detect.
Compatible Apps
The SoundPEATS app is supported.
What the app allows you to do:
Customize sound quality
Firmware updates
Factory reset
Check device information
Sound quality
REW Frequency Response
audio status
Sound quality description
The following review was tested on a FiiO M15 with an LDAC connection.
SoundPEATS Life has a unique U-shaped sound signature.
Please see here for detailed reviews on sound quality.
Lows / Bass
The low frequency range of the SoundPEATS Life has a very weighted sound balance. Depth is felt rather well, but it does not extend really deep.
The bass drum kick has plenty of weight and impact, and is not too tight. The rumble is lacking and lacks a bit of rawness.
The electric bass is also sufficiently black and rather expansive, but the sink is a bit lacking.
The bass is at a level that will satisfy low-frequency enthusiasts quite well, but not enough to satisfy heavy bass enthusiasts.
Mids
The midrange of the SoundPEATS Life is not linear and is somewhat challenging. The midrange is positioned a bit darker, emphasizing a sense of depth.
While this may have been adjusted to separate them from the overly strong low frequencies, the sound image is generally blurred and uncoordinated, as if heard through frosted glass.
Since the sound image sounds as if it has been stirred up, each sound image has a better spread, and some people may feel a sense of immersion as if they are enveloped by the sound. However, the separation of individual sound images is difficult to discern, and localization, texture, and transparency are adversely affected.
SoundPEATS has released a number of models that suffer from midrange linearity problems, and the Life is particularly noteworthy.
Audiophiles who are particular about the midrange will probably give it a bad rap.
Highs / Treble
High frequencies are emphasized in balance with low frequencies. High-range extension is a bit lacking.
The sense of detail is relatively high, so even though the low frequencies are strong, they do not feel so buried. The highs have a metallic sound with a strong atmosphere that is quite crunchy and gingery if you listen carefully, but due to the strong low frequencies and the overall lack of linearity, it is difficult to understand.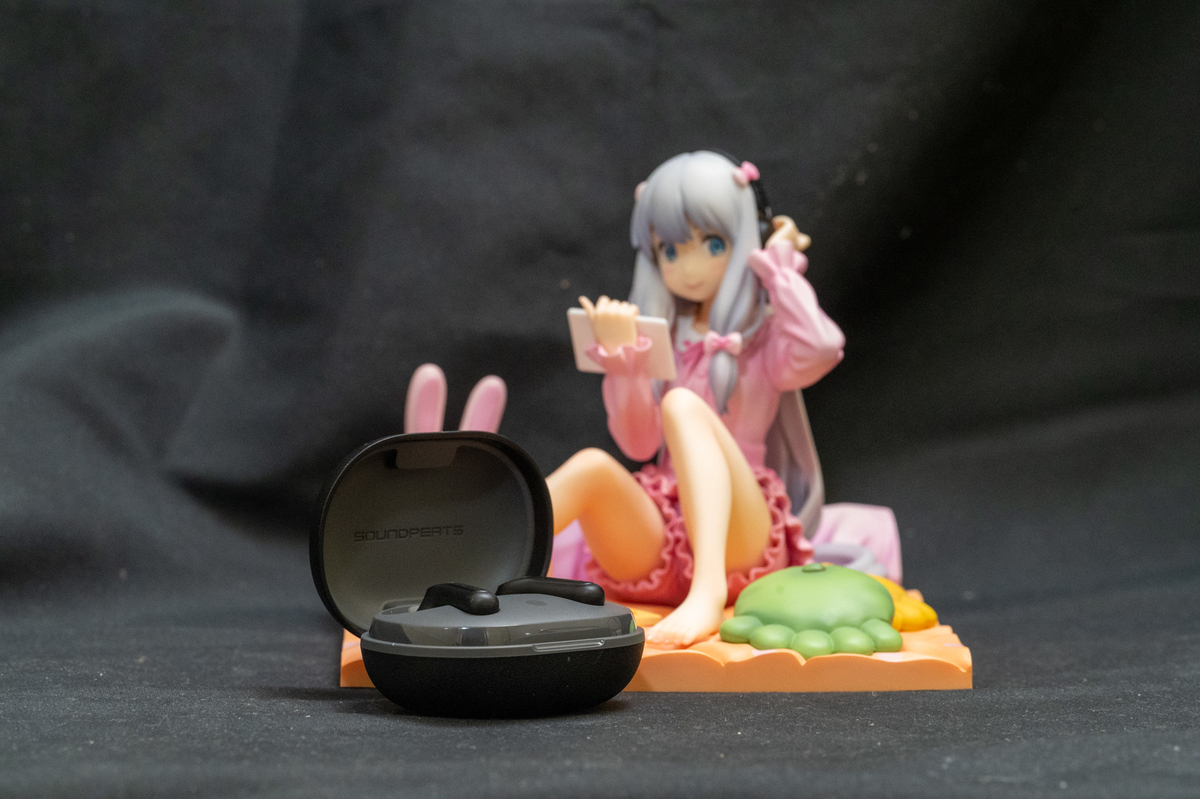 Sound quality general comment
Original sound fidelity: A-
Recommendation: D-
Personal preference: D-
Not recommended.
Sound quality features
Pros
There is a sense of chaos and envelopment
Massive
Sense of depth
Low distortion
Cons
Overall lack of linearity, difficult to understand
Unnatural texture
Difficult to understand localization
Too individualistic sound for some
General comment
SoundPEATS Life is a low-cost, app-enabled & ANC-equipped multifunction True Wireless earphones. The design is excellent and could be an attractive option for those who value functionality, but its sound is too unique to choose from. I also like the luxurious design probably the best of all previous SOUNDPEATS products, but the sound is one of the least good of all previous products.
Purchase Link
SOUNDPEATS Life