Disclaimer
This review is based on "private purchases" or "items rented for a consideration".
No remuneration or compensation, such as a manuscript fee, has been received for publishing this, and it is an honest evaluation based on measurement data from personal testing and personal opinion.
Please read the privacy policy of this website.
Recommended for people like this
People who like a shimmering sound
Detail-oriented people
People who value build quality
People who prefer bright midrange
People who are not sensitive to high frequencies
Overview of TRN MT3
This review will give an overview of TRN MT3. A complete review of this product can be found here.
audio-sound Score
Total Score: 9.1 / 10.0
Package: 8.0 / 10.0
Build quality: 9.0 / 10.0
Fitment: 8.5 / 10.0
High range: 9.5 / 10.0
Mid range: 9.5 / 10.0
Low range: 9.5 / 10.0
Less distortion: 8.0 / 10.0
Cost performance bonus: 11.0 / 10.0
Want to see the score ranking? Click here!
Basic Specifications
Frequency response: 20Hz to 20kHz
Impedance: 28Ω
Sensitivity: 114dB
Cable connector: qdc 2pin
Features of TRN MT3
Titanium-coated Composite Cavity Dynamic driver: 10mm titanium-plated diaphragm with higher Young's modulus than its predecessor. Significantly increased diaphragm rigidity while maintaining excellent damping. Provides better treble extension and detail.
Intense atmosphere Dual-chamber moving coil design: MT3 breaks through the conventional structure of the traditional dynamic unit only containing a single cavity, The dynamic unit is specially designed with a double cavity structure and an exclusive resonant cavity configuration. Makes the diaphragm travel smooth, and the low-frequency energy is naturally rich.
TRN New Silicone T Ear TipsT, the grand debut: In MT3, we first equipped with TRN new silicone ear- tips T ear-tips through the special diffusion structure design, suppress bad resonance, and significantly reduce high-frequency distortion Making the tone more natural. Special umbrella cap material Fundamentally solves the problem of ear swelling caused by wearing earphones. Bring a better wearing experience.
The combination of modern aesthetics and geometry: MT3 follows TRN's fine workmanship and solid materials, using zinc alloy materials As a headphone cavity, the polygonal lines are cleverly combined with the headphone, and cavity bringing a unique sense of geometry.
With audiophile-grade 4 core silver plated cable: MT3 With audiophile-grade 4 core silver plated cable Fine, full-bodied, and rounded sound with full resolution High fidelity, with fine acoustic reproduction.
package
Package meets price standard. The package is simple and easy to dispose of.
Package contents
Build quality
Build quality meets the price standard.
The shell looks so high quality that it is hard to believe it is low-priced.
Fit
The fit is good.
Sound quality
REW Frequency Response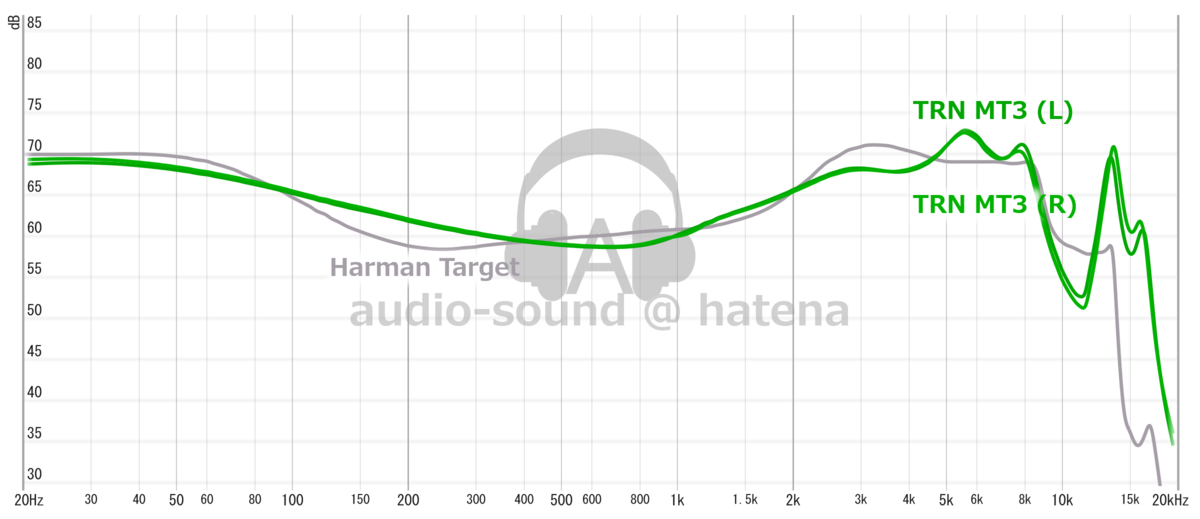 audio status
Sound quality description
In this review, I use the standard eartips size L and drive it with the FiiO M15.
TRN MT3 has a sound signature that is close to neutral and slightly toward the mid-high range.
Please see here for detailed reviews on sound quality.
Lows / Bass
The low end of the TRN MT3 is sufficiently linear and reaches quite deep.
Drum kicks have plenty of impact and weight, and the rumble is generally satisfying, although it seems a bit lacking.
The electric bass also sounds black, solid and expansive.
The bass is well drawn out and deep reaching, with a sense of heft that will satisfy bass lovers in its own way.
Mids
The midrange of The low TRN MT3 is almost completely neutral. It has a precise texture and is sufficiently glossy, crisp, and tight.
On the other hand, clarity is problematic, and the overall sound is flat and lacks a sense of three-dimensionality and depth in the musical expression. Also, because of the forward leaning of the structure itself, there is a sense that all sounds are heard a little too far forward. The midrange may feel a bit cramped for some people.
Although the texture is quite accurate and the sense of detail is quite excellent and detailed, vocals and instrumental sounds lack a sense of three-dimensionality, so the sound lacks vividness and the immersive experience is not as good.
Highs / Treble
High frequencies are also very well tuned, with excellent localization, although extension is a bit lacking.
The glossy mid and high frequencies are impressive and the level of definition is at a good level, so the overall impression will be one of luminance and shimmer, with every corner of the music being heard quite clearly.
Sibilance tends to be a bit strong, and there is a tendency for the t and s tones to be sharp, which is a concern in terms of listening comfort, although it depends on the volume level. The balance may be a bit harsh for those who are sensitive to high frequencies.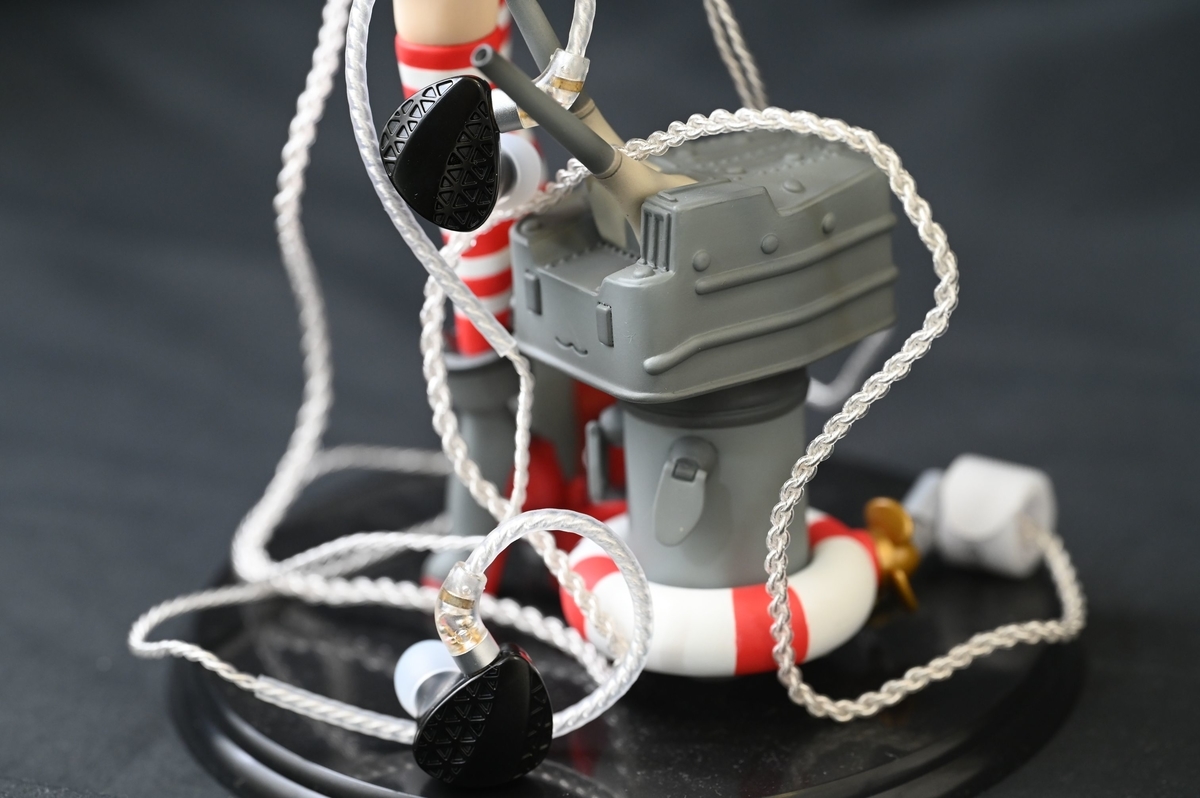 Sound quality general comment
Original Sound Fidelity: A
Recommendation: A-
Personal preference: B
The TRN MT3 is a low-priced model that offers a relatively high level of bright, detailed, monitor-like sound. The audio specifications are generally considered to be above the price level, but the resolution is not very good, so while the sound is beautiful, it lacks a three-dimensionality and depth of expression, making it sound cheap.
Sound quality features
Pros
Excellent sound image consistency
Excellent texture
Good original sound fidelity
Good detail
Natural overtone expression
Good focus in the midrange
Excellent localization
Good brightness and perspective
Cons
Low resolution
Lacks three-dimensionality
Lacks in high frequency extension
High frequencies may be irritating for those sensitive to high frequencies
Luminance may be a little too high
General comment
The TRN MT3 is IEMs with a bright, detailed feel and a good sound balance that combines excellent localization and texture. The exterior design is also very good, and the build quality will bring you more satisfaction than the price. However, the resolution is in line with the price and its sound is very flat, lacking a sense of depth and sounding cheap.
Purchase link