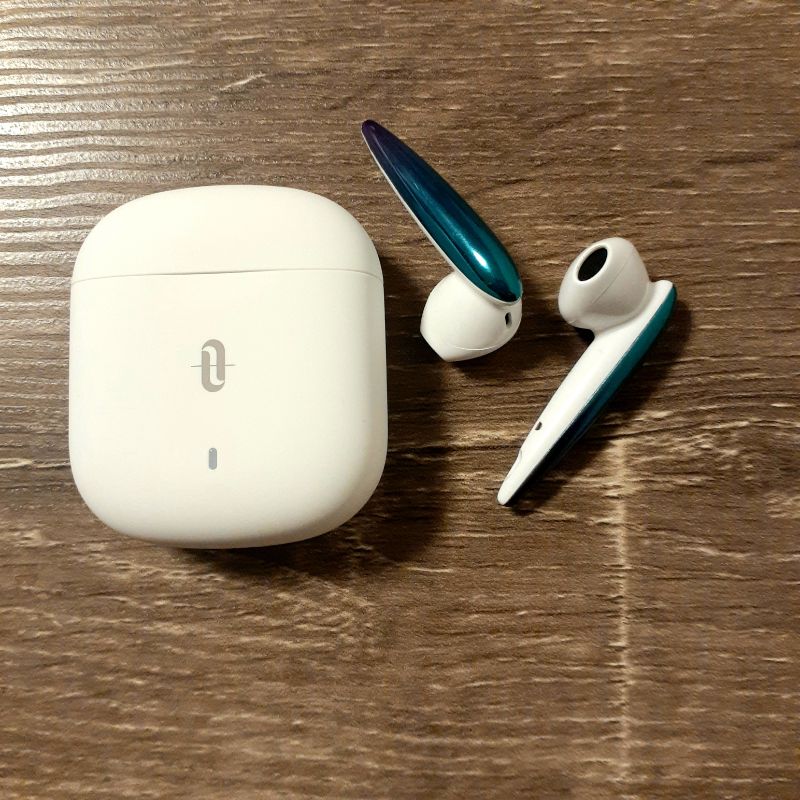 Disclaimer
This review is based on a sample provided by TaoTronics to convey a sincere quality review to our readers.
No remuneration or compensation, such as a manuscript fee, has been received for publishing this, and it is an honest evaluation based on measurement data from personal testing and personal opinion.
Please read the privacy policy of this website.
Recommended for people like this
People who want earphones with a unique design
People who care about aptX
People who like booming sound
People who value communication quality
Overview of TaoTronics SoundLiberty 80
This review will give an overview of TaoTronics SoundLiberty 80. A complete review of this product can be found here.
audio-sound Score

Total Score: 8.5 / 10.0
Package: 8.5 / 10.0
Build quality: 8.5 / 10.0
Fit: 9.0 / 10.0
High range: 8.0 / 10.0
Mid range: 8.0 / 10.0
Low range: 7.0 / 10.0
Less distortion: 7.0 / 10.0
Communication quality: 9.0 / 10.0
Want to see the score ranking? Click here!
Basic Specifications
Continuous / maximum playback time: 4h / 20h
Waterproof performance: IPX7
Supported codecs: aptX / AAC / SBC
Improving AI call quality
Thanks to the plus noise-suppressing microphone, voice is broadcast clearly during the call, and the smart AI noise cancellation algorithm (Elevoc Vocplusl) for Clear Call is a DNN-based noise cancellation that eliminates noise during phone calls, muffling the ambient noise and clear voice to the caller.
Slide Control
Equipped with a touch sensor, you can make calls, track music, and control your voice by simply tapping and swiping the earphones. You can also slide up and down to adjust volume and switch music. (The touch control function is only available when the earphones are worn.)
Excellent sound quality
The 12mm large-diameter HiFi dynamic driver provides superior acoustics supported by high-quality aptX audio and AAC codecs with less data loss due to compression, resulting in a rich, high-quality soundscape.
In-Ear Detection
The motion sensor recognizes whether the earphones are in your ears or not, and automatically pauses the music when you take them out, and resumes when you put them back in. It also wears the earphones to answer incoming calls, and removes them to switch to the phone.
Sufficient time for use
The TaoTronics SoundLiberty 80 wireless earphones can be used for 4 hours on a single charge and up to 20 hours of continuous playback with the charging case. The charging port is Type-C.
package
The packaging seems to have been completely redesigned from before. It's even more stress-free than before, with a very functional design that allows you to open the lid and take out the earphones right away. Moreover, it is made of more paper material and is environmentally friendly.
Package contents
There is no shortage of accessories. The package contains the following:
TaoTronics SoundLiberty 80
Charging case
USB Type-C cable
Manual
Build quality
The design is somewhat futuristic. The build quality is good.
Fit
The fit is quite comfortable for an inner ear type. The design is going to be a matter of taste. It's a little conspicuous when worn.
Connection quality
I tested it by connecting it to a Cayin N6II/E02 with aptX. Excellent connection quality for the price range. I haven't been in crowded places, so I don't know, but it's stable in the home. Distance tolerance is excellent, and the connection is seamless and intact even at a distance of about 5 meters. The music plays without any problem, even with a barrier between us, and there is no interruption. I thought that the communication quality would be a little inferior because the communication chip is an older generation QCC3020, but the communication quality seems to be rather excellent, perhaps due to the high quality of the antenna.
There may be a small amount of white noise, but most people probably won't notice it.
Interface/operation
Power on

Open the lid of the case

Power off

Store the earphones and close the lid

Pairing

After turning on the power of the earphone, if there is no connection destination, the pairing mode is automatically




pressed.

How to reset

Put both earphones in the case and press and hold the multifunction button for 16 seconds.

Song play / stop

Tap the multifunction button twice




and remove it from your ear to automatically stop playback / re-wear to resume playback

Song feed

Swipe up the multifunction button on the left

Song back

Swipe down the left multifunction button

Volume +

Swipe up the right multifunction button

Volume-

Swipe down the right multifunction button

Call answer

Tap the multifunction button once

End call

Press and hold the multifunction button for 2 seconds

Call blocker

Press and hold the multifunction button for 2 seconds

Voice assistant activation

Press and hold the multifunction button for 2 seconds

Sound quality
The TaoTronics SoundLiberty 80 has a strong low frequency sound. The sound is warm and gentle, but some people may find it a bit cloying and the highs a bit dull. As a gentle listening earphone, it's not bad.
Please see here for detailed reviews on sound quality.
Sound quality general comment
Original sound fidelity: B+
Recommendation: B
Personal preference: S
If you were to ask me if I would recommend the TaoTronics SoundLiberty 80, I would not recommend it so much. At the very least, I don't think it is suitable for audiophiles who value original sound fidelity.
The sound is like a caged sound source that is caged in even more, and the sound image is easily blurred and the sense of separation is not good.
On the outside, the SoundPEATS Gamer No.1 and Earfun Air Pro are better sounding audio devices in every sense of the word. For about the same price, I would recommend the 1more Comfobuds Pro. I have no hesitation in recommending these, and the TaoTronics SoundLiberty 80 is not one of them.
However, for my personal taste, the sound is quite wonderful. There is a lived-in realism to this high frequency decaying sound. There is a raw human touch to the sound, a nostalgic and very muddy beauty to it.
There are many noticeable flaws, and if you look hard enough, you can find a lot of bad things about the sound of these earphones, and there will be a lot of bad reviews. This is not a sound for everyone.
Sound quality features
Pros
Nostalgic sound
Enough sound pressure to enjoy a full orchestra
A sense of fullness
Harmonious atmosphere
Mild
Rich in sound extension
Relatively good clarity
Sweetness of sound
Wide sound field with a sense of depth

Cons
Muffled sound
Poor separation
Poor resolution
Lack of clarity
Lack of detail
General comment
The TaoTronics SoundLiberty 80 is not a product that comes high on my list of recommendations. Even though it has a sharp and futuristic design, the sound is dull and has a nostalgic tone that seems very gentle, even somewhat conservative. The lack of detail made me think at first that the earphones were malfunctioning (I tried connecting them to various devices). However, once I got used to listening to them, the sound was so warm and comforting that they became my favorite.
I'm not going to recommend this model out of hand, as I'm well aware of its shortcomings, but I'm sure those who share my taste will appreciate it. I don't think the sound is trendy, but for some reason it has a very moving factor for me. At least, it's a sound that focuses on the Japanese register, so one might speculate that it sounds very comfortable to me personally.
Purchase link