Disclaimer
This review is based on a sample provided by UGREEN to convey a sincere quality review to our readers.
No remuneration or compensation, such as a manuscript fee, has been received for publishing this, and it is an honest evaluation based on measurement data from personal testing and personal opinion.
Please read the privacy policy of this website.
Recommended for people like this
People who value heavy bass frequencies
People who like EDM
People who like dynamic sound
People who like V-shape sound
People who value cost performance
Overview of UGREEN HiTune X5
This review will give an overview of UGREEN HiTune X5. A complete review of this product can be found here.
audio-sound Score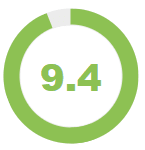 Total Score: 9.4 / 10.0
Package: 8.0 / 10.0
Build quality: 8.5 / 10.0
Fit: 9.0 / 10.0
High range: 9.5 / 10.0
Mid range: 9.5 / 10.0
Low range: 9.5 / 10.0
Less distortion: 9.0 / 10.0
Communication quality: 9.0 / 10.0
Cost performance bonus: 12.5 / 10.0
Want to see the score ranking? Click here!
Basic Specifications
Continuous / maximum playback time: 7h / 28h
Waterproof performance: N/A
Supported codecs: aptX / AAC / SBC
Powered by Qualcomm's latest chip, QCC3040
UGREEN HiTune X5 wireless earbuds, futuristic design, built-in the latest Bluetooth 5.2, supported by Qualcomm QCC3040, can provide CD-level audio quality and fast and stable connection. The HiTune X5 Bluetooth earbuds are equipped with 10mm PU and Peek combined drive speakers to take your hearing experience to a new level.
Fast pairing and stable connection
New "TrueWireless Mirroring" technology for simultaneous left/right connection: dramatically improves connection stability and maximizes battery usage efficiency. You can listen to music or make hands-free calls with one earphone on each side. You can enjoy music and calls without sound interruptions.
4 Microphone & ENC Environmental Noise Reduction
With the latest Qualcomm cVc 8.0 noise-canceling technology, it can discriminate between environmental noise and voice, suppressing the environmental noise and enhancing only the voice of conversation. 4 MEMS microphones are equipped with high interference resistance and excellent stability. With four MEMS microphones, you can enjoy clear calls even in noisy places such as trains and buses.
Up to 28 hours music playback & USB-C fast charging
The HiTune X5 Bluetooth 5.2 earbuds support USB-C fast charging and can be fully charged in just 1.5 hours, providing up to 1 hour of music playback after 10 minutes of charging. The earbuds have a 400mAh high capacity battery inside, which can last up to 7 hours on a single charge. You can also use the charging case for up to 28 hours of music playback.
70ms Low Latency Mode and Music Mode
Turn on the "Low Latency Mode" which reduces latency to as low as 70ms (0.07 seconds) to improve your video watching and gaming experience. Hands-free calls and video conferencing will be smoother. Ergonomic shape with a 30° slanted design to fit into your ear structure for a comfortable fit. It is compatible with iPhone iOS, Android, Windows, macOS supported smartphones and other Bluetooth devices.
package
The packaging of the UGREEN Hitune X5 is fine enough considering the price. The earphones and accessories are arranged in a functional manner, just like Apple products, and are easy to remove.
Package contents
There is no shortage of accessories.
UGREEN Hitune X5
Charging case
USB Type-C cable
Eartips (3 sizes)
Manual
Build quality
Build quality is not bad, considering the price. It has a simple and elegant appearance in black.
There is a strong shiny feeling in some areas, which may divide your taste. It has a tendency to get fingerprints a little easily.
Fit
Even people with small ears will be able to wear it without problems. It will also fit well.
Connection quality
I tested it by connecting it to a Cayin N6II/E02 with aptX. Excellent connection quality for the price range. I haven't been in crowded places, so I don't know, but it's stable in my home. Distance tolerance is excellent, and the connection is seamless and intact even at a distance of about 5 meters. The communication was consistent and undisturbed even when interrupted by shielding. It seems to be quite stable.
There may be a small amount of white noise, but most people probably won't notice it.
Interface/operation
The operation interface is touch-based.
Power ON
Open the lid of the charging case
Power OFF
Store the earphones in the charging case and close the lid
Pairing
After the earphone is turned on, if there is no connection, the pairing mode will be automatic.
How to reset

Store the earphones in the case.
Put both earphones in the case and press and hold the reset button for 10 seconds.
When the LED lamp on the case lights up for 2 seconds, the reset is complete.

Play/Stop
Tapping the multi-function button once
Song forward
Tap the multi-function button on the right ear three times
Song Back
Tap the multi-function button on the left ear three times
Volume +
Tap the multi-function button on the right ear twice
Volume -
Tap the multi-function button on the left ear twice
Answer call
Tap the multi-function button once
End call
Tap the multi-function button once
Reject call
Press and hold the multi-function button for 2 seconds
Voice assistant function
Press and hold the multi-function button for 2 seconds
Switch between normal and game mode
Tap the multi-function button four times
Sound quality
REW Frequency Response
Sound quality description
The UGREEN Hitune X5 has a very well-balanced, neutral, mild V-shaped sound. However, the low frequencies have a lot of weight and depth, and especially if you usually prefer monitor-type sounds with weak low frequencies, the presence can sound quite strong, so if you don't like heavy low frequencies, it may seem like it has a very strong thump. For me, this is about as good as it gets, but it would be too strong for older people who tend to hear the high frequencies attenuated. The mids are mostly flat, and the lows are carefully tuned and raised, with a slight slope from the lower midrange.
The mids are slightly recessed, making them slightly darker, and vocals sound a bit distant. By retracting the midrange a bit, a sense of depth is reproduced, and a slight emphasis on three-dimensionality is felt. Given the strength of the low frequencies, the sound is suitable for young people. Overall, the model delivers a fairly well-balanced sound for this price, and I was personally quite impressed with it.
Frankly speaking, after listening to the X5, my opinion of UGREEN is nudging up.
The following review was tested on a FiiO M15 with an aptX connection.
Please see here for detailed reviews on sound quality.
Sound quality general comment
Original sound fidelity: A-
Recommendation: S
Personal preference: S+
I can unquestionably recommend the UGREEN X5 as one of the best completely wireless earphones you can get in this price range. Its perfection is high and the stereo imaging is near perfect. The overall measurements also remain at a good level, which shows that the sound quality of completely wireless earphones is definitely surpassing that of wired earphones in the same price range.
The recommendation for these earphones will depend on how old you are and how much you like heavy bass frequencies.
--Do you like low frequency? Then this is definitely a good model for you.
--If so, this is definitely a good model for you. However, if you have a weakness for models with strong low frequency, or are over 50 years old? If you are over 50 years old, then the low frequency of this model may be too strong for you.
Sound quality features
Pros
High clarity
Relatively well balanced
Massive sound
Relatively less tiring to listen to
Moderate emphasis on three-dimensionality
Natural texture
Excellent scalability
Highly immersive
Cons
Low frequency is strong
Vocals are a little dark
General comment
The UGREEN Hitune X5 is a model that I can't believe is available at this price. It has a fairly well-balanced V-shaped sound, with very little of the unnaturalness in the midrange that is often associated with this type of sound. While there is an emphasis on the dynamism that is characteristic of the V-shaped, the sound shows a skillful sense of balance in trying to keep the whole thing well within the range of not deviating too far from neutral, which clearly indicates the presence of a skilled sound engineer.
Purchase link