The latest 6-driver hybrid IEMS DUNU VULKAN DK-X6 is now available.
DUNU Vulkan is a brand-new multi-driver hybrid set of in-ear monitors designed with an advanced six-driver hybrid configuration. The pair features four high-performance balanced armature drivers from Knowles, and dual 8mm Coaxial dynamic drivers enclosed in beautifully crafted aluminum alloy ear shells. Vulcan brings a true high-resolution music experience with professional tuning adjustments, 3D printed acoustic waveguide system, a latest-gen Air Control Impedance System, and many more features that make the DUNU Vulkan an ideal choice for audio lovers!!
Features
Advanced Six-Driver Hybrid Configuration
Dual 8mm Coaxial Dynamic Drivers
Four High-Performance BA drivers from Knowles
Unique Mokume Gane Inspired Faceplates
CNC Machined Aluminum Ear Shells
3D-Printed Acoustic Waveguide Structure
Latest Gen Air Control Impedance System(ACIS)
High-Purity Silver-Plated OCC Cable(DUNU DUW-02S)
Interchangeable Termination Plugs
Patented Catch-Hold MMCX Connectors
Technical Specifications
Frequency Response Range: 5Hz-40kHz
Impedance: 15Ω
Sensitivity: 109dB
Total Harmonic Distortion: <0.3%
Net Weight: 17grams
Advanced Six-Driver Hybrid Configuration
Over the years, DUNU has got expertise in designing high-quality hybrid configurations for in-ear monitors. For the latest Vulkan, they have designed an arrangement consisting of dual 8mm dynamic drivers along with four high-performance Balanced armature drivers from Knowles. These drivers are professionally tuned and arranged in such a manner to reduce the Harmonic Distortion in the output signal.
Dual 8mm Coaxial Dynamic Drivers
DUNU Vulkan adopts a unique design of dual 8mm dynamic drivers. These two dd units work simultaneously working with each other and producing a powerful, deep-hitting, soulful lower-end response. The bass with the DUNU Vulkan is tightly controlled and has a punchy response. DUNU has designed these drivers using the structural foam cell drivers which are inspired by their advanced ECLIPSE driver design. The pair produces a woofer like powerful lower-end response.
Knowles Premium Balanced Armature Drivers
Knowles is a well-reputed brand mainly known for its high-performance balanced armature drivers. Two of these BA units are tuned for presenting the users with lovely midrange and vocals while two are tuned for a smooth, detailed ultra-high frequency response.
All-New Architecture For Smooth, Distortion-Free Performance
In order to provide a smooth performance with ultra-low harmonic distortion ratings, DUNU has designed an all-new architecture for the Vulcan. The pair features a 3D-printed acoustic waveguide system with digital pathway optimization for a natural experience.
Enhanced Low-Frequency Control With ACIS Technology
Vulkan from DUNU utilizes the latest generation ACIS(Air Control Impedance System) module which is found in their premium pairs like the Zen, Zen Pro, Dk4001, and EST 112. It helps reinforcing the response of a dynamic driver with powerful slams in the bass region.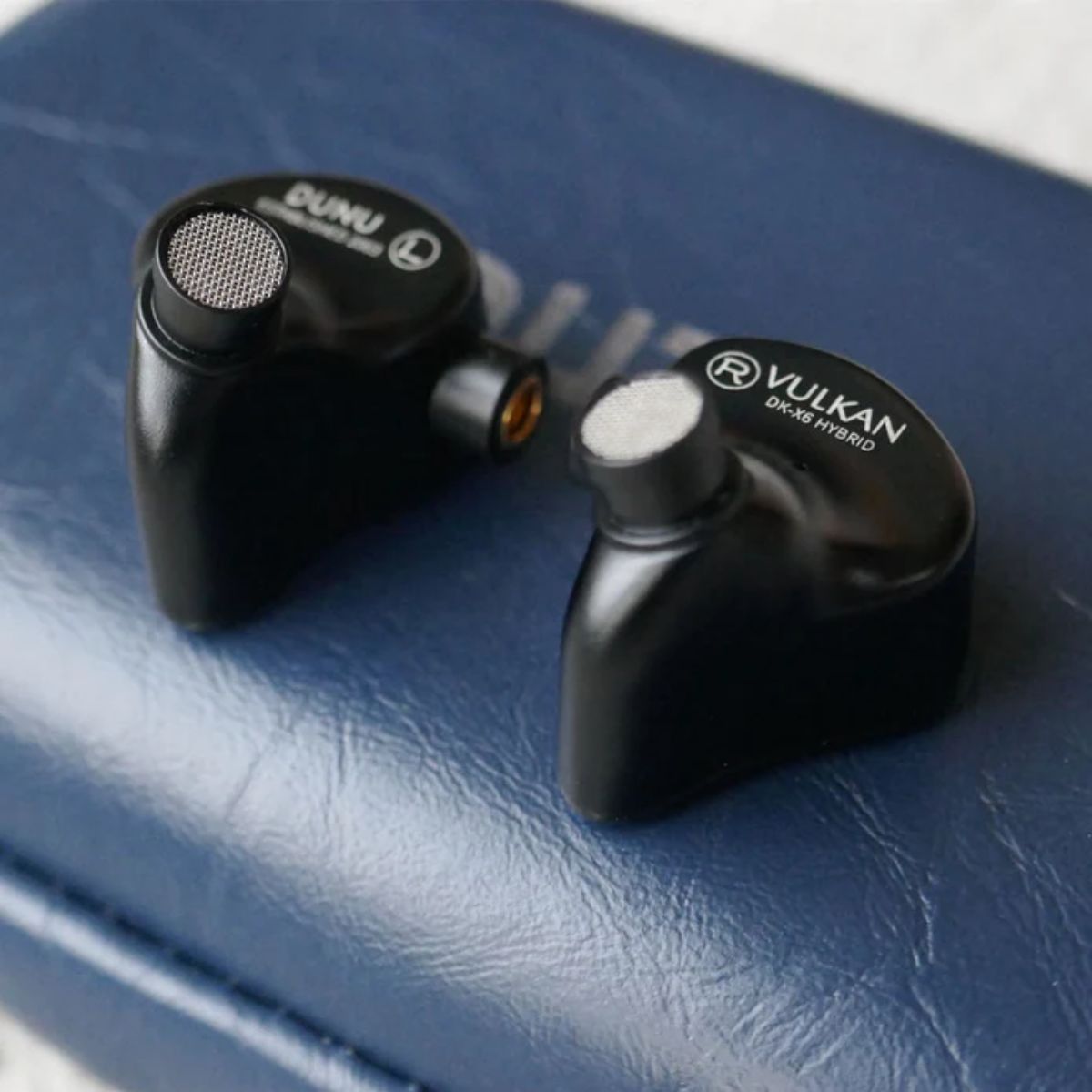 Exclusive Designer Looks
DUNU Vulkan features ergonomically shaped 3D printed aluminum alloy ear shells with Mokume Gane inspired designer face covers. With its ergonomic shape, The DUNU Vulkan provides a unique and exquisite looks.
Price & Availability
DUNU Vulkan is now available at HiFiGO and others for $379.99.
DUNU VULKAN DK-X6
$379.99