In this issue, we take a look at the Fosi Audio TB10D, a class-D power amplifier from Fosi Audio.
Features
If you want to play your favorite songs entertainingly, a mini stereo amplifier is the best way to go. Fosi Audio TB10D is an analog input(RCA) Class-D audio amplifier that easy to install to build your home audio sound system.
MAX Power Output up to 600Watts. TB10D adopts TI TPA3255 high-performance Class-D power amplifier chip enabling true premium sound quality. TPA3255 features an advanced integrated feedback design and proprietary high-speed gate driver error correction (PurePath Ultra-HD). This technology allows ultra low distortion across the audio band and superior audio quality. The device is operated in AD-mode, and can drive up to 2 x 315 W into 4-Ω load at 10% THD and 2 x 150 W unclipped into 8-Ω load.
The high-efficient 2.0CH 300Wx2 desktop power amplifier can drive almost home large passive bookshelf speakers ensuring top-notch sound quality and is compatible with most sound equipment such as computers, DVDs, CD players, PC, laptops, TV, etc.
Mini classic simple design with bass, treble, and volume control. On the rear are banana plug connectors that can also accept a raw wire.
What you Get: TB10D amplifier x1, User Manual x1, 32V/5A Power Adapter x1(Note: You need a more powerful power supply to get the MAX 300W x2 power output, such as 48V/10A), AC Cord x1, 18-month worry-free warranty, and friendly customer service.
Specifications
Power Adapter: 32V/5A
DC Input Range: 18-48V
Terminating Impedance: 2 Ohm - 8 Ohm
MAX Power Output: 300W x 2
THD: ≤ 0.3%
Frequency Range: 20Hz - 40kHz (±1 dB)
SNR: ≥ 90dB
Input Sensitivity: ≤ 600mV
Input Mode: RCA
Package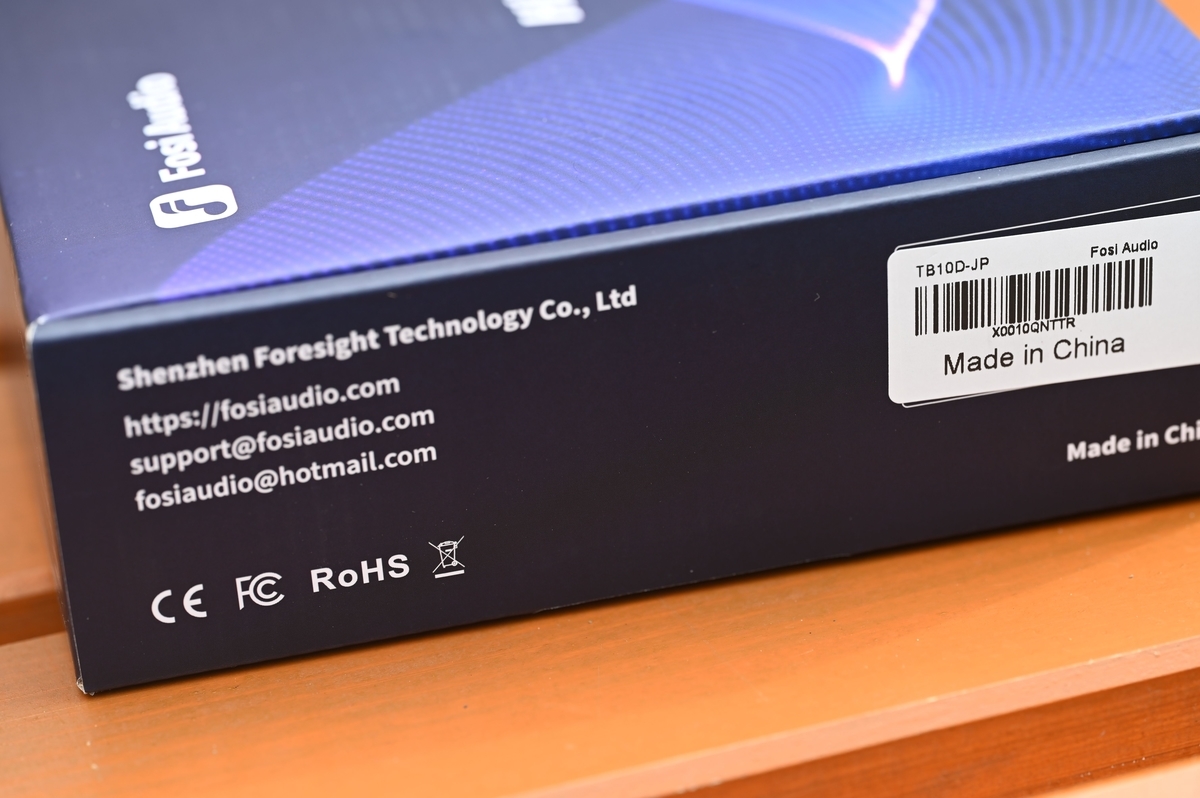 Build quality
In terms of size, it is quite compact. Compared to the AIYIMA A08 Pro, which uses the same amplifier chip, the depth is a little longer, but overall the model is very compact.
Review
Maybe one day this will change for for now, in under $100 range you can't expect perfection in performance of a stereo amplifier. What you do want to see is delivering healthy amount of power with close to our average of all of our amplifiers tested to date. On that front, the Fosi Audio TB10D delivers. If you need an amplifier for secondary use (bedroom, workshop, etc.), the TB10D is a very good candidate for no more money than one or two dinners!

 

I am going to recommend the Fosi Audio TB10D amplifier.

 
Final Words
If you are looking for a compact power amplifier for a personal space, the Fosi Audio TB10D is an easy and convenient choice. It is not an outstanding model, but its cosmetic performance is probably above standard for most people.
Although the output claims a maximum of 300 watts for a 4-ohm speaker, the practical level is less than 100 watts. It is also inferior in overall specifications to the AIYIMA A08 Pro, which uses the same amplifier chip and is a standard choice for the price. It is an extremely simple power amplifier with a simple input/output configuration, no special functions, and no remote control.
In terms of sound quality level, it theoretically has a dynamic range that can handle almost CD level, not to mention vinyl records, and there is no shortage in its price range.
Most people will have no complaints in their daily use, but those who want to pay more attention to functionality, sound quality, and above all, appearance, should consider the AIYIMA A08 Pro at twice the price. Since they use the same amplifier chip, the sound quality tends to be very similar, with the AIYIMA offering better overall specifications.