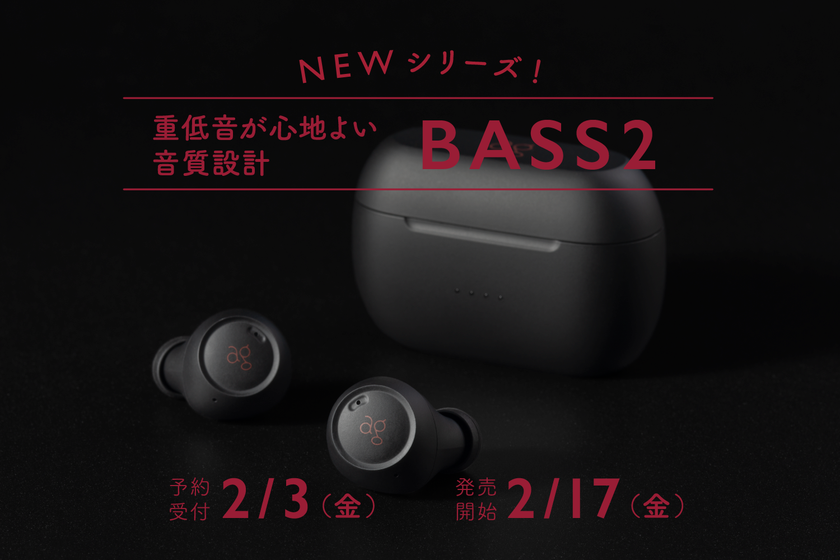 ag will add a new lineup of "BASS," a series of true wireless earphones focused on heavy bass. As the first product, the "ag BASS2" model will be released, offering authentic bass at a reasonable price of less than $100.
According to final audio design, it delivers "deep, sinking bass" while achieving a "comfortable" balance that "accompanies vocals and each instrument" by adjusting the presence appropriately.
In addition, despite its low price, the product is said to be equipped with mild active noise cancellation, which emphasizes sound quality and enhances immersion in music.
Although heavy bass models are a popular segment among audio products, I have the impression that final has not traditionally placed much emphasis on low frequencies. As a low frequency fanatic, I am a bit concerned about the perfection of the FINAL style heavy bass model.
Features
High sound quality specifications supervised by audio brand final
Noise canceling function prioritizes sound quality
Comfortable bass sound
Comfortable fit with soft earpieces
Matte coating that is resistant to sebum and fingerprints
Equipped with "auto pairing function" and "one ear mode
Technical Specifications
Product name: BASS2
Color: BLACK (matte coated finish)
Communication method: Bluetooth® 5.2
Supported codecs: SBC, AAC
Supported profiles: A2DP, AVRCP, HSP, HFP
Continuous music playback time: up to 7 hours
Charging time: 1.5 hours
Waterproof performance: IPX5
Battery capacity: Earphone 50mAh per ear / Case 400mAh per ear
Accessories: Charging case, earpieces (final TYPE E, dedicated for complete
wireless) in 3 sizes, USB type C charging cable
Estimated retail price
7,980 yen (Japan domestic price)
Release Date
Friday, February 17, 2023 (in Japan)