The IE 200 enables seasoned hi-fi enthusiasts and newcomers alike to experience new dimensions of sound quality. Based on 15 years of Sennheiser TrueResponse Transducer technology, the IE 200 features a 7-millimeter extra-wideband transducer for exceptional quality. A hallmark of the IE family, the latest addition to the in-ear lineup continues to bring superbly balanced and realistic audio to an ultra-compact form factor.
FEATURES
7-millimeter extra-wide band transducer – for natural balanced sound
Unique dual-tuning feature – for a variety of listening preferences
Viscoelastic foam and silicone ear adapters in multiple sizes
3.5mm stereo plug and MMCX connectors
Specifications
Jack plug: 3.5 mm angled
Cable length: 1.2 m
Weight: 4 grams
Frequency response: 6 - 20,000Hz
Impedance: 18 Ω
Sound pressure level (SPL): 119dB (1kHz, 1Vrms)
Total harmonic distortion (THD): <0.08 %
At the heart of the IE 200 lies a mini-transducer so exceptional, it also drives our most renowned in-ears
The IE 200 takes advantage of some of the best in-ear technology we have to offer. The 7mm extra-wideband True Response transducer, for instance, exhibits virtually no harmonic distortion at all. That's why you'll also find it in our IE 300, IE 600 and IE 900.
This dynamic driver reproduces transients with great precision across the entire frequency range — so you can hear exactly what the sound engineer intended. The snare drum cuts through the mix like it's supposed to; close your eyes, and lifelike sibilants make it feel like the vocalist is in the room, singing just for you.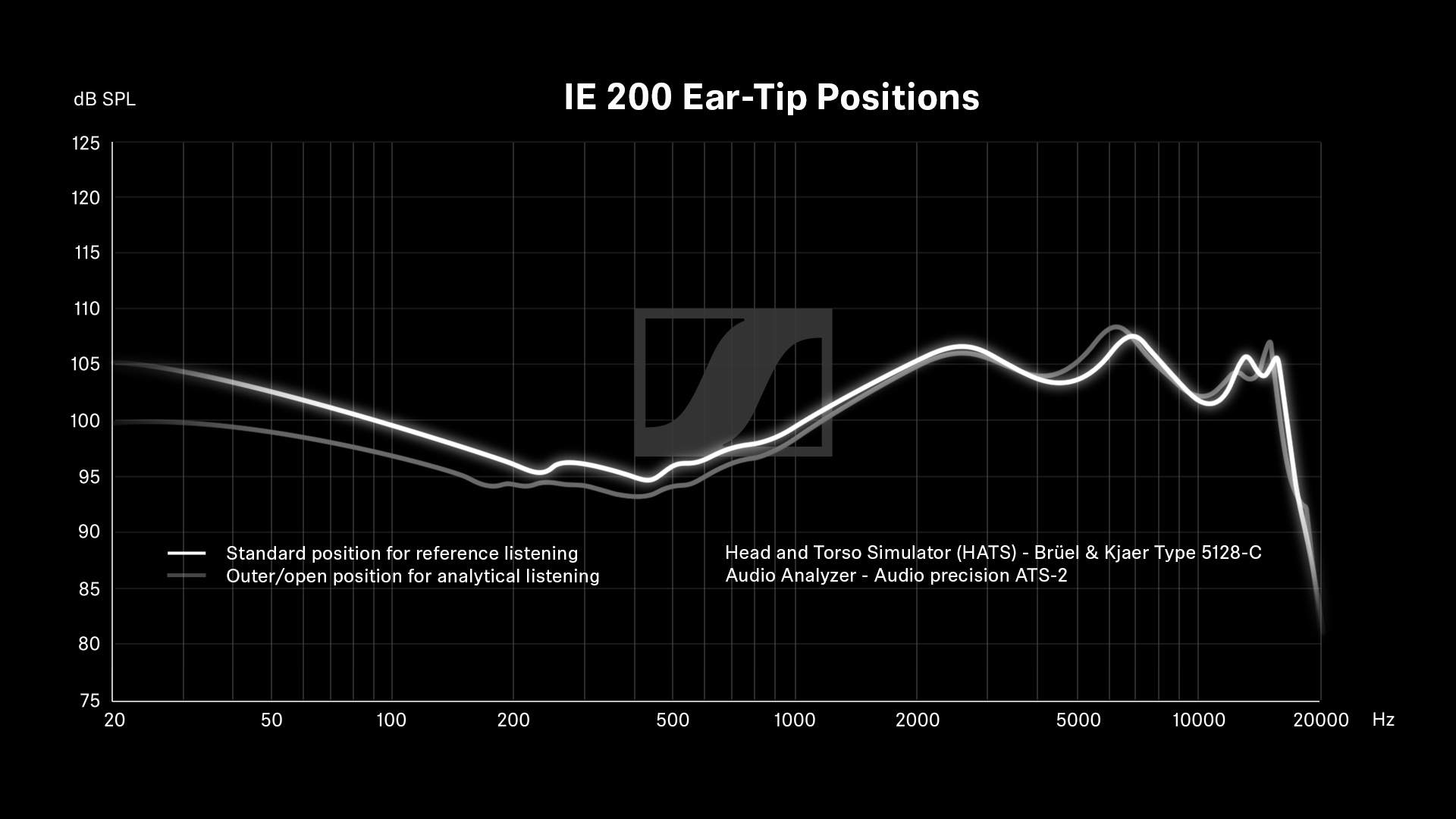 Quality fit for audiophiles
​With IE 200, nothing stands between the user and discovering new sonic landscapes. Harmonic distortion is almost non-existent, with a natural frequency response curve typically found in earphones costing significantly more. Furthermore, the IE 200 can appeal to a variety of listening preferences thanks to its unique dual-tuning feature. Audiophiles can mount the included ear tips in one of two positions, giving them control over the balance of their audio experience – from deep and emotional bass response to texture-rich treble presence.
Comfortably Connected
​With an exceptionally comfortable fit, IE 200 is made for uninterrupted listening sessions. Able to accommodate ears of all sizes, their inconspicuous design boasts a proven ergonomic design that promotes a secure seal and lasting comfort. Viscoelastic foam and silicone ear adapters in multiple sizes block ambient distractions while maximizing low-end response. A revised, braided cable reduces handling noise, and terminates to widely a 3.5mm stereo plug and MMCX connectors for connection to countless audiophile devices.
Price & Availability
The Sennheiser IE200 is available for pre-order at Audio46 and others for $149.