Disclaimer
This review is based on "private purchases" or "items rented for a consideration".
No remuneration or compensation, such as a manuscript fee, has been received for publishing this, and it is an honest evaluation based on measurement data from personal testing and personal opinion.
Please read the privacy policy of this website.
Recommended for people like this
People who like dynamic sound
People who value resolution
People who value detail
People who value high frequency extension
People who value sound balance
People who are looking for excellent listening earphones
People who value cost performance
Overview of EPZ K1
This review will give an overview of EPZ K1. A complete review of this product can be found here.
audio-sound Score
Total Score: 9.3 / 10.0
Package: 8.0 / 10.0
Build quality: 8.5 / 10.0
Fitment: 8.5 / 10.0
High range: 9.5 / 10.0
Mid range: 10.0 / 10.0
Low range: 8.5 / 10.0
Less distortion: 9.0 / 10.0
Cost performance bonus: 12.5 / 10.0
Want to see the score ranking? Click here!
Basic Specifications
Frequency response: 20Hz to 20kHz
Impedance: 24Ω
Sensitivity: 110dB
Connector: 0.78mm 2pin
Features of EPZ K1
Earphone type: Canal type
Connection terminal:Wired (WIRED)
Driver Unit:1BA + 1DD large 9.2mm titanium plated dynamic driver (moving coil unit)
Sensitivity: 110±2db
26db noise canceling
HiFi sound
OFC silver-plated braided wire (cable details)
Compatible with Iphone/Android/PC
3.5mm jack
[VGP 2022 Winner] EPZ K1 Wired Canal-type Earphone Molded by 3D Printer
N52NDFEB shell titanium plating to improve magnetic flux. Custom titanium coated diaphragm, at the same time guaranteeing lower frequencies, further enhancing the analytical power and performance of the human voice and high frequencies, providing a stronger sense of hierarchy and presenting a realistic and richer sound.
Compatibility
EPZ K1 wired canal-type headphones, molded by DLP 3D printer, compatible with Apple devices/Android devices/PC ((can be used with standard TYPE-C adapter (for Android). Can be used with Lightning adapter (for IPHONE).
ERGONOMIC DESIGN
Ergonomic canal-type design conforms to the unique contours of each ear for a better fit and seal.
NOISE CANCELING
26db noise canceling blocks out ambient sound for realistic sound.
3D PRINTING TECHNOLOGY
The EPZ K1 seamless cavity integrated with 3D printing technology, far superior to traditional headphone production, is made of medical resin material, skin-friendly, eco-friendly, and more comfortable to wear.
package
The package meets the price standard.
Package contents
EPZ K1
Eartips
Carrying pouch
Manuals
Build quality
Build quality meets price standard. Quite a beautiful faceplate.
Fit
The fit is good.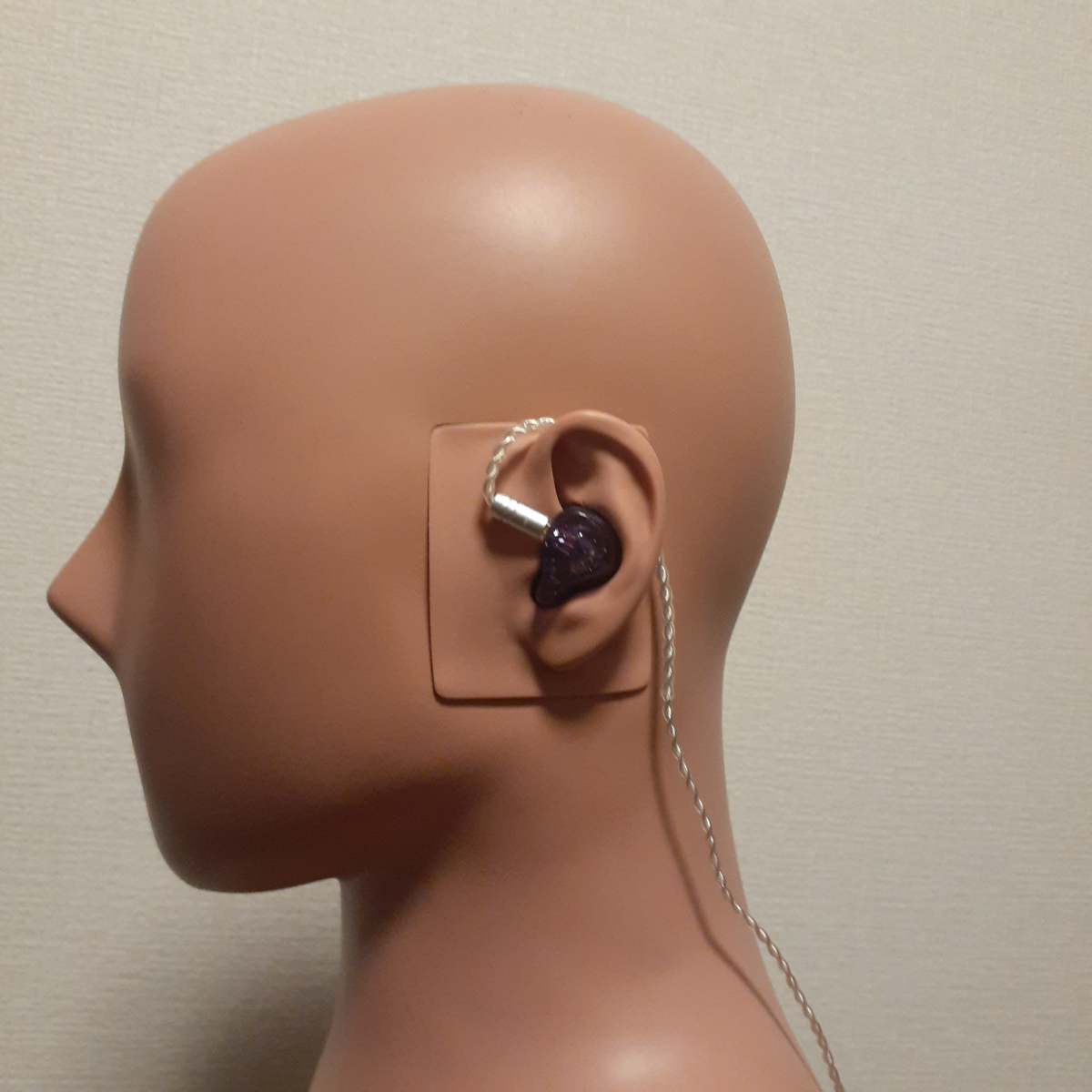 Sound quality
REW Frequency Response
audio status
Sound quality description
In this review, I use the standard eartips size L and drive it with the FiiO M15.
The EPZ K1 has a neutral-conscious W-shaped sound signature.
Please see here for detailed reviews on sound quality.
Lows / Bass
The EPZ K1's low frequency range is fairly linear and deep, but it does not reach the really deep heavy bass.
The bass drum sound is moderately heavy and has a reasonable sense of power, but the rumble is a bit weak and shallow. The sense of realism is a bit lacking.
The electric bass is not so bad in terms of tightness, but lacks a bit in spaciousness. Blackness may also be a bit lacking.
The bass is relatively flat and well balanced with the midrange, and those who are used to the low frequency range of monitor speakers will like it a lot. However, it is a bit lacking for those who like low frequencies.
Mids
The midrange of the EPZ K1 is tuned fairly close to neutral; the K1 is a fairly inexpensive 1BA+1DD hybrid, but it is both clear and surprisingly high-resolution for its price.
The midrange is a bit more depth-enhanced, and the soundstage allows more room around vocals. The left and right sides will feel a bit wider. The midrange is less dense and the area around vocals is clean and comfortable to listen to, but localization is a bit unstable, as violins and woodwinds tend not to stand upright and guitar edges tend to sound pulled back.
Even the sense of construction is lacking, and the midrange is softly contoured and pleasant to the ear for listening. The listening experience is comfortable and immersive, and there is plenty of detail, but the sense of separation is a bit weak. Peaks are also a bit prominent in the highs, which tend to be a bit sharp, and tend to sound crisp and dry.
Highs / Treble
The EPZ K1 should have a balanced armature driver handling the high frequencies, but extension is standard or slightly better, with good extension. It is tuned for definition and excels in detail and subtlety.
High frequencies are not lacking in detail, with ample luminance. Dynamism tends to be quite pronounced, and woodwinds and strings sound wavering, so the sense of localization is not stable, but it is lively and quite interesting.
The airiness is adequate, the highs are exhilarating, and the cymbal crash has good spread. The highs are unreliable as monitors due to localization issues, but are an excellent adjustment for listening applications.
Sound quality general comment
Original Sound Fidelity: A+
Recommendation: S+
Personal preference: S+
The EPZ K1 are IEMs with resolution and high transparency on par with ultra-high end. The midrange is also highly accurate, and the overall balance is tuned close to that of monitor speakers. However, the emphasis on staging and dynamism makes it difficult to get a sense of localization, making the sound more suitable for listening than for monitoring.
Sound quality features
Pros
Good texture
Good original sound fidelity
Near-flat bass like monitor speakers
Good dynamism
Ultra-high end-like resolution
Speaker-like forward localization
Excellent detail
Highs with ample extension and exhilaration
High transparency
Cons
Difficult to understand localization
Not enough bass for bass lovers
Lack of sense of structure
General comment
The EPZ K1 IEMs are extremely affordable, yet are capable of delivering sound with excellent detail and a resolution unmatched in this price range. Its sound is extended, majestic, and exhilarating, providing an enjoyable listening experience with enhanced dynamism and a bright outlook.
Purchase link