Miter Carrying Case for DAP + Earphone, Handmade Italy PU Leather Hard Standing case for 2 IEM Earphones + 1 Digital Audio Player Storage Carry Cover Box (Black)
MITER making high quality DAP cases
If you are an Astell & Kern DAP user, you may already know about MITER. Under the brand of Goodseed International of Korea, which makes DAP cases, we manufacture cases for most DAPs including Astell & Kern.
The product introduced this time is an audio carrying case newly released from MITER, which is an excellent one that can carry DAP and earphone at the same time. In addition, the appearance is stylish and luxurious, and it is a gem that satisfies the desire for possessions.
Package / Content
The packaging is very simple, but elegantly wrapped. Open the chic black box with only the MITER logo on it, and you'll find an audio case in a chic black bag inside. The appearance of suede is very stylish.
Opening it like a double door, you can see that the inside has a two-layer structure with storage parts on both sides. The left side of the photo is the earphone and accessory storage area, and the right side is the DAP storage area.
DAP storage section. You can use it as a stand, as described later.
 イヤホン/アクセサリー収納部です。上に収められているバンドは本体を結束して蓋が開かないようにするのに使います。下部にあるのは付属品を収納できる小型ポーチです。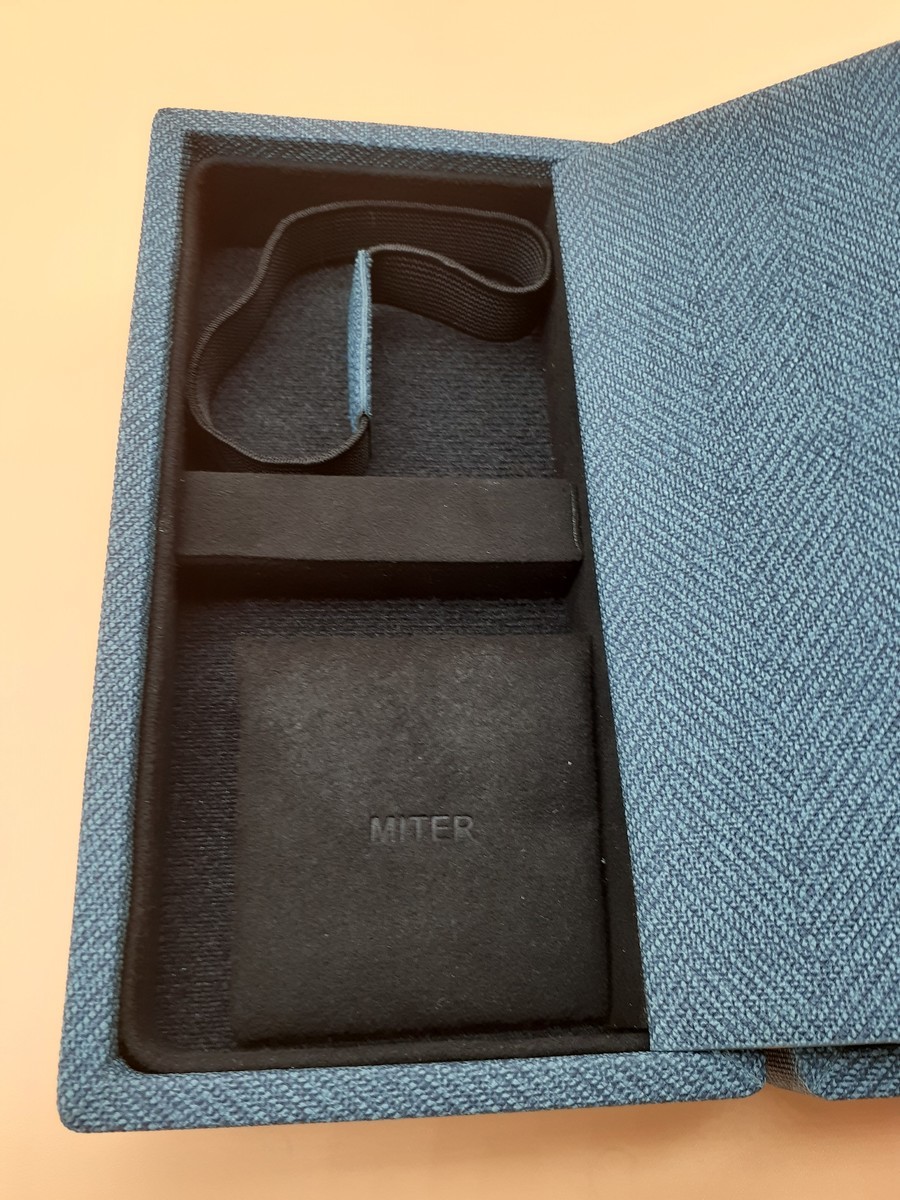 It is the picture that I put Cayin N6II in. To be precise, in terms of thickness, the Cayin N6II is barely covered in this case, but in reality it depends on the case containing the main body, but it can be just about got in.
Officially supported are only audio players less than 75mm wide and less than 23mm thick, such as Astell & kern SA700 / iBasso DX160 / Questyle QPM / FiiO M15 / Sony ZX507 / WM1A / Hiby R6 Pro.
Example of FiiO M15
The FiiO M15 is very snug and fits just right.
Example of Hiby R6 Pro
The main body of the Hiby R6 Pro is a little small, so there is space, but it can be stored properly.
If you're worried about a little extra space like the Hiby R6 Pro, you can also adjust the spacers to fit them.
Example of Shanling M6
The Shanling M6 can be stored without any problems. It is the right size.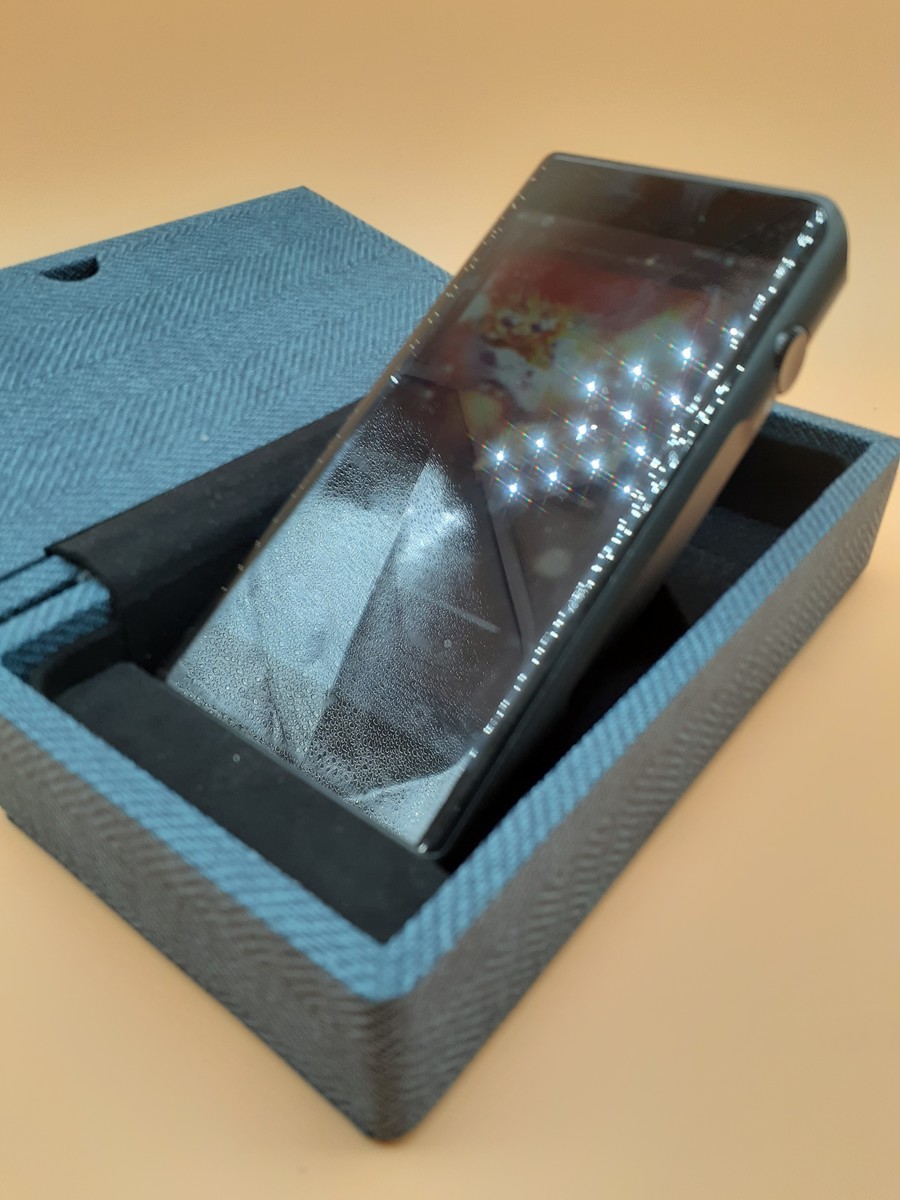 IEM Storage
Two earphones can be stored in the earphone storage part, and you can carry it according to your mood.
What about complete wireless earphones? It may be a bit difficult. At least the lid does not close when I try to store SENNHEISER MOMENTUM True Wireless 2.
This DAP & earphone case is firmly fixed by using a cable tie, so it can be used not only for carrying but also for storage. It looks like a fashionable watch case.
No desiccant is attached. When carrying it, it is good to put silica gel, which is a desiccant attached to sweets.
Final verdict
| | |
| --- | --- |
| Comprehensive evaluation: | ★★★★★ |
It has a high-class feel as a DAP case, and it is durable enough to be used as a storage case. You can easily carry up to 2 IEMs with your DAP. In particular, it is made for the mid-range to high-end class DAP, and it has a high-class feel to match it. It can also be used as a stand and seems attractive as an item to enjoy rich portable audio on the go.
I thought it might be a little more expensive because it has a fairly luxurious feel, but it is unexpectedly cheap. The build is also very solid and I use it for storage of the Cayin N6II after all, but I personally like it.
One of the complaints is that it is not designed for perfect wireless earphones.
Miter Carrying Case for DAP + Earphone, Handmade Italy PU Leather Hard Standing case for 2 IEM Earphones + 1 Digital Audio Player Storage Carry Cover Box (Black)
Recommended articles
---