OneOdio Adapter-Free Over Ear Headphones for Studio Monitoring and Mixing, Sound Isolation, 90° Rotatable Housing with Top Protein Leather Earcups, 50mm Driver Unit, Wired Headsets with Mic (Pro-50)
OneOdio is a hidden popular brand that offers many low-priced DJ headphones on amazon. Low-priced headphones are valued for their stable build quality and usability, and their sound quality is powerful and tends to be favored by low-range enthusiasts.
This time I will review OneOdio Pro50. This product belongs to OneOdio's mainstream lineup, the Pro series, and features a powerful sound with a large 50mm driver.
Basic specifications
Frequency responce: 20-20kHz
Impedance: 32Ω
Sensitivity: 110dB
Unboxing
Standard or slightly better quality packages for this price range. Comes with 2 types of connecting cables and a carrying bag.
Fit
The housing is slightly larger. The basic part is plastic and the headband is metal, but it is lightweight overall. Easy to fold and carry. The earmuffs are large and the fit is soft and a little luxurious.
Sound Quality
Measuring equipment
SAMURA HATS Type3500RHR System: HEAD & TORSO, left and right S-Type ear model (Type4565 / 4566: IEC60268-7 compliant)
AWA type 6162 711 ear simulator
Microphone preamplifier: Type4053
Type5050 microphone amplifier power supply
Audio interface: ROLAND Rubix 24
Analyzer software: TypeDSSF3-L
*Due to the response of the ear simulator, the reliability below 20hz and above 16khz is not high.
Frequency response
In order,
Separate left and right
Average left and right
Separate left and right (free sound field corrected)
Left-right average (free sound field corrected)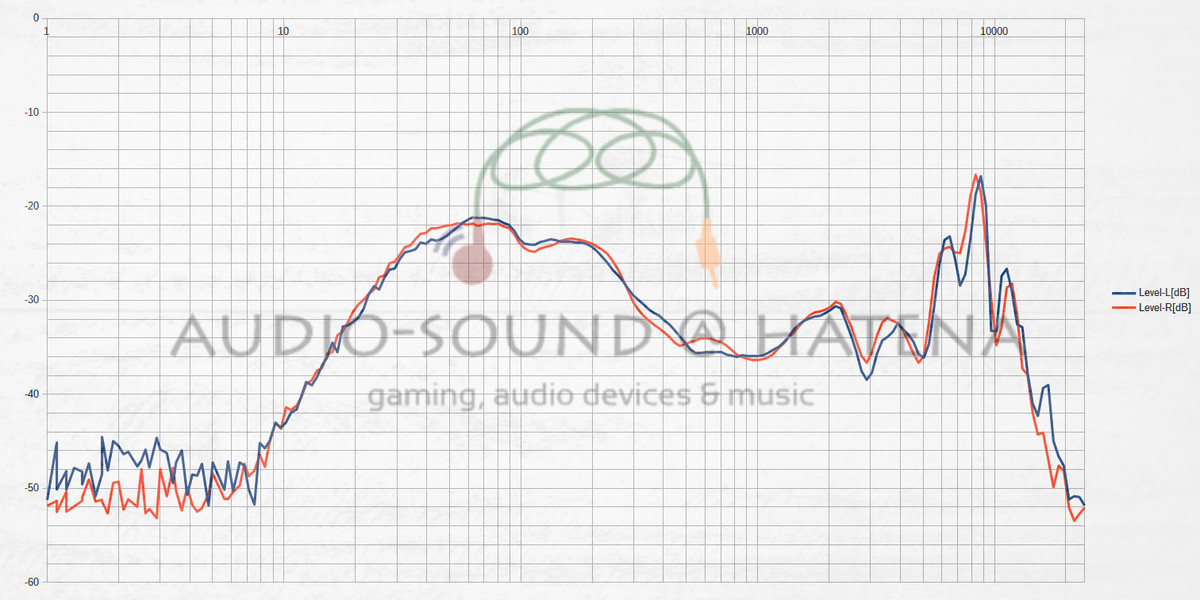 As you can see from the frequency characteristics, it has a prominent V shape. The weight and the presence of depth in the low range are unlikely to be experienced with earphones in the same price range. It is a headphone that attracts bass enthusiasts who want a realistic sound, and it can be said that it is just like a DJ.
The sound is thick, full and full, but in the mid range the vocals come to the front. The vocals are slightly leaning forward, and in the chorus it feels high enough to break through the low-frequency heat. The colors in the mid-high are also good, and the thick instrumental tones are glossy and lively. It has a bold and constructive sound as a whole, and gives you a fulfilling sound.
It leans a little to the low range, which is also heavily biased to the deep low range, but the energy of the high range is also balanced, so the whole music is not buried in the profound feeling of the low range. The sound is slightly airy at high pitches and can be heard extending.
It's my favorite sound with a sense of OneOdio. Not suitable for people who are not good at low frequencies. I personally like to enjoy songs like Aimer with chelly "ninelie" on these headphones.
Recording signature
Please refer to the following for the basic principles of recording signatures and how to enjoy them.
The recording signature is posted for advisory. Free sound field adjustment is added. The source is FiiO M15 and the gain setting is high.
The music used in the recording signature is from the game maker Nippon Falcom, which I love.
JAZZ
OST
Classical
Sophisticated Fight / We Love Sora No Kiseki / Copyright © Nihon Falcom Corporation
FEENA / イース ピアノコレクション / Copyright © Nihon Falcom Corporation

第3部「白き魔女」: 白き魔女 /   Symphony Gagharv Trilogy / Copyright © Nihon Falcom Corporation

組曲 LILIA (ファルコム ネオクラシック フロム スタディオズ イン ロンドンシティ) / Very Best of Ys / Copyright © Nihon Falcom Corporation
Rock
Final Verdict
| | |
| --- | --- |
| Comprehensive evaluation: | ★★★★★ |
This is a headphones that are comfortable to wear, easy to carry, and have a powerful and comfortable sound quality. The low range is a little stronger, so you may like it, but if you like a heavy V-shaped sound, it is a model worth considering at this price range. The overall build quality is also quite good and I recommend it.
OneOdio Adapter-Free Over Ear Headphones for Studio Monitoring and Mixing, Sound Isolation, 90° Rotatable Housing with Top Protein Leather Earcups, 50mm Driver Unit, Wired Headsets with Mic (Pro-50)
Recommended articles
---