Tronsmart Spunky Beat Bluetooth TWS Earphone APTX Wireless Earbud
Tronsmart is a manufacturer that was established in 2013 in Shenzhen to design, manufacture and sell electronic gadgets and accessories. It is an R & D company with a relatively large number of products in the field of wireless speakers.
Among the low-priced models, Tronsmart Spunky Beat is highly evaluated in terms of sound quality, and it is evaluated that it is relatively flat and well balanced.
Basic specifications
Continuous / maximum playback time: 7h / 24h
Waterproof performance: IPX5
Supporting codec: aptX / AAC / SBC
Unboxing
The overall design of the earphone package is fairly decent at this price range and may be rather luxurious. Some of the complete wireless earphones in China have a simple package for the price, but the package of this product is a decent package design that seems to be no problem even if it is lined up in mass electronics stores.
Accessories are earphone pair, charging case, charging cable (Type-C).
Fit
The thin housing is compact and lightweight. It is shaped like a pea, and depending on the shape of your ears, the fixation may be a bit less secure.
Connectivity
It is a very good in the price range. I don't know well because I haven't been to a crowded place, but it's good at home. Distance resistance seems to be excellent, and even if it is 5 m away, it is seamless and does not disturb. It seems to be okay if there is a shield.
Although there is a slight amount of white noise, I think that unless you are a very sensitive person, you will not be worried.
Note that there is communication compatibility. When connecting to a DAP that does not have a call function, it may turn off automatically after a certain period of time, which was seen when connecting to an Astell & Kern DAP. I think that FiiO type DAP and Hiby type DAP are all right.
Sound Quality
Measuring equipment
SAMURA HATS Type3500RHR System: HEAD & TORSO, left and right S-Type ear model (Type4565 / 4566: IEC60268-7 compliant)
AWA type 6162 711 ear simulator
Microphone preamplifier: Type4053
Type5050 microphone amplifier power supply
Audio interface: ROLAND Rubix 24
Analyzer software: TypeDSSF3-L
*Due to the response of the ear simulator, the reliability below 20hz and above 16khz is not high.
Frequency response
In order,
[AET07 M attached] Separate left and right
[AET07 M attached] Average left and right
[AET07 M attached] Separate left and right (free sound field corrected)
[AET07 M attached] Left-right average (free sound field corrected)
[Attached ear tip M attached] Separate left and right
[Attached ear tip M attached] Average left and right
[Attached ear tip M attached] Separate left and right (free sound field corrected)
[Attached ear tip M attached] Left-right average (free sound field corrected)
Comparison (free sound field corrected)
Comparison (free sound field corrected/2khz-24khz)
* "AET 07 M size" is the reference eartip for measurement of this blog. All other eartips are standard with this earphone package unless otherwise noted.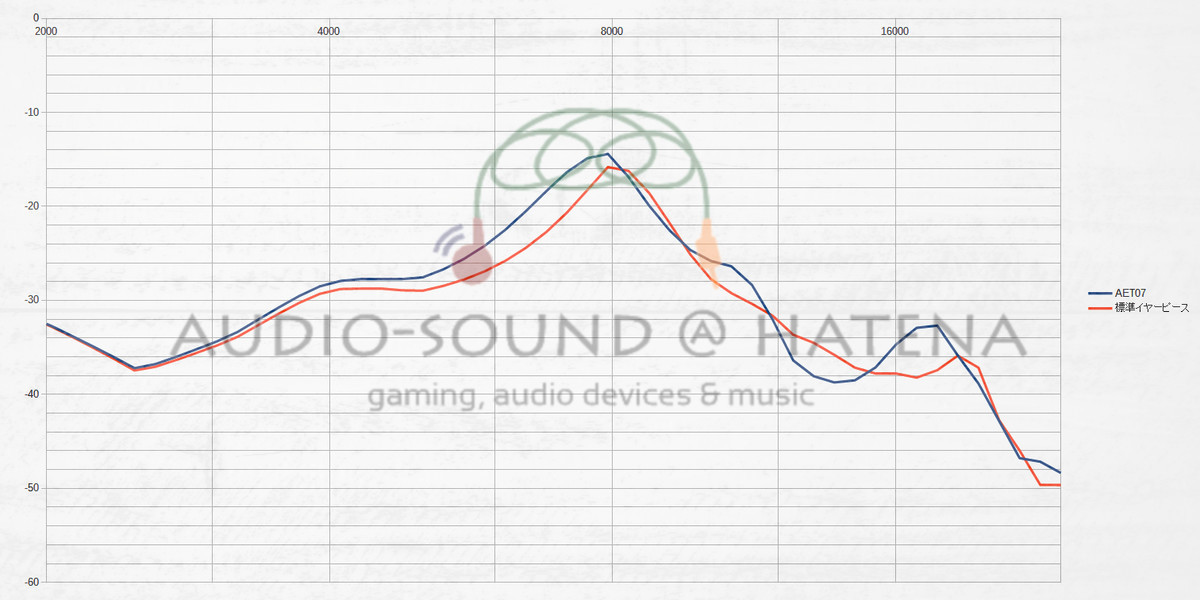 As you can see from the frequency characteristics, it is relatively flat, but the middle range is slightly depressed, and the overall energy seems to be slightly biased toward the high range. As a matter of fact, this earphone will be classified as a rather bright sound. HiFiGO recently wrote an interesting and straightforward article about sound signatures, but should it be seen as a "balanced sound" category? It's close to flat, and some highs are emphasized, but it's more musical than flat or monitor-like sound.
The low frequencies are heavily emphasized, but the really deep ones should be suppressed, so there isn't much floor ringing or noise, and they tend to sound clear. Generally speaking, it sounds good with layering. There is probably no shortage in the thickness of the low-frequency strings, and the weight should be sufficient.
Since the mid range is relatively rich, it has a fresh sound. Vocals have no sharp consonants, shouts are not tight, and they are moderately calm, but they are bright enough and have a moderate body, which makes them attractive as a vocal earphone. The vocal itself seems to be slightly dry and audible, but the sound of the surrounding instrument sounds fresh.
The high range is well ventilated, and the hi-hat is refreshing and glaring, but since it has a height that makes you feel more clean, it is an open space with a clean and good air. The consonant sound of the vocals is not sharp, the adjustment balance is good, and the sound field gives you a clear and wide-ranging sound field. It's calm and bright, but the sparkle of the piano is surprisingly flashy, and it's a lot of fun to emphasize the transparency a little. The color of the acoustic guitar is also good.
On the other hand, the attack of the rhythm is moderately saved, the transient of the snare is not bad and the snappy is felt and the contour is clear, but the power feeling is saved and there is a gentle atmosphere. Overall, the sound quality is an excellent balance at low cost, which has excellent detail, lots of clues, cleanliness and comfort.
For example, songs like Real Paradis "KAZE TO OKA NO BALLAD
" are surprisingly easy to vocal even with excellent vocal phones, but the vocal expression of this earphone has almost no tightness. Still, it's full-bodied and can be heard as it comes out.
Comparison with AUKEY EP-T21
Let's compare it with the AUKEY EP-T21 (the QCY T5 can be said to be almost the same model in terms of sound quality), which exists in the same price range and will have a slightly different character in terms of sound quality.
The graph below compares the free-field-corrected frequency measurement graphs of each standard earpiece, and the graphs are adjusted so that they intersect at 1khz for clarity. An enlarged view of the upper part of the mid-range above 1khz is also shown.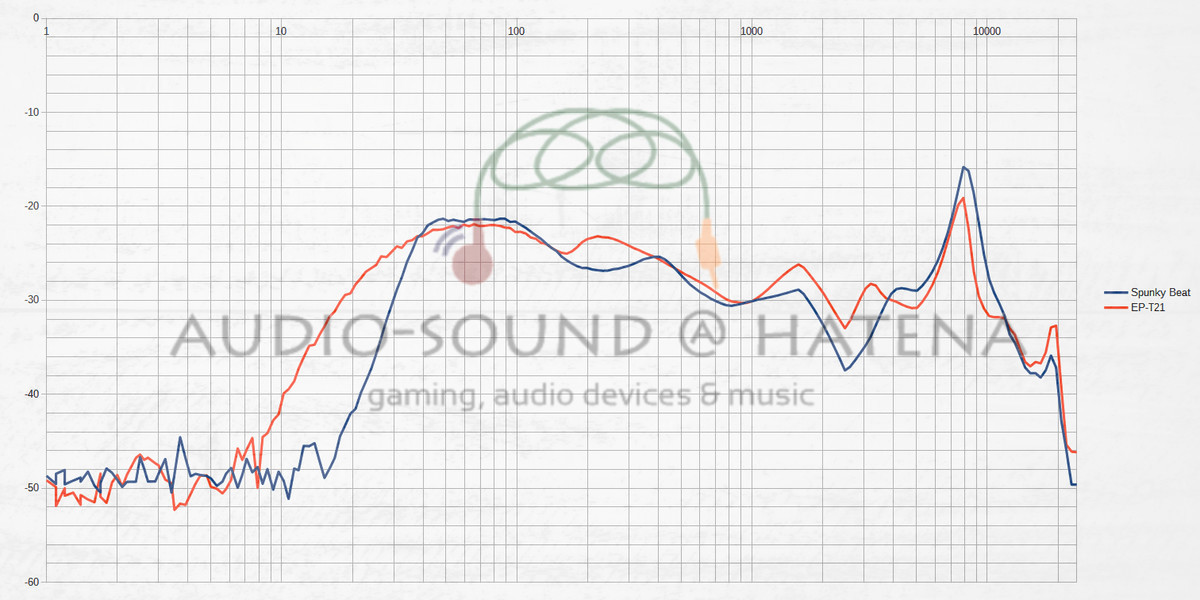 Generally speaking, I think that Spunky Beat is cleaner and better than AUKEY EP-T21, and in some cases, it sounds a little thin. The EP-T21 has a richer sound, is thicker in the mid to lower range, and vocals and instrument sounds sound a little warmer. Generally speaking, EP-T21 should be selected if you want to emphasize listening comfort and sound depth, and Spunky Beat if you want more emphasis on cleanliness and detail.
For a comparison with rival BOMAKER SiFi in the same price range, see previous reviews of Spunky Beat.
Recording signature
Please refer to the following for the basic principles of recording signatures and how to enjoy them.
The recording signature is posted for advisory. Free sound field adjustment is added. The source is FiiO M15 and the codec setting is aptX.
The music used in the recording signature is from the game maker Nippon Falcom, which I love.
JAZZ
Classical
Rock
Final verdict
| | |
| --- | --- |
| Comprehensive evaluation: | ★★★★★ |
Among the models below 5000 yen, it will be in the top rank without a complaint in terms of sound quality. There is a feeling of detail, and you can enjoy a fresh, clean and juicy sound. Depending on the person, the sound may tend to be slightly thin, but it suppresses harsh parts well and makes the sound open and clean. Although the resolution level and freshness are different, it is for people who want to enjoy the sound of the atmosphere close to NUARL N6 Pro at a low price range.
Also compatible with aptX, communication quality is good and battery performance is above standard. There is also a built-in cable that can be used on the go, and there is also a USB Type-C charging port, which makes it easy to use.
Tronsmart Spunky Beat Bluetooth TWS Earphone APTX Wireless Earbud
Recommended articles
---