KINBOOFI TINHIFI T2 Plus in Ear Headphone, Newest Dynamic HiFi in Ear Monitor with Detachable MMCX Cable for Musician Audiophile
This article is a translation of the following Japanese article.
The model to be discussed this time is TIN HIFI T2 Plus. TinHiFi is a Chinese manufacturer of in-ear monitors (IEMs) and has been providing OEM/ODM products, but in 2017 they launched their own brand, TinHiFi, which quickly became famous among audiophiles due to its good cost performance.
The TinHiFi T2 Plus is an upgraded version of the brand's flagship TinHiFi T2 double dynamic driver earphones.
Basic specifications
Frequency responce: 10hz-20kHz
Impedance: 32Ω
Sensitivity: 104dB
Cable connector: mmcx
Unboxing
The packaging is higher quality than standard for this price range and seems to be rather luxurious on the unpacking experience. The accessories are adequate, but the lack of a carrying case may be disappointing to some people.
The build quality of the unit is good. The cable quality is also excellent for the price range and handles well, and probably doesn't require an upgrade.
Fit
The housing has been replaced with a sleeker design compared to the martial cylindrical design of the T2. It sits well in the ear. The metal casing is sturdy, but the aluminum casing is lightweight and compact, so even if your ears are small, you'll be able to wear them without any problems and without feeling overwhelmed.
Sound Quality
Measuring equipment
SAMURA HATS Type3500RHR System: HEAD & TORSO, left and right S-Type ear model (Type4565 / 4566: IEC60268-7 compliant)
AWA type 6162 711 ear simulator
Microphone preamplifier: Type4053
Type5050 microphone amplifier power supply
Audio interface: ROLAND Rubix 24
Analyzer software: TypeDSSF3-L
*Due to the response of the ear simulator, the reliability below 20hz and above 16khz is not high.
Frequency response
In order,
[AET07 S attached] Separate left and right
[AET07 S attached] Average left and right
[AET07 S attached] Separate left and right (free sound field corrected)
[AET07 S attached] Left-right average (free sound field corrected)
[Standard eartip S attached] Separate left and right
[Standard eartip S attached] Average left and right
[Standard eartip S attached] Separate left and right (free sound field corrected)
[Standard eartip S attached] Left-right average (free sound field corrected)
Comparison (free sound field corrected)
Comparison (free sound field corrected/2khz-24khz)
* "AET 07 S size" is the reference eartip for measurement of this blog. All other eartips are standard with this earphone package unless otherwise noted.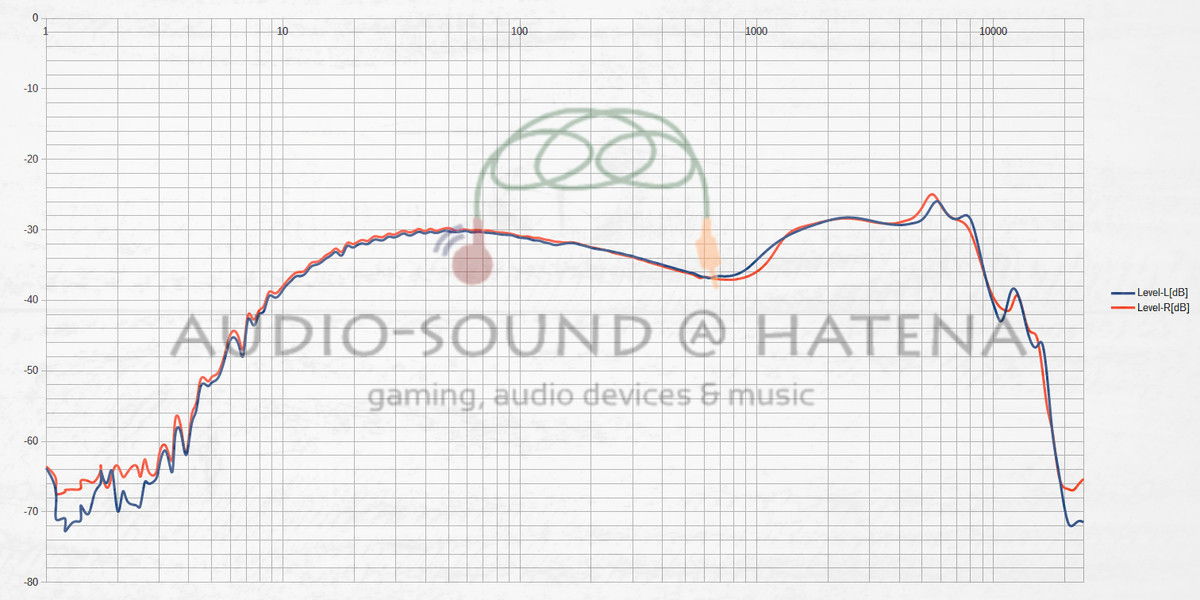 Overall, the sound signature is pretty close to flat, and could be described as slightly U-shaped. The midrange sounds relatively forward.
Low frequency layering is good, the contours are crisp and the outlook is relatively good. The low frequencies can be described as rather monitor-like, and the deep geothermal heat is not strong and the noisiness is not as strong. The electric bass sound is a bit brighter and the kick is a bit heavy, but it sounds crisp and rhythmically oriented. The low frequency strings are weighted and a bit thicker, but the denseness is moderate and transparent. The low range is rather tight.
The midrange sounds rather clean due to the recesses in the lower midrange and the valleys in the direction of the high frequencies. The contours are slightly firmer and provide a solid sound image with a crisp sound. Cues are slightly more and the sense of detail will sound good. The vocals are clean and have a brighter tone with emphasis on nuance. It tends to sound slightly husky and over-breathed, the sax lines may sound a little more emphatic and a little more spiteful, but the delivery is clear and the lyrics are easy to hear.
The upper mid-range troughs bring a moderate sense of depth and silence to the sound field and provide vocal focus. From the mid-high range to the high range, there is a rather straightforward and straightforward sense of separation with few peaks. However, the coloration is a bit subdued and the midrange may seem like a watercolor painting. The glare is a little stronger, with chatter on the edges of electric guitars and moderate silvery glare on hi-hats and acoustic guitars, and a clearer outline. The cues are more solid and a bit sharp with a tighter sound. The graininess is fine and the cymbal has a pleasantly stimulating feel that is distinctly prickly.
The overall sound field sounds a bit dry and deep, and I think it sounds a bit slim. If you like a spontaneous and smooth sound, I can highly recommend this model. The transients are good, and the sound is crisp and tight in both the high and low ranges, which gives you a pretty good sense of rhythm. If you want to feel a lively sense of rhythm, these are the preferred earphones.
Recording signature
Please refer to the following for the basic principles of recording signatures and how to enjoy them.
The recording signature is posted for advisory. Free sound field adjustment is added. The source is FiiO M15 and the codec setting is aptX. The eartips used are the "Standard silicon S size".
The music used in the recording signature is from the game maker Nippon Falcom, which I love.
JAZZ
OST
Classical
Sophisticated Fight / We Love Sora No Kiseki / Copyright © Nihon Falcom Corporation
FEENA / イース ピアノコレクション / Copyright © Nihon Falcom Corporation

第3部「白き魔女」: 白き魔女 /   Symphony Gagharv Trilogy / Copyright © Nihon Falcom Corporation

組曲 LILIA (ファルコム ネオクラシック フロム スタディオズ イン ロンドンシティ) / Very Best of Ys / Copyright © Nihon Falcom Corporation
Rock
Final verdict
| | |
| --- | --- |
| Comprehensive evaluation: | ★★★★★ |
It has excellent contour and rhythm, and is very well constructed with excellent solid detail in its price range. It has excellent vocal nuances, and although the body is a bit thin, it's also rather easy to recommend it as a vocal earphone. In terms of build quality and packaging, it's well within the norm for its price point, and it's rather luxurious and satisfying. The layering and contouring are good, with a good sense of cues, and this is a product that will fully satisfy listeners who want to listen to the sound image and rhythm in a clean, airy space.
KINBOOFI TINHIFI T2 Plus in Ear Headphone, Newest Dynamic HiFi in Ear Monitor with Detachable MMCX Cable for Musician Audiophile
Recommended articles
---