KSOUND True Wireless Earbuds, Active Noise Cancelling Headphones Bluetooth 5 in Ear with Charging Case, Hands-Free Headset with 4 Mic, Touch Control, 25 Hours Playback for iPhone and Android (K06)
This article is a translation of the following Japanese article.
The model to be covered this time is Aipower KSOUND EP-K06NC. Aipower is a sister brand of AUKEY, which is famous for mobile battery products and audio products. I'm not sure how they are separated, but Aipower products seem to be a brand with a relatively large lineup of value-added audio products such as active noise canceling. This EP-K06NC has also appeared as a model with active noise canceling for a completely wireless earphone, and is characterized by its low price.
Basic specifications
Continuous / maximum playback time: 5h / 25h
Waterproof performance: IPX5
Supporting codec: AAC / SBC
Unboxing
The entire package of the earphones is in the standard class for this price range. The accessories include the earpiece, charging case, charging cable (Type-C), and instructions.
Fit
The fit is good, and I think it fits well without having to wear it carefully. Sound insulation is decent.
Connectivity
It's a standard class in its price range. I don't know well because I haven't been to a crowd, but the connection is good in the home.The distance tolerance is also reasonably good, but it can be a bit disruptive when I'm about 5 meters away. The communication is reasonably stable at a distance of more than that. However, if there is an obstruction, it is almost impossible to connect.
There may be a slight hissing noise when the music isn't playing, but it's barely audible to me.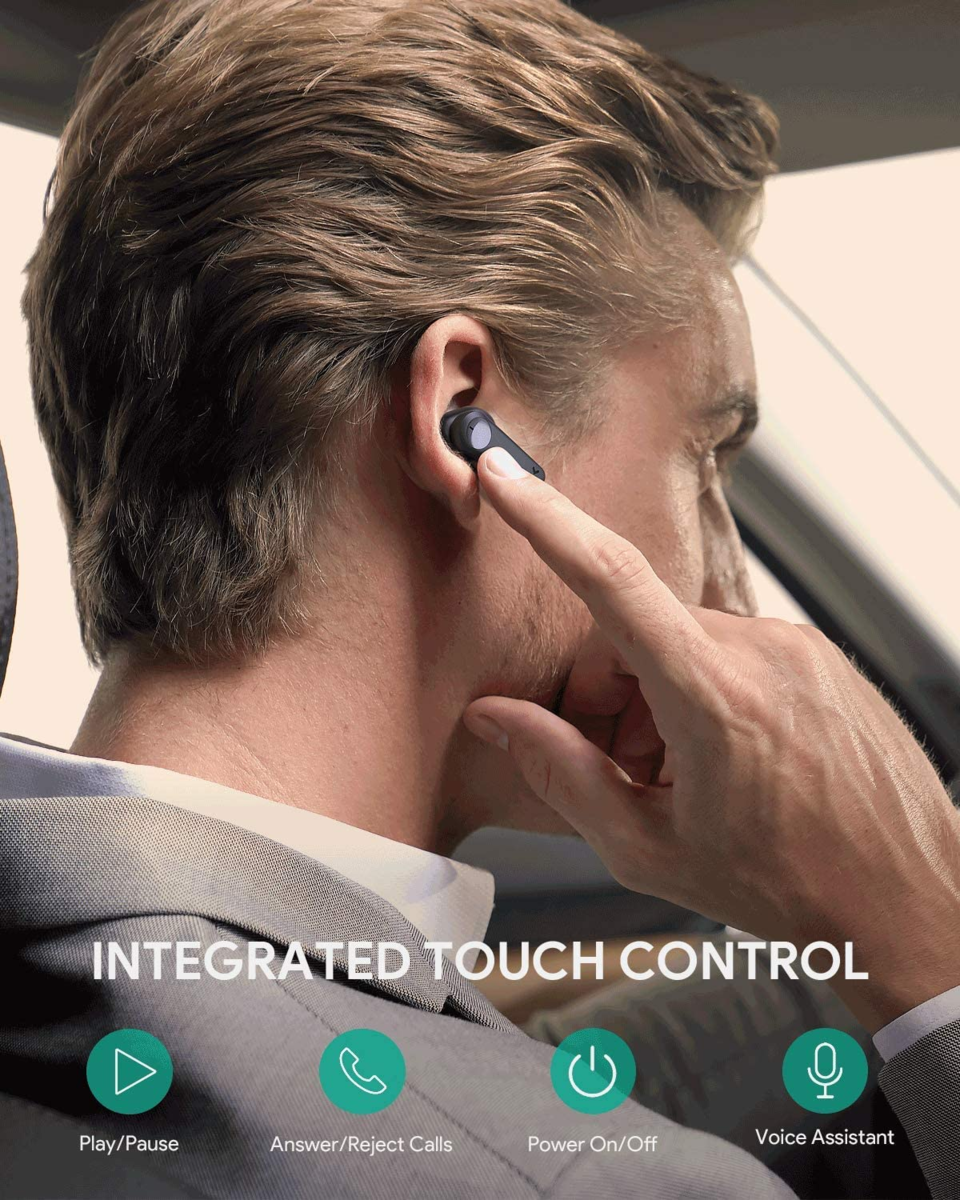 ANC Performance & Ambient
First of all, the hear-through is pretty natural. There are not many white noise like sounds and I think this level of hear-through performance is enough for this price. Many of the models at this price point have had unnatural hear-throughs, but I think the hear-through on this model is pretty good.
I don't really feel the effect of the ANC, but it seems to cut noise by about 20 dB, which is the nominal amount, along with the sound insulation of the earpiece itself. Below is a measurement with a reference noise flowing from a headphone (beyerdynamic DT990 Edition 2005 600 ohm), then put on the standard earpiece M size, turned on ANC, flowed the reference noise from the headphone again, and measured the sound insulation performance of this earphone every 1/6th of an octave. This is what we did. In this measurement, the average sound insulation performance in the audible range of 20hz to 20khz was about 13.43dB against the reference noise. I think it is rather excellent. I think the noise cutting range in the high frequency range is quite large.
Sound quality
Measuring equipment
SAMURA HATS Type3500RHR System: HEAD & TORSO, left and right S-Type ear model (Type4565 / 4566: IEC60268-7 compliant)
AWA type 6162 711 ear simulator
Microphone preamplifier: Type4053
Type5050 microphone amplifier power supply
Audio interface: ROLAND Rubix 24
Analyzer software: TypeDSSF3-L
*Due to the response of the ear simulator, the reliability below 20hz and above 16khz is not high.
Frequency response
In order,
[AET07 S attached with ANC] Separate left and right
[AET07 S attached with ANC] Average left and right
[AET07 S attached with ANC] Separate left and right (free sound field corrected)
[AET07 S attached with ANC] Left-right average (free sound field corrected)
[Standard eartip S attached with ANC] Separate left and right
[Standard eartip S attached with ANC] Average left and right
[Standard eartip S attached with ANC] Separate left and right (free sound field corrected)
[Standard eartip S attached with ANC] Left-right average (free sound field corrected)
Comparison (free sound field corrected)
Comparison (free sound field corrected/2khz-24khz)
* "AET 07 S size" is the reference eartip for measurement of this blog. All other eartips are standard with this earphone package unless otherwise noted.
Checking the overall sound signature, the bass is a bit more raised, but the overall sound is close to flat. It's a slightly U-shaped, faintly warm sound.
The weight of the low frequency range is slightly emphasized. However, the mid-range is also advanced enough so I don't have the impression that the low range makes it difficult to hear. The heat of the low frequencies sounds a bit blurred in the midrange, but the luster and liveliness of the mid and high frequencies are also well emphasized, so I don't think you feel it's too muddy. The layering in the low range isn't bad, and the deep end doesn't get too noisy either, so the electric bass is a bit rational, but I think it's rather clear and the rock is satisfying. The bass drum kick also seems tighter. I think the layering is rather good.
The high frequencies are mild and the roll-off is rather quick, so it doesn't have a lot of height, but that makes the sweetness of the midrange stand out and it works well with acoustic songs and has a bit of a retro feel to it. The detail is not so fine, but the contours of the instrumental sounds are strong and I think there is almost no sense of sounding out of focus.
Vocal focus isn't bad, but the low frequencies are slightly forward, and the mid and high frequencies are a bit flashy, which can sound buried for some people. The vocals are a little brighter and upward, with no sharp consonants, but there is some breath extension. The electric and acoustic guitars are well colored on the edges, and the snare feels rather snappy and crisp.
Although the sound may gather a bit in the midrange, it seems to be a rather versatile listening device, and I can easily recommend it.
Recording signature
Please refer to the following for the basic principles of recording signatures and how to enjoy them.
The recording signature is posted for advisory. Free sound field adjustment is added. The source is FiiO M15 and the codec setting is SBC with ANC ON. The eartips used are the "Standard silicon S size".
The music used in the recording signature is from the game maker Nippon Falcom, which I love.
JAZZ
Classical
Rock
Final verdict
| | |
| --- | --- |
| Comprehensive evaluation: | ★★★★★ |
It's a little warm, but it's close to flat, sounds polite in the midrange, and sounds near-universal. I feel it's also excellent for the price in terms of hear-through and ANC, and I think it's a pretty good introduction to these features.
The only thing that bothers me is that I feel the communication quality is lacking, so it may be unstable in congested places.
KSOUND True Wireless Earbuds, Active Noise Cancelling Headphones Bluetooth 5 in Ear with Charging Case, Hands-Free Headset with 4 Mic, Touch Control, 25 Hours Playback for iPhone and Android (K06)
Recommended articles
---