Sennheiser Momentum True Wireless 2 - Bluetooth Earbuds with Active Noise Cancellation, Smart Pause, Customizable Touch Control and 28-Hour Battery Life - Black (M3IETW2 Black)
This article is a translation of the following Japanese article.
The model featured this time is the SENNHEISER MOMENTUM True Wireless 2 (MTW2). SENNHEISER is a prestigious audio manufacturer in Germany and is a manufacturer that manufactures a wide range of audio products, from professional applications to consumer products.
MTW2 is the successor model to the SENNHEISER MOMENTUM True Wireless (MTW) ​​released at the end of 2018.
Basic specifications
Continuous / maximum playback time: 7h / 21h
Waterproof performance: IPX4
Supporting codec: aptX / AAC / SBC
Unboxing
The entire earphone package is luxurious. Accessories include eartips, charging case, charging cable (Type-C), and instructions.
The earphone case continues to be fabric processed from MTW, giving it a luxurious feel.
Fit
The fit is not bad. It is one size smaller from the first generation, and it fits better in the ear. Even so, it may be difficult to fit for people with small ears.
Connectivity
Quite excellent in the price range. I don't know well because I haven't been to a crowded place, but it's good at home. Distance resistance seems to be excellent, and even if it is 5 m away, it is seamless and does not disturb. Even if there is a shield, it will connect without problems.
I think there is almost no white noise.
There seems to be a compatibility problem with the ONKYO DAPs XDP-20 and XDP-30.
あら、ほんとだ。試してみたらMTW2、XDP-20とつながらないというか、ペアリングするとすごい音がしてバグる。https://t.co/AVDZlmLFpV pic.twitter.com/wDM3fqdFEJ

— audio-sound @ hatena (@audio_sound_Twr) June 6, 2020
Active noise canceling performance
See this article.
Comparison with Technics EAH-AZ70W
See this article.
Sound quality
Measuring equipment
SAMURA HATS Type3500RHR System: HEAD & TORSO, left and right S-Type ear model (Type4565 / 4566: IEC60268-7 compliant)
AWA type 6162 711 ear simulator
Microphone preamplifier: Type4053
Type5050 microphone amplifier power supply
Audio interface: ROLAND Rubix 24
Analyzer software: TypeDSSF3-L
*Due to the response of the ear simulator, the reliability below 20hz and above 16khz is not high.
Frequency response
In order,
[AET07 M attached] Separate left and right
[AET07 M attached] Average left and right
[AET07 M attached] Separate left and right (free sound field corrected)
[AET07 M attached] Left-right average (free sound field corrected)
[Standard eartip M attached] Separate left and right
[Standard eartip M attached] Average left and right
[Standard eartip M attached] Separate left and right (free sound field corrected)
[Standard eartip M attached] Left-right average (free sound field corrected)
Comparison (free sound field corrected)
Comparison (free sound field corrected/2khz-24khz)
* "AET 07 M size" is the reference eartip for measurement of this blog. All other eartips are standard with this earphone package unless otherwise noted.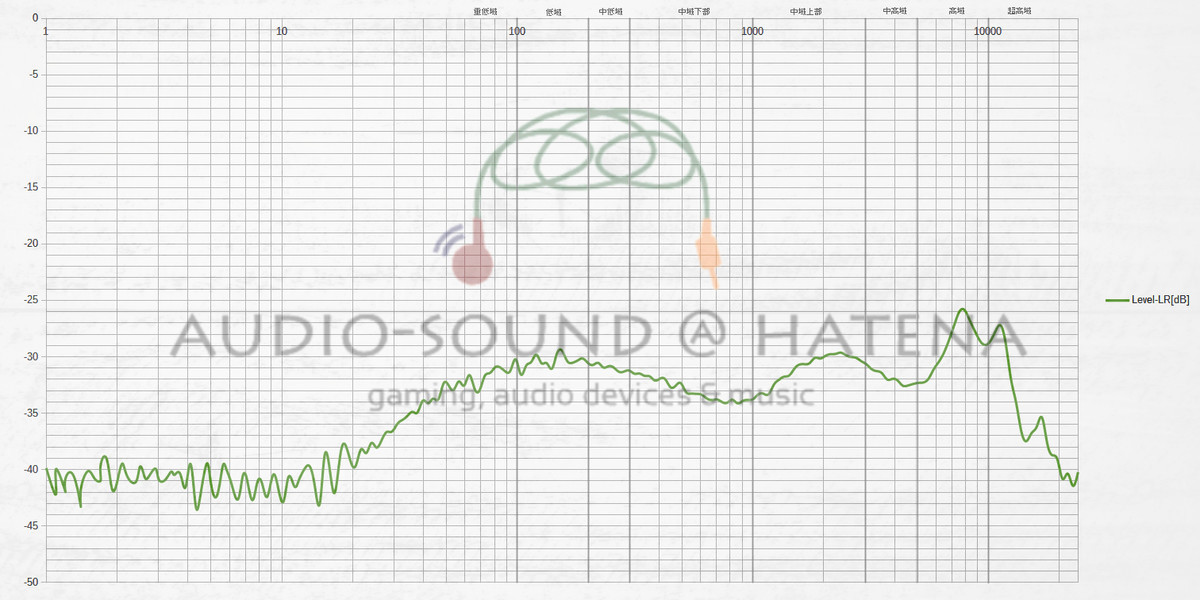 There is a zigzag noise, but I do not know the details, but I think that this tendency appears when sweeping the ANC model.
First of all, I must say that MTW2 has the latest firmware of 4.7.0, but my MTW2 is based on the firmware version when it was sold in Japan. There was a story that the sound quality would change when it was set to 4.7.0, and I liked the original sound of MTW2, so I have not updated it because there is no particular inconvenience. Therefore, please be aware that the sound may be different from the latest firmware version.
If you check the sound signature as a whole, it sounds like a U shape, and the warm sound is particularly noticeable in the mid to low range. The mid range is full and bright, and there is a certain amount of flash in the high range.
There is emphasis from the center of the low range to around the mid-low range, and the low range has a slightly superior relationship to the mid range, which emphasizes the volume and thickness. The mid range is a bit deeper than the low range, but the vocal range is clean and the vocal focus is good. There is a tendency that the sound is slightly concentrated in the midrange. Therefore, the midrange is thick, luxurious and full, but bass sounds are easy to overhang in the midrange, and some people may feel muddy. At least you'll feel warm and not a clean mids.
Since the mid-high range is calm, it is quiet above the vocals, and there are no exciting peaks. In addition, brass sounds and violins grow dynamically as they emerge from a calm background, so the sound path can be heard elegantly.
━ As a whole, it is finished in a highly artistic sound with a sense of luxury and luxury. Sounds very appealing to listeners looking for high end audio quality for classic and jazz.
Comparison with SENNHEISER MOMENTUM True Wireless
The graphs above are measured and compared for both AET07 M size earpieces. There are various opinions about the sound quality difference between the original MTW and MTW2, but I don't think it is as big a difference as it actually is. However, there may be differences in sound quality due to the environmental noise reduction effect of ANC and differences in the size of the housing, so in reality you may feel a slight difference in sound quality.
Recording signature
Please refer to the following for the basic principles of recording signatures and how to enjoy them.
The recording signature is posted for advisory. Free sound field adjustment is added. The source is FiiO M15 and the codec setting is aptX. The eartips used are the "Standard silicon M size".
The music used in the recording signature is from the game maker Nippon Falcom, which I love.
JAZZ
Classical
Rock
Final verdict
| | |
| --- | --- |
| Comprehensive evaluation: | ★★★★★ |
It's true that it's one of the best sounding of all current wireless wireless earphones, and the dissatisfaction of the original MTW has been greatly improved. The equalizer of the included app is a little confusing, but overall it has a very high level of perfection. Especially for those who want to enjoy rich midrange sounds in classical music and JAZZ and rich vocals, it is a model that can be recommended without complaint. It produces a very warm and moody sound
Sennheiser Momentum True Wireless 2 - Bluetooth Earbuds with Active Noise Cancellation, Smart Pause, Customizable Touch Control and 28-Hour Battery Life - Black (M3IETW2 Black)
Recommended articles
---