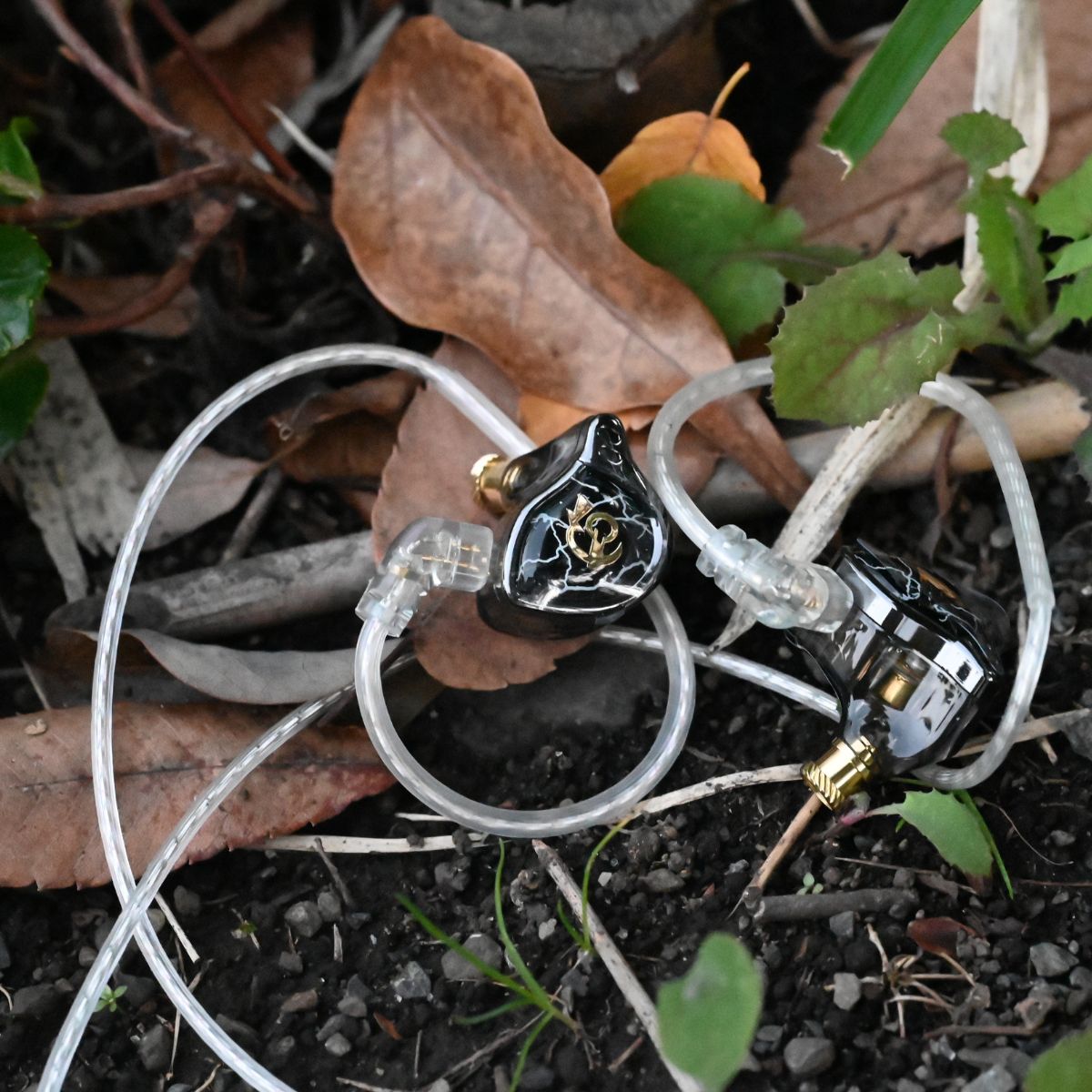 Disclaimer
This review is based on a sample provided by Linsoul to convey a sincere quality review to our readers.
No remuneration or compensation, such as a manuscript fee, has been received for publishing this, and it is an honest evaluation based on measurement data from personal testing and personal opinion.
Please read the privacy policy of this website.
Recommended for people like this
People who like a round, mellow sound
People who value sound image consistency
People who like warm sound
People who value a sense of heaviness
People who are sensitive to high frequencies
People who value cost-effectiveness
Overview of QKZ x HBB
This review will give an overview of QKZ x HBB. A complete review of this product can be found here.
audio-sound Score
Total Score: 9.0 / 10.0
Package: 8.0 / 10.0
Build quality: 8.5 / 10.0
Fitment: 8.5 / 10.0
High range: 8.5 / 10.0
Mid range: 9.5 / 10.0
Low range: 9.5 / 10.0
Less distortion: 8.5 / 10.0
Cost performance bonus: 11.0 / 10.0
Want to see the score ranking? Click here!
Basic Specifications
Frequency response: 20Hz to 20kHz
Impedance: 22Ω±10%
Sensitivity: 115±3dB
Cable connector: 0.78mm 2pin
Features of QKZ x HBB
QKZ Audio & HBB Collaboration
Optimized Magnetic Circuit, Double Power
CNC Aluminum Faceplate, Resin Shell
Detachable 2Pin Silver-plated Cable
Collaboration of QKZ Audio & HBB
With over 10 years of professional experience in HiFi industry, QKZ has been known for its extraordinary tuning and production technique. The newly launched earphone from QKZ is a collaboration with trustworthy HBB (Hawaiian Bad Boy from "Bad Guy Good Audio Reviews"). With HBB's years of experience and large IEM frequency measurement database, QKZ develops this acoustic sound signature that is well-balanced in three frequencies based HBB's tuning and optimization.
10mm Titanium-Coated Diaphragm
With times of experiments, QKZ acoustic engineers eliminated ordinary diaphragms and eventually selected the unique 10mm Titanium-Coated Diaphragm to deliver a detailed, accurate sound that is different from any other product in the market.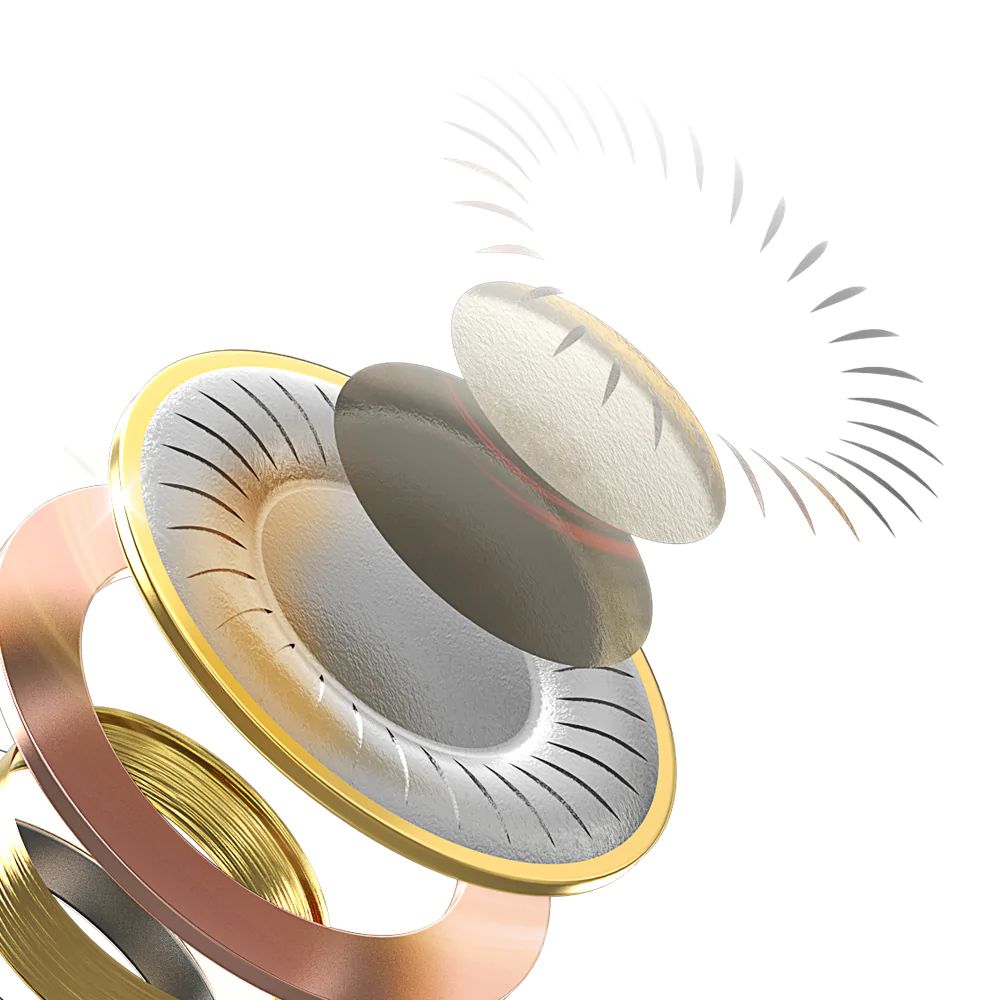 Optimized Magnetic Circuit, Double Power
Enhanced high-intensity magnetic circuit greatly improves bass performance. With HBB's special tuning, the earphone reproduces crystal clear sounds with enough bass for people who want to crank it out a bit, yet still be able to hear every instrument and vocal details of what is playing through their headphones. It is a good choice for R&B, DJ, stage performance, metal...
CNC Aluminum Faceplate, Resin Shell
The earphone is characterized by a unique logo that is reflective of HBB's Hawaiian roots-a combination of audio and design. This design has been etched directly into an CNC processed Aluminum faceplate that now matches the clear resin shell. The CNC aluminum alloy faceplate adds durability without weighing you down.
Detachable 2Pin Silver-plated Cable
The earphone comes with a standard detachable cable with optimized recessed 2Pin connector for longer lifespan. Silver-plated cable was selected as material to avoid stethoscope effect. The detachable features makes it easy to connect the device to various devices and ensures more possibilities for those who love to change things up. It provides convenience should your needs change later on.
package
The QKZ x HBB package meets the price standard.
It is easy to dispose of and eco-friendly.
Package contents
QKZ x HBB
Eartips
manuals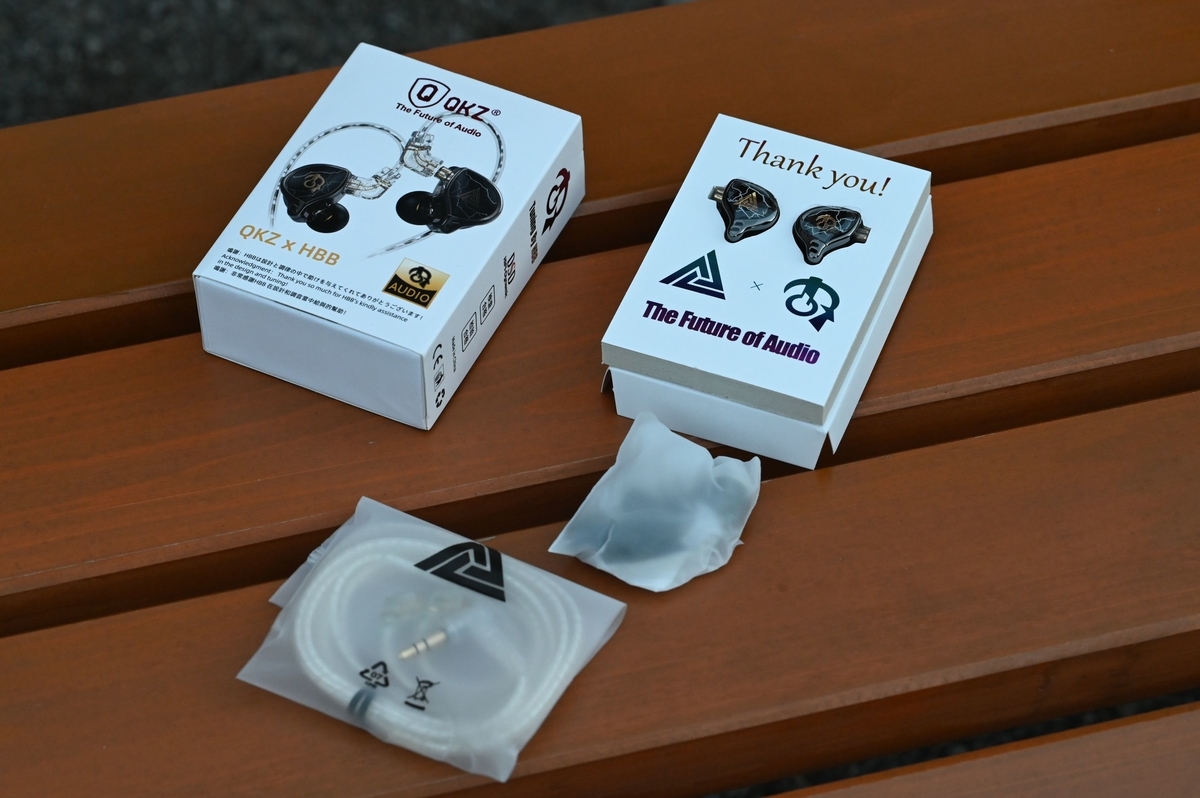 Build quality
Build quality meets price standard.
The faceplate is beautiful.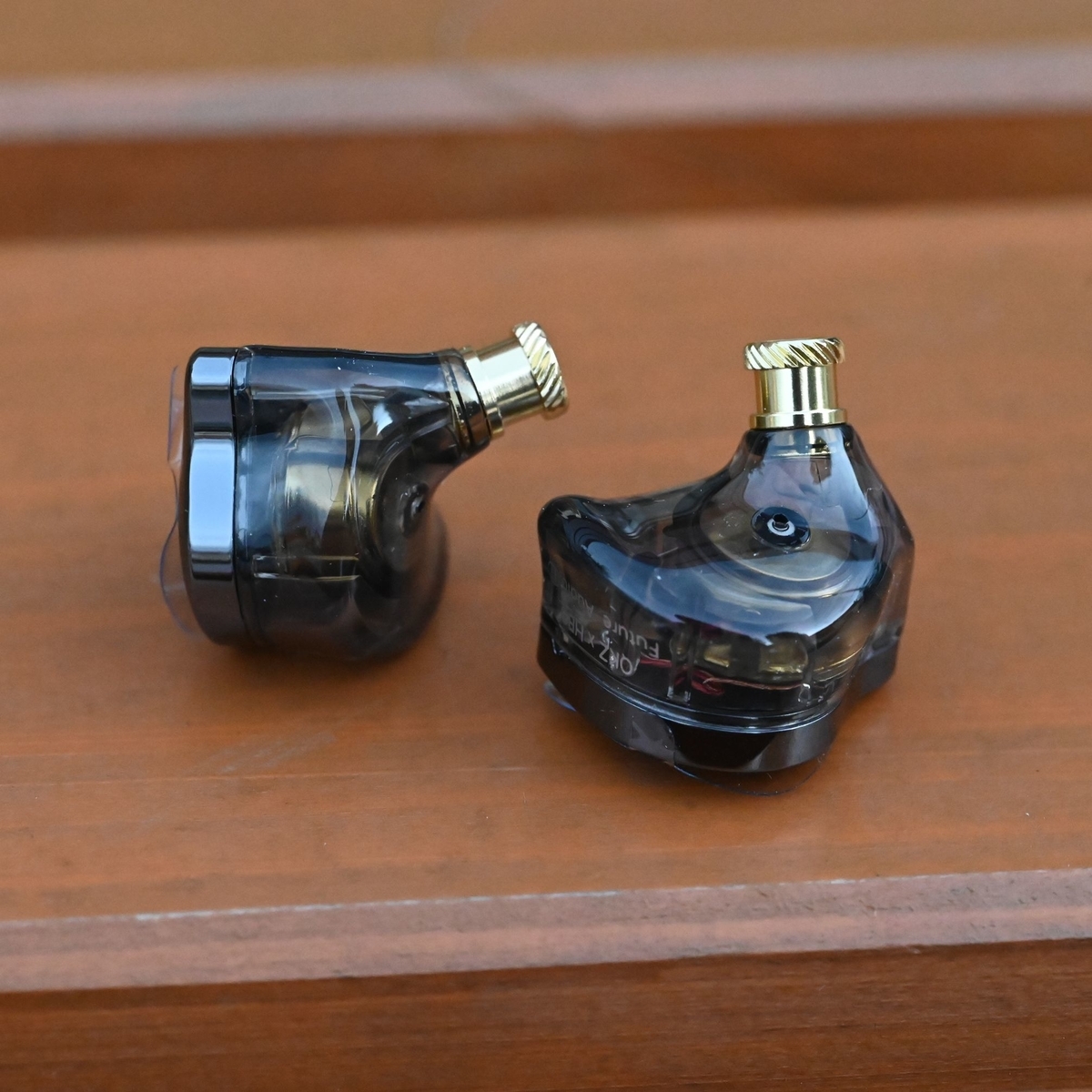 Fit
The fit is good.
Sound quality
REW Frequency Response
audio status
Sound quality description
In this review, I use the standard eartips size L and drive it with the FiiO M15.
The QKZ x HBB has a balanced, near-neutral sound signature with an emphasis on the midrange.
Please see here for detailed reviews on sound quality.
Lows / Bass
The low frequencies of the QKZ x HBB reach quite deep.
It is linear enough, weighty and deep enough, and while it is possible to find it slightly lacking in rumble, there is little shortage.
The drum kicks are sufficiently weighty and impactful, but sound slightly less tight and expansive to me.
Electric bass has sufficient depth and breadth, with a touch of blackness.
In general, it will fully satisfy low-frequency enthusiasts, but heavy bass enthusiasts may want it to go a little deeper.
Mids
The midrange is almost completely neutral. Texture is fairly accurate and near perfect, and transparency is of a satisfactory level, though it may lean slightly toward warmth.
In general, the midrange tends to sound rounded and a bit lacking in edge, due to a slight lack of energy in the mid to high frequencies. This gives the impression that guitars and snares lack sharpness, but pianos and wind music seem mellow and melodious. The midrange is spotlighted and focused in slightly darker spaces and sounds brighter in general.
The midrange sounds lush enough, but lacks definition, so the sense of separation tends to be a bit weak, and the overall sound is smooth, blended, and harmonic.
Highs / Treble
The high frequencies of the QKZ x HBB are tuned to roll off nicely with a speaker-like sense of forward localization, but they lack energy compared to typical standards. For many, therefore, there is a lack of brightness at the correct volume, causing a slight difficulty in the sense of detail.
Hi-hat coloration is subdued or feeling of warmth, sounding somewhat close to the background with a lack of presence.
Extension is quite good for the price range, with more than adequate air and good disconnect, and breath and cymbal crashes are fine and exhilarating and excellent, but lack sparkle, are not flashy, and sound subdued and sober.
It is more than safe enough for those who are sensitive to high frequencies, and is highly recommended for those who do not like sting or sharpness. People who tend to listen loudly may also prefer this level of high frequency. I am more of a safe-listening type of person and listen at less than the proper volume, so this high frequency is a bit insufficient for me.
Sound quality general comment
Original Sound Fidelity: A
Recommendation: A
Personal preference: B+
The QKZ x HBB is not a bad choice if you like a mellow sound overall. The high frequencies are very safe, but I think they tend to be a bit lacking for most people. It is comfortable to listen to, but it is not florid or tight.
It is an attractive option if you want to listen more low-frequency oriented, but in a close price range, the FloAudio Calla seems to be a generally better choice for many people.
Calla's high frequency range is not as extended as that of QKZ x HBB, so it is not a perfect top competitor, but it is generally superior in terms of low frequency depth and overall original sound fidelity.
Sound quality features
Pros
Excellent sound image consistency
Excellent texture
Good original sound fidelity
Good high-frequency extension
Mellow
Elegant and chic
Comfortable to listen to
Heavy
Warm
Safe in the high range
Natural overtone expression
Speaker-like localization
Cons
Poor coloration
Poor sense of separation
Sound a little too rounded, lacks a sense of build
Lack of definition
General comment
The QKZ x HBB earphones have a beautiful sound with sufficiently deep bass, good high-frequency extension, and mellow midrange. It is a relatively recommended choice in its price range, but it should be noted that it has many shortcomings, including a lack of detail and contouring.
Purchase link