Kinera has released a new planar drive IEMs, the Kinera Pandamon.
Features
Professional Tuning & Excellent Bass Performance
3D Cavity Design
Exquisite Ear Shells & Circular Hollow Panel
High-Quality Oxygen Free Copper Cable
PRODUCT SPECIFICATIONS
Plug: 3.5mm
Driver: 10 x 10mm SPDTM
Interface: 0.78 2pin
Sensitivity: 108db
Wearing Type: In-Ear
Frequency: 20Hz-20kHz
Impedance: 9Ω
Weight (IEM + Cable): 5.4g + 17.2g
Cable Length: 1.25m
Cable's Specification:


Material: Oxygen Free Copper (OFC)
Diameter: 1.3mm/core
Braid Way: 4 core
Strands: 24 strands of 0.05mm
Protective Cover: Grey PVC
Interface: 0.78 2pin
Plug: 3.5mm
Cable Length: 1.25m
Plug Material: Pure Copper
Kinera 10mm SPDTM 2.0
To improve acoustic quality, the Pandamon complements an enhanced Kinera SPDTM 2.0, whose overall frequency sensitivity is enhanced by 3db. Besides, the square planar driver in this earphone can deliver a full frequency range, self-sufficient to provide a complete listening experience, eliminating any possible frequency interferences or unwanted acoustic effects.
Professional Tuning & Excellent Bass Performance
Thanks to the wonderful SPDTM 2.0 (square planar driver), the Kinera features an excellent bass performance with immense texture but a transient response. While keeping a certain level of extension and dispersion, this in-ear earphone from Kinera characterizes long listening comfortability. It is worth mentioning that the vocals are kept at an optimal distance with enriching thickness, glittered with a velvety treble range. Overall tuned with a pyramid-shaped frequency distribution offers a warm and roomy tonality.
3D Cavity Design
Adopting a circular hollow panel with a unique sense of mechanical aesthetics, the Pandamon earphone characterizes a hollow cavity with a strong sense of three-dimensionality visually. This IEM is a perfect integration with inner mechanical artistry. Pandamon also utilizes resin as shell material, and the 3D cavity of pressed texture is an iconic blend of IEM design brilliance.
Exquisite Ear Shells & Circular Hollow Panel
Apart from its professional tuning, Kinera is also known for its outstanding craftsmanship. They have designed the Pandamon with hand-crafted metallic ear shells and circular hollow panels. Every single unit of Kinera Pandamon goes through multiple processes including precision engraving, nickel electroplating, and UV coloring to ensure a balanced & natural color tone and a smooth and shining body with intricate and long-lasting metal features. Besides, there is a Pandamon logo on its panel, presenting an artistic collision core design between mechanical rhythm and the ferocious Pandamon symbolized by its metal-crushing teeth and flaming eyes.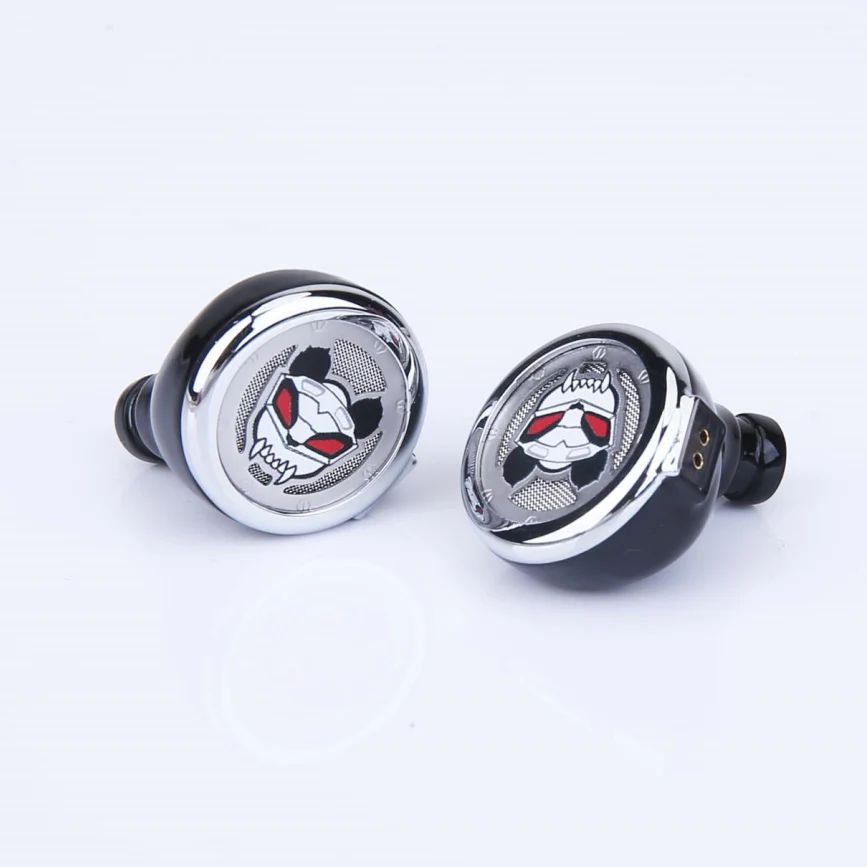 High-Quality Oxygen Free Copper Cable
The excellent Kinera Pandamon adopts 24-strands of OFC material cable with a grey PVC coat. Besides, the most obvious feature of the Kinera Pandamon is its rich texture and relaxed tonality, which make it a perfect partner when you want to enjoy your beloved music during your commute or after a long day's work. With the help of this high-quality audio cable, the Kinera can provide a marvelously acoustic performance.
Review
Price & Availability
Kinera Pandamon is now available at Linsoul and other locations for $59.