Here is a summary of the review articles about TINHIFI T2 DLC.
Features
The Upgraded Version of Classic T2 IEM
4th Gen DLC Composite Diaphragm, 10mm Dynamic Driver
5N 8-Core Silver-plated 0.78mm 2Pin Cable
Aviation-grade Aluminum Metal Cavity
Compact and Neat, Comfortable Wearing
Specifications
Driver: 4th Gen DLC Composite Diaphragm, 10mm Dynamic Driver
Earphone type: In-ear
Impedance: 16Ω±15%
Earphone sensitivity: 102dB/mW
Frequency range: 12-40000Hz
Plug interface: 3.5mm
Cable Length: about 1.2m±3cm
Cable: 5N 8-core silver-plated cable
Interface: 0.78mm 2Pin
The Upgraded Version of Classic T2 IEM
Ever since 2018 when TIN HiFi brought the revolutionary technology to earphones, with four years of successive feedback and compliment of TIN HiFi classic masterpiece-T2, now we believe it's time to put forth new ideas! Sticking to TIN HiFi iconic streamlined metal cavity, the T2 2022 version has been upgraded to next level particularly in dynamic driver configuration and improved 0.78mm 2 Pin connector. It is an acoustic headphone that brings forward excellence in sound quality, ambience and style.
4th Gen DLC Composite Diaphragm, 10mm Dynamic Driver
T2 2022 Version features a fourth generation DLC composite diaphragm and 10mm DLC flagship dynamic driver that has been enhanced and optimized over year to year. The DLC diaphragm is beneficial to frequency response and substantially decrease unnecessary vibration. It attains a incomparable dynamic changes with restored acoustic quality. Furthermore, Japanese imported CCAW ultra lightweight voice coil adds richer details and higher sensitivity.
5N 8-Core Silver-plated 0.78mm 2Pin Cable
One of the biggest changes for the upgraded version must be the reinforced detachable 0.78mm 2Pin connector. Over the years, we have listened to customer's voice and eventually we gave up MMCX connector on T2 2022 version and go with the loved 0.78mm 2Pin. Even after times of changing cables, the IEM shall remain the same. Silver-plated cable is clad with German TPU material to prolong its lifespan while maintaining lossless transmission and crystal clear sound.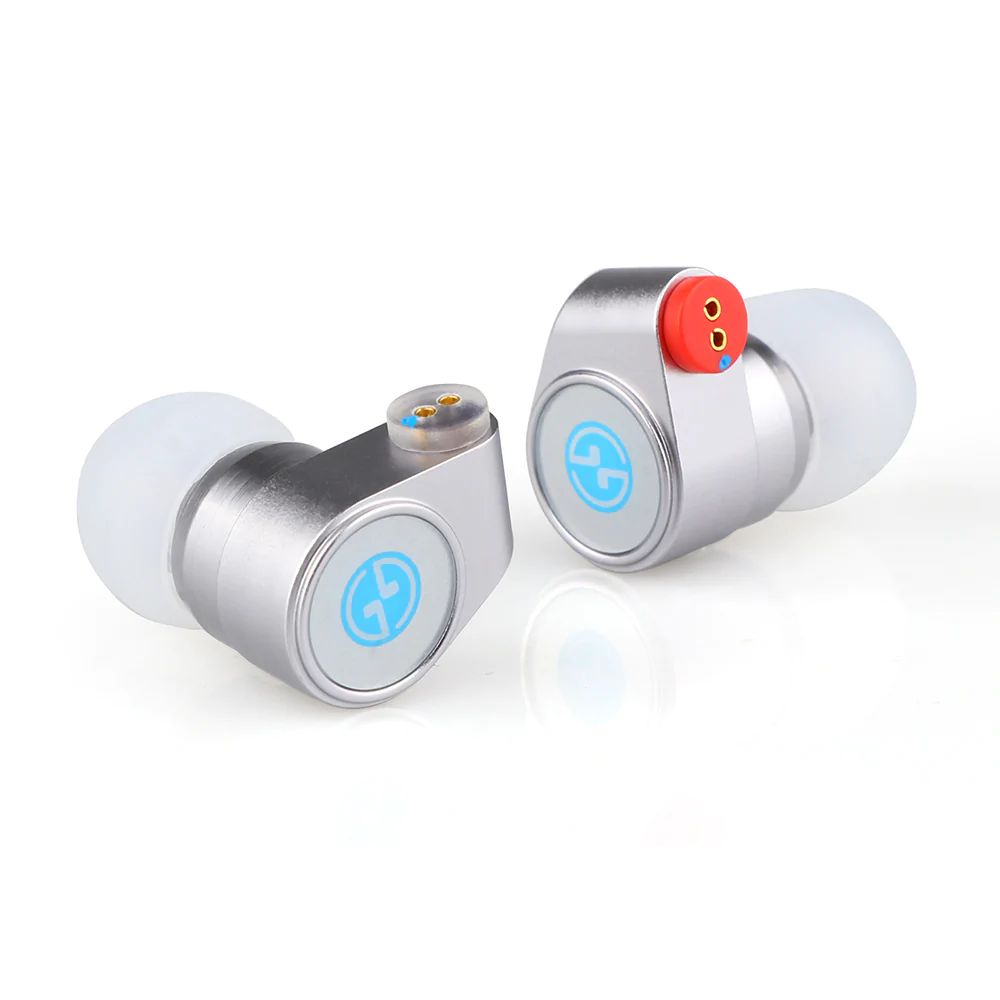 Aviation-grade Aluminum Metal Cavity
T2 2022 version continues to adopting aviation-grade high density aluminum as material for the cavity, with which the acoustic wave reflection can reach better dynamic equilibrium. Meanwhile, distinctively optimized direct vocal cavity effectively eliminates resonance oscillation caused by sound wave reflection. Thus a more original, natural, and purer sound performance is guaranteed.
Review Round Up
Having heard a lot from Tin HiFi, it is easy to recommend anything from the brand. It makes it easy especially when the product is so affordable. The T2 DLC has some flaws with its sound signature, but if you aren't as picky, they have a lot to offer. You get some heft in the bass and some nice highs, with an average soundstage that holds everything together. For $59, there's going to be a good amount of listeners that will enjoy the T2 DLC.

 

Pros:

Impactful bass
Emphasized low-mids
Present highs
Good build
Supportive in the ear
Price 

 

Cons:

Dull upper-mids
Linear soundstage 

 
Should You Buy It?

Not really. Objectively, the T2 DLC is not a bad IEM. It's just not an IEM really worth talking about. As some might say, it's truly one of the IEMs of all time. The competition below $100 is the fiercest it's ever been, and Tin HiFi simply isn't able to keep up. In the last years, they've done one of three things: chase past glory, attempt ill-advised innovations, or create me-too products. To be fair, a few of them have worked. But instead of improving upon them, Tin keeps retreading old ground. For example, why did they go back to the classic shell and tangly cable in the T2 DLC? The T2 Plus and P1 Max has shown that Tin HiFi doesn't have to stick with a four-year-old build designs that don't work for everyone. Though it's a minor point, it's indicative of the way the company is looking at product development. As it stands, the T2 DLC is another forgettable IEM in the ever-growing list of T2 variants. But enough ranting. If you want this sort of tuning, just get the DUNU Titan S instead.

 

Reasons to buy:


Reasons not to buy:

Dampened and Compressed Sound
Technical Performance is not Competitive
Lacking in Treble Character

 
So first off let's establish that basically anything you choose as an alternative will pretty much always cost more money. With that said, the Etymotic ER2SE has dropped significantly in price. It boasts an easier-to-achieve fit and a similarly neutral leaning sound. The looks are more serious, and less cheerfully reminiscent of a do-it-yourself project.

 

All right, bassheads, you want something good out of the box without buying any extras, try the Campfire Audio Honeydew. It fits way better than the T2, with a bendable cable that is the business. For a more consumer-oriented sound that's less bass-oriented, you could try its sibling the Campfire Audio Satsuma. It has similar-shaped housing and cabling. These both, of course, cost quite a lot more than the TIN HiFi T2.

 

One of the few budget options to undercut the value proposition of the T2 is the Moondrop Chu retailing for merely $22 USD. Like the TIN HiFi T2, the Moondrop Chu has metal earbud housings, although it is noticeably less clunky in shape, providing a better fit. You don't get a removable cable, or memory foam ear tips with the Moondrop buds. However, the sound quality is excellent with more bass available than the T2.

 

People looking for something with more flexibility, given that the TIN HiFi T2 is an audio-only affair, maybe you want a mic, or the option to go wirelessly. For that, try the Sennheiser IE 100 PRO. It sounds good, fits decently, has very good isolation, and lets you go wireless or wired.

 

What we like:

Sounds better than the price suggests
Studio style frequency response
Removable MMCX cable
Plenty of ear tips
Price


What we don't like:

Stiff cable
Unrefined finish
Not very comfortable
No microphone limits some case use
No IP rating, but that's not unusual for wired in-ear monitors

 
You really can't go wrong with a bargain IEM like the T2 DLC. For only $60 it gives you a clear and consistent sound profile that is so easy to just sit back and enjoy. Some detail may be missing in a few regions, but its response is more than what you pay for. If you're looking for an IEM on a stricter budget, I think the T2 DLC is one of the safest choices to bet on depending on your sound taste of course.

 
Having tried the T2 DLC without the perspective of the previous iteration, I would say that the T2 DLC has an inoffensive and borderline neutral timbre with a hint of elevation on the bass and treble to give a bit of fun to the mix. It's technically capable for the price with virtually nothing wrong with the sound quality.

 

But when we look at the T2 DLC in the current state of the market, it really gets you to think about whether the T2 DLC holds up against the competition. As a unit, the T2 DLC does nothing wrong to give it any distinctive con to swerve people away from buying it. But T2 DLC played too safe in a market where constant innovation appears almost every month. The budget segment has never been as competitive in the last few years, and yet TIN HiFi choose that the T2 DLC played on the preexisting formula that the likes of the Moondrop Aria has set a year prior.

 

Is the T2 DLC good? I'd argue that it is. Is it enjoyable and capable to be your daily driver or even first IEM, I would argue that there are better choices but it's definitely a good choice if you fancy the shape and want a more neutral sound signature. But can it compete with the ever-expanding choices of IEMs that provide exceptional technical ability through new and innovative drivers/tuning, abundant accessory inclusions, or overall just a more specialized target? I would argue that it all comes down to where the market flows in the next few months. But I have a hunch that the T2 DLC will just be another IEM tuned safely that will be forgotten in due months' time when extravagant and interesting IEMs that offer much more than a safe and inoffensive tuning with average technical ability. If anything, I'd compare the T2 DLC to a sequel of a blockbuster film. Some may have been waiting for the sequel, but it has presented itself to be a safe but lifeless addition to an ever-growing market of lifeless sequels.

 

I have not tried the original T2, but I do understand that the T2 cemented itself as unique in a market filled with a similar V-Shaped tuning by going for a reference-style tonality and interesting form factor. It shocked the market then for being as innovative and different, yet its revision ended up falling ill to the tonal deafness that it once broke free of. It found itself washed up, not by doing things wrong but by being complacent to a market that needs constant innovation. And there, the T2 DLC lies almost undistinguishable amongst the pile of harman-like tuning that has filled the market in recent times. And there the T2 DLC digs its own grave, forgotten and overshadowed by those that choose to innovate like it did all those years ago.

 

Pros:

Solid build quality
Satisfying unboxing experience
Versatile fitting*
Good all-rounder
Inoffensive and natural timbre
Tight, well-controlled, and detailed bass response
Natural and well-presented mids
Smooth treble presentation

 

Cons:

Somewhat disappointing accessory inclusions
Thin, tangle prone cable
Badly implemented earhooks
Can be too boring or laid back for some
Lacks overall bass impact and texture
Upper mids occasionally distant sounding
Air region somewhat lacking
Average technicalities
Below-average isolation

 
I honestly think that the T2 DLC are the most enjoyable tuning I have heard from Tin Hifi so far, making them a very worthy successor to the original T2 model. They are not perfect and they may verge on being a very "safe tuning", yet I think they have done a good job here.

 

I reviewed the T3 Plus a while back and basically said that they were enjoyable because Tin had tuned them similar to many other successful models from other brands. In this case, Tin have taken a similar tuning with a few tweaks that push it even more towards my preference.

 

They are not perfect of course, the details are not the best and the driver does seem to struggle with very complex and detailed tracks, yet in general, they do a job that I have no complaints about.

 

I could probably list a few more things that I feel could be improved yet I feel they should be given credit where it is deserved and the Tin Hifi T2 DLC certainly deserve it in my opinion.

 

Pros:

build
comfort
tuning (even if a little on the "safe" side)...

Cons:

Could be more detailed and could also include some kind of transport case...

 
Summary
Tin HiFi T2 DLC is not a bad option and many reviewers describe it as "safe". Some rather aggressively recommend it with a tuning that can be described as relatively neutral, some say it's ok to buy it, and some don't recommend it much.
Either way, there are many excellent earphones in this price range, and you might be better off paying a little more for the well-established TIN HIFI T3 Plus than buying this.