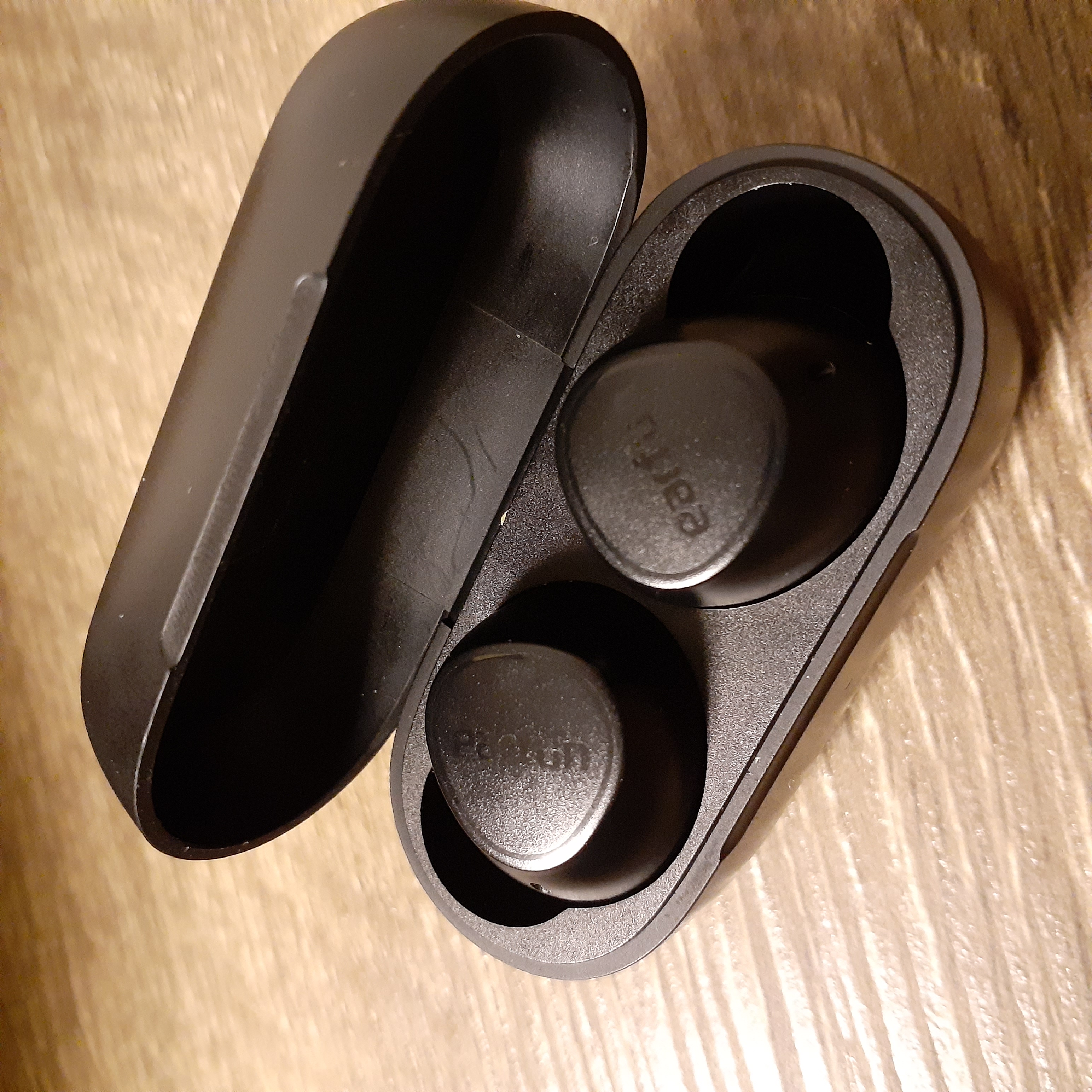 Disclaimer
This review is based on a sample provided by EarFun to convey a sincere quality review to our readers.
No remuneration or compensation, such as a manuscript fee, has been received for publishing this, and it is an honest evaluation based on measurement data from personal testing and personal opinion.
Please read the privacy policy of this website.
Recommended for people like this
People who like rock music
People who want to enjoy the deep low frequency range
People who like a gorgeous sound
People who value communication quality
People who play games on their phones and want a low latency mode
Overview of EarFun Free 2
This review will give an overview of EarFun Free 2. A complete review of this product can be found here.
audio-sound Score

Total Score: 8.5 / 10.0
Package: 8.5 / 10.0
Build quality: 8.5 / 10.0
Fit: 8.5 / 10.0
High range: 9.0 / 10.0
Mid range: 8.5 / 10.0
Low range: 9.5 / 10.0
Less distortion: 8.0 / 10.0
Communication quality: 9.0 / 10.0
Cost performance bonus: 10.5 / 10.0
Want to see the score ranking? Click here!
Basic Specifications
Continuous / maximum playback time: 7h / 30h
Waterproof performance: IPX7
Supported codecs: aptX / AAC / SBC
Superior sound
The dynamic driver with 6mm composite diaphragm provides graceful sound with transparent highs and rich bass.
TrueWireless Mirroring Technology
Regardless of whether you are using a smartphone or a computer, iPhone or Android, the left and right earphones will be connected to the sender simultaneously. TrueWireless Mirroring technology: Whether you are using a smartphone, computer, iPhone or Android, the left and right earphones will be connected to the sender at the same time, so that communication is less disrupted and the battery is not depleted unevenly.
60ms low latency mode
When the low latency mode is turned on, the latency can be reduced to as low as 60ms. When playing games or watching videos, the audio can be played back with less delay than normal playback, providing a more immersive experience.
However, it is recommended to turn off the low latency mode when listening to music due to the shorter communication distance.
cVc8.0 Noise Cancelling Technology
Provides very clear voice quality by reducing echoes and noise wherever you are, allowing for more natural two-way conversations.
Up to 30 hours of playback
Up to 30 hours of playback is possible with the use of a charging case. The earphones can be used for up to 7 hours on a single full charge. Convenient wireless charging is supported.
IPX7 waterproof and sweatproof
EarFun's proprietary SweatShield technology thoroughly prevents erosion from sweat and water. Commercial waterproof earbuds with nano-coating technology tend to get corroded by sweat after months of use and lose their waterproof performance.
package
It is a standard or slightly higher quality package in its price range.
Package contents
There is no shortage of accessories. The package contains the following:
EarFun Free 2
Charging case
USB Type-C cable
Eartips (3 sizes)
Manual
Build quality
There is no wobble in the lid. Build quality is up to the price standard.
Fit
The fit is not bad either.
Connection quality
I tested it by connecting it to a Cayin N6II/E02 with AAC. The quality of the connection is excellent for the price range. I haven't been in crowded places, so I don't know, but it's stable in the home. Distance tolerance is excellent, and the connection is seamless and intact even at a distance of about 5 meters. The communication is not interrupted even when interrupted by a barrier, and the music plays fine afterwards, with no interruptions.
There may be a small amount of white noise, but most people probably won't notice it.
Interface/operation
Power ON
Open the lid of the case
Power OFF
Store the earphones in the case and close the lid
Pairing
After the earphone is turned on, if there is no connection, the pairing mode will be automatic
How to reset

Set both earphones in the charging case
Put both earphones in the case, open the lid and press and hold the setting button on the back of the case for 8 seconds
When the LED lamp on the earphone turns purple, the reset is complete

Play/Stop song
Tap the multi-function button twice
Song forward
Tap the right multifunction button three times
Song back
Tap the left multifunction button three times
Volume up
Tap the right multifunction button once
Volume down
Tap the left multifunction button once
Answer a call
Tap the multifunction button twice
End call
Tap the multifunction button twice
Rejecting an incoming call

Press and hold the multifunction button for two seconds

Voice assistant function
Press and hold the right multifunction button for 2 seconds
Low delay mode ON/OFF

Press and hold the left multifunction button for 2 seconds

Sound quality
REW Frequency Response
Sound quality description
EarFun Free 2 has a V-shaped sound with massive low frequencies and glossy, flashy mids and highs. You can enjoy a powerful and energetic sound that is both massive and glaring, and the overall sound is in the tradition of the Free series, which emphasizes low-frequency weight and mid-high frequency clarity.
The following review was tested on a FiiO M15 with an aptX connection.
Please see here for detailed reviews on sound quality.
Sound quality general comment
Original sound fidelity: A
Recommendation: A-
Personal preference: A
The EarFun Free 2 is definitely part of the Free series, with its traditional emphasis on deep lows and lustrous mids and highs, giving it a slightly more analytical, monitor-like sound with an emphasis on overall balance.
Personally, I don't dislike the sound because it is crisp, structured, and easy to understand the framework of music, but I am concerned that the mid-high frequencies are a little too prominent. It's a little too loud at times. Consonants also tend to be too aggressive.
Sound quality features
Pros
Deep low frequencies
Glossy and gorgeous mid and high frequencies
Constructive
Excellent contrast
Analytical
Cons
Spiky consonants
Thin midrange
Too prominent mids and highs
General comment
EarFun Free 2 is a completely wireless earphone with a V-shaped sound that offers deep bass and glossy mids and highs. I personally enjoy listening to rock music with these, as they let me hear deep bass, heavy drum kicks, crisp snares, and edgy guitars. The communication quality is also good, and it supports wireless charging and low-latency gaming mode, making it a product with high overall performance.
Purchase link