Disclaimer
This review is based on a sample provided by EarFun to convey a sincere quality review to our readers.
No remuneration or compensation, such as a manuscript fee, has been received for publishing this, and it is an honest evaluation based on measurement data from personal testing and personal opinion.
Please read the privacy policy of this website.
Recommended for people like this
Mid-range oriented people
People who like deep low frequency range
People who want earphones that are comfortable to listen to
People who value functionality such as apps
People who like studio-tuned sound
Overview of Earfun Free 2S
This review will give an overview of Earfun Free 2S. A complete review of this product can be found here.
audio-sound Score
Total Score: 9.0 / 10.0
Package: 8.0 / 10.0
Build quality: 8.0 / 10.0
Fit: 9.0 / 10.0
High range: 9.0 / 10.0
Mid range: 9.5 / 10.0
Low range: 9.5 / 10.0
Less distortion: 8.0 / 10.0
Communication quality: 9.5 / 10.0
Cost Performance Bonus: 10.5 / 10.0
Want to see the score ranking? Click here!
Basic Specifications
Continuous / maximum playback time: 7h / 30h
Waterproof performance: IPX7
Supported codecs: aptX / AAC / SBC
Earfun Free 2S Features
EarFun Free 2S - Super Cost-Effective Fully Wireless Earphones
Qualcomm aptX™ & cVc 8.0 noise-canceling technology isolates and removes certain types of audio signals from the input signal, resulting in clear calls. All of the most advanced TWS features such as long playback time, 60ms low latency, IPX7 waterproofing, and wireless charging are included!
The "state-of-the-art Qualcomm QCC3040 chip" EarFun Free 2S wireless earphones feature high-quality 7mm composite-membrane dynamic drivers that deliver powerful bass and clear mids and highs for flawless sound quality. Bluetooth 5.2 and Qualcomm TrueWireless Mirroring technology dramatically stabilizes the connection whether you are using one or both ears, allowing you to enjoy your music without interruption.

[Qualcomm cVc 8.0 noise canceling technology] EarFun Free 2S has a built-in microphone that reduces call noise such as wind/subway/traffic noise by 80%, ensuring that your voice comes through clearly to the other person. Excellent ergonomic design, easy to wear, safe and comfortable.

The EarFun Free 2S is equipped with a 400mAh battery case, which provides up to 30 hours of playback time, and a Type-C charging cable for quick recharging. With 10 minutes of charging, you can enjoy 2 hours of music playback. The charging case also supports wireless charging.

[Low latency mode] Turning on the low latency mode reduces the earphones' latency to as little as 60ms (0.06 seconds), improving the video viewing and game-playing experience, as well as making hands-free calls and video conferencing smoother.

[Dedicated App Support] Download the dedicated EarFun Audio app to customize your own sound and touch buttons, and enable low-latency mode with a single click, so you never leave your phone screen during intense gaming. You will never leave your phone screen even during intense gaming.

[Delicate touch operation] The capacitive touch sensor allows intuitive fingertip control of music play/pause, previous/next song, and incoming calls, and the volume control function makes it almost impossible to leave your phone during music.

[IPX7 waterproof/sweatproof] Innovative waterproof technology SweatShield protects against water and sweat, so you can use it without worry even if it suddenly rains outside while you are doing sports or exercising.
package
The Earfun Free 2S package meets the price level.
Package contents
There is no shortage of accessories. The package contains the following:
EarFun Free 2S
Charging case
Eartips
USB Type-C cable
Manual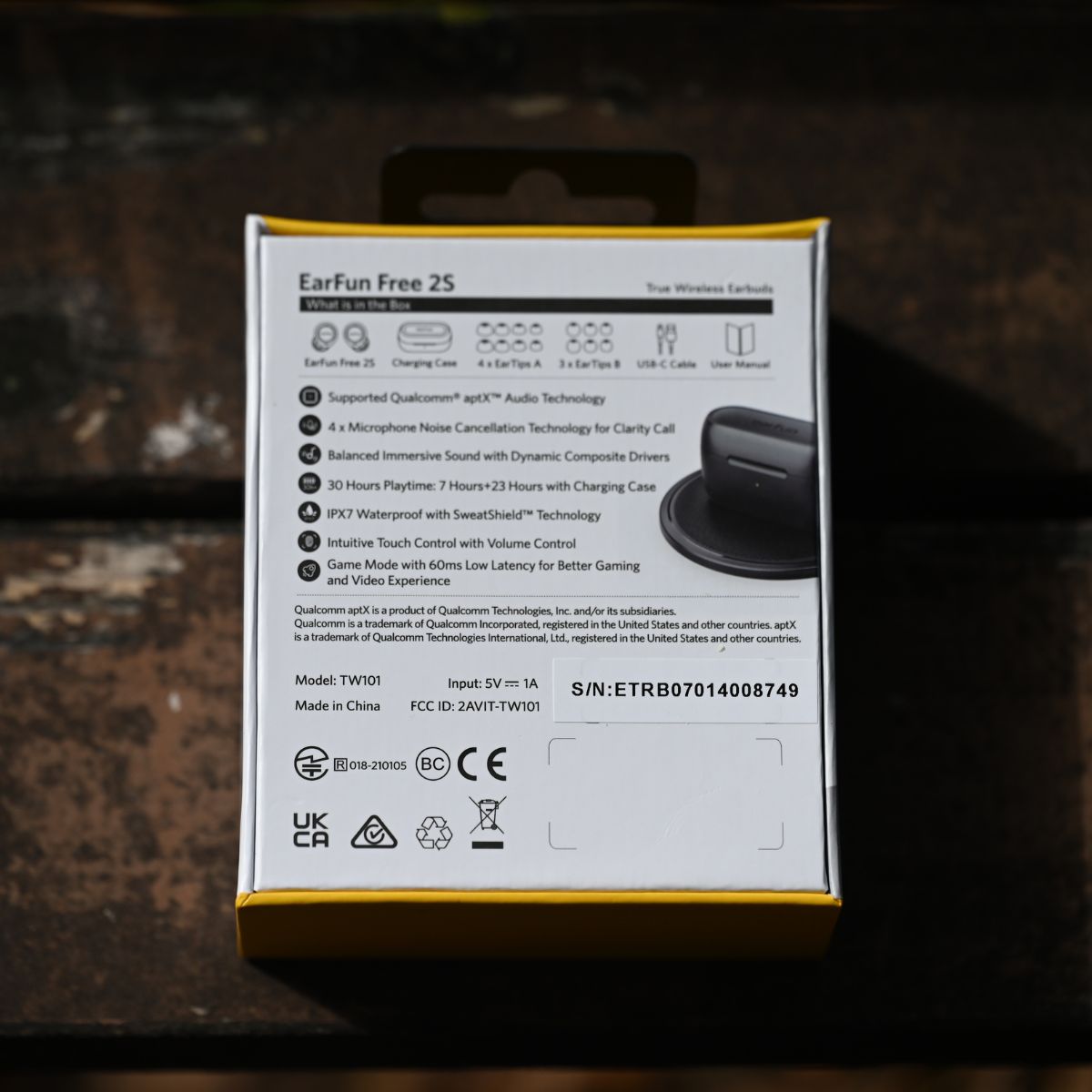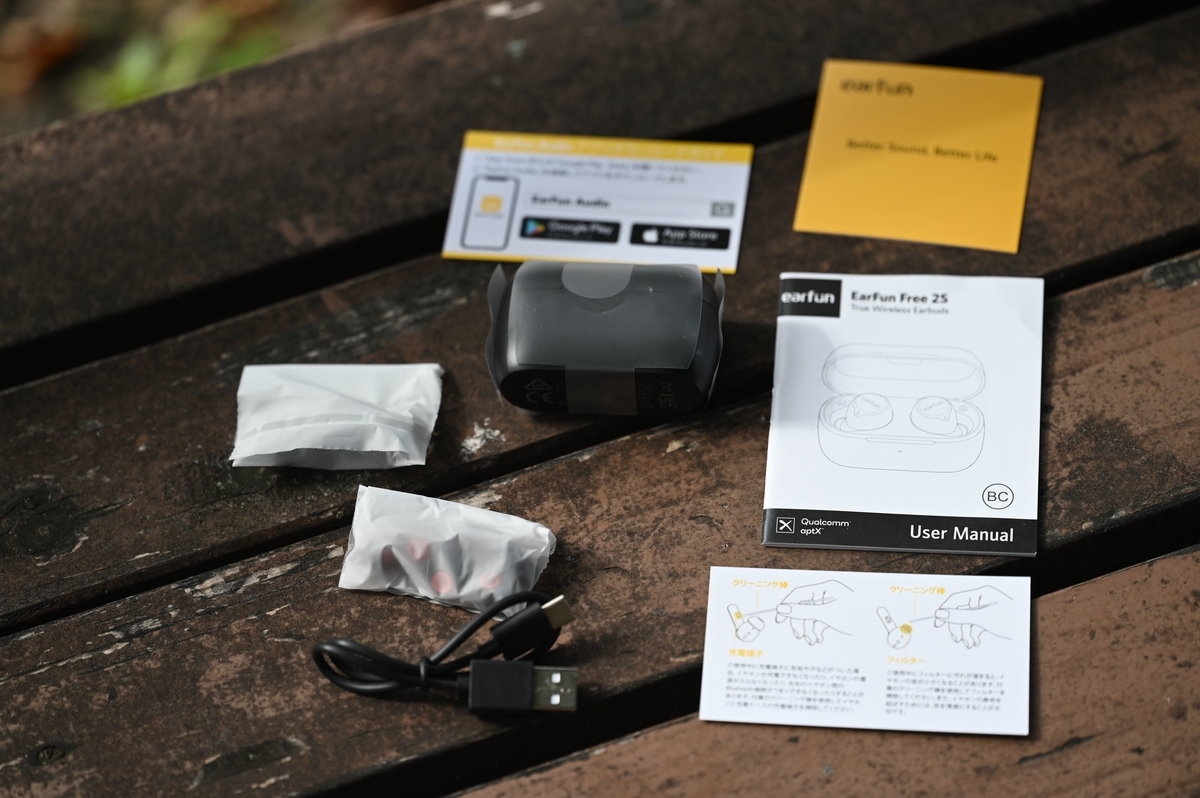 Build quality
Build quality meets the price standard; EarFun's design is generally not sharp and even looks plain. If you are looking for a unique design, it may be lacking.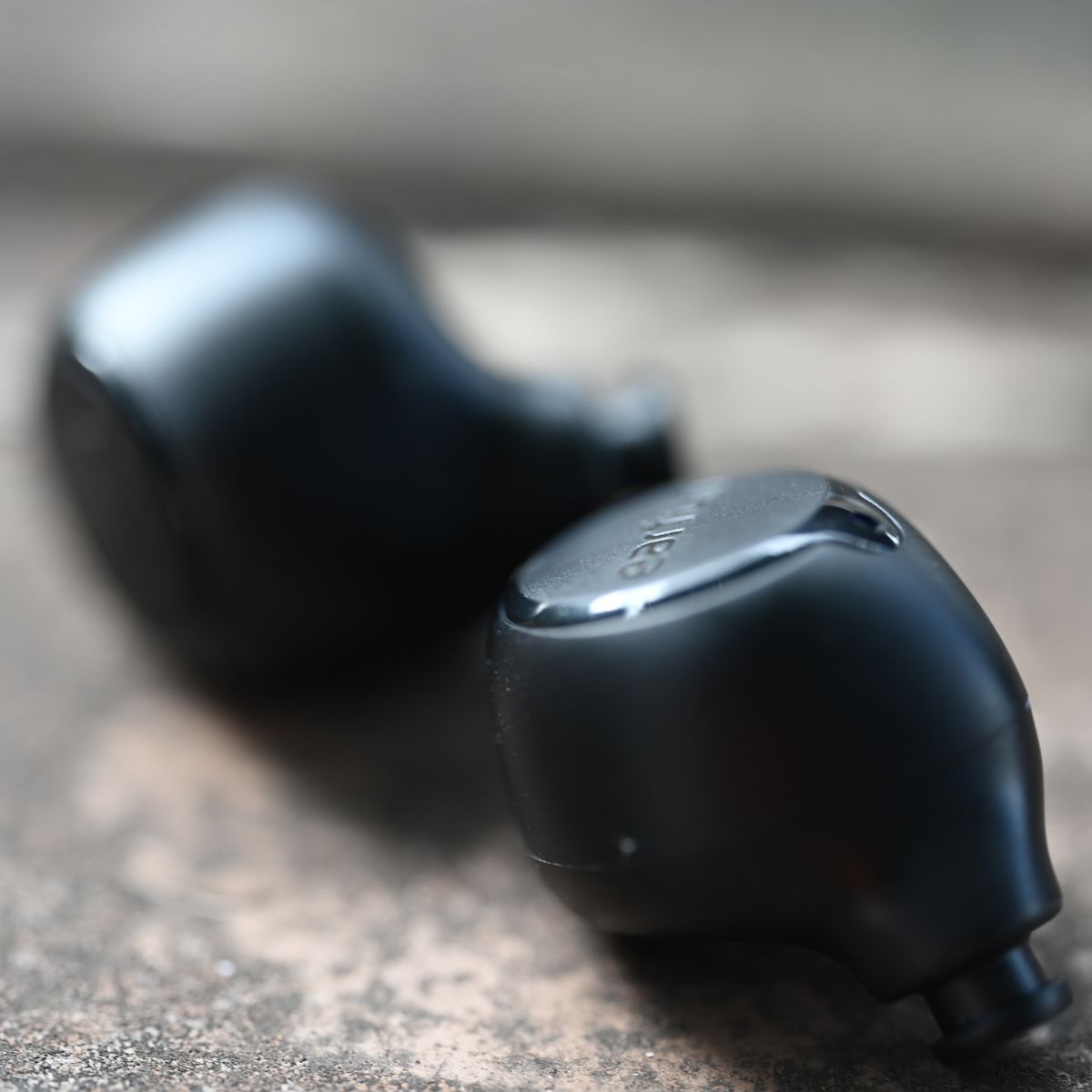 Fit
The fit is good.
Connection quality
I tested it by connecting it to a Cayin N6II/E02 with aptX.
I don't know because I haven't been in crowds, but it is stable in the home. Distance tolerance is excellent, and the connection is seamless and intact even at a distance of about 5 meters. Music is not interrupted even when interrupted by obstructions.
There may be a small amount of background noise, but most people probably won't notice it.
Interface/operation
The operating interface is a touch type.
| | |
| --- | --- |
| Power ON | Open the charging case lid |
| Power OFF | Store the earphones in the charging case and close the lid |
| Pairing | Automatic pairing mode if there is no connection when power is turned on |
| Song playback | Tap the multi-function button twice |
| Stop playback | Tap the multifunction button twice |
| Forward song | Tap the right multifunction button three times |
| Backward | Tap the left multifunction button three times |
| Answer call | Tap the multi-function button twice |
| End call | Tap the multi-function button twice |
| Activate voice assistant | Press and hold the right multifunction button for 2 seconds |
| Switch game mode | Press and hold left multifunction button for 2 seconds |
Sound quality
REW Frequency Response
Sound quality description
Earfun Free 2S has a typical studio tuning signature that is almost completely neutral.
The following review was tested on a FiiO M15 with an aptX connection.
Please see here for detailed reviews on sound quality.
Sound quality general comment
Original sound fidelity: A+
Recommendation: A-
Personal preference: B
The Earfun Free 2S is an excellent neutral-balanced sounding earphone. The emphasis on low frequencies continues the tradition of the previous Free series, but the highs sound smoother and slightly more docile, more like the Air series.
The balance is suitable for everyone, but if you liked the shimmering, subtle highs of the previous Free Series, you may find them a little too less to your liking. If anything, the sound is more suited to those who liked the sound of the conventional Air series but thought it lacked low frequencies.
Sound quality features
Pros
Good sound balance
Not bad original sound fidelity
Good texture
Excellent localization
Good high-frequency extension
Good listening comfort
Good focus on midrange
Deep and heavy but not fat, tight and smart low frequency range
Cons
Low resolution
High frequencies that are somewhat too transparent in presence and do not emerge from the background
General comment
The Earfun Free 2S is a well-balanced earphone with a sound based on Earfun's typical studio tuning. Like the other models in the Free series, it has a tight and deep low frequency range, but the midrange and above are more like the Air series, so if you are expecting the lively V-shaped sound of the previous Free series, you may feel a little uncomfortable.
Purchase Link