Disclaimer
This review is based on a sample provided by Linsoul to convey a sincere quality review to our readers.
No remuneration or compensation, such as a manuscript fee, has been received for publishing this, and it is an honest evaluation based on measurement data from personal testing and personal opinion.
Please read the privacy policy of this website.
Recommended for people like this
People who value sound balance
People who like mellow and beautiful sound
People who value listening comfort
People who want to hear natural overtones
People who value harmonics
People who are looking for good quality listening earphones
People who value cost performance
Overview of HarmonicDyne Devil
This review will give an overview of HarmonicDyne Devil. A complete review of this product can be found here.
audio-sound Score
Total Score: 9.0 / 10.0
Package: 9.0 / 10.0
Build quality: 8.5 / 10.0
Fitment: 8.5 / 10.0
High range: 8.5 / 10.0
Mid range: 10.0 / 10.0
Low range: 8.5 / 10.0
Less distortion: 8.0 / 10.0
Cost Performance Bonus: 10.5/10.0
Want to see the score ranking? Click here!
Basic Specifications
Frequency response: 5Hz to 40kHz
Impedance: 5Ω±20%
Sensitivity: 123dB/Vrms
Cable connector: mmcx
Features of HarmonicDyne Devil
High Precision CNC Magnet Circuit System
Balanced Natural Fine Tuning
Detachable Coaxial OCC Cable
Aviation-grade CNC Aluminum Alloy Shell
Two Years of Outcome
Music is the eye of the ear. With two years of dedicated research and adjustment, HarmonicDyne Devil eventually comes in time so as to provide a earphone of surprisingly acoustic performance and high artistic value for the audiophile community. Featuring two flagship custom 10mm dynamic drivers, HarmonicDyne Devil sound performance is proved to be above the majority particularly in deep bass, powerful treble and clean highs.
Dual 10mm Dynamic Driver
Devil adopts high precision CNC magnet circuit system with superstrong NdFeB to achieve Tesla-grade flux. 16 ohms low impedance and Japanese imported CCAW voice coil make it easier to use on daily devices, such as phone. Self-developed LDM membrane material is lightweight and rigid that also contributes to the improvement of frequency response speed and transient changes.
Balanced Natural Fine Tuning
The tuning signature of Devil is overall natural and balanced with ultra-low distortion and pleasant smoothness. With careful tuning process, Devil brings powerful performance without overly prominent harshness or lack of certain frequency bands that produce spaced disconnects, which means that Devil must meticulously deliver every tiny detail in the music. Excellent frequency response makes it possible to reveal each tiny changes of emotion in a song, bringing you a more realistic and moving listening experience.
Detachable Coaxial OCC Cable
Devil includes a well made coaxial OCC cable, consisting of 33*0.08mm and 38*0.06mm strands. Special structural design provides purer and clearer sound performance. Moreover, a PVC insulation layer is added to ensures excellent electrical insulating while suspension layer is covered with high-density Nylon to avoid microphonics. Less interfere, more joy.
Aviation-grade CNC Aluminum Alloy Shell
The housing of the Devil is designed after a large number of simulation experiments to match the typical ear angle and wearing experience. Each unit is crafted from a high-precision 5-axis CNC to ensure uniformity of the acoustic chambers. Selected aviation-grade Aluminum alloy is lightweight and rigid to stand everyday wear-and-tear. From the housing design to the driver assembly, each aspect of the Devil is a demonstration of workmanship, engineering prowess, and acoustic tastefulness. 
package
Packaging meets price range standards. It arrives in a stylish decorative box. The unpacking experience is quite enjoyable.
My package is the 4.4mm balanced plug model, but it came with a 3.5mm to 6.35mm adapter.
Package contents
HarmonicDyne Devil
Eartips
3.5mm to 6.35mm adapter
manuals
Carrying Case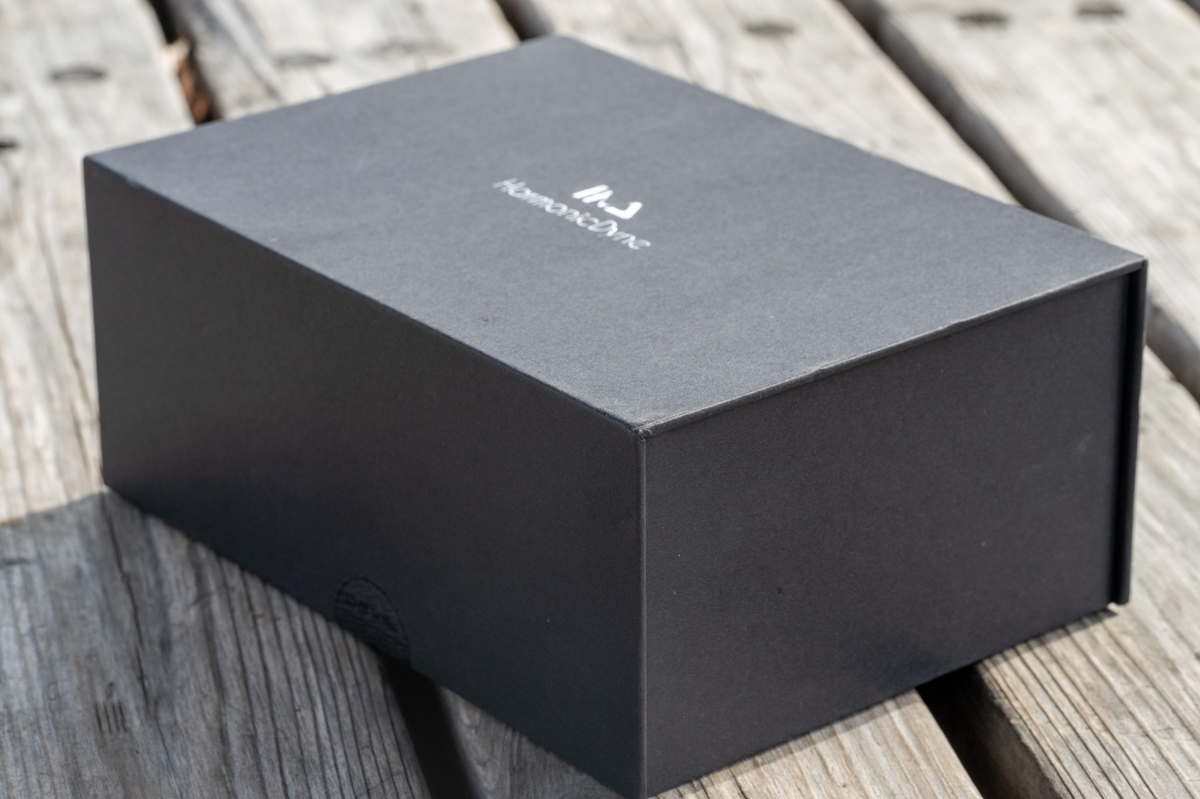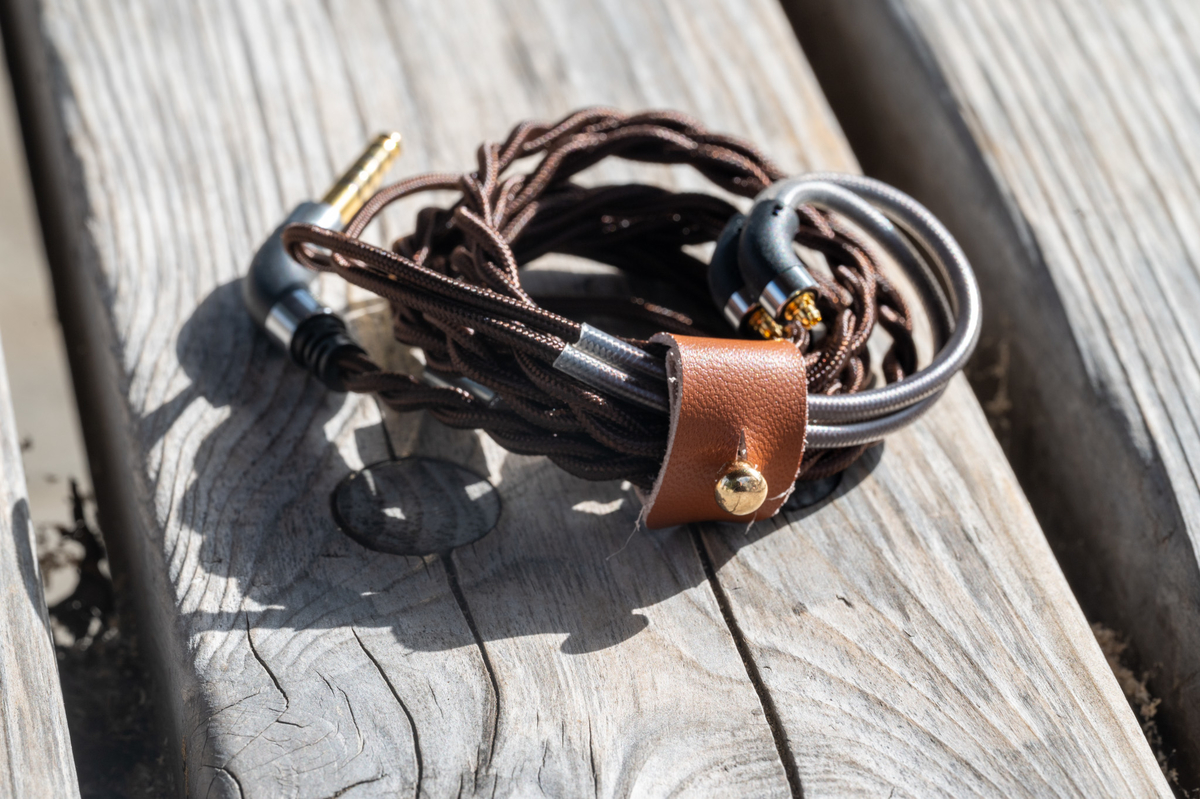 Build quality
Build quality meets the price standard.
Fit
The fit is good.
Sound quality
REW Frequency Response
audio status
Sound quality description
In this review, I use the standard eartips size L and drive it with the FiiO M15.
HarmonicDyne Devil has a near-neutral, midrange-full sound signature.
Please see here for detailed reviews on sound quality.
Lows / Bass
The HarmonicDyne Devil's low frequencies extend relatively linearly and deeply. The balance of its presence with the midrange has been adjusted to a balance that sounds almost equal or slightly weaker, and I expect most people to hear a monitor-like impression of the low frequencies.
Drum kicks are reasonably heavy, but shallow, a little less tight and loose expansive, and sound a little lacking in impact to me.
The electric bass is also a bit bright and lacks deepness.
The midrange is balanced to sound bright, which may sound quite good to midrange-oriented listeners, but low-frequency enthusiasts will clearly be dissatisfied with it, both in quantity and quality.
Mids
The midrange of the HarmonicDyne Devil is somewhat controversial. It is very bright and balanced, sounding monitor-like up front. However, while its midrange is excellent in resolution, it has a high level of distortion and falls short in transparency.
As a result, in the midrange, the individual sound images are not well separated from the background. Therefore, the structure of the midrange sounds somewhat vague and soft to the ear. Since the mid-range is adjusted to be quite bright like monitor-type sounds such as Etymonic, it is thought that the intention was to adjust the listening comfort by reducing transparency. Etymotic also tends to adjust more distortion in the midrange, so perhaps they followed suit.
Devil's midrange is bright and very clear, but at the same time a bit flat, creating a pleasant feeling of softly and harmonically blending gently into the space. Here definition and edginess are a bit subdued, and there is a unique beauty that produces a musical and mellow aftertaste.
Highs / Treble
Devil's high frequency range has been adjusted to decay smoothly with speaker localization in mind.
The appeal of the Devil's highs comes from this very smooth attenuation, which produces highs that sound smooth and well-connected, with virtually no peaks that cling to the ear.
This gives Devil's sound a natural harmonic overtone, while at the same time being gentle on the ear thanks to a safe tuning that reduces the overall energy from the midrange.
Despite its dual-dynamic driver configuration, it lacks the high-frequency extension of most single-dynamic driver units, so you can hardly expect to feel a sense of exhilaration in the high frequencies. The balance is basically balanced to let you hear a rich midrange that is musically finished in a closed space.
Sound quality general comment
Original Sound Fidelity: A
Recommendation: A+
Personal preference: A
Overall, the HarmonicDyne Devil is smooth and musical, with a mellow sound that is gentle on the ear with a focus on the midrange. Resolution is very high, at a level worthy of the flagship name, but you may be bothered by the narrow soundstage for a dual dynamic driver.
If you like beautiful mellow sounding IEMs, I can highly recommend them.
Sound quality features
Pros
Good original sound fidelity
Accurate texture
Speaker-like localization
High resolution
Bright midrange
Mellow sound
Good focus on midrange
Natural overtones
Pleasant to listen to
Harmonically rich midrange
Forward localized
Rich and dense midrange
Excellent sound image consistency
Cons
Lacks transparency in the midrange
Lacks in low-frequency depth
Lacks extension in the high frequency range
General comment
The HarmonicDyne Devil is a high resolution IEMs with a mellow sound focused on the bright midrange. The overall build quality is high, the packaging is gorgeous, and the unpacking experience is quite satisfying. However, for a dual-driver model, the range is mediocre and transparency is lacking, so they are not the best product in their price range. However, if you like so-called beautiful melodious sounding IEMs, this is a highly recommended product.
Purchase link