Disclaimer
This review is based on a sample provided by Linsoul to convey a sincere quality review to our readers.
No remuneration or compensation, such as a manuscript fee, has been received for publishing this, and it is an honest evaluation based on measurement data from personal testing and personal opinion.
Please read the privacy policy of this website.
Recommended for people like this
Resolution oriented people
People looking for excellent listening headphones
People looking for excellent monitor headphones
People who like a sound with depth
People who like rich, resonant sound
People who value wearing comfort
People who value design
audio-sound Score
Total Score: 9.1 / 10.0
Package: 8.5 / 10.0
Build quality: 8.5 / 10.0
Fitment: 8.5 / 10.0
High range: 9.5 / 10.0
Mid range: 9.0 / 10.0
Low range: 8.5 / 10.0
Less distortion: 9.0 / 10.0
Cost performance bonus: 11.5/10.0
Want to see the score ranking? Click here!
Overview of HarmonicDyne Athena
This review will give an overview of HarmonicDyne Athena. A complete review of this product can be found here.
Basic Specifications
Frequency range: 10Hz-70000Hz
Impedance: 34Ω
Sensitivity: 116.5dB/Vrms
Features
50mm Metal-Ceramic Composite Driver with a new high-performance ultra-fine voice coil and high-flux magnetic enclosure.
Studio-Grade Tuning with a tonally-balanced sound signature and a 3dB sub-bass boost.
Innovative M-shaped Side Venting System for improved airflow and a purer and cleaner sound.
Ergonomic headband with a wider contact area and softer cushion layering for comfort and custom coaxial OCC cable for noise-free listening.
The HarmonicDyne Athena has been designed around an all new large 50mm dynamic driver. The diaphragm is composed of a novel metal-ceramic composite material that is incredibly thin with great tensile strength.
Rather than plating or coating the metal layer on a plastic diaphragm like conventional Be-layered diaphragms, the new metal-ceramic composite is a fully integrated amalgam of high purity metal alloys with ultra-dense ceramic carbon fibers achieved at extreme temperatures.
The result is a more cohesive and high resolution audio performance, marked by exquisite diaphragm responsiveness and fast transients. Thanks to this lighter, thinner, and tougher diaphragm, listeners can now enjoy their music with greater dynamic range and lower distortion.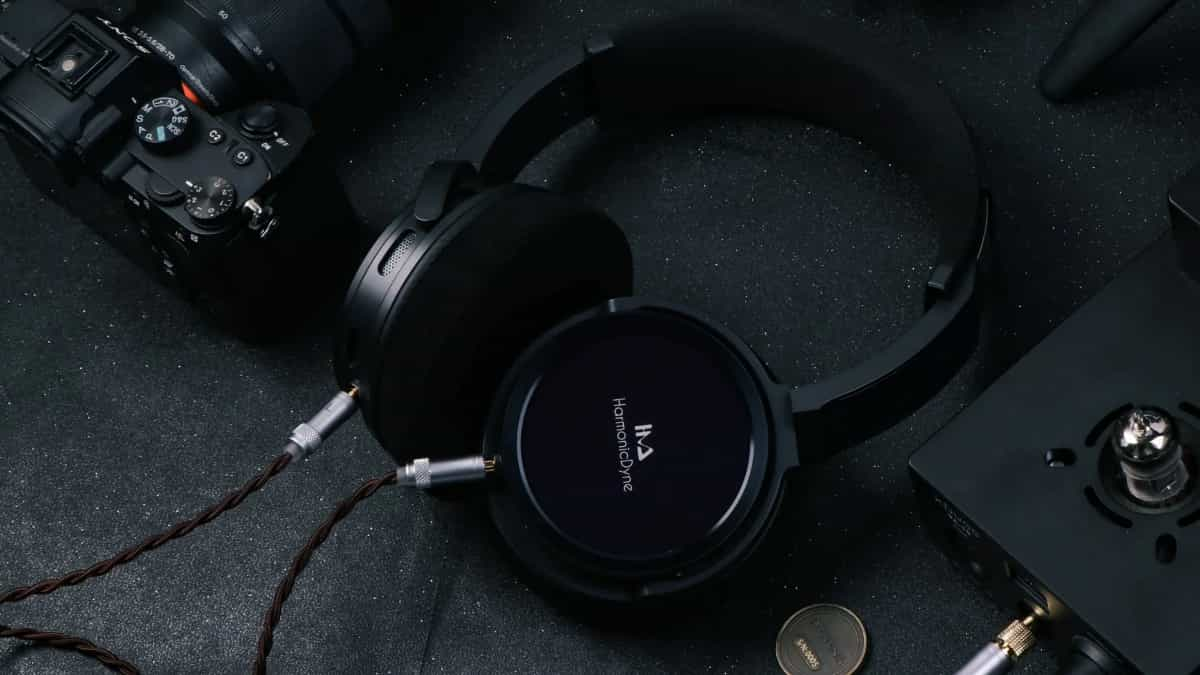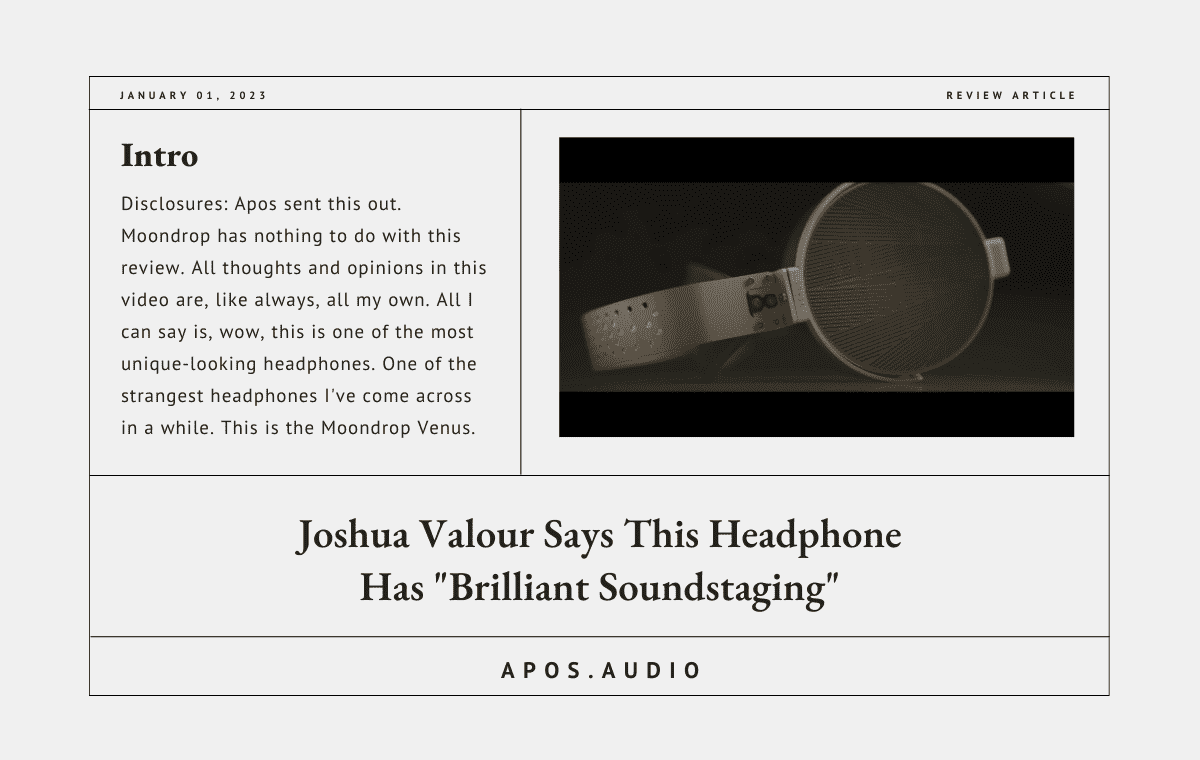 Package
The package meets the price level.
Package contents
HarmonicDyne Athena
Carrying pouch
3.5mm to 6.35mm adapter
Manual

Build Quality
Build quality meets the price level.
Fit
The fit is good.

Sound quality
audio status
Sound quality description
The following review was tested with a FiiO M15.
The HarmonicDyne Athena has a U-shaped or V-shaped sound signature with a neutrality that leans toward the high frequencies.
Please see here for detailed reviews on sound quality.
Lows / Bass
The HarmonicDyne Athena's low frequencies are a bit lacking in depth.
The drum kicks have a reasonable weight to them and a solid bottom, but are slightly short on realism.
Electric bass is also not bad enough in terms of blackness, but may be slightly short in terms of sink.
The bass is relatively excellent for a headphone model.
Mids
The midrange of the HarmonicDyne Athena is concave, slightly emphasizing a sense of depth.
The midrange lacks linearity and is somewhat inaccurate in texture. Echoes are emphasized and a bit muddy. However, the overall impression of the sound image is not unnatural, as it is generally close to neutral, except in the center.
The axis of the vocal sound image is weak and there is a sense that the core is not clear, but the nuances of vowels and consonants are easy to understand.
The midrange is quite natural and immersive, and can be described as good quality.
Highs / Treble
The HarmonicDyne Athena's high frequency range has excellent definition and is above standard in extension.
The highs are closer to a neutral monitor that emphasizes the localization of the original music rather than a studio monitor that is speaker-like in its sound image localization, resulting in an immersive soundstage.
Luminance is ample, yet sounds at a natural level, with little metallic feel. If you listen to cymbal crashes, they sound quite raw, with plenty of spaciousness and subtlety. These high frequencies are quite well tuned.
It is also well balanced with the lows and mids in terms of presence.
Sound quality general comment
Original Sound Fidelity: A
Recommendation: S-
Personal preference: S-
HarmonicDyne boasted that they had created a studio-grade sound with the Athena, and they were almost certainly correct. The almost neutral signature, excellent resolution, and high transparency with low distortion for professional use make it a good candidate for a monitor headphone in this price range, comparable to the SHURE SRH940.
The SHURE SRH940 has better resolution than the Athena, is even better in localization, and is more accurate in the midrange than the Athena.
Athena, on the other hand, has better range, better low frequencies than SRH940, and a more natural and immersive soundstage.
SRH940 and Athena are complementary in their characteristics, and both can be used to accurately trace and monitor nearly the entire musical spectrum.
Sound quality features
Pros
A sense of immersion
Sound field with a sense of depth
Good sense of detail
Excellent resolution
Massive
Low distortion and high transparency
Sense of envelopment
Cons
Unnatural, slightly dry sounding texture
Slightly less linear and a little difficult to understand midrange

General comment
The HarmonicDyne Athena is one of the most outstanding achievements in the HarmonicDyne headphone series, which has always been striving for new materials and new heights. It has excellent audio specs, with a sound quality that is generally well above its price point, and an immersive sound that is monitor-like enough to be comfortable as a listening model at the same time. The build is also excellent, making it a highly recommended product among headphones in this price range. However, the midrange accuracy is a bit less accurate.
HarmonicDyne Athena