Disclaimer
This review is based on "private purchases" or "items rented for a consideration".
No remuneration or compensation, such as a manuscript fee, has been received for publishing this, and it is an honest evaluation based on measurement data from personal testing and personal opinion.
Please read the privacy policy of this website.
Recommended for people like this
People who like idol songs (young voices) and female voice actors
People who like sparkling piano
People who like sexy and lustrous sound
Overview of JCally MN
This review will give an overview of JCally MN. A complete review of this product can be found here.
audio-sound Score
Total Score: 9.1 / 10.0
Package: 8.5 / 10.0
Build quality: 8.5 / 10.0
Fitment: 8.5 / 10.0
High range: 9.0 / 10.0
Mid range: 9.0 / 10.0
Low range: 10.0 / 10.0
Less distortion: 9.0 / 10.0
Cost performance bonus: 11.0 / 10.0
Want to see the score ranking? Click here!
Basic Specifications
Frequency response: 10Hz to 40kHz
Impedance: 17Ω
Sensitivity: 112dB
Connector: 0.78mm 2pin
Features of JCally MN
package
The package as a whole can be described as above standard for the price.
Package contents
Build quality
Build quality meets price standard.
Fit
The fit is good.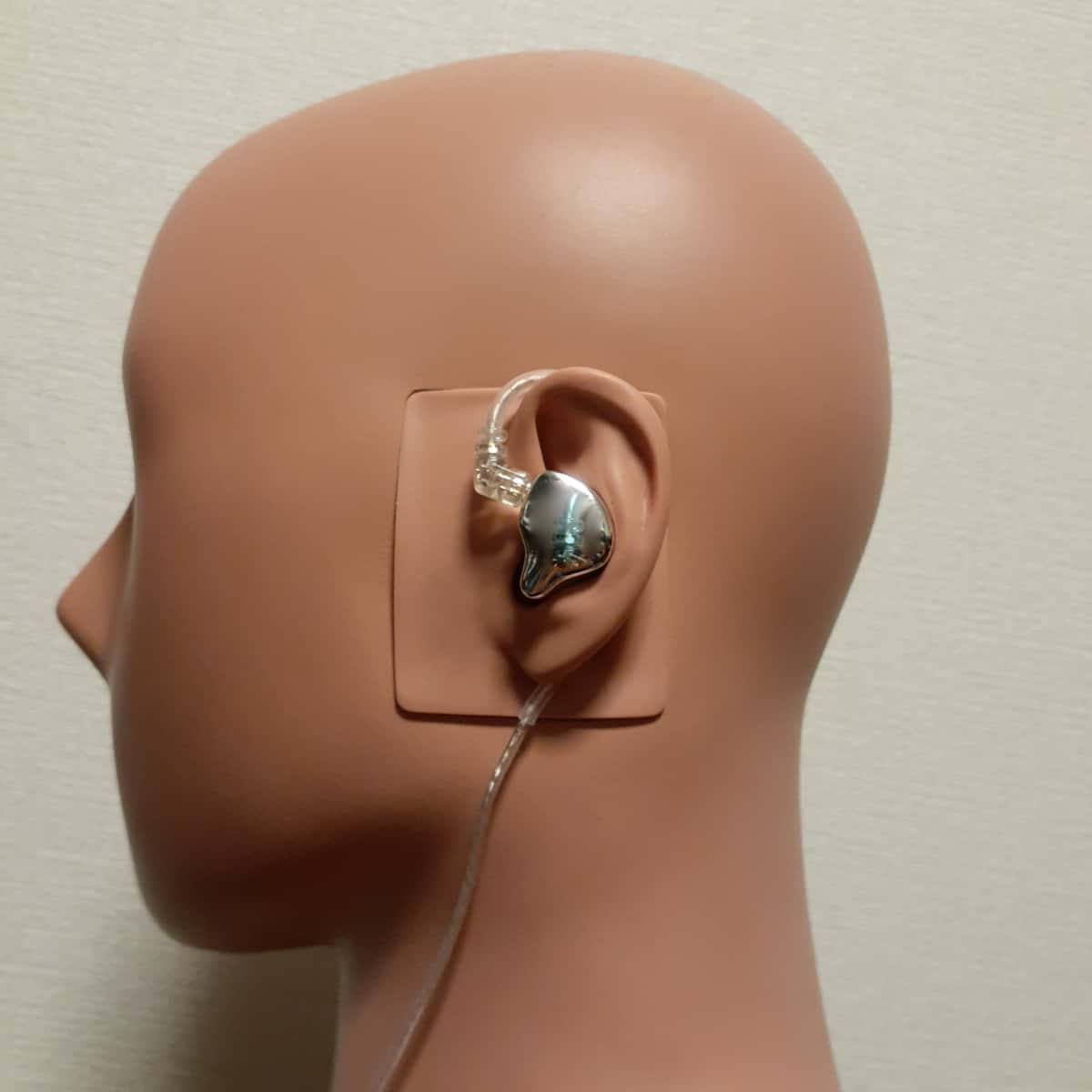 Sound quality
REW Frequency Response
audio status
Sound quality description
In this review, I use the standard eartips size L and drive it with the FiiO M15.
JCally MN has a neutral-conscious U-shaped sound signature.
Please see here for detailed reviews on sound quality.
Lows / Bass
The JCally MN's low frequencies are quite deep and linear.
The bass drum has plenty of weight and impact, and the rumble is quite perceptible, so the overall sound is well defined, well defined and prospective, with a good sense of presence.
The electric bass also has plenty of blackness, with good depth and breadth.
All in all, this low frequency range should be enough to satisfy bass lovers both quantitatively and qualitatively.
Mids
The midrange of the JCally MN is fairly close to neutral, but the overall structure is tilted forward, emphasizing the upper midrange.
Since the adjustment emphasizes a sense of edge, the sound is characterized by a clear contour description and a sense of tension with a good sense of crunch. The sound has a strong sense of luster and gloss, but this may cause the center of the midrange to become slightly darker, which may be a concern.
Female vocals sound a bit more upbeat, emphasizing their coloration, and some songs have a slight shoutiness to them. It's a slightly ringing, coquettish way to be heard, and is likely to be quite appealing when listening to idol songs or female voice actors. Although I would be concerned about the exaggeration and the atmosphere not being natural, I think it sounds glossy and colorful. However, the voice tends to be a little husky.
I also enjoy the piano and other things that sound glossy and sparkly. Personally, I like this trend, but from an original sound fidelity perspective, the sound is a little unnatural and sometimes the vocals are too loud.
Highs / Treble
High frequencies are tuned for edge rather than definition. Extension is slightly lacking, but not bad.
The low highs are shiny, well delineated, and sparkling, but the higher parts are conversely less luminous and less delicate.
As a result, while vocals sound impressive in pop music, cymbals and guitar edges sound gruff in rock. Cymbals are easily heard as clattering, with a rough, crispy, crunchy atmosphere, like the sound of eating shaved ice.
It is crisp and pleasant in some parts, but it lacks a sense of freshness, and while it is pleasant in some parts at first, after listening to it for a long time, it begins to sound like a disturbing expression that persistently lingers in the ear. The feeling that it doesn't come through cleanly makes the song's sense of speed feel bad, and there are places where it doesn't come through pleasantly high, so you don't feel the exhilaration that unleashes the catharsis.
Sound quality general comment
Original Sound Fidelity: A+
Recommendation: A
Personal preference: A
The JCally MN is an earphone that was probably created by the brand itself as the Alternative KZ EDX.

However, the unit I got actually has a sound balance that could be described as the Alternative EDX Pro, and the major difference from the EDX Pro is that the upper midrange is more emphasized.

Now, compared to the original EDX, the overall adjustment in the high-frequency direction deviates from neutral, and it is the EDX that has the better sound balance, at least from the standpoint of original sound fidelity.
EDX also offers a more subtle, higher-resolution sound, so it is the better choice in terms of which has the better hi-fi sound. Therefore, in general, if we were to recommend either EDX or JCally MN, EDX is by far the better choice. However, if you like to hear female vocals and piano with a sparkling atmosphere, I would recommend JCally MN.
Conversely, if you dislike the tendency of female vocals to sound a bit shouty and shouty, you may want to buy the EDX Pro, which is similarly balanced but can be expected to give vocals a more appropriate atmosphere.
If it comes down to one of these, the KZ EDX is probably the best of the three for most people.
For reference, here is a comparison of the appearance of JCally MN and KZ EDX. Even the position of the vent holes is almost the same, and they are made to look very similar. However, the cable connector design is different.
Sound quality features
Pros
Glossy and colorful
Sparkling sound
Good transparency
Good resolution
Excellent original sound fidelity
Heavy, deep bass
Cons
High frequency extension is a bit lacking
Dark midrange
Lack of subtlety
Prone to shoutiness and gutturality
Difficult to understand localization
General comment
The JCally MN IEMs have a colorful sound that emphasizes the mid and high frequencies and sounds sparkling. It has a similar sound to the KZ EDX series, but is more focused on female vocals, which enjoys a lustrous tone. In general, however, the KZ EDX can be recommended over the JCally MN because EDX can expect to deliver a more accurate, balanced, and high-resolution sound.
Purchase link