Disclaimer
This review is based on "private purchases" or "items rented for a consideration".
No remuneration or compensation, such as a manuscript fee, has been received for publishing this, and it is an honest evaluation based on measurement data from personal testing and personal opinion.
Please read the privacy policy of this website.
Recommended for people like this
People who want enthusiast-friendly earphones that can be enjoyed as much as those who have a lot of amps and DAPs
People who want to listen to relaxing sound
People who want to pursue their own preferred sound through creative driving.
People who are sensitive to high frequencies
People who focus on cost performance
Overview of FloAudio Lily
This review will give an overview of FloAudio Lily. A complete review of this product can be found here.
audio-sound Score
Total Score: 8.8 / 10.0
Package: 8.0 / 10.0
Build quality: 8.5 / 10.0
Fitment: 8.5 / 10.0
High range: 9.0 / 10.0
Mid range: 10.0 / 10.0
Low range: 9.0 / 10.0
Less distortion: 6.0 / 10.0
Cost performance bonus: 11.5/10.0
Want to see the score ranking? Click here!
Basic Specifications
Frequency response: 20Hz to 22kHz
Impedance: 30Ω
Sensitivity: 108dB
Cable connector: qdc 0.78mm 2pin
Features of FloAudio Lily
LILY is a revolutionary In ear Monitor which used a new custom design full-range BA driver. 
Ergonomic Shell design with 3D printing technology 
The new state of 3D printed shell gives "LILY" a more comfortable fit. 
The angle of the nozzle is also adjusted more comfortable postion resulting in unprecedented comfort and acoustic seal. 
The 3D printed shell structure of "LILY" represents research on In-ear Monitor ergonomic. Now, "LILY" performance now shares the performance characteristics of IEMS costing 5 times as much. 
Beautifully balanced sound
With great balance, from a clear top end to smooth low end, LILY features impressive capabilities any singer, musician or music lover will enjoy. The LILY features a proprietary single full range balanced-armature driver. 
Features a custom design full range BA and Floaudio's unique tuning technology. Provides reference-grade low and high frequency response. Frequency range from 20-22kHz.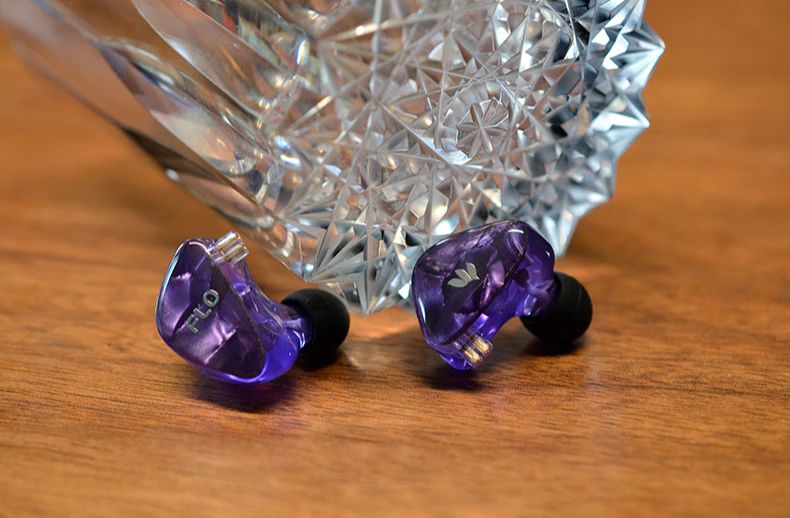 In The Box
Duo Universal in-Ear Monitors
2-pin FLOAUDIO Premium Cable
Silicone Eartips (S,M,L) 
package
FloAudio Lily packages meet price standards.
It is easy to dispose of and eco-friendly.
Package contents
FloAudio Lily
Eartips
Manuals
Build quality
Build quality meets the price standard.
The faceplate is beautiful.
Fit
The fit is good.
Sound quality
REW Frequency Response
audio status
Sound quality description
In this review, I use the standard eartips size L and drive it with the FiiO M15.
Given its official frequency response, FloAudio Lily is actually optimized to be driven by amplifiers with an output impedance of 80 ohms or higher. Therefore, when driven by a typical DAP or smartphone, the sound will not be what the brand originally intended Lily to sound like.
When Lily is driven by a typical DAP or smartphone, Lily has a rich, warm rich sound with a full midrange, and the vocal sound image and midrange instrumental sounds sound louder. On the other hand, when driven into 80 ohms or higher, Lily will sound more monitor-like, neutral, and balanced.
In principle, the following review will be conducted at 85 ohms, which is close to the brand's original sound assumption. The evaluation values are basically based on the 85-ohm drive, and the values for the 0-ohm drive are also shown in parentheses.
Please see here for detailed reviews on sound quality.
Lows / Bass
Single-balanced armature driver earphones are basically not expected to provide a sense of range in the low frequencies, and the FloAudio Lily is basically the same way, falling short in depth.
Driven at 85 ohms, the Lily's low frequencies roll off like a monitor speaker that is sufficiently linear and straight down.
Drum kicks are well defined but lack depth, sounding shallow and tap-like, and the electric bass is a bit less blackness and a little bright.
When driven into 0 ohms, the drum kicks have more weight and impact, so low-frequency lovers may find the 0-ohm drive more pleasing.
Mids
When driven into 85 ohms, Lily's sound balance is almost completely neutral; when driven into 0 ohms, the sound is thick and rich.
One problem with balanced armature drivers in general is a lack of transparency in the midrange, and Lily is no exception. On the other hand, the FloAudio brings out the clarity that is characteristic of balanced armature drivers, so even though there are many incidental sounds and the separation from the background is not very good, it excels in reproducing a sense of three-dimensionality.
Vocals sound holographic despite their blurred contours, and instrumental sounds are harmonically slightly blended into the space, yet still sufficiently three-dimensional.
The only thing to consider, however, is the lack of freshness in the reproduction of textures and the lack of rawness in the instrumental sounds.
When driven into 0 ohms, the midrange has more depth and resonance, and the sound is fuller and richer. Because the high frequency range is lower, the richness of the midrange is also higher, and a sweeter atmosphere is created. If you want to relax and enjoy music with a feeling of being enveloped, I recommend driving at 0 ohms.
Highs / Treble
FloAudio Lily's high frequencies at 85 ohms drive have a natural roll-off that well reflects the sound field when listening to speakers with a sense of forward localization.
Peaks are also well tuned to be unobtrusive, which is not only safe for those who are sensitive to high frequencies, but also natural in its connection of overtone expression. The definition is also well maintained, and there is no shortage of luminence. Detail reproduction can be expected to be of a very high standard. Only the sharpness of the vocal sibilance could be a bit strong, but I don't mind it too much.
Generally, balanced armature drivers have a narrower range than dynamic drivers, so you cannot expect much in the way of high-frequency extension, but Lily's high-frequency extension seems to be at or slightly above the average level for a typical single dynamic driver.
This makes it a good choice in its price range in terms of extension for wind and string music.
On the other hand, high frequency extension shrinks considerably when driven into 0 ohms, instrumental extension is much poorer, and definition is somewhat lacking. Still, the sense of edge and definition remains at a rather high level, so you should not feel a lack of construction or detail.
Sound quality general comment
Original Sound Fidelity: A+ (A-)
Recommendation: A+
Personal preference: A
FloAudio Lily proves that FloAudio can create good sound not only with dynamic drivers, but also with balanced armature drivers. Despite its relatively low price, the Lily successfully brings out the high resolution that is the beauty of a balanced armature driver, while providing a range comparable to that of a single dynamic driver.
The overall tuning is well balanced, and it should be clear that FloAudio has solid knowledge in this area.
However, it is highly questionable that the output impedance of the drive requirements is set at a high level that is clearly not common practice. While this creates a side benefit of being able to enjoy a variety of sounds, this kind of approach only confuses the novice. A sufficiently knowledgeable enthusiast may be able to drive it properly on his own, but it would be unfriendly to beginners.
If you want to drive with high impedance, please consider the following products.
Sound quality features
Pros
Excellent sound image consistency
Excellent texture
Good range
Excellent original sound fidelity
Lustrous
Comfortable to listen to
Monitor-like, linear bass
Warmth
Safe highs
Natural overtone expression
Nostalgic sound
Speaker-like localization
Enjoy two or more types of sound
Cons
Unfriendly impedance design
Lack of transparency
Lacks in depth of low frequency range
General comment
The FloAudio Lily have a balanced, near-neutral sound signature and are expected to have a monitor-like sound balance with high resolution. However, they are not suitable for beginners, as they require some ingenuity in driving in order to hear with the tuning the brand has given the Lily. Of course, when plugged into a DAP or smartphone, Lily delivers a full, rich sound, which is appealing in its own right, but its true value is demonstrated when driven properly.
Finally, if I am allowed to leave the position of reviewer and give my personal thoughts, I would like to say a few words. These earphones are very interesting and nice.
Purchase link