Disclaimer
This review is based on "private purchases" or "items rented for a consideration".
No remuneration or compensation, such as a manuscript fee, has been received for publishing this, and it is an honest evaluation based on measurement data from personal testing and personal opinion.
Please read the privacy policy of this website.
Recommended for people like this
People who like a sound with a sense of depth
People who value exhilaration in the high frequency range
People who value resolution
People who value the appearance of the design
People who value cost performance
Overview of SGOR Venus
This review will give an overview of SGOR Venus. A complete review of this product can be found here.
audio-sound Score
Total Score: 8.9 / 10.0
Package: 8.0 / 10.0
Build quality: 9.0 / 10.0
Fitment: 8.5 / 10.0
High range: 9.5 / 10.0
Mid range: 8.5 / 10.0
Low range: 8.0 / 10.0
Less distortion: 9.0 / 10.0
Cost performance bonus: 11.0 / 10.0
Want to see the score ranking? Click here!
Basic Specifications
Frequency response: 7Hz to 45kHz
Impedance: 32Ω±10%
Sensitivity: 110dB
Cable connector: 0.78mm 2pin
Features of SGOR Venus
Dual Magnetic Circuit Dynamic Driver and Tailored Design
Magnificent Listening Experience Guaranteed with Triple Enforcement
Detachable 0.78mm 2pin Connector& High-quality OFC Cable
Firm and Airtight Ear Bug with Ergonomic Design
User-friendly Design
Dual Magnetic Circuit Dynamic Driver and Tailored Design
SGOR Venus is equipped with dual magnetic circuit dynamic unit and semi-open acoustic cavity design, offering lower THD, super dynamic bass sound, greater density and excellent vocal performance. The dynamic unit with high magnetic flux design allows authentic audio details to be delivered right to your ear, with the bass sounding more elastic, and the middle and high frequency more natural.
Magnificent Listening Experience Guaranteed with Triple Enforcement
Combined with advanced dynamic drivers, the SGOR Venus is tuned by masters experienced in the industry, with the acoustic structure and sound unit polished and perfected to give its user an enormously enjoyable listening experience. With the combined efforts of the dual dynamic driver, master hand tuning and the specially designed front and rear cavity, this HiFi IEMs outperforms many at a much higher price.
Detachable 0.78mm 2pin Connector& High-quality OFC Cable
Updated detachable connectors with a submerged socket and a wrap-around plug that prevent the easy looseness of the old design, allowing the freedom of attaching and detaching the connector without compromising the smooth and speedy signal transmission. The high light transmittance-wrapped oxygen-free copper guarantee a smooth listening experience with no delay and at the same time remains durable and beautiful.
Firm and Airtight Ear Bug with Ergonomic Design
Cavity design is based on the sampling of big data of 3D auricle to make the earphone fit the auricle of most people for an airtight and comfortable wearing experience. The specially designed cavity and the elastic memory tube on the cable allow the earphone to stay firmly, and reduce external noise from disturbing your listening experience but do not cause discomfort in long-period usage.
User-friendly Design
SGOR Venus has a built-in microphone and in-tine control, so you can have a phone call or voice messages easily and control music playback with no fuss. "This function is only available in the mic version."
package
Package meets price standard. The package is simple and easy to dispose of.
Package contents
SGOR Venus
Eartips
Manuals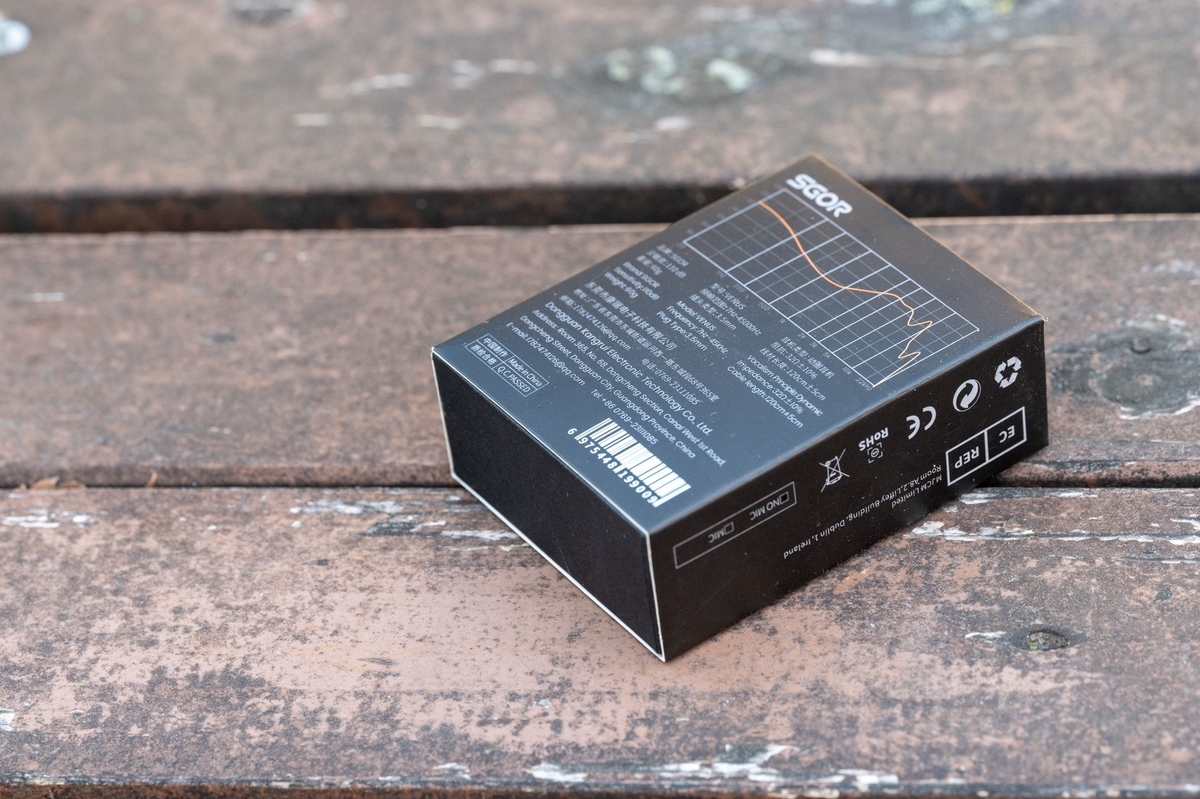 Build quality
Build quality meets the price standard.
Low cost, but very beautiful and sophisticated design.
Fit
The fit is good.
Sound quality
REW Frequency Response
audio status
Sound quality description
In this review, I use the standard eartips size L and drive it with the FiiO M15.
SGOR Venus has a V-shaped sound signature with a concave midrange.
Please see here for detailed reviews on sound quality.
Lows / Bass
The low end of SGOR Venus is lacking in depth.
Drum kicks are weighty, thick, and robust, with plenty of impact, but they tend to sound shallow and bedraggled. Because it sounds bright, it is easy to understand the sense of rhythm, but often lacks a sense of realism.
The electric bass is a bit brighter, and the blackness seems a bit lacking.
The bass has a little more presence than the midrange, but it sounds high-waist and is not at a level that will satisfy low-frequency enthusiasts.
Mids
The midrange of the SGOR Venus sounds slightly concave and deep. It is somewhat narrow and tends to sound cramped in some areas, but the highs are relatively well open and airy, with an open ceiling.
Overall, the room is a bit dark, and vocals are not well spotlighted in the darker positions, so the sense of focus is not great. The high-frequency brightness is high relative to the brightness, so the sense of detail is heard rather clearly. The sound field is like a black hole with the center darkening.
Edges and sibilance are a bit high and a bit choppy, and vocals tend to sound dry with a sharp consonant.
The bite of the guitar is quite crisp and clear due to the sharpness of the sound, and the snare also sounds a bit sharp.
The midrange is generally tilted backward, emphasizing staging and a sense of depth in the forward direction is felt.
Highs / Treble
The high frequencies on the SGOR Venus are relatively well extended, with plenty of definition. Cymbal crashes also sound quite delicate and well spread out.
The sting of Sibilance and the pierce of "s" consonants can be a bit strong, but there is enough airiness to keep them from becoming grating. Overall, however, it tends to be stiff. Due in part to the cramped midrange, you may think the music sounds cohesive and vertical in the soundstage.
Sound quality general comment
Original Sound Fidelity: A
Recommendation: B
Personal preference: B
SGOR Venus has a deep soundstage and excellent resolution. It has a sound balance that is not for everyone, and although the midrange sounds cramped, which may divide tastes, the audio specs are well above the price level.
If you like the V-shaped sound and value low frequencies, I recommend the Lafitear LM1 in the same price range.
Sound quality features
Pros
Good original sound fidelity
Excellent resolution
Good depth perception
Good high-frequency extension
Excellent localization
Delicate and detailed sound
Cons
Lacks in low-frequency depth
Midrange sounds dark and cramped
Dry sound
Feeling of being overcrowded
Easily sounds artificial, like goldsmithing.
General comment
The SGOR Venus has high resolution, its audio specs are well above its price, and its exterior build quality may not be a bad choice in its price range. However, its sound is a bit cramped and habitual in the midrange, and it may be a choice for some.
Purchase link