Disclaimer
This review is based on a sample provided by Sudio to convey a sincere quality review to our readers.
No remuneration or compensation, such as a manuscript fee, has been received for publishing this, and it is an honest evaluation based on measurement data from personal testing and personal opinion.
Please read the privacy policy of this website.
Recommended for people like this
People who like well-balanced sound
People who like EDM
People who like rock music
People who want earphones with stylish design
People who think that external sound control functions such as ANC and hear-through are essential
Overview of Sudio T2
This review will give an overview of Sudio T2. A complete review of this product can be found here.
audio-sound Score
Total Score: 8.8 / 10.0
Package: 8.0 / 10.0
Build quality: 9.0 / 10.0
Fit: 8.5 / 10.0
High range: 9.0 / 10.0
Mid range: 9.0 / 10.0
Low range: 9.0 / 10.0
Less distortion: 9.0 / 10.0
Communication quality: 8.0 / 10.0
Active noise canceling: 7.5 /10.0
Cost performance bonus: 10.5/10.0
Want to see the score ranking? Click here!
Basic Specifications
Continuous / maximum playback time: 7.5h / 35h
Waterproof performance: Resistance to sweat and splashes
Supported codecs: AAC / SBC
Features of Sudio T2
Sudio T2 is sweat and splash proof for the active on-the-go listener with up to 35 hours of battery life and 7.5 hours of listening time in one charge.
Active Noise Cancellation (ANC): With feedforward active noise cancelling technology Sudio T2 creates a deeper, more immersive listening experience by analysing ambient noise and generating anti-frequencies in real time.
Beamforming Microphones / Environment Noise Cancellation (ENC): Beamforming microphones control environmental noise for clearer calls, while the dynamic driver delivers crisp, uncompromising sound.
Quick Charge: With up to 35 hours of battery life using the charging case, and 7.5 hours of listening time on one charge. Forgot to plug in? Energize with up to 2 hours of listening time in a single 10 minute quick charge.
Dynamic Driver: Sudio T2 is designed around its dynamic driver, fitting perfectly without compromise. A driver that does not require tuning, meaning a more crisp, clear and wide soundstage at a louder volume
Improved Fit: After 17 iterations, searching on two continents, and tested on over 400 ears, Sudio T2's newly shaped ear tips offer the perfect balance of fit and comfort for any ear size from XS to L. Keep listening for a longer period without the dull ear ache that can come with typical earphones. The eartips are designed to keep dirt out, making it easier to keep them clean and last longer.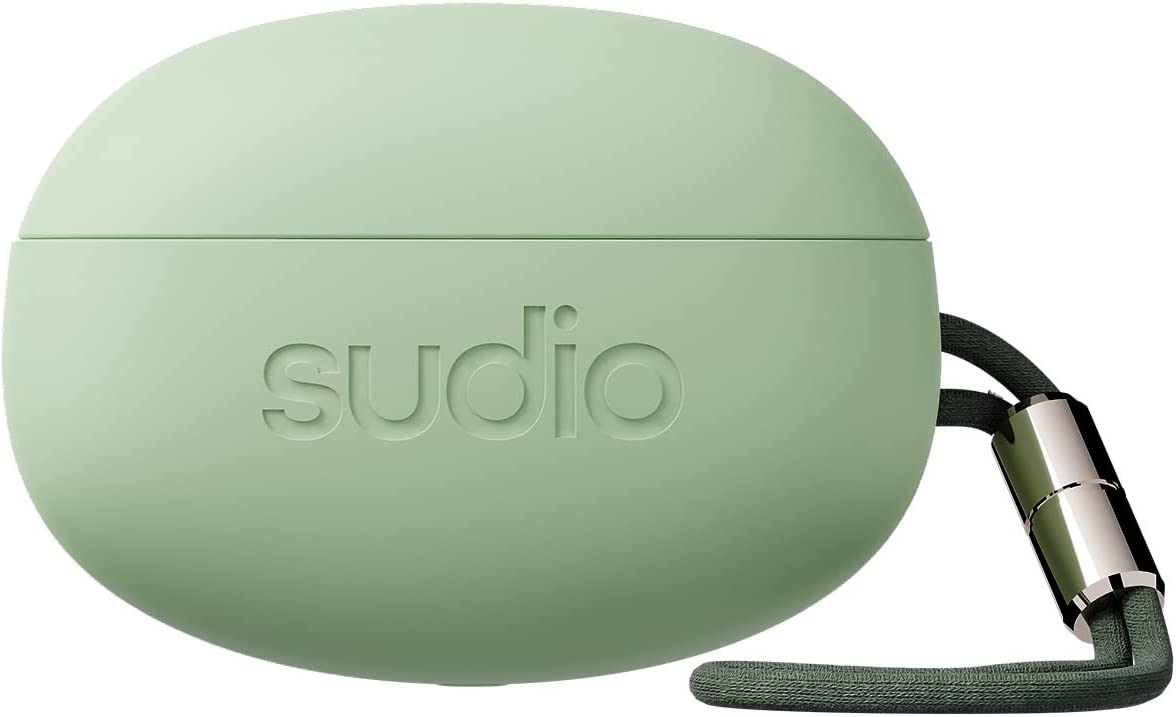 Make a Statement
With the Sudio T2's trademark sundial touch panel and its case's smooth silhouette, the T2's geometric design is sure to catch some attention. Modern, minimal and ready to go wherever you go.
All Day Comfort
Go on, keep listening, you'll want to. After 17 iterations and testing on over 400 pair of ears, Sudio T2's custom shaped ear tips offer the perfect balance of fit and comfort for any ear size from XS to L.
Personalised Sound
We love shaping sound, and we've made it easy for you to get involved too. Customise EQ and bass levels just how you like them, simply through the Sudio Sound App (available on Google Play and Apple App Store).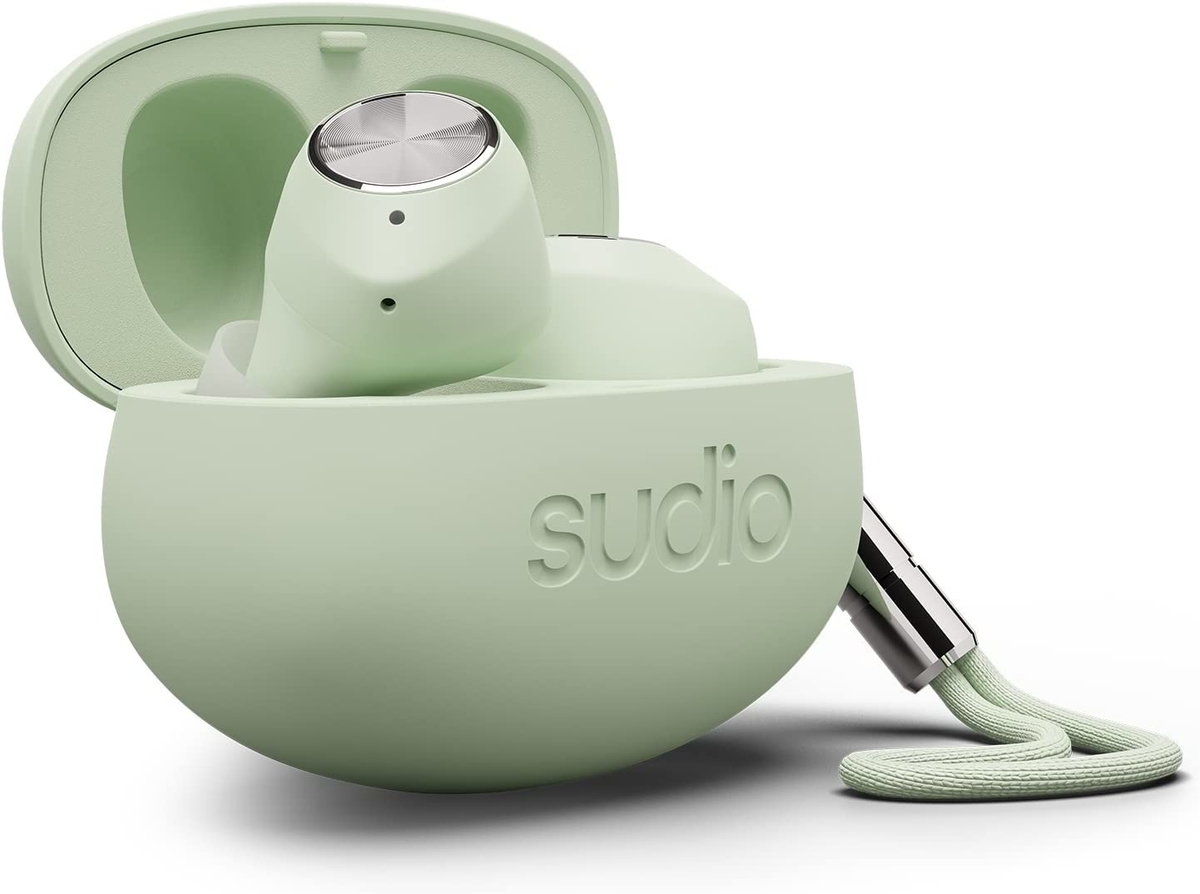 package
The Sudio T2 package meets the price standard.
Package contents
There is no shortage of accessories. The package contains the following:
Sudio T2
Charging case
Eartips
USB Type-C cable
Manual
Build quality
Build quality meets price standard.
Fit
The fit is good.
Connection quality
I tested it by connecting it to a Cayin N6II/E02 with AAC.
I don't know because I haven't been in crowds, but it is stable in the home. Distance tolerance is excellent, and the connection is seamless and intact even at a distance of about 5 meters. The connection was maintained and music playback continued, although the connection tended to be interrupted by obstructions. However, occasional sound skips and interruptions do occur.
There may be a small amount of background noise, but most people probably won't notice it.
Interface/operation
The operating interface is a touch type.
Power ON
Open the charging case lid
Power OFF
Store the earphones in the charging case and close the lid.
Pairing
After turning on the earphones, if there is no connection destination, pairing mode is automatically activated
Reset

Place the earphones in the case.
Place both earphones in the case and press and hold the reset button on the case for 5 seconds
When the LED blinks twice, the reset is complete

Play/Stop song
Tap the multi-function button once
Forward song
Tap the multifunction button on the right ear twice
Backward
Tap the multifunction button on the left ear twice
Volume +
Tap the multifunction button on the right ear three times
Volume -
Tap the multifunction button on the left ear three times
Answer call
Tap the multi-function button once
End call
Press and hold the multi-function button for 3 seconds
Reject call
Press and hold the multi-function button for 3 seconds
Switch between Normal/ANC/Hear-through mode
Press and hold multi-function button for 2 seconds
Active noise canceling performance
The ANC performance of the Sudio T2 is standard for its price range. The midrange, which has the greatest auditory impact, is relatively well blocked, but the low frequency blockage is low, so that, for example, the sound of a subway train is hardly quieted at all. However, because of the relative strength of the low-frequency range, it is difficult to hear the mid-frequency range due to masking, and some people may think that the perceived sound insulation is high.
Sound quality
REW Frequency Response
audio status
Sound quality description
The following review was tested on a FiiO M15 with an SBC connection.
The overall sound of the Sudio T2 is close to aural neutrality, offering a near-natural texture, well-connected midrange, natural localization, and relatively high recording fidelity. Because of its overall wide U-shaped structure, the midrange tends to sound a bit thin, so it lacks fullness and may be a bit unsuitable for listening to acoustic sources.
Please see here for detailed reviews on sound quality.
Lows / Bass
The Sudio T2's low frequencies reach deep enough to reproduce EDM bass lines well.
The bass is tight and hierarchically emphasized, but the rumble and thump are suppressed, making it a bit less lifelike. For this reason, the low frequencies are more suited to electronic sounds such as EDM than to live sources.
The bass is agile and rhythmic, and the rhythm of the drum sound sounds sporty and the steps are clear and enjoyable. There is enough weight to give the sound a sense of impact, but at the same time there is an agility that makes the body feel light and nimble, giving the music a supple feel.
Mids
As far as the midrange is concerned, this brand knows how to build midrange.
The center of the midrange sounds a bit deep, but it is bright enough and the texture is quite natural.
The midrange and high frequency area are really well crafted, and the cymbals are beautifully lush and appropriately resilient, creating an organic musical expression that is full of live sound.
Consonants are also handled quite well, and although the sibilance is a bit strong, the sharpness is well controlled. The "s" consonant is the only one where the sting could be a concern. As I could tell from the frequency response, there is an atmosphere of mastery of how to create a sense of air in the midrange in earphone design.
Despite the accuracy of the texture, the overall atmosphere is somewhat luminous and less full, so while it sounds artificial, the impressive clarity will give the impression of high resolution.
Highs / Treble
The highs are well balanced with the mids and not too out of tune, but a bit bright and not too extended.
The highs sound relatively natural, well connected and smooth. The glossiness is a bit strong, and some people may find the sound glassy, but the build is a bit subdued, so you won't get a hard impression.
If I have a complaint about the Sudio's tuning, it is the lack of this sense of construction, an element that can easily lead to the piano's lack of hardness. Listening to G. Gould's "Goldberg Variations," for example, the lack is immediately apparent, as the piano sounds a bit angular and rubbery, making Gould's delicate touch sound a bit dim. This piece is supposed to be like a quietly gushing fountain, serene and seething with power, but listening to it on the T2, the core and backbone of the vital sound is lackluster and uninteresting.
Sound quality general comment
Original sound fidelity: A
Recommendation: A+
Personal preference: A+
The Sudio T2 is recommended in this price range in terms of sound quality. While maintaining good overall balance, texture, and localization, emphasis is evident in the lows and highs, and music overall sounds a bit more dynamic.
Rock and EDM sounds fast and enjoyable, with agile low frequencies that sound hierarchical and clear. Yet the sting, sharpness, and other ear-piercing elements are well contained, and the overall music is smooth with few unpleasant peaks.
Overall, I think the tuning is rather well done.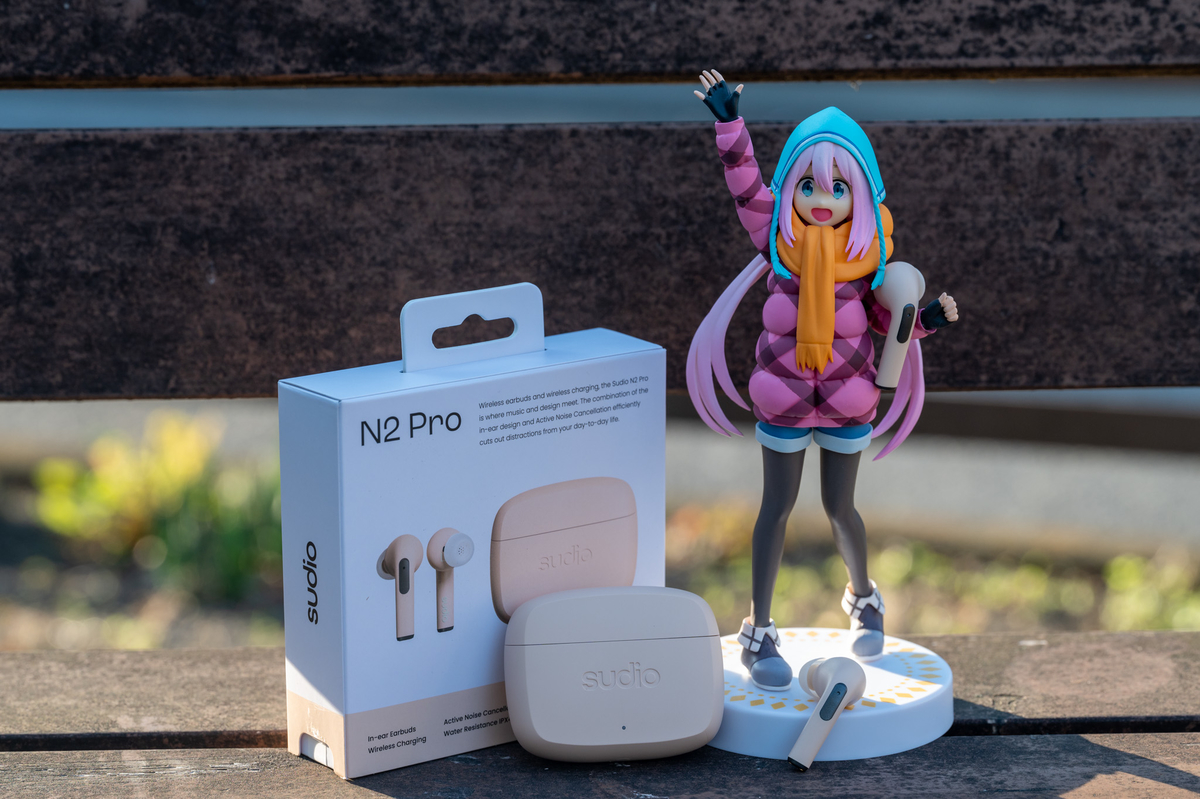 Sound quality features
Pros
Well-balanced sound
Excellent sense of detail
Crisp and impressive resolution
Relatively high original sound fidelity
Excellent dynamic sound
Agile, precise rhythms
Cons
Thin midrange
Lacks a sense of structure
Lacks a sense of presence
Lacks fullness
General comment
Sudio T2 is a relatively cost-effective model that offers balanced U-shaped sound, a harmonious and textured design, and active noise cancellation that works well to begin with. It will provide dynamic, enjoyable, and impressively high resolution sound, especially for listeners who prefer EDM and rock.
Purchase Link
Sudio T2