Disclaimer
This review is based on "private purchases" or "items rented for a consideration".
No remuneration or compensation, such as a manuscript fee, has been received for publishing this, and it is an honest evaluation based on measurement data from personal testing and personal opinion.
Please read the privacy policy of this website.
Recommended for people like this
People looking for excellent monitor earphones
People who value sound image consistency
People who like warm sound
Detail oriented
People who value texture
People who value localization
People who value cost-effectiveness
Overview of TRUTHEAR x Crinacle Zero
This review will give an overview of TRUTHEAR x Crinacle Zero. A complete review of this product can be found here.
audio-sound Score
Total Score: 9.6 / 10.0
Package: 9.0 / 10.0
Build quality: 8.5 / 10.0
Fitment: 8.5 / 10.0
High range: 9.5 / 10.0
Mid range: 11.0 / 10.0
Low range: 8.5 / 10.0
Less distortion: 9.0 / 10.0
Cost performance bonus: 12.5/10.0
Want to see the score ranking? Click here!
Basic Specifications
Frequency response: 20Hz to 39.5kHz
Impedance: 10Ω±15%
Sensitivity: 117.5dB/Vrms
Cable connector: qdc 0.78mm 2pin
Features of TRUTHEAR x Crinacle Zero
ZERO Dual Dynamic Drivers:Adopt dual polyurethane suspension composite liq- uid-crystal dome diaphragm N52 Rubidium magnet dou- ble-cavity internal magnetic circuit dynamic driver Using a DLP-3D printing cavity, usually reserved for high-end multi- drivers products and custom earphones and the hand-made glue dropping and capping process Equipped with copper-plated silver cable with thicker diameter of single strand Deliver outstanding objective indicators.
Efficient Rational Driver Configuration: ZERO houses the double dynamic driver configuration, with a diameter of 10mm and the other diameter of 7.8mm. ZERO offers the smooth, soft and detailed sound thanks to the mature internal magnetic circuit structure co-worked with flexible polyurethane suspension composite LCP liquid crystal dome diaphragm.
Accurate Hybrid Double Frequency Division: Relying on the high-precision DLP-3D printing technolo- gy, the acoustic nozzle structure with filtering function and the accurately calculated RC frequency division form a hybrid double frequency division, which makes the two dynamic driver perform respectively, offering the closer design goal of objective indicators.
Excellent Objective Indicators: ZERO has a proper low-frequency gain and high-frequency response in line with HRTF characteristics, which makes ZERO own the objective index comparable to that of professional monitor earphones, while it is not as cold and rigid as that of common monitor earphone, and its overall timbre is natural and full of atmosphere.
Glue-Dropping Molding Capping Process: ZERO whole cavity adopts a sandwich structure (front cavity, decorative panel, and glue dropping capping). ZERO is capped by glue-dropping process and it is solidified and shaped by ultraviolet and processed by hand-polishing and varnish spraying, which ensure beautiful design while effectively reinforce the firmness processed by glue dropping capping.
package
TRUTHEAR x Crinacle Zero packages meet price standards.
The accessories are quite complete for this price range.
Package contents
TRUTHEAR x Crinacle Zero
Eartips
Carring case
Manuals
Build quality
Build quality meets the price standard.
The faceplate is beautiful.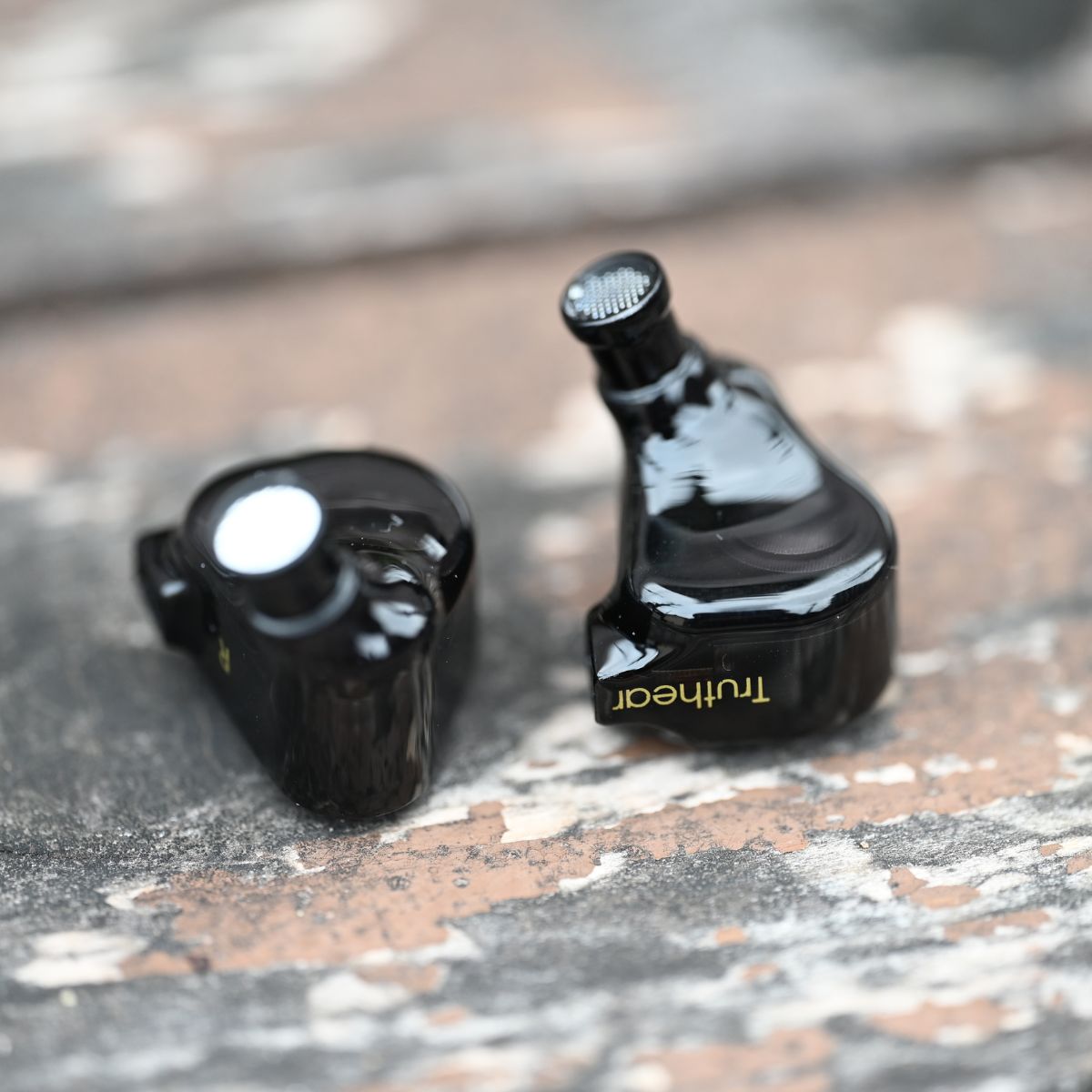 Fit
The fit is good.
Sound quality
REW Frequency Response
audio status
Sound quality description
In this review, I use the standard eartips size L and drive it with the FiiO M15.
Trustear ZERO has an almost perfectly neutral sound signature. The level of transparency and clarity is also high, and I can say that the ZERO has almost no shortcomings except for its range. It appears to be quite close to the Herman Target IE 2017, which I appreciate.
Please see here for detailed reviews on sound quality.
Lows / Bass
Truthear ZERO's low frequencies are weighty but a bit short on depth, which tends to make them feel expansive.
Drum kicks have plenty of impact, but are boomy and a bit warm and expansive. Because of the lack of tightness, the sharpness is poor, and the rhythmic feel is a bit sluggish. Rumble is also lacking, lacking a sense of realism and the liveliness of weight.
The electric bass is also a bit bright and seems to lack a bit of blackness.
The bass, while not bad in terms of volume, is probably not enough for low-frequency enthusiasts. The lack of tightness may also give a poor persepective to those who prefer a monitor-like sound.
Mids
The midrange is almost completely neutral. Texture is fairly accurate and near perfect, and transparency is of a satisfactory level, but tends to sound a bit warm-leaning.
Localization is good, and the overall sound image is well-connected, so that no matter what genre of music you listen to, you will find consistency in expression. The reproduction of three-dimensionality is also good, with sufficiently low distortion and excellent transparency.
The mid-range is unquestionably of an excellent standard.
Highs / Treble
Frankly speaking, Truthear's highs are nearly perfect, coexisting with natural, smooth overtone expression and detail, with only a little short on extension. That said, it is still of an excellent standard considering the price.
Overall, there is little to complain about in the high frequency range, but if one were to find a drawback, it would be the lack of exhilaration due to the lack of airiness in the high frequency range and the slight lack of detail. However, this is probably close to picking flaws.
Sound quality general comment
Original Sound Fidelity: A
Recommendation: S+
Personal preference: S+
Truthear ZERO has excellent performance in its price range and can generally be rated as comparable to or even beating many of the high-end classes.
This may seem like overwhelming performance, but what competitors are there in the same price range?
First, the EarFun Air Pro 2, a true wireless earbuds, has more extended low frequencies and is inferior to the Trustear ZERO in the high end, but generally delivers nearly identical sound performance. It may be a matter of individual difference levels, but it is possible that the Air Pro 2 may be superior in overall smoothness.
The TinHiFi C2 is an excellent model in the same price range, but its sound design differs from that of the ZERO; the C2 is closer to the SonarWorks target, which is more orthodox studio tuning and more original-fidelity. The ZERO and C2 are comparable options, but the ZERO is expected to perform better when localization and detail of the original music is more important than a speaker-like sound image. However, especially in the low frequencies, the C2 will outperform the ZERO.
Sound quality features
Pros
Excellent sound image consistency
Excellent resolution
Low distortion
Excellent texture
Good original fidelity
Lustrous
Comfortable to listen to
Warmth
Excellent localization
Excellent detail
Natural overtone expression
Cons
Lacks low-frequency depth
General comment
The Trustear ZERO not only offers the best level of sound quality in its price range, but it also performs on par with the high-end. The package is also well above the price level, and overall, it is an earphones that you can hardly go wrong with. It is one of the products that we can recommend without question.
Purchase link