Disclaimer
This review is based on a sample provided by HiFiGO to convey a sincere quality review to our readers.
No remuneration or compensation, such as a manuscript fee, has been received for publishing this, and it is an honest evaluation based on measurement data from personal testing and personal opinion.
Please read the privacy policy of this website.
Recommended for people like this
People who value sound balance
People who like studio tuning
People who value resolution
People who value transparency
Overview of TinHiFi C2 Mech Warrior
This review will give an overview of TinHiFi C2 Mech Warrior. A complete review of this product can be found here.
audio-sound Score
Total Score: 9.6 / 10.0
Package: 8.0 / 10.0
Build quality: 9.0 / 10.0
Fitment: 8.5 / 10.0
High range: 9.0 / 10.0
Mid range: 11.0 / 10.0
Low range: 9.5 / 10.0
Less distortion: 9.0 / 10.0
Cost perfomance: 12.5/10.0
Want to see the score ranking? Click here!
Basic Specifications
Frequency response: 10Hz to 20kHz
Impedance: 32Ω±15%
Sensitivity: 104±3dB
Cable connector: 0.78mm 2pin
Features of TinHiFi C2 Mech Warrior
All-new Mechanical Design.
Custom-developed 10mm Dual-Cavity Dynamic Driver.
Newly-Developed PU+LCP Composite Diaphragm.
CNC machined aviation-grade 6063 Aluminum alloy ear shells.
Professional Tuning Adjustment.
2-pin 0.78mm connectors.
TinHiFi C2 Mech Warrior is a newly-developed single-dynamic driver IEM with an all-new Mechanical design. The pair adopts a 10mm dynamic driver with a new PU+LCP composite diaphragm. It's tuned based on suggestions from various Audio enthusiasts around the world, promising a high-quality sound with ultimate clarity and detail. C2 ends your cravings for high-resolution audio enjoyment with its sheer performance!!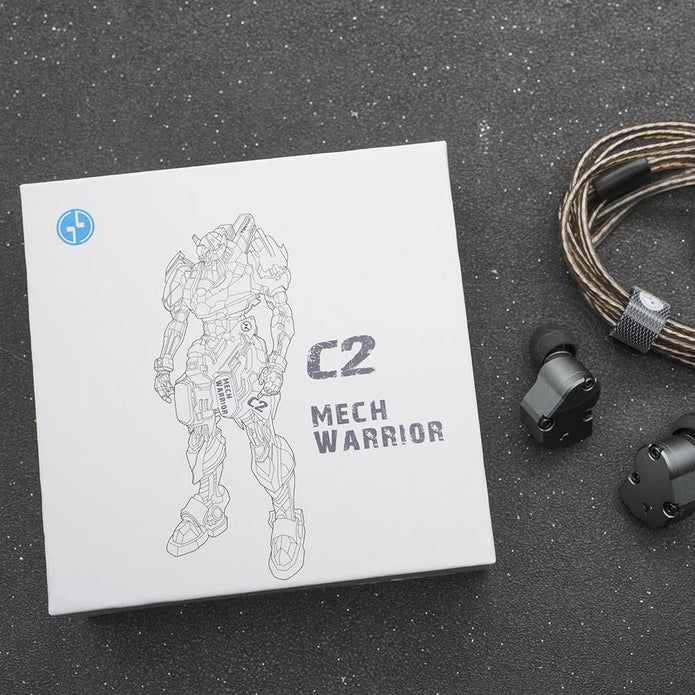 Unique Looks With All-New Mechanical Design
Tin HiFi C2 has got all-new mechanical design, the shells are made of high-quality 6063 aviation-grade aluminum alloy material. The shells are processed by a high-precision five-axis CNC machining process ensuring a high-quality textured finish.
Impressive Sound With All-New 10mm Dynamic Driver
Tin HiFi C2 brings you an outstanding sound performance all thanks to its newly-developed 10mm dynamic driver unit. The driver adopts a double-cavity design with an LCP+PU Composite diaphragm, N52 Neodymium magnetic circuit, and CCAW 0.035mm ultra-light voice coil. C2 achieves excellent transient response with no theoretical resolution, delivering quality performance at a budget price.
High-Quality Composite Diaphragm
Tin HiFi C2's dynamic driver adopts a composite diaphragm with a perfect balance between high rigidity, high-internal loss, and micrometer thickness. It effectively suppresses unnecessary vibrations and has strong elasticity. It helps the C2 to achieve high-end sound performance with an accurate high-frequency response, deep lower end, and clear midrange.
Professional Tuning Adjustments
C2 has been deeply optimized based on the suggestions provided by audio enthusiasts from all around the globe. It has been tuned to deliver consistent performance that will complement different genres of music well. With the Tin HiFi C2, prepare to experience your music in an all-new presentation.
Detachable 2-Pin Cable
Tin HiFi C2 comes with a high-quality 2-pin 0.78mm cable. It has a 3.5mm termination that makes the pair compatible with most sources out there. The cable has concave memory hooks near the 2-pin connectors that contribute to achieving better wearing comfort with the pair.
package
Overall, the TinHiFi C2 package can be described as above standard for the price.
It is simple, lean, easy to dispose of, and relatively eco-friendly. It would have been better if it were easier to dismantle.
Package contents
TinHiFi C2 Mech Warrior
Eartips
Manuals
Build quality
Build quality meets the price standard.
It is very beautifully and sturdily built, and the molding is a level up from TinHiFi's traditional IEMs. It would not surprise me if the body is considered to be in the $100 class or better, as Tin's technical prowess is rapidly growing.
Fit
The fit is good.
Well sculpted, but there is a slight strong contact with the ear. The metal shell is hard against the ear and heavy, so prolonged use may cause a slight feeling of strain or pain.
Sound quality
REW Frequency Response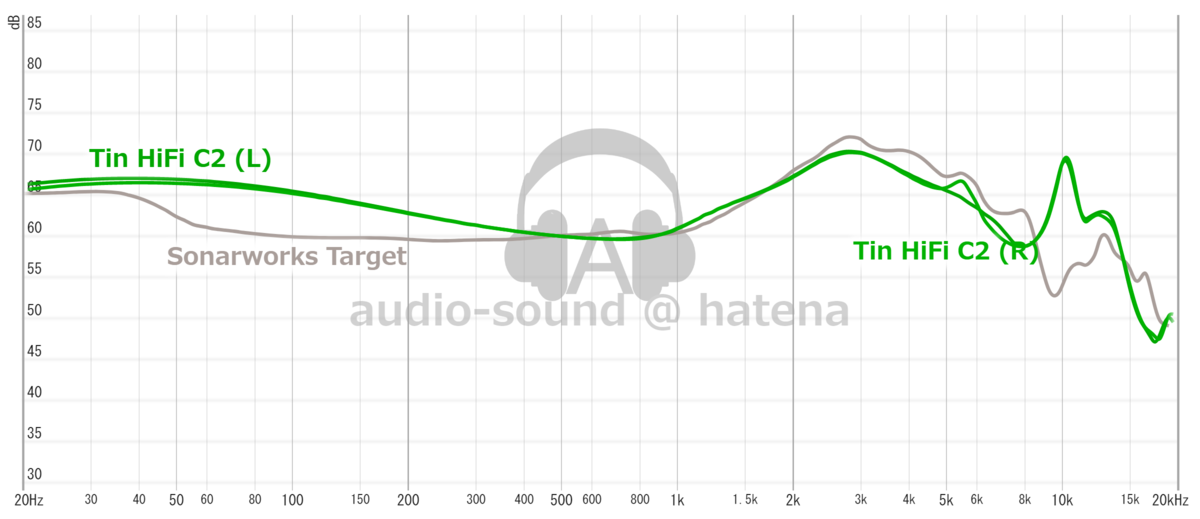 audio status
Sound quality description
In this review, I use the standard eartips size L and drive it with the FiiO M15.
The TinHiFi C2 has an almost perfectly neutral sound signature. However, energy is a bit weak in both the high and low frequencies, making it more midrange in balance.
Please see here for detailed reviews on sound quality.
Lows / Bass
The TinHiFi C2's low frequencies are sufficiently linear and quantitative to balance the midrange and sound quite monitor-like.
Depth is a bit lacking, but attenuation is mild and not too lacking. However, it is not at a level that will satisfy low-frequency lovers.
The bass drum is not bad in terms of tightness, but it lacks a little weight, and sounds more like a slap or tap than a thump.
The electric bass also tends to give a bright impression and may be slightly lacking in terms of blackness.
Conversely, the perspective is good and the rhythmic feel is easy to understand, so those who want to hear a slightly lighter balance may like the galloping atmosphere.
Mids
The midrange of the TinHiFi C2 is not only almost completely neutral in sound balance, but it also offers exceptional clarity. It also has a good sense of focus and resolution within the overall sound, so it sounds clear.
However, with the proper fit, it can easily lack a sense of detail, and while the sound's contour and solidity are relatively solid, the lack of definition can easily give the impression of good three-dimensionality but not a good sense of separation. (For those who are curious about the term "with the proper fit". I should add that, based on my test with HATS, I am able to improve the detail by fitting it looser than the proper position, and this is actually confirmed by hearing it myself.)
Acoustic guitar textures are very natural, the sound image is well connected, and the overall consistency is high, but the coloration is rather subdued.
The low energy in the high frequencies results in low brightness for luminance, so you get the impression of a slightly darker space with a hint of mid-range spotlight.
How does it compare to competing models?
First, the C2 can be expected to perform about even with the TinHiFi T3 Plus, which is generally considered the higher-end model; the T3 Plus may seem smoother in the midrange, and many will expect a more natural feel in terms of overtone expression, but the C2 is likely to sound slightly better in terms of range. C2 will feel fresher and crisper sounding.
On the other hand, in the same price range there is the Tripowin Lea with its superior midrange; against the Lea, the C2, which offers equal resolution, an equally good midrange sound curve, but superior range and overall balance, is for many an almost perfect top competitor. If you are buying now, I recommend the C2 over the Lea. C2 is even better in terms of build quality.
How does it fare against Tripowin Mele? In terms of transparency, the two are almost evenly matched, and the perfection of the midrange cannot be easily judged as a winner. The Mele may be a step ahead in overall detail, but the C2 has better range and can be expected to sound more like a legitimate studio tuning. the C2 is more monitor-like and has better original fidelity, and I personally think the C2 is better for most people.
Highs / Treble
The TinHiFi C2's high frequencies are good extended, which is very good for its low price.
However, attenuation has been added for speaker-like localization, and its energy is set lower than the standard amount for most of the highs. This tends to result in a sound that lacks detail and delicacy in the high frequency range, making it somewhat unreliable as studio monitors.
On the other hand, the high frequency adjustment is quite safe for those sensitive to high frequencies. In some cases, only the sibilance may be perceived as somewhat strong.
Sound quality general comment
Original Sound Fidelity: A+
Recommendation: S+
Personal preference: S+
The quality of single dynamic drivers is improving, and they can provide very good quality sound at lower prices. At least when it comes to the midrange, dynamic drivers are currently the most promising in terms of performance, and they are certainly superior in terms of cost. Balanced armature types are highly distorted, and planar drive types do not yet seem to have reached the level of dynamic drivers with respect to transparency (the closest exception is the Shuoer S12).
So audiophiles as of 2022 do not actually have to pay a lot of money to hear the highest sound quality. At least in terms of midrange reproduction, low-cost single dynamic drivers are outperforming high-end multi-driver hybrids. Modern dynamic drivers are very pure in the midrange while not lacking much in terms of range.
Therefore, incorporating a balanced armature driver to improve range and resolution can easily lead to a sound that is ultimately tainted, and trying to squash minor flaws can result in bigger flaws. In other words, it often actually leads to worse overall performance. So, if they can't tune the sound very well (or if they can't incorporate the distortion characteristics of BAs into the sound), they can achieve a higher standard of sound with a single dynamic driver instead of using a hybrid.
That is why, rather than looking for a model that costs more than $100, it is currently much more likely that you will be much happier if you get a model that costs around $50, such as the TinHiFi C2, which is superior in terms of both build quality and sound. This is one of the models I unquestionably recommend for audiophiles with a discerning ear.
Sound quality features
Pros
Good sound balance
Studio tuning-like
Comfortable to listen to
Lustrous sound
Excellent fidelity
Excellent resolution
Transparent and clear midrange
Good focus in the midrange
Good range
Speaker-like localization
Cons
Lack of detail-definition
Lack of luminance
Low frequencies do not seem to be at a level that would satisfy low frequency enthusiasts in terms of quantity and depth
General comment
The TinHiFi C2 is one of TinHiFi's best earphones to date, offering a very good studio-tuning-like neutral sound at a very low price. In terms of build quality, TinHiFi has also made significant progress, and in general, I am amazed that they can produce such a great product at this price.
Purchase link