Disclaimer
This review is based on "private purchases" or "items rented for a consideration".
No remuneration or compensation, such as a manuscript fee, has been received for publishing this, and it is an honest evaluation based on measurement data from personal testing and personal opinion.
Please read the privacy policy of this website.
Recommended for people like this
People who like bright sound
People who value resolution
People who like clear sound
People who like studio monitor sound
People who value sound balance
People who value appearance
People who value cost performance
Overview of TKZK Ouranos
This review will give an overview of TKZK Ouranos. A complete review of this product can be found here.
audio-sound Score
Total Score: 9.3 / 10.0
Package: 8.0 / 10.0
Build quality: 8.0 / 10.0
Fitment: 8.5 / 10.0
High range: 8.5 / 10.0
Mid range: 10.5 / 10.0
Low range: 9.0 / 10.0
Less distortion: 9.5 / 10.0
Cost performance bonus: 12.5 / 10.0
Want to see the score ranking? Click here!
Basic Specifications
Frequency response: 10Hz to 20kHz
Impedance: 32Ω
Sensitivity: 110±3dB
Connector: 0.78mm 2pin
Features of TKZK Ouranos
Rose-Gold Carbon-Fiber face panels.
New-Generation 10mm Dual-Cavity Dynamic Driver.
High-Performance CNT(Carbon-Nanotube) diaphragm.
Powerful N52 Neodymium Magnet.
3.5mm Gold-Plated Termination Plug.
High-purity Silver-Plated stock cable.
Soft & durable PVC sheathing on the cable.
Comfortable & Ergonomic design.
Professional Tuning Adjustment.
TKZK Ouranos is a premium single-dd IEM with exquisitely designed ear shells. The pair houses a 10mm new-generation dynamic driver that adopts a high-performance CNT(Carbon-Nanotube) diaphragm coil. It has got a premium look with 3D printed resin material ear shells and rose-gold inlaid carbon fiber face covers. Listen to your favorite music with superb clarity and a beautiful set with the TKZK Ouranos!!
Latest-Generation CNT Diaphragm Dynamic Driver Unit
TKZK adopts a 10mm dynamic driver unit that features a high-quality Carbon-Nanotube(CNT) diaphragm coil. The driver is powered by an N52 high-performance magnet. It is designed with a double-cavity structure. This driver produces a well-layered sound with rich tones and a balanced profile between the three frequencies. TKZK Ouranos complements different genres of music well.
Exquisite Looks with Solid Build
TKZK Ouranos has got a beautiful design with rose-gold flakes on a Carbon-Fiber material face cover. The shell is made up of high-quality skin-friendly resin material. TKZK has crafted the shells using high-precision 3D printing technology. The carbon-firer styled face covers give the set a unique and stunning look.
Balanced & Natural Sound
With a professional team of experienced audio engineers, the tuning of TKZK Ouranos has been adjusted for a natural and balanced sound presentation. The pair treats its users with a smooth, detailed sound, a tuning output that complements different genres of music amazingly well!!
High-Quality Stock Cable With Soft & Durable Outer Sheathing
TKZK Ouranos features a detachable 2-pin cable. It's a high-purity silver-plated cable with a 3.5mm termination plug. The cable has got a soft PVC outer sheathing that protects it from accidental cuts and damage.
package
The quality of the packaging meets the price standard.
Package contents
TKZK Ouranos
Carrying pouch
Eartips
Manuals
Build quality
Build quality meets the price standard.
The faceplate is beautiful.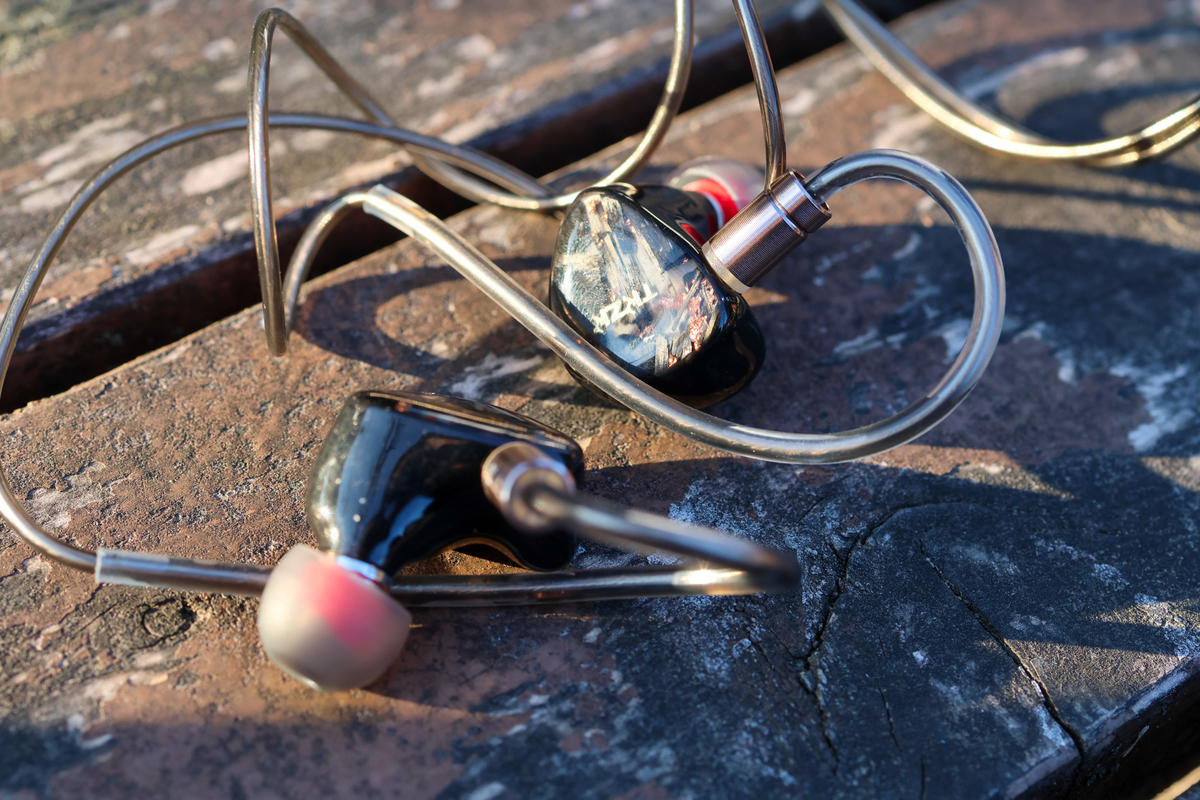 Fit
The fit is good.
Sound quality
REW Frequency Response
audio status
Sound quality description
In this review, I use the standard eartips size L and drive it with the FiiO M15.
TKZK Ouranos has a neutral and near flat sound signature.
Please see here for detailed reviews on sound quality.
Lows / Bass
The low frequencies seem a bit shallow, but are sufficiently linear to provide good perspective.
The balance with the midrange is almost balanced, and is set at a level where it is slightly weaker than the midrange, depending on the volume. So there is little to disturb the midrange, at least around the right volume level.
For my taste, the drum kicks are shallow, lacking in heft and impact. Rumble is also weak.
Electric bass is also a bit bright, and I feel it has good perspective, but the blackness is weak and the contrast is not very good and lacks depth.
It will be a little difficult to satisfy bass lovers. On the other hand, if you like a monitor-like sound, you will probably like it.
Mids
The midrange of the TKZK Ouranos is almost completely neutral and balanced, coming out bright and forward. The mid-highs are slightly forward, with a monitor-like adjustment that gives a slightly stronger sense of construction.
Snare sharpness and electric guitar edges are reasonably firm and solid enough, and the structure of the musical framework is fairly easy to grasp. Consonants are easy to understand and vocalists' active tones are audible, percussion has a clear rise and fall, and the sense of rhythm is clear.
Resolution and transparency are also at an excellent level considering the price. The midrange is well finished.
Highs / Treble
The high frequencies of the TKZK Ouranos are not bad, although the extension is a bit lacking. However, it lacks definition and tends to sound fuzzy in detail, which tends to adversely affect the sense of localization.
The highs are generally low energy, and even those who are sensitive to high frequencies may find them safe. The sibilance is soft, and "s" consonants are restrained and not piercing. However, the brightness is a bit dark and much weaker than the brightness of the midrange.
This makes the midrange spotlight more prominent, and although the acoustic structure allows vocals and midrange instrumental sounds to be heard impressively, it tends to sound a bit static and lacking in dynamism.
The shimmer of the hi-hats is not quite right, and the cymbal-type sounds seem too subdued. There is a sense of tranquility in some parts, which I feel is not so bad, but it lacks subtlety.
Sound quality general comment
Original Sound Fidelity: S-
Recommendation: S-
Personal preference: A+
Looking at sound balance alone, the TKZK Ouranos appear to be a TinHiFi C3 with a weakly tuned low frequency range.
Although we do not know if this is due to the difference in the driver diaphragm material, the resolution is higher than that of the C3, and although the performance is a step up from the already superior C3, the price difference is well justified in terms of sound quality.
Sound quality features
Pros
Excellent texture
Bright midrange
Excellent fidelity
Excellent sound image consistency
Excellent resolution
Frontally localized
Lush
Good sound balance
Monitor-like low frequencies
Good focus on midrange
Cons
A little short on detail
Slightly lacking in subtlety
Slightly lacking in high frequency extension
Lacks depth in low frequency range
Slightly lacking in accuracy of localization
General comment
TKZK Ouranos are excellent earphones that offer a neutral and near-flat sound signature at a low price point with high resolution and low distortion. It is definitely a highly recommended earphone in its price range and an attractive choice if you like monitor-like sound with a bright midrange.
Purchase link