Disclaimer
This review is written based on a "private purchase" or "product rented for a price".
No remuneration or compensation, such as a manuscript fee, has been received for publishing this, and it is an honest evaluation based on measurement data from personal testing and personal opinion.
Please read the privacy policy of this website.
Recommended for people like this
People who value sound balance
People who like mellow and mild sound
People who value listening comfort
People who want to hear sweet, lustrous, and beautiful vocals
People who value harmonics
People who like expensive earphones
qdc fan
Overview of qdc Tiger
This review will give an overview of qdc Tiger. A complete review of this product can be found here.
audio-sound Score
Total Score: 8.4 / 10.0
Package: 8.5 / 10.0
Build quality: 8.5 / 10.0
Fitment: 8.5 / 10.0
High range: 8.5 / 10.0
Mid range: 9.0 / 10.0
Low range: 8.5 / 10.0
Less distortion: 7.5 / 10.0
Want to see the score ranking? Click here!
Basic Specifications
Frequency response: 10Hz to 70kHz
Impedance: 15Ω
Sensitivity: 105dB
Cable connector: qdc 2pin
Features of qdc Tiger
Eight driver hybrid configuration.
Six high-performance Balanced Armature drivers.
Two Electrostatic drivers.
Professional Four-Way Frequency Crossover.
Three-dimensional Tiger design on the face panels.
High-quality Titanium alloy ear cavities.
Light and comfortable ergonomic cavity design.
Easy to power.
Comfortable Wearing Experience.
Professional tuning.
Excellent sound performance.
Three in one plug high-purity cable.
Celebrate The Year Of The Tiger
2022, the Year of the Tiger is here and QDC has launched its latest flagship IEMs to celebrate the occasion. The latest QDC Tiger comes as an upgrade to the classic 8SS multi-driver Hybrid IEMs with updated driver configuration and high-quality Titanium alloy ear shells. 
Your Expert In Multi-Driver IEMs
QDC has gained a great reputation in the market for designing high-end premium IEMs. They have designed the latest flagship Tiger with an eight-driver hybrid configuration per side. The pair houses six high-quality custom-developed Balanced armature drivers paired with two custom-developed Electrostatic drivers.
Acoustic Structure Same As The Flagship V14
QDC Tiger adopts a 4-way frequency crossover and 4-way sound channels same as the flagship Anole V14. This four-way frequency crossover enables the pair to produce a clean performance with lower distortion in the output signal. With this professionally adjusted frequency crossover, the pair achieves an extended high-frequency response(Up to 70kHz) and presents a smoothly detailed overall presentation.
Premium Titanium Ear Shells
QDC Tiger showcases the exclusive craftsmanship of professional engineers. The pair features a 3D-styled Tiger pattern on the face plate area. The entire cavities here are made up of high-quality Titanium alloy material.
Three-in-One Interchangeable Plug Cable
QDC bundles the Tiger with a high-quality three-in-one interchangeable plug cable. Users can change the termination plug to their requirements and use the QDC Tiger with different sources.
package
Packaging meets price range standards. It arrives in a stylish decorative box. However, for this price, I would have liked a more luxurious unpacking experience.
In general, qdc's packaging is lacking for the price.
Package contents
qdc Tiger
Earpieces (2 types)
Interchangeable end plug for cable (3.5mm SE / 2.5mm BAL / 4.4mm BAL)
3.5mm to 6.35mm adapter
Aircraft adapter
Cleaning tool
Carrying case
Manuals, etc.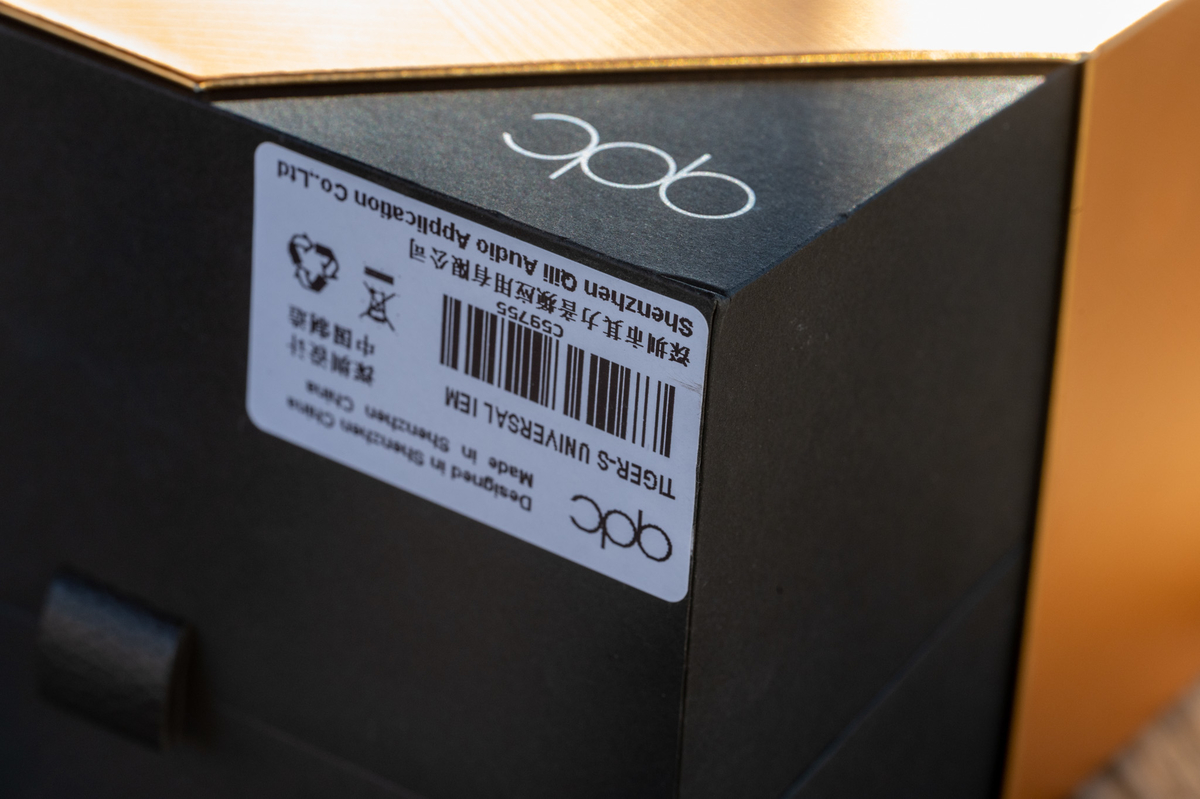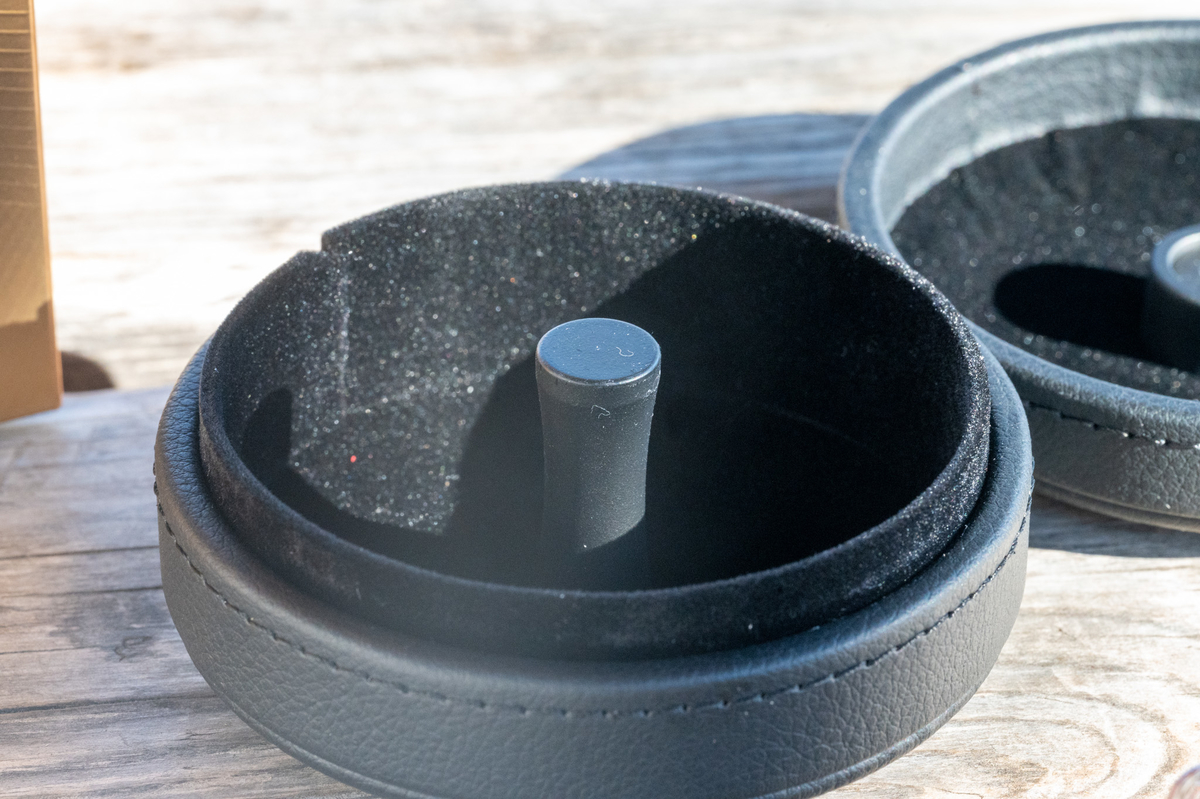 Build quality
Build quality meets price standard.
The faceplate is beautiful.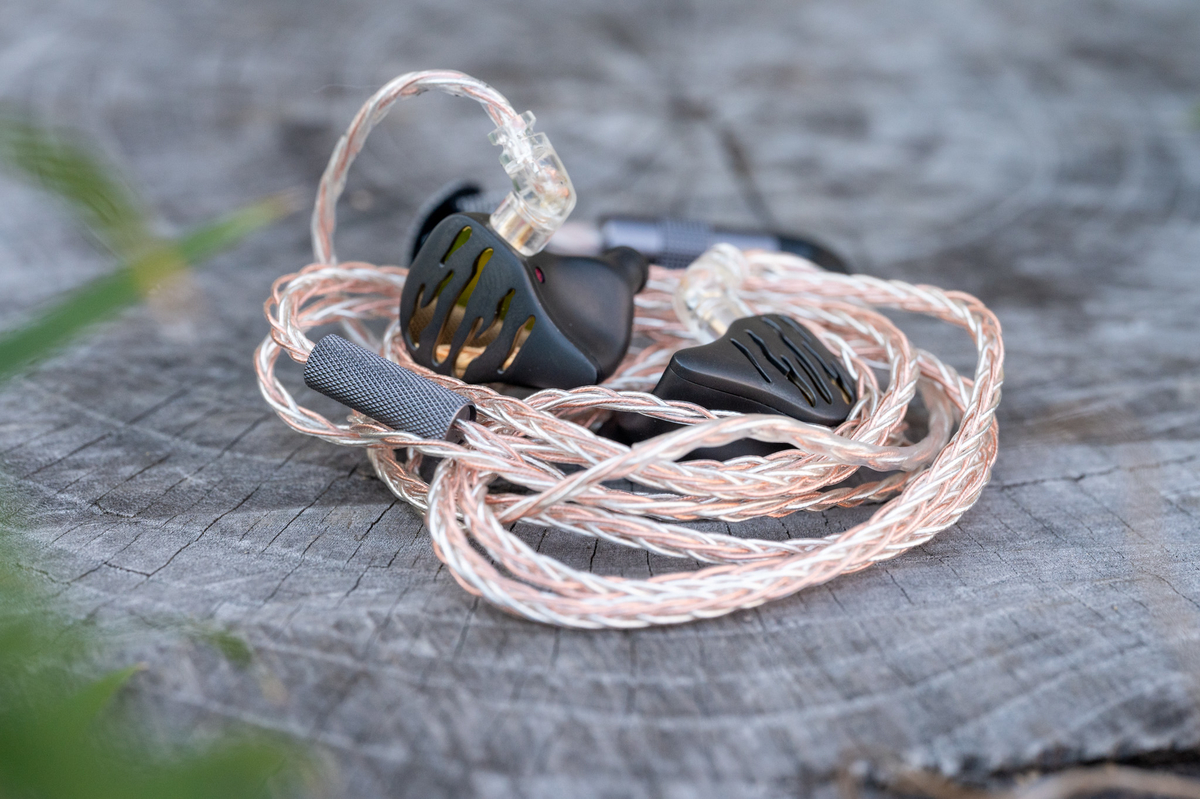 Fit
The fit is good.
Sound quality
REW Frequency Response
audio status
Sound quality description
In this review, I use the standard eartips size L and drive it with the FiiO M15.
The qdc Tiger has a full midrange sound with emphasis on the midrange.
Please see here for detailed reviews on sound quality.
Lows / Bass
The low frequencies on the qdc Tiger are relatively linearly extended. The balance of its presence with the midrange has been adjusted to an almost equal or slightly weaker sounding balance, and many will expect to hear a monitor-like impression of the low frequencies. Depth, however, is a bit lacking.
The drum kicks, while feeling reasonably heavy, are shallow, a little less tight and loose expansive, and sound a little lacking in impact to me.
The electric bass is also a bit bright and lacks breadth.
The midrange is balanced to sound bright, which may sound quite good for midrange-oriented listeners, but low-frequency enthusiasts will clearly be dissatisfied with it, both in quantity and quality.
Mids
The midrange of the qdc Tiger is relatively neutral and the texture is relatively accurate. The overall structure of the midrange is backward leaning, emphasizing staging and adjusting to create a sense of depth.
In general, the midrange is the most front-facing of the entire range, and the vocal image will be perceived as larger. Because of the high distortion characteristic of hybrid models and their lack of transparency, vocals and instrumental sounds are not well separated from the background and sound warmer as a whole.
High distortion has a negative effect on the sense of three-dimensionality, and the reproduction of depth is poor, but on the other hand, it has the positive effect of making the coarseness of the sound source less noticeable, as in the case of radio.
Frankly speaking, despite being so expensive, the midrange is muddy with no sense of advantage, but the atmosphere has a rough, grainy feel like that of a tube amp, so there is a good chance that analog sound lovers will find it quite desirable.
Despite the large number of drivers, the overall sense of range is not very good, and too much focus is placed on the midrange, which is a concern. Nevertheless, the quality of the midrange itself is rather good, with high resolution and definition.
Highs / Treble
The high frequencies of the qdc Tiger are rather well tuned, but despite the electrostatic drivers, the high frequency extension is not very high end worthy. Resolution, however, is excellent. The mids and highs are more distorted and sound more impressive around the glossy side, and qdc does a good job of creating a nostalgic mellow sound that is less sharp and more rounded and smooth sounding. qdc is very good at creating this kind of detailed musical atmosphere.
Sound quality general comment
Original Sound Fidelity: A
Recommendation: A-
Personal preference: A+
The qdc Tiger is an earphone that makes vocals sound beautiful with a unique expression. If you like mellow earphones, I highly recommend them.
However, as is often the case with products in this price range, the price is quite expensive for the sound quality. Of course, these products are limited editions for the so-called wealthy, so cost performance should not be an issue. There is a possibility that the price may go up in the future, and some people may want them for investment purposes (although I don't think that earphones are a decent investment at the moment).
In fact, the quality is generally not bad, and I quite like the way the vocals sound, as I also prefer a relatively distorted sound. The tuning is at least considerably more decent than many earphones in the same price range, which is as expected from qdc.
That said, I much prefer the Open Audio Mercury 2.0 to the qdc Tiger, and the Mercury is almost better for most people in terms of objective specs and sound balance.
Sound quality features
Pros
Good original sound fidelity
Good texture
High resolution
Bright midrange
Mellow sound
Good focus on midrange
Comfortable to listen to
Harmonically rich midrange
Rich and dense midrange
Cons
Lacks transparency in the midrange
Lacks in low-frequency depth
Significantly lacking in high-frequency extension
General comment
The qdc Tiger is a beautifully crafted vocal-focued IEMs with a mellow sound focused on the midrange that sounds harmonic and nostalgic. The very beautifully sculpted design and high-end-worthy workmanship will satisfy your desire for ownership to the fullest. The experience is probably priceless for some.
Purchase link