GUSTARD A26, a flagship-level ultra-high quality DAC from GUSTARD is now available.
Features
Dual AK4499EX & AK4191 DAC Chips
FPGA Exclusive Technology & Streamer / Renderer
Clock Synthetization & XMOS XU216 Solution
LPF Discrete Circuits Design
Full-Functional Remote Control
PRODUCT SPECIFICATIONS
IIS/USB/LAN: DSD64~DSD512, PCM 44.1K-768K, MQA 8X
COAX/AES/OPT: DSD64(DoP), PCM 44.1K-192K, MQA 8x
LAN: Roon/UPnP/HQPlayer NAA (more in the future)
10M Clock in: 50 Ω BNC, 0dBm-20dBm, square wave 0.2-3.3V, sinewave 0.5-3.3V
Frequency Response: 20-20kHz/+-0.2dB
Dynamic range: >127dB
Signal-to-noise ratio: >126dB
Crosstalk: -139dB @ 1kHz
THD+N: <=0.0001% @1kHz
IMD: =0.001% @-1dbfs
RCA: 2.5Vrms (VOLUME FIXED) 100Ω
XLR: 5.0Vrms (VOLUME FIXED)100Ω
XLR pinout: 1-Ground 2-Hot 3-Cold
Power Supply: AC115V/230V 50/60Hz
Power Consumption: <30W
Size: 330mm (Width)* 260mm (Length)* 65mm (Height) (Protrusion not included)
Packing size: 420mm (Width) 360mm (Length)* 175mm
Weight: 7Kg (with package)
Sandblasted aluminum alloy case: Silver or Black version
Dual AK4499EX & AK4191 DAC Chips
The GUSTARD A26 DAC combines two AK4499EX DAC chips with one AK4191 modulator from Asahi Kasei Microdevices. With independent power supply and grounding for each channel, separate digital-analog architecture eliminates interferences from the beginning.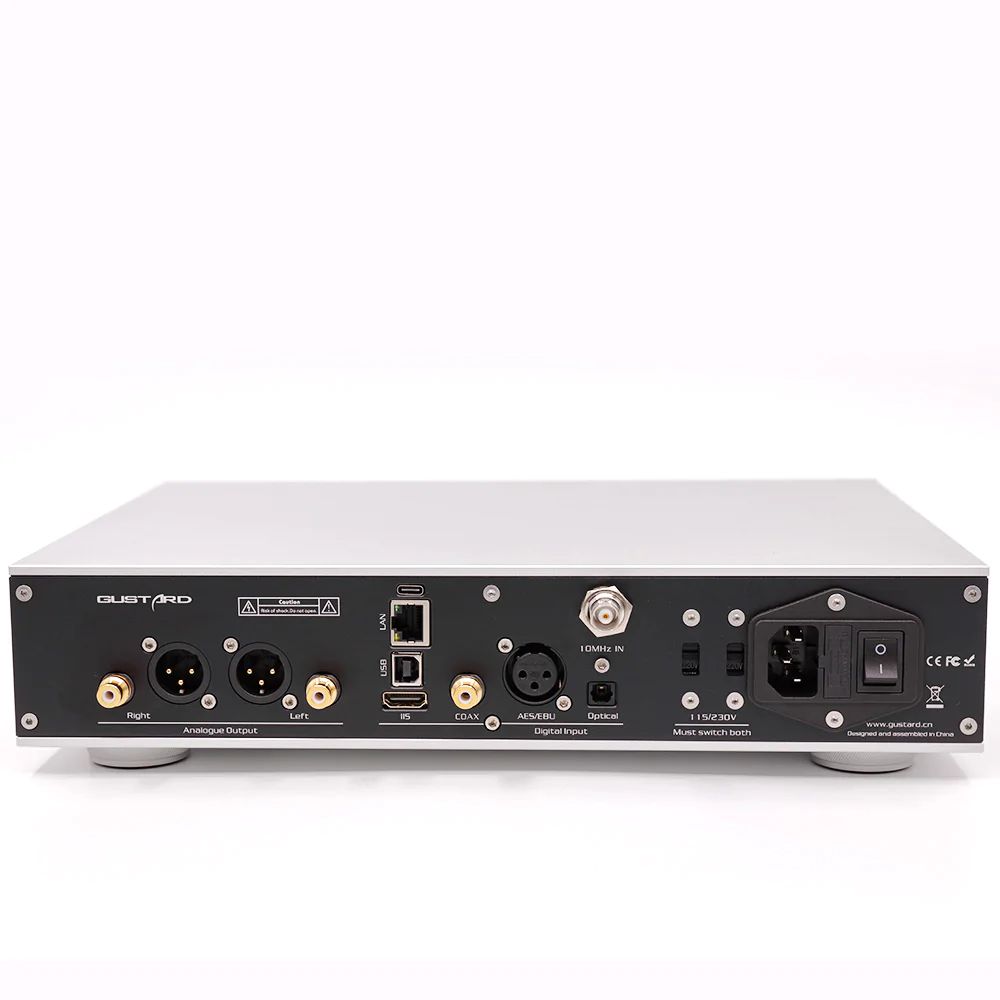 FPGA Exclusive Technology & Streamer / Renderer
Adopting FPGA exclusive technology, the A26 features signal routing, clock management, 2rd order PLL, DOP decoding, and Depop for PCM & DSD. Besides, utilizing Streamer/Renderer, an easy access to high-quality online streams, the GUSTARD A26 can supports Roon /UPnP /HQ Player NAA at present, and there will be more protocols in the future.
Clock Synthetization & XMOS XU216 Solution
Equipped with K2, ultra-low noise clock synthesizer, the A26 DAC features a precision clock from local oscillators or external clock in. It is worth mentioning that the GUSTARD A26 can replace the input signal' s clock with precision oscillators (local or external) and avoid the interference from the input source' s clock. In addition, the A26 DAC applies XU216 from XMOS, supporting up to PCM768 (with MQA-support) and DSD512.
LPF Discrete Circuits Design
LPF is specifically designed for the AK4499EX using discrete devices, whose final parameters of the circuit are adjusted with subjective listening. Different from ICs, these discrete circuits provide the possibilities to control every detail in sound and performance. However, these parasitic effects would introduce huge challenges to development experience and device's quality.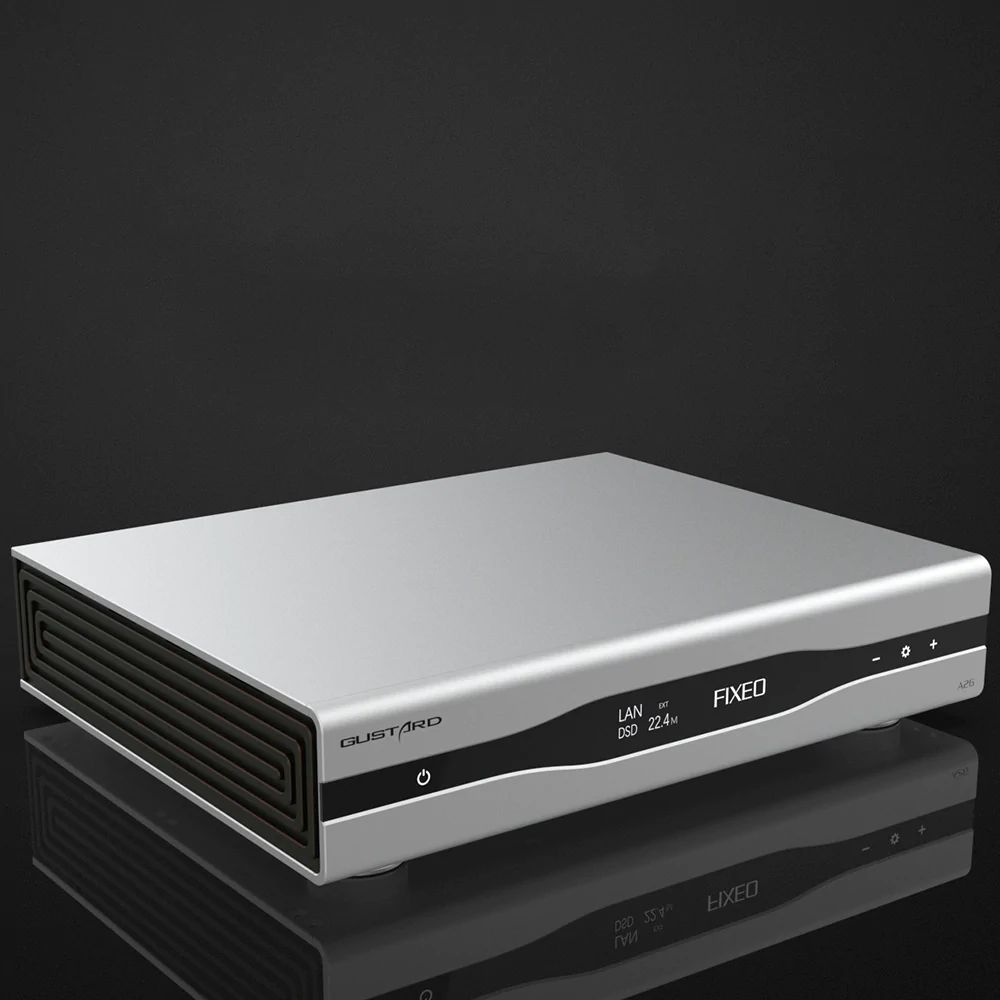 Full-Functional Remote Control
Except for its excellent configuration, GUSTARD A26 characterizes a sandblasted aluminum alloy case with an OLED display and a touch panel. And users can easily enjoy their music rich in details by using the standard remote control.
Price & Availability
GUSTARD A26 is now available at Linsoul and others for $1499.99.