Kiwi Ears has released high-end multi-driver IEMs, the Kiwi Ears Orchestra.
Features
Perfect Equilibrium of Bass, Mids, and Treble
Driver Innovations - 8 Balanced Armatures with 3-way crossover and 3 Sound bores
Custom Audiophile Cable - Braided 4 Cores Oxygen-Free Copper in Ultra-Pure Grade
The Panel Built With 3D-Fluorescent Material
PRODUCT SPECIFICATIONS
Sensitivity: 111dB
Frequency Range: 20Hz-20KHz
Impedance: 17Ω
Drivers Config: Hi:31736*2; Mid: Customised BA* 4 Low: 3800*2
Noise Isolation: 26dB
Earphone Jack: 0.78mm 2Pin
Plug: 3.5mm
Cable: 4 Cores Ultra-Pure Oxygen-Free Copper in 1.2M
About Kiwi Ears
Driven by the pursuit of extraordinary audio reproduction, at Kiwi Ears, we create the perfect amalgam of technological innovations with refined tuning strategies. With musicians and studio engineers particularly in mind, we are on an uncompromising quest to produce the finest professional In-Ear Monitors that will reveal every nuance in your music and performance. Never settling for mediocre, our small team of dedicated engineers handcrafts each unit so that you can worry less about what's in your ears and focus more on the sounds you are making. We are Kiwi Ears, and we're bringing you music heard like never before.
Orchestra - Power, Balance, Clarity
The Orchestra model is an 8 balanced armature driver IEM designed as an all-purpose performance monitor. Tuned particularly with balance in mind, the frequency spectrum of the Orchestra is a perfect equilibrium of bass, mids, and treble. Being neither too sterile nor too colored, the bass and mid frequencies have been tamed to produce just enough warmth to keep the music lively and enjoyable, but still natural and true to the intended sound. We are particularly proud of the mid to treble transition, which has been engineered to be smooth and void of harsh peaks or shrills, all while giving enough bite and crispness that accentuates and defines the vocal presence. The Orchestra model's treble range was extended to highlight every harmonic overtone and detail, while enhancing the overall audio resolution and definition. We are extremely impressed by the perfect mixture of enjoyability and professional monitoring that the Orchestra's natural balanced signature is able to achieve. Let the Orchestra bring your music to life.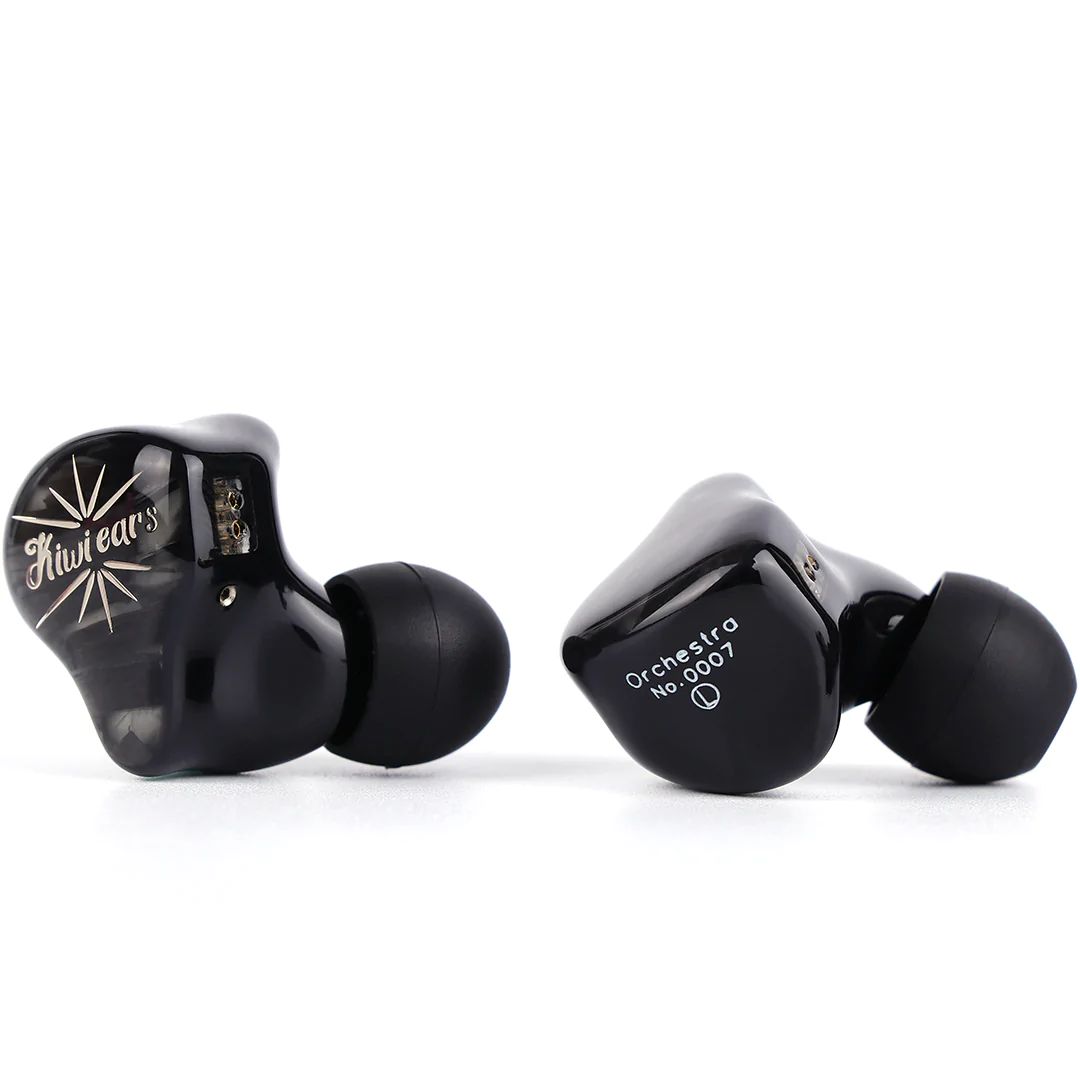 Driver Innovations
The balanced armature driver has been the foundational cornerstone of the IEM industry for decades, and for good reason too. They are small enough to fit inside the ears, while capable of producing the articulate details that are so critical for professional audio playback. However, with their size and build, there are also several restrictions that have hindered these drivers, namely, their timbre and lack of powerful bass. For our Orchestra Model, we have circumvented these issues by working with world renown driver manufacturers to customize our own balanced armature drivers, as well as utilizing the latest technologies they have to offer. The bass of the Orchestra model is powered by the newest full-sized Sonion dual subwoofer driver that is able to dish out powerful kick drum punches as would be heard in actual subwoofer systems. We utilize 4 of our custom mid-frequency drivers that have been specially engineered to bring about a more natural tonality and resolution to the core spectrum range. Additionally, two ultra-high frequency drivers from the Knowles corporation shines every hidden detail in your music. Brought all together with our comprehensive passive crossover system, the Orchestra is ready to deliver the next era of high-fidelity audio.
Custom Audiophile Cable
Because audio resolution at its core is dependent on a clean electrical transmission between the source and transducer, we have invested in creating our own high-quality custom audio cable. Because of its excellent conductivity, we have selected an ultra-pure grade of oxygen-free copper that composes the four braided cores of our cable. Besides its electrical potentials, our custom cables are flexible and comfortable to wear, as well as elegant to behold.
Built With 3D-Fluorescent Material
Orchestra features one of its kind 3D-Fluorescent face panels that changes color after absorbing ultraviolet light. After absorbing light, they change the entire look of the pair from a simple black face panel to magnificent fluorescent blue panels completely changing the look. The pair features an ergonomic design to provide a comfortable fit.
Quality Control Checked, Warranty Covered
Each unit produced by Kiwi Ears undergoes two separate rounds of quality control inspection by the engineer, complete with left and right channel frequency matching to ensure that your monitor will perform at its best for the entire duration of its lifetime. Each unit is handcrafted by our engineers who have taken their time and effort to bring you the best IEM that we have to offer, and as such, we too hope that you will come to cherish them. Every Kiwi Ears IEM is covered by a year of warranty to make sure that your monitor is ready to perform whenever you are.
Price & Availability
Kiwi Ears Orchestra is available now at Linsoul and other retailers for $499.