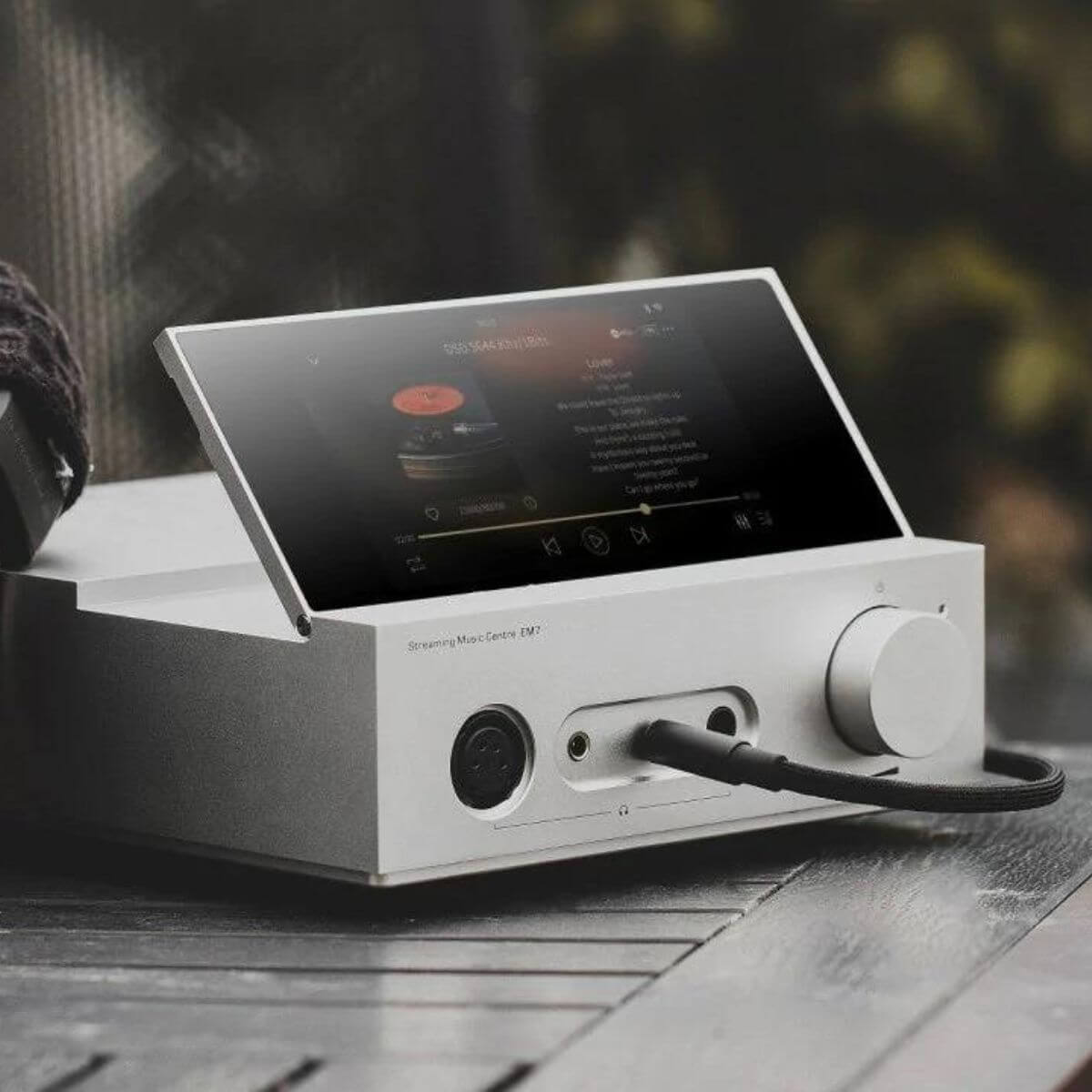 Shanling has introduced a brand new flagship desktop all-in-one streamer plus DAC/AMP, the Shanling EM7. The "EM" series of HiFi products from Shanling are designed as an all-in-one desktop solution for headphone listeners. The series started last year with the EM5 model, today the series is evolving ahead with the flagship EM7 model. In order to deliver a flagship-grade sound performance with Hi-Res signal decoding and powerful amplification, Shanling has featured a powerful OP+BUF based amplification section designed around the ES9038Pro flagship Sabre DAC Chip. EM7 can be your one stop solution for all your desktop needs whether it be a powerful amplifier, a high-resolution audio decoder, or a network streamer.
Shanling EM7 is launched in two color options, Majestic Silver and Midnight Black. It is priced at 2,099$, you can check out more information here.
Shanling EM7 comes equipped with flagship-grade ES9038Pro Desktop-Grade DAC chip. ES9038 Pro is a 32-Bit 8-Channel DAC that is combined here with a OP+BUF based fully balanced amplifier section. It delivers crisp performance in decoding high-resolution audio signals. ES9038 Pro is trusted by many audiophiles for its unmatched performance. The OP+BUF based analog circuit produces a powerful headphone output. EM7 has got 7W output power rating at 32Ω through the balanced connection port. It powers most demanding headphones with ease.
Shanling EM7 features a closed and customised Android 10 operating system. Users get multiple streaming applications support along with MicroSD card, USB drives, DLNA, Airplay, NAS, and even Bluetooth streaming with high-res codec support. EM7 supports Shanling's in-house developed AGLO(Android Global Lossless Output) System that promises authentic performance across different applications.
Shanling EM7 features a 5.8" tiltable full-HD display. It is available at the top of the device for easy usage and crisp viewing range. Users can easily adjust the angle of the screen to get a clear view. Shanling has featured an independent power supply making the both DAC and AMP sections fully isolated from the Android section. It features a low-noise toroidal transformer for the analog section and a high-quality switching power supply for the Android section.
Shanling EM7 is a flagship desktop all-in-one device. It is a fully versatile device that supports both sensitive as well as demanding IEMs and HPs with its precisely designed audio architecture. You can check out more information and details here.