This is a summary round up of the Moondrop NEKOCAKE true wireless earbuds review article by Moondrop.
Features
Latest Bluetooth V5.0 connectivity.
Automatic connection.
Large 13mm dynamic driver.
Titanium dome composite diaphragm.
Ultra-fine imported CCAW voice coil.
ANC Digital active noise cancellation.
Smart touch operation.
Mono-Stereo automatic switch.
Matching DSP tuning options.
Connect with Moondrop Link application.
Five different tuning profiles.
Push-button reset.
Comfortable fit.
Intelligent voice transmission.
Long battery life(4 hours on a single charge, up to 12 hours with charging case).
Technical Specifications
Bluetooth Version: 5.0.
Protocol Supported: A2DP/AVRCP/HFP/HSP/SBC/AAC.
Impedance: 32Ω±15%@1kHz.
Working distance: up to 10meters.
Charging time: up to 1 hour.
Charging time(Case): up to 1.5 hours.
Battery capacity(earpieces): 37mAh.
Battery capacity(charging case): 380mAh.
Battery Life: up to 4 hours on a single charge, up to 12 hours with charging case.
Offers Stable & Lag-Free Wireless Experience
Nekocake has the latest Bluetooth V5.0 connectivity. Moondrop utilizes a domestic SOC chip that provides comprehensive performance with the pair. The pair has a stable Bluetooth connection with lower lag and persistent connection allowing the users to enjoy their media and music without worries.
Dynamic Performance With Large Dynamic Driver
Moondrop has featured a large 13mm dynamic driver per side on the Nekocake. This driver is capable of producing high-quality sound performance providing a deep-diving bass response, rich midrange, and a smooth treble region with excellent detail reproduction. Thanks to this powerful dynamic driver, the Nekocake achieves nonlinear distortion with full-frequency THD+N lower than 0.5%. This driver has a titanium dome with a composite diaphragm and imported CCAW voice coil for best performance.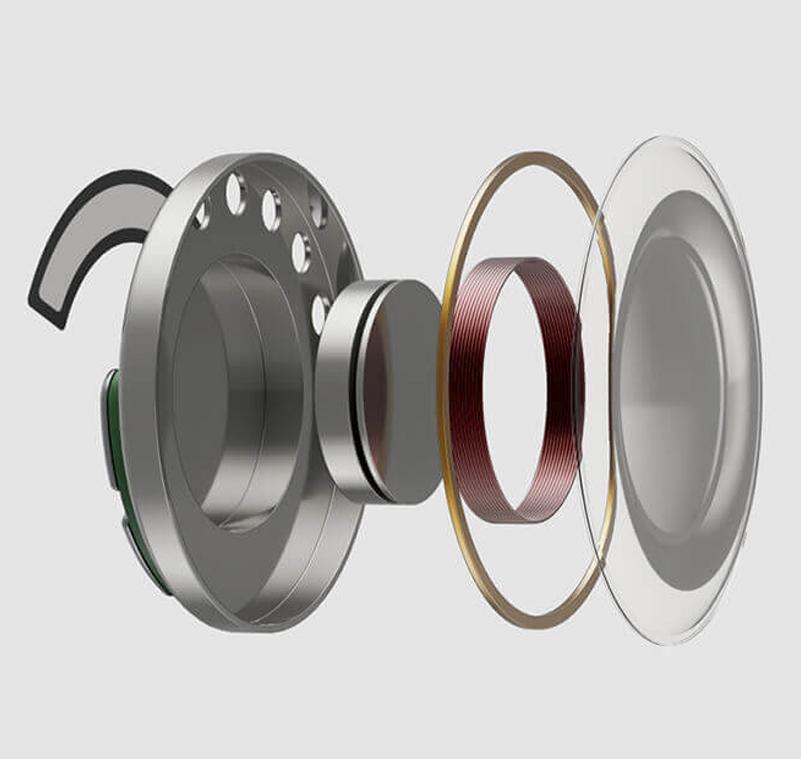 Moondrop's Trusted VDSF Target Response
Similar to most of the earphones by Moondrop, the latest Nekocake also has a frequency response that is similar to their famous VDSF target response to bring a natural and pure sound response with a wide soundstage presentation. The pair also has different tuning options adjustable with just a single click. Moondrop has pre-loaded five different tuning profiles for the Nekocake. These are easily accessible via the Moondrop Link application. Different from the common EQ switching, these five kinds of tuning are professionally compensated and adjusted by their R&D senior team, Balanced tuning provides a more durable and balanced timbre, which is suitable for most types of music.
Active-Noise Cancellation(ANC) Technology
Nekocake features ANC active noise-cancellation technology. It effectively reduces the ambient background noises. The pair has two noise cancellation presets, On and Off. Users can toggle the ANC by a long press on the earpiece. Nekocake also has Intelligent Voice Call Noise Cancellation technology that provides crisp voice transmission over phone calls.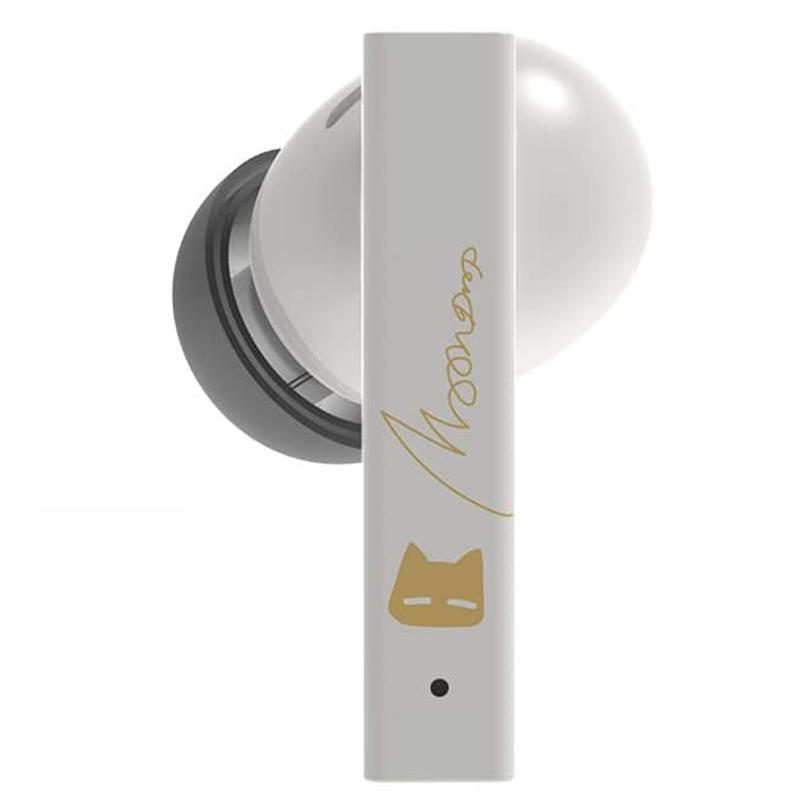 Customizable usability with apps
Unboxing
Gallery
Review Round Up
The Moondrop Nekocake is a simpler IEM from Moondrop that maintains some of the premium features of the Sparks such as app integration. While the Nekocake takes the cute aesthetic to a new level by adding it in as the voice prompt, I wish it was more articulate to avoid confusion with the voice prompts.

 

Sonically, the Nekocake is unmistakably tuned by Moondrop, with the VDSF tuning ensuring that it has a generally balanced tonality that's only hindered by the ability of the drivers to ultimately resolve the finer details within the music. 

 

However, what sets the Nekocake apart from its competition at this price point is the Moondrop Link app that allows the user to change the tonal balance of the Nekocake. This makes sure that it's versatile enough to suit different sonic preferences while allowing some customization of controls.

 

https://headfonics.com/moondrop-nekocake-review/
The Nekocake, while not being caterwaulingly bad, are just kind of meh. Technicalities are nothing to write home about, and there is a hiss present with poor passive isolation. The mic quality is also sub-par and some UI and functionality areas are lacking. On the plus side, there is an app that allows configuration of the touch buttons and 5 preset EQ settings (though no customized EQ options are available).

 

The Nekocake's stock preset ("balanced") is a misnomer and is quite bassy in tuning, but there is a "Moondrop classic" option that brings back the familiar VDSF signature that Moondrop fans should be comfortable with. This setting saves the day somewhat, as it also tightens the bass and improves technical aspects. Overall, in the big scheme of things, I would class the Nekocake as bang average for a TWS set, and honestly, there might be better options out there on offer, both from a UI/functionality, and/or a sonic perspective.

 

Pros:

Good fit and comfort
ANC available
Moondrop Link App allows configuration of touch buttons and 5 preset EQ settings
Good timbral accuracy

 

Cons:

Below average technical performance
Poor passive isolation lets in wind-noise
Hiss present
Mic quality not the best
No fast charging/wireless charging
No support for aptx, aptx HD, LDAC
No customized EQ options
No waterproofing

 

https://www.headphonesty.com/2022/01/review-moondrop-nekocake/
The Moondrop Nekocake isn't for everyone. Controls, call clarity, and noise cancelling all underperform. Yet… it still may be great for you if you value sound quality above anything else. Backed by some fun equalizers, the Nekocake has a wonderfully balanced sound for affordable wireless earbuds.

 

https://www.scarbir.com/tws/moondrop-nekocake-review
The Moondrop Nekocake is a TWS that's light on features but big on sound and design.

 

Pros:

5 EQ presets
Stylish aesthetic
Audio quality
App support
Active noise cancellation (ANC)

 

 

Cons:

Limited battery life
No onboard volume controls
No aptX
Poor microphone quality

 

https://primeaudio.org/moondrop-nekocake-review/
The Nekocake is clearly targeted at the consumer crowd, as opposed to the more audio-conscious community. Die-hard audio fanatics may snub this set for its rather bland meh-ish sound, or love it for its cutesy Vtuber theme/aesthetic. I have no problems with the comfort, usability and stability of connection which are my biggest concern in a TWS. It is also impressive that Moondrop managed to squeeze in some degree of ANC at this budget-ish price but its susceptibility to wind noise disturbances really holds the Nekocake back. Overall, I think this is an okay pair of TWS and if you can look past its flaws, you may just love it.

 

Pros:

App Support
Good Generic Fit
ANC on a Budget
Vtuber Voicing

 

Cons:

Not the Best Sounding at the price
Limited Codecs Supported
Wind Noise

 

https://perrivanaudio.com/moondrop-nekocake-review/
Yes, if you ask me personally, the Nekocake won't be my top pick for a budget TWS, after all I prefer the Moondrop Sparks over the Nekocake due to its sound performance anyway.

 

But as a IEM in the market in general, the Nekocake is quite solid. Solid due to its decent tuning and staging performance and for a TWS? It's probably one of the few that can provide you a balanced signature.

 

Bland as this cat cake might be, it's still a decent cake. Nice work from the Moondrop team.

 

https://banbeu.com/moondrop-nekocake-review-decently-bland/
Summary
Now, I had listened to it many times before I got NEKOCAKE, and frankly, I didn't want it that badly. I was interested, so I read the reviews relatively closely, but you can get a general idea of where I stand if you look at the excerpts from the reviewers' ratings above.

I ended up actually getting the NEKOCAKE, but I still have the impression at this point that the sound quality alone is not much to write home about. I will write a review in the future, and my opinion may change in the process, but for now, the NEKOCAKE is a well-made toy, but in terms of sound quality, I don't think Moondrop really made this product. It seems to me that Moondrop is just doing side business because fully wireless earbuds sell well. They are clearly behind manufacturers such as QCY, SoundPEATS, EarFun, and Edifier in this area.
In fact, it can be seen from various interviews that Moondrop probably doesn't care much about fully wireless earphones, which may perhaps be the only drawback for their brand that may hinder their future growth. 
Moondrop Nekocake
$42.99

amazon.com