Disclaimer
This review is based on "private purchases" or "items rented for a consideration".
No remuneration or compensation, such as a manuscript fee, has been received for publishing this, and it is an honest evaluation based on measurement data from personal testing and personal opinion.
Please read the privacy policy of this website.
Recommended for people like this
People who like high distortion & high resolution balanced armature sound
"ACOEF" fan
Overview of Acoustic Effect TRY-01
This review will give an overview of Acoustic Effect TRY-01. A complete review of this product can be found here.
audio-sound Score
Total Score: 7.3 / 10.0
Package: 7.5 / 10.0
Build quality: 7.5 / 10.0
Fitment: 8.5 / 10.0
High range: 8.0 / 10.0
Mid range: 5.0 / 10.0
Low range: 8.5 / 10.0
Less distortion: 6.0 / 10.0
Want to see the score ranking? Click here!
Basic Specifications
Frequency response: 20Hz to 20kHz
Impedance: 31Ω
Sensitivity: 116dB
Connector: N/A
Features of Acoustic Effect TRY-01
Collaboration model with Yashima Electric, the world's top brand of 1-pole BA
Yashima Collaboration
In order to produce TRY-01, we asked Yashima Denki, who has been involved in the manufacture of audio equipment for many years, for their full cooperation, and TRY-01 (Engineered by Yashima) was born.
Housing design (miniaturization)
How can we make it less comfortable to wear on the ear? We have made the housing as compact as possible.
Cable with plug
As in the previous YSM series, the core wire is made of oxygen-free copper wire, and the cable shape this time is a parallel cable with an L-shaped plug, while maintaining our commitment to acoustics.
About the sound
While maintaining the above concept, the sound of the original BA of ACOEF has been achieved.
package
Since this is a rental item, the package is rated at a standard 7.5.
Package contents
Acoustic Effect TRY-01
Eartips
Re-cable products?
Manuals
Build quality
Build quality meets the price standard. However, I get the impression that it lacks a luxurious feel for over $100. The right-sided is with dots on the cable and body connectors; LR should be more obvious.
Fit
The fit is good.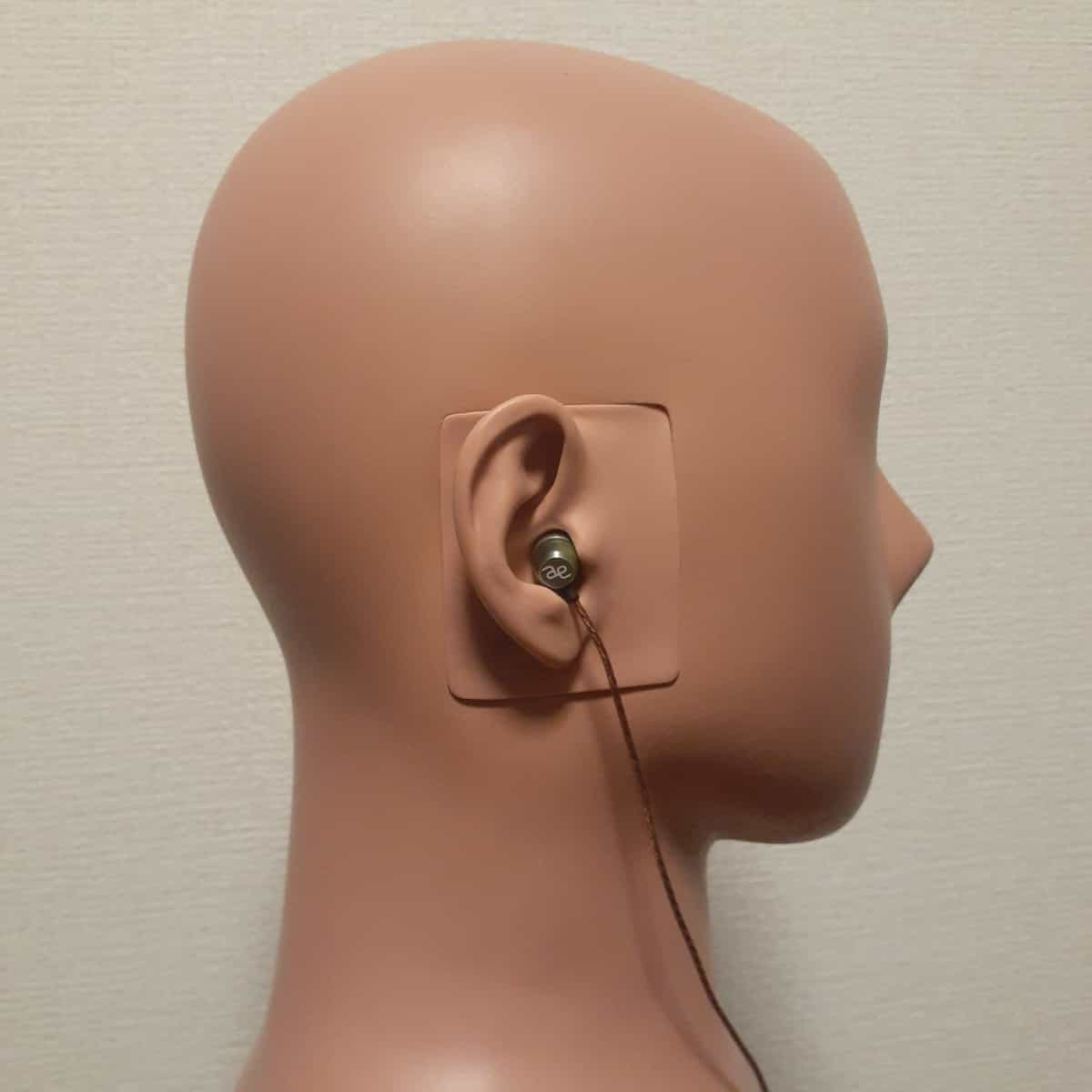 Sound quality
REW Frequency Response
audio status
Sound quality description
In this review, I use the standard eartips size L and drive it with the FiiO M15.
Acoustic Effect TRY-01 has a deformed V-shaped sound signature that leans toward the high frequencies.
Please see here for detailed reviews on sound quality.
Lows / Bass
The low frequency range is relatively linear, with a flat adjustment that stomps down like a monitor speaker. The sense of visibility is not bad, but the overall atmosphere tends to be light.
The bass drum is relatively deep and tight, but lacks weight. It sounds tantalizingly light, but the rhythmic feel is easy to understand.
The electric bass is also tight and has a good sense of sink, but overall it sounds bright and lacks in blackness.
It may not be bad if you like a monitor-like sound, but it is hard for bass lovers to find it interesting.
Mids
The midrange of the Acoustic Effect TRY-01 seems to be reasonably neutral, but it lacks linearity in the mid-high frequencies and above, and also has a tendency to sound cheap due to the low transparency characteristic of balanced armatures. Resolution is quite excellent.

In the midrange, the sound is dull and soft in comparison to the brightness, and while the separation and sharpness are poor, the edges sound strangely glarey, which is unnatural and does not sound pleasant at all to me. The snare and electric guitar sounded weird, which is not good for rock music in particular.

Vocals have an unusually poor articulation, sounding loose and fuzzy, lacking definition, and sounding very cloudy and hollow. The midrange is not very good, and if you buy a pair of $10 earphones blindfolded, you are likely to find something better than these. The sweet spot from the upper midrange to the mid-high range, which is the area that affects the listening impression the most, is ridiculously poorly created.
Highs / Treble
There is an unpleasant point of odd glare near the mid-high range, but other than that, the high frequency range is rather decent.
Since it is a 1BA, extension is not good, and extension is lacking, but there is plenty of definition and no sense of buried detail. Sibilances tend to sound a bit sharp, but at the right volume, there are few situations where they are blatantly unpleasant.
Sound quality general comment
Original Sound Fidelity: A-
Recommendation: D-
Personal preference: D-
Not recommended.
Sound quality features
Pros
Excellent resolution
Bright sound
Monitor-like low frequency
Glare sound
Cons
Lacks transparency
Lacks a sense of construction
Uncomfortable feeling of glare
Unusual sense of separation
Tight midrange
Not comfortable to listen to
Lacks high-frequency extension
Acoustic performance and tuning generally inferior to $10 class earphones, except for resolution
General comment
The Acoustic Effect TRY-01 is an earphone that offers a harmonic-rich, high-resolution sound that is typical of single balanced armature driver models. However, the sound quality is not flattering, and the build quality seems cheap for a model that costs more than $100. Recent KZ models that cost less than $30 or so may still seem to have a more luxurious design.
Purchase link