Disclaimer
This review is based on a sample provided by EarFun to convey a sincere quality review to our readers.
No remuneration or compensation, such as a manuscript fee, has been received for publishing this, and it is an honest evaluation based on measurement data from personal testing and personal opinion.
Please read the privacy policy of this website.
Recommended for people like this
People who like EDM
People who like realistic sound
People who value sound balance
Overview of EarFun Free Mini
This review will give an overview of EarFun Free Mini. A complete review of this product can be found here.
audio-sound Score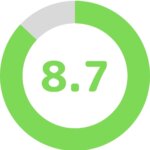 Total Score: 8.7 / 10.0
Package: 8.0 / 10.0
Build quality: 8.5 / 10.0
Fit: 8.5 / 10.0
High range: 8.5 / 10.0
Mid range: 8.0 / 10.0
Low range: 9.5 / 10.0
Less distortion: 8.0 / 10.0
Communication quality: 8.5 / 10.0
Want to see the score ranking? Click here!
Basic Specifications
Continuous / maximum playback time: 5h / 24h
Waterproof performance: IPX7
Supported codecs: AAC / SBC
package
The EarFun Free Mini package meets the price standard.
Package contents
There is no shortage of accessories. The package contains the following:
EarFun Free Mini
Charging case
USB Type-C cable
Eartips (3 sizes)
Manual
Build quality
The build quality is good, considering the price.
Fit
It fits well in the ear and is comfortable to wear.
Connection quality
I tested it by connecting it to a Cayin N6II/E02 with AAC.
I don't know because I haven't been in crowds, but it is stable in the home. Distance tolerance is excellent, and the connection is seamless and intact even at a distance of about 5 meters. The sound is interrupted when there is an obstruction in between, but the music is still audible to a reasonable degree, although there are some skips and interruptions after that.
There may be a small amount of background noise, but most people probably won't notice it.
Interface/operation
Power ON
Open the charging case lid and take out the earphone
Or press and hold the multifunction button for 2 seconds
Power OFF
Store the earphones in the charging case
Or press and hold the multifunction button for 10 seconds
Pairing
After turning on the earphones, if there is no connection destination, pairing mode is automatically activated
Play song
Tap multifunction button twice
Stop playback
Remove earphone from ear
Forward song
Tap the multifunction button on the right ear three times
Back song
Tap the multifunction button on the left ear three times
Volume +
Tap the multifunction button on the right ear once
Volume -
Tap the multifunction button on the left ear once
Answer/End a call
Tap the multifunction button twice
Reject call
Press and hold the multifunction button for 2 seconds
Activate Voice Assistant
Press and hold multi-function button for 2 seconds
Sound quality
REW Frequency Response
Sound quality description
The EarFun Free Mini's sound is a well-balanced, slightly low-frequency V-shaped signature, carefully tuned from low to high frequencies without deviating too far from the EarFun's neutral sound, and with a low price tag, but with a very good The sound balance is achieved.
The following review was tested on a FiiO M15 with an SBC connection.
Please see here for detailed reviews on sound quality.
Sound quality general comment
Original sound fidelity: A-
Recommendation: A
Personal preference: B
The EarFun Free Mini offers the excellent sound balance typical of EarFun at a low price, with the dynamism and groove typical of the Free series, and a deep low frequency range that is quite enjoyable.
However, when compared to the QCY T17, the Free Mini has better sound balance, but the T17 is by far superior in terms of resolution, making it hard to believe that it is in the same price range as the T17.
Sound quality features
Pros
Excellent localization
Relatively high fidelity of original sound
Deep low frequency range
Has a sense of richness
Dynamic sound
Excellent groove
Excellent sense of presence
Cons
Insufficient resolution
Lacks exhilaration
Lacks subtlety
Lacks high frequency extension
General comment
Even with the EarFun Free Mini, EarFun demonstrates its exceptional sound balancing technology and succeeds in providing good quality sound in the entry-level class. However, it is true that this is not a model that excels in resolution, and in this respect it falls far short of the price-over-range high-resolution sound of its rival, the QCY T17. Therefore, it is not highly recommended.
Purchase Link
EarFun Free Mini
$39.99

Earfun Official