Disclaimer
This review is based on "private purchases" or "items rented for a consideration".
No remuneration or compensation, such as a manuscript fee, has been received for publishing this, and it is an honest evaluation based on measurement data from personal testing and personal opinion.
Please read the privacy policy of this website.
Recommended for people like this
People who like analog sound
People who like well-balanced sound
People who like to listen to electric guitar with color
People who value harmonics
People who like studio tuning sound
Overview of Marshall Mode II
This review will give an overview of Marshall Mode II. A complete review of this product can be found here.
audio-sound Score
Total Score: 9.2/ 10.0
Package: 8.0 / 10.0
Build quality: 9.0 / 10.0
Fit: 9.0 / 10.0
High range: 9.5 / 10.0
Mid range: 11.0 / 10.0
Low range: 9.5 / 10.0
Less distortion: 7.5 / 10.0
Communication quality: 7.0 / 10.0
Cost Performance Bonus: 12.5 / 10.0
Want to see the score ranking? Click here!
Basic Specifications
Continuous / maximum playback time: 5h / 25h
Waterproof performance: IPX5
Supported codecs: aptX / SBC
Marshall Mode II Features
Mode II delivers a shocking and powerful signature sound, with approximately 5 hours of music playback on a single charge and up to 25 hours of music playback with the use of the charging case. The ergonomic design and four sizes of included ear tips ensure a comfortable and stable fit for all-day music listening.
Rich Signature Sound
Mode II delivers a powerful sound as if you are listening to a live performance right in your ear. Custom-tuned dynamic drivers reproduce crisp bass, natural midrange, and clear highs to create a rich audio experience.

Up to about 25 hours of playback
Approximately 5 hours of music playback on a single charge. Up to 25 hours of music playback is possible with the compact charging case.

Rugged and ergonomic design
Durable, sweat-resistant, IPX5 earbuds and IPX4 waterproof charging case, ergonomic design for all-day wear, and four included ear tips for a comfortable fit for any ear size. The included four ear tips provide a comfortable fit for any ear size.

Controls
Touch controls allow simple operations such as play/stop, forward/backward, call/end, etc. One touch on the left side activates the transparency mode.

Charging
Supports wireless charging, which allows charging just by placing the device on the ground.
package
The Marshall Mode II package meets the price level.
Package contents
There is no shortage of accessories. The package contains the following:
Marshall Mode II
Charging case
Eartips
USB Type-C cable
Manual
Build quality
Build quality meets the price standard. The overall exterior design is very cool.
Fit
The fit is good. The compact shape is excellent and fits securely in the ear.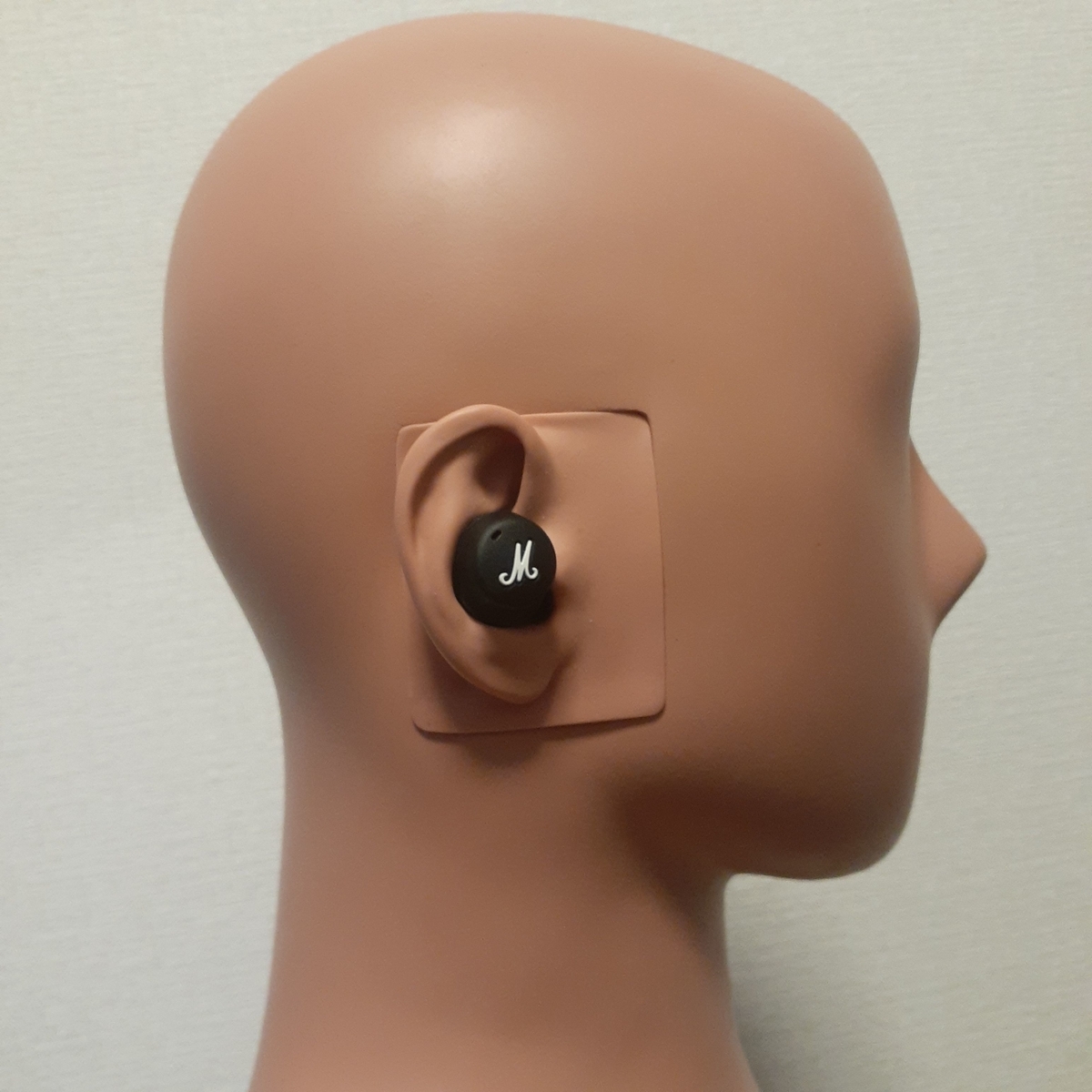 Connection quality
I tested it by connecting it to a Cayin N6II/E02 with aptX.
I don't know because I haven't been in crowds, but it is stable in the home. Distance tolerance is excellent, and the connection is seamless and intact even at a distance of about 5 meters. The sound is interrupted and cannot be heard across the obstruction.
There may be a small amount of background noise, but most people probably won't notice it.
Interface/operation
The operating interface is a touch type.
| | |
| --- | --- |
| Power ON | Open the lid of the charging case and take out the earphones |
| Power OFF | Store the earphones in the charging case |
| Pairing | Put the earphones in the case and press and hold the pairing button |
| Play a song | Tap the right multifunction button once |
| Stop playback | Tap the right multifunction button once |
| Forward song | Tap the right multifunction button twice |
| Backward | Tap the right multifunction button three times |
| Answer call | Tap the multi-function button once |
| End call | Tap the multi-function button once |
| Switch to transparency mode | Tap the left multifunction button once |
Sound quality
REW Frequency Response
Sound quality description
Marshall Mode II has a typical studio tuning signature that is almost completely neutral.
The following review was tested on a FiiO M15 with an aptX connection.
Please see here for detailed reviews on sound quality.
Sound quality general comment
Original sound fidelity: A+
Recommendation: S+
Personal preference: S+
Marshall Mode II is a connoisseur's earphone that produces an analog sound with excellent sound balance and low resolution; it is not for those who prefer HiFi sounding digital music or for the staunch audiophiles who are original sound fidelityists who value clarity.
It is the best earphone for analogists who find the distorted sound of electric guitars sexy, are comfortable with the sound of crumpled cymbals, prefer vacuum tube sound, and prefer a sound image like that of a CRT TV. It is a tasteful sound creation that only an analog amp manufacturer could produce.
Sound quality features
Pros
Sound with analog feel
Good sound balance
Good original sound fidelity
Accurate texture
Good localization
Good high-frequency extension
Rich harmonics
Comfortable to listen to
Colorful guitars
Cons
Too much distortion and noise
Resolution is too low
General comment
The Marshall Mode II features a very well balanced studio tuning style sound. The design is cool, the fit is good, and it is easy to get a high level of satisfaction regarding the build quality. However, the communication quality is lacking.
The sound is not for everyone, with lots of distortion, low resolution, and a strong analog feel. Recommended for those who want to enjoy the colorful distorted sound of electric guitars and the fresh, warm, smoky flavor unique to tube amps, but not for those who value clarity.
Purchase Link