Disclaimer
This review is based on a sample provided by Hidizs  to convey a sincere quality review to our readers.
No remuneration or compensation, such as a manuscript fee, has been received for publishing this, and it is an honest evaluation based on measurement data from personal testing and personal opinion.
Please read the privacy policy of this website.
Recommended for people like this
Detail-oriented
Ages 50 and up
High frequency lover
Overview of Hidizs MS5
This review will give an overview of Hidizs MS5.
A complete review of this product can be found here .
audio-sound Score
Total Score: 8.2 / 10.0
Package: 8.0 / 10.0
Build quality: 8.5 / 10.0
Fitment: 8.5 / 10.0
High range: 9.0 / 10.0
Mid range: 8.0 / 10.0
Low range: 9.0 / 10.0
Less distortion: 6.5 / 10.0
Want to see the score ranking? Click here!
Basic Specifications
Frequency response: 20Hz to 40kHz
Impedance: 5.3Ω
Sensitivity: 104dB
Cable connector: 0.78mm 2pin
Features of Hidizs MS5
Hidizs new custom liquid silicone dynamic driver.
Danish Sonion 4 balanced armature driver
Hidizs proprietary solder process
Interchangeable "Hidizs Pneumatic Sound Tuning Filter™"
Aluminum alloy cavity + plastic hollow panel
New 0.78mm 2-pin detachable cable design & 3.5mm plug.
Human-like ear structure design
High-resolution certification
Audiophile brand HIDIZS has opened pre-orders for its latest flagship HIFI earphones - the HIDIZS MS5 IEM. With new breakthroughs and upgrades in terms of sound quality, design, and driving drivers, this IEM is one of the most competitive in-ear monitors ever made by HIDIZS.
About the Driving Driver
The MS5 features HIDIZS' new custom 10mm liquid silicone dynamic driver. This driver is surrounded by Kevlar only 0.03mm thick and surrounded by 0.45mm of liquid silicone. It has good elasticity and transient, high sensitivity, and quick response, among other characteristics.MS5 is equipped with four Danish Sonion balanced-armature drivers. The top-of-the-line E50DT high-frequency composite driver is used for high and ultra-high frequencies, the mid-highs are driven by the 2389 for mid-highs, and the lows are driven by the 17A003 low-frequency driver. the MS5 unit configuration is 1DD + 4BA total 5 units, using a 3-way frequency design for clear sound and rich, full and emotionally rich detail.
Uniquely Designed Convertible Tuning Filter
The tuning filter of the MS5 is an upgraded version of HIDIZS' proprietary Hidizs Pneumatic Sound Tuning Filter™, which comes standard in three different configurations.
The MS5 tuning filter is also an upgraded version of HIDIZS' proprietary Hidizs Pneumatic Sound Tuning Filter™. 3 different configurations of tuning filters are standard.
Balance-Rose Gold: Suitable for Pop and Folk
Treble - Quiet Silver: Suitable for ACG and classical music
Bass/Bass-Charm Red: suitable for rock and heavy metal

In other words, by changing tuning filters, different sound styles can be felt.
About the Design
The shell design of the HIDIZS MS5 features a one-piece aluminum alloy shell design that reduces weight and provides a balance between strength and weight. Ergonomically, Hidizs redesigned the MS5 earphone front shell and sound tube. The multi-surface design allows the shape of the shell to closely follow the contours of the ear, making it comfortable to wear for extended periods of time. The faceplate of the MS5 is also made of skin-friendly resin material, and the hollowing craft reduces the weight of the product. Anodizing technology is also used to improve the surface hardness of the shell, making the faceplate smoother, reducing fingerprint residue and adding elegance.
About the earphone cable
HIDIZS MS5 comes with a total of 504 6N monocrystalline copper silver-plated wires and 6N monocrystalline copper 8-core litz upgrade cables. The properties of the monocrystalline copper make the sound clear and delicate, while the monocrystalline silver-plated copper wire is vibrant. The outer insulation layer of the wire is made of PVC material, making the cable body black, soft and shiny; the 3.5mm plug is made of gold-plated copper material and finely finished; the MS5 earphone cable is detachable and uses a 0.78mm 2-pin plug socket, making it compatible with most earphone cables. earphone cables and is interchangeable.
package
The package meets the price standard.
Package contents
Hidizs MS5
Eartips
Tuning nozzle
Carrying Case
Manual
Build quality
Build quality meets the price standard.
Fit
The fit is good.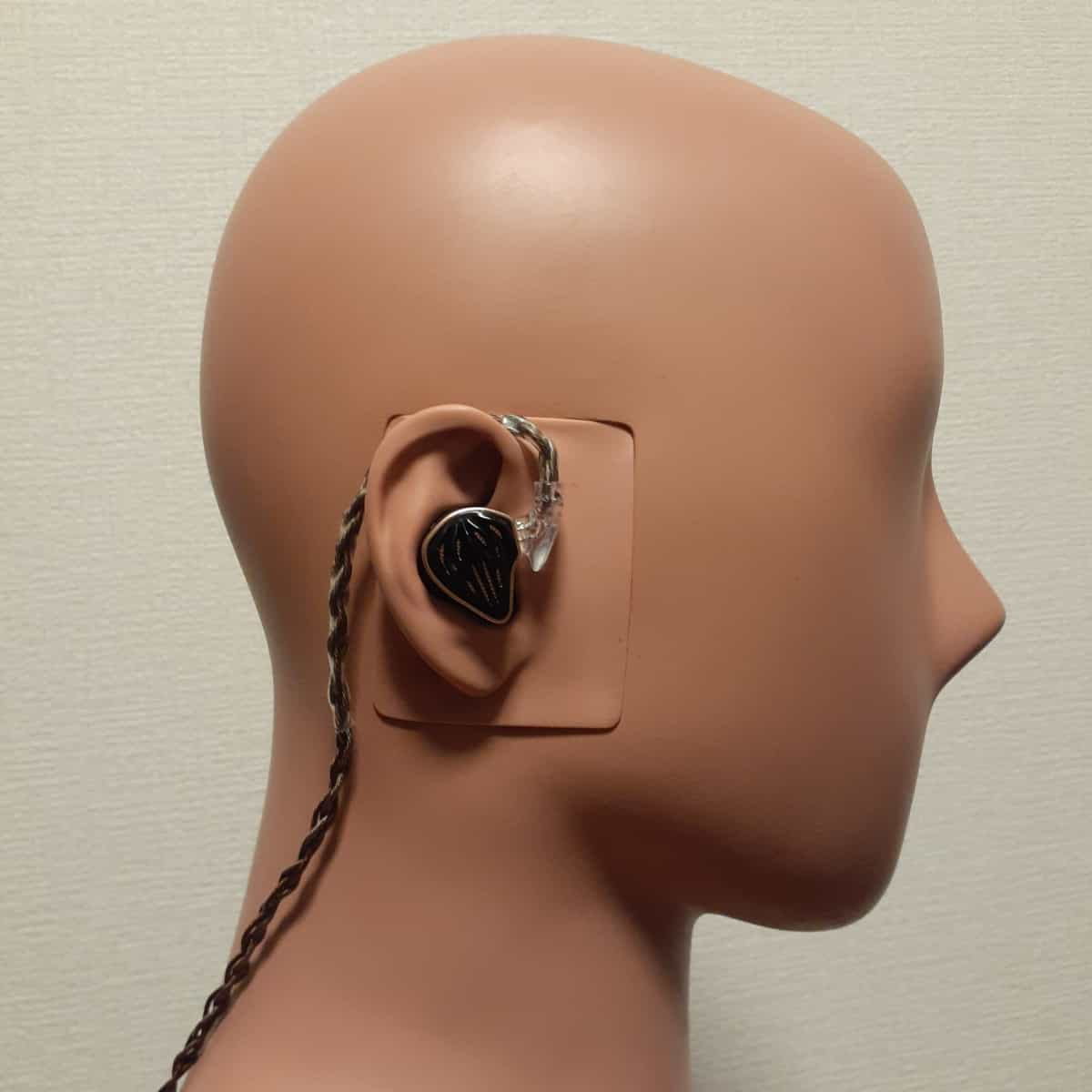 Sound quality
REW Frequency Response
audio status
Sound quality description
In this review, I use the standard eartips size L and drive it with the FiiO M15.
Hidizs MS5 has a V-shaped sound signature.
Please see here for detailed reviews on sound quality.
Lows / Bass
The low frequency range of the Hidizs MS5 is almost unimpressive at any adjustment.
The bass drum is quite weighty, with plenty of impact and a reasonable amount of rumble.
The electric bass also has a reasonable amount of blackness, and the depth and breadth are not bad.
The midrange is a bit weak, so the bass tends to have a stronger relative presence. Depending on your taste, you may be bothered by a slightly muddy feeling in the midrange. In terms of quantity, it will satisfy low-frequency lovers, and in terms of quality, it will not cause much dissatisfaction.
Mids
he midrange of the Hidizs MS5 is a bit recessed in the overall picture, and while not lacking in brightness, it is emphasized in depth, and sounds a bit static and a bit cramped.
The Hidizs MS5's weaknesses are generally in the midrange, where texture is not precise, it falls short in transparency, and resolution, while not extremely low, can be a bit lacking given the price. It tends to lack in freshness and sounds dry.
The midrange tends to lack a sense of edge and crunch, and the midrange is a bit subdued and gentle to the ear, and the contours sound rounded. Vocals tend to be a bit subdued and may give an elegant impression. However, sibilance is strong, so while consonants tend to be sharp and clearly audible, there is a strong sense of being a bit cranky.
The snare also tends to sound strangely dry and clattering, which to my ears is a bit unnatural and doesn't fit in with the atmosphere.
The tendency is almost the same with all nozzles, but you can tame the highs a bit by using a low frequency nozzle.
Highs / Treble
The high frequency range of the MS5 is well-defined on its own, the area adjustable with the nozzle is also primarily in the high frequency range, and overall linearity is good. Extensibility is lacking.
The highs tend to be somewhat noticeable, mainly due to the effect of the lack of energy in the upper midrange. Violins sound a bit hysterical, and woodwinds tend to sound a bit too crunchy, crisp, hard, dry, and metallic.
However, if your high-frequency hearing loss is a bit advanced due to the effects of aging, this level of balance may sound just fine in terms of detail. For the majority of people under 40 in age, the high frequencies seem a little too strong and tightly balanced, but as already mentioned, they can be calmed down considerably by using a low-frequency nozzle.
The adjustment of the highs with the Hidizs MS5 nozzle system is quite reasonable, and if you change from the low frequency nozzle toward the high frequency nozzle as you age, the highs will be balanced to feel roughly the optimal amount.
Sound quality general comment
Original Sound Fidelity: B+
Recommendation: B+
Personal preference: B+
Hidizs MS5 earphones have a reasonably tuned nozzle system that is almost exclusively dedicated to high-frequency adjustment, and despite being a multi-hybrid, the overall sound image consistency is also high, suggesting that the brand has been quite careful in balancing the sound.
However, the overall transparency and resolution are quite lacking considering the price, and the midrange is not well done, so the sound is not suitable for audiophiles, who generally tend to emphasize the fidelity of the original sound in the midrange, at least. The attractive point is that the sound image in the high frequency range is quite clean and well-defined, so it may not be bad if you prefer that kind of sound.
Sound quality features
Pros
Smooth and well-connected high frequency range
High sense of detail
High brightness sound
Heavy low frequency range
Chic and elegant sound
Adjustable highs with nozzle
Cons
Lacks high frequency extension
High frequencies likely to be a bit too strong for younger users
Unnatural texture
Poor original sound fidelity
Low transparency
Low resolution

General comment
The Hidizs MS5 IEMs are well-tuned in-ear monitors that are multi-hybrid with good sound image consistency. They are very attractive earphones for high-frequency lovers who want to focus on well-connected high frequencies, and  very attractive option for older, high-amateur listeners in particular. In general, however, the high frequencies tend to be a bit too prominent and metallic sounding, and they tend to sound dry, and in terms of resolution and transparency, they are lacking considering the price.
Purchase link
Hidizs MS5
Coupon code for Hidizs official site
AUDIOSOUND5OFF