Disclaimer
This review is based on a sample provided by Hidizs to convey a sincere quality review to our readers.
No remuneration or compensation, such as a manuscript fee, has been received for publishing this, and it is an honest evaluation based on measurement data from personal testing and personal opinion.
Please read the privacy policy of this website.
Recommended for people like this
People who want to enjoy various sounds with one earphone
People who value design
Hidizs fan
Overview of Hidizs MD4
This review will give an overview of Hidizs MD4. A complete review of this product can be found here.
audio-sound Score
Total Score: 7.9 / 10.0
Package: 8.5 / 10.0
Build quality: 8.5 / 10.0
Fitment: 8.5 / 10.0
High range: 7.0 / 10.0
Mid range: 8.0 / 10.0
Low range: 7.5 / 10.0
Less distortion: 7.0 / 10.0
Want to see the score ranking? Click here!
Basic Specifications
Frequency response: 20Hz to 40kHz
Impedance: 8Ω
Sensitivity: 102±1dB
Cable connector: 0.78mm 2pin
Features of Hidizs MD4
Four custom-designed BA drivers
Four tuning styles
3-way crossover
High-precision 3D printed straight acoustic sound tubes
Multi-metal body
Premium cable braid, quad-core silver and OFC wires
Removable 0.78mm 2-pin gold-plated sockets
4 Custom-Designed BA Drivers - HIDIZS Gold Effect
Combining 4 Hidizs Custom Balanced Armature drivers to bring you acoustic charm, developed and tuned for years by Hidizs professional audio team, with evolved sound range performance.
One custom BA driver for high frequencies: get higher resolution and more extension, crisper sound, and richer details.
One custom BA driver for midrange: more body for the mids, more power, and presence. Intoxicating texture, unbelievable vocals.
Two custom BA drivers for low frequency: double power to stimulate thicker bass, incredible depth, tight response, and rich texture.
High-precision 3D printing straight acoustic sound structure
Redesigned internal audio transmission structure, high-precision 3D printing straight acoustic sound tube, ensures continuous and clean audio output of the custom-designed 4-BA drivers, reduce overlap and interference of sounds between multiple drivers.
Effectively increasing sound density, reduce distortion and harmonic resonance.
Ensure accurate audio crossover, excellent performance and layering!
3-way Crossover
MD4 accurately calculates the connection of different frequency bands, reasonably allocating high, ultra-high, medium, and low frequencies, increased accuracy and clarity for all, mutually balanced and harmonized.
Hidizs' decades of experience in acoustic tuning ensure MD4's outstanding performance in different frequency bands.
Switchable Between Four Sound Styles
Electronic crossover tech to facilitate switching between four different sound styles, with a 2-level tuning switch, easily switching between high & low impedance. It has 4 sound signatures that work well with all music genres.
Balanced: Classic Hidizs tuning, suitable for most people's listening styles.
Warm: excellent performance at all frequencies, stronger musical sense. Suited for folk & pop music.
Treble: remarkable highs/ultra-high. Suited for rock and electronic music.
Bass: boosted bass with excellent speed and a tight response. Suited for symphony and classical music.
Hidizs MD4, balanced armature drivers IEMs full of ambition, accommodating different listening preferences, as well as changes in preference over time.
Elegance in Your Ears - HIDIZS Metallic Art
Handmade plating: laser-cut and hand-polished, with the beautiful amber finish; lined with EU IIA certified medical-grade skin-friendly resin. Aluminum-alloy CNC integration, rose-gold middle frame, celluloid faceplate, and aluminum alloy output nozzle. Make the most of Hidizs' industry-leading metalworks, trendy elegance with guaranteed output purity and stability for reduced harmonic resonance and distortion.
More Comfortable Wearing
The headphone connector adopts an elbow design for more suitable for the human ear curve and ergonomic, optimizing the wearing experience. Cable sockets use gold-plated materials for more stable and smooth audio transmission.
Superior Cable
60 high-purity silver wires + 60 high-purity oxygen-free copper wires tightly twisted in four strands to keep it nice and light in appearance, and for better performance in sound. Silver wires for a brilliant and clean sound. Copper wires for added smoothness and gentle performance.
Classic 0.78mm 2Pin Design
Standard 0.78mm 2pin designs are retained for good cable suitability and compatibility. Thus you could enjoy further upgraded sound or get more listening experiences, created by different cables with the same specifications.
package
Package meets price standard. The package is simple and easy to dispose of.
Package contents
Hidizs MD4
Eartips
Carrying Case
Cleaning tool
Manuals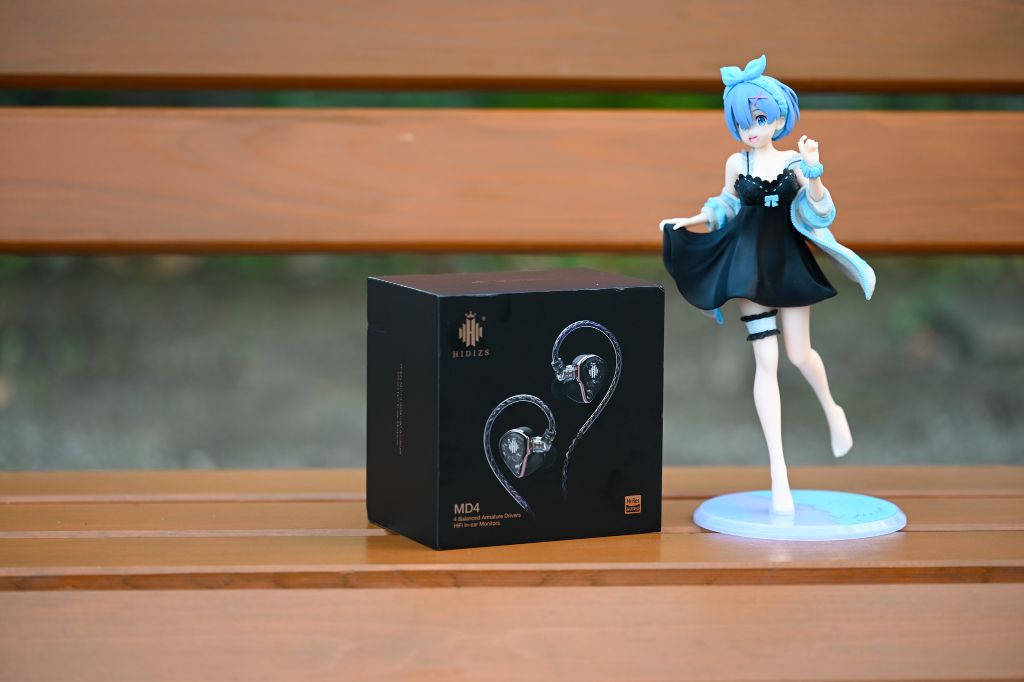 Build quality
Build quality meets price standard.
The faceplate is as beautiful as marble or pearl.
Fit
The fit is good.
Sound quality
REW Frequency Response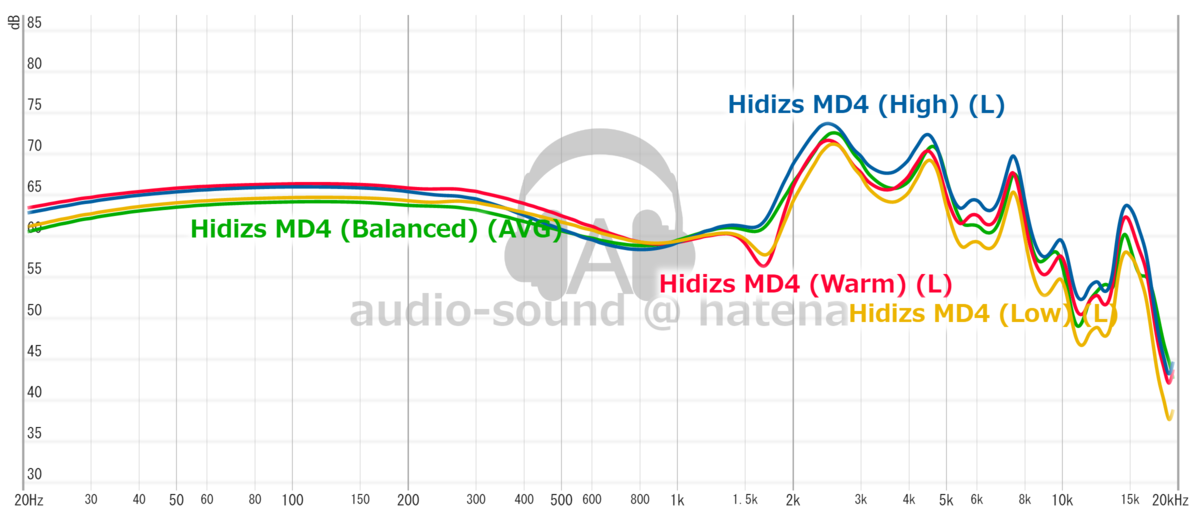 audio status
Sound quality description
In this review, I use the standard eartips size L and drive it with the FiiO M15.
Hidizs MD4 has a sound signature that can be described as M-shaped, with the middle of the midrange concave.
Please see here for detailed reviews on sound quality.
Lows / Bass
The low frequencies on the Hidizs MD4 generally lack depth. You will probably find the rumble to be lacking at any switch state. Weight is also generally a bit lacking, but it is thick enough and has plenty of power.
Now, if you want to focus on low frequencies with the Hidizs MD4, the Warm setting is recommended over the Low setting, as the low frequencies are actually more present on the Warm setting.
Even at the Warm setting, the electric bass is a little brighter, and the drums lack a little weight and definition.
For those who like low frequencies, the bass is a bit expansive and loose-sounding, and not very appealing.
Mids
The midrange of the Hidizs MD4 is concave in the center at any switch, and the texture is not accurate.
If you want to focus on the midrange, Balanced or Warm are recommended; Balanced has a more solid, built-up, monitor-like sound with an accurate sense of localization, while Low has a warmer, more spotlighted midrange with a softer, slightly rounded, fuzzy sound. The low end is warmer, with a strong spotlight on the midrange and a softer, slightly rounded and fuzzy sound.
On the other hand, the midrange performance is generally most promising with Balanced or High. For those confused by the difference from the previous section, there is a distinction between having a louder midrange and having a more accurate midrange; Balanced is expected to sound the closest to accurate in terms of texture, while High is best in terms of localization and modarately accurate in terms of texture.
However, the midrange structure of the Hidizs MD4 itself is not very well built to begin with, with high distortion and lack of linearity, and a distinctive sound that is like listening to a smoky sound with a lot of incidental sounds through sliding glass, with no transparency in tone at any of the switches.
The resolution is rather high and clear, making it surprisingly listenable, but given the poor balance, I cannot rate it too highly.
Highs / Treble
The high frequency range is reasonably extended by all switches, and you will not find much of a shortage in height.
If high frequencies are important, the High switch produces the most detailed and exhilarating sound, but the Warm switch has the next best high frequency range.
Low and Balanced tend to be a bit low and lacking in definition, so many may prefer Warm over Balanced, depending on volume and preference.
Sound quality general comment
Original Sound Fidelity: A
Recommendation: B-
Personal preference: C
The sound of the Hidizs MD4 is quite unique and habitual, and is a bit of a picky earphone for some people. The midrange, which is the heart of music, is not very well made, so you may find that a cheap multi-driver IEM from KZ or TRN may still sound more decent.
For example, most people would probably find the TRN VX Pro, which is generally considered to cost about half as much as this model, to have a more decent sound.
In the same price range, the Audiosense DT600 is a good competitor. This is also an earphones with some quirks, but the tuning is considerably more decent than the MD4. The sound can be changed by using the included impedance adapter or a commercially available attenuator, so you can enjoy a variety of sounds just as you can with the MD4.
Sound quality features
Pros
Four different types of versatile sounds
Good original sound fidelity
High resolution
Good high-frequency extension
Cons
Lacks clarity
Inaccurate texture
Lack of low frequency range
Unnatural overtones
Lack of linearity
General comment
Hidizs MD4 has a package and build quality that is worth the price, and the switch allows the user to switch between four different sounds. Its sound is individualistic, but only in resolution, which some may find desirable. It would be nice to have these earphones in your collection.
Purchase link