Disclaimer
This review is based on "private purchases" or "items rented for a consideration".
No remuneration or compensation, such as a manuscript fee, has been received for publishing this, and it is an honest evaluation based on measurement data from personal testing and personal opinion.
Please read the privacy policy of this website.
Recommended for people like this
People who value a sense of range
People who value sound balance
People who like delicate sound
People who value cost performance
Overview of KZ PR1 Pro
This review will give an overview of KZ PR1 Pro. A complete review of this product can be found here.
audio-sound Score
Total Score: 8.9 / 10.0
Package: 7.5 / 10.0
Build quality: 9.0 / 10.0
Fitment: 8.5 / 10.0
High range: 10.0 / 10.0
Mid range: 9.5 / 10.0
Low range: 8.0 / 10.0
Less distortion: 7.5 / 10.0
Cost performance bonus: 10.5 / 10.0
Want to see the score ranking? Click here!
Basic Specifications
Frequency response: 20Hz to 40kHz
Impedance: 16±3Ω
Sensitivity: 100±3dB
Cable connector: 0.75mm 2pin
Features of KZ PR1 Pro
Second-generation 13.2mm Planar Magnetic IEM.
Nano-scale silver-plated circuit diaphragm.
Ergonomic and comfortable design.
Exquisite finish.
Lightweight alloy face covers.
Transparent resin front cavity.
Professional tuning adjustments.
Excellent details with crisp high-resolution clarity.
8-Strand 200-core high-purity silver-plated cable.
2-pin gold-plated connectors.
Thermoplastic slow-rebound memory foam eartips.
KZ PR1 Pro is an update to the KZ's first-ever planar magnetic driver IEM known as PR1. The latest PR1 Pro features a newly-updated second-generation 13.2mm planar magnetic driver unit. It adopts a nano-scale silver-plated circuit diaphragm for improved performance. With this new driver unit, the PR1 Pro has got easy driveability and improved sound clarity. PR1 Pro promises ultimate sound capabilities with improved resolution!!
Second-Generation 13.2mm Planar Magnetic Driver
KZ has always brought innovative new technologies to the market. With the PR1, they have brought crisp sound performance with a self-developed 13.2mm planar magnetic driver unit. Based on the same driver, KZ has upgraded the driver for PR1 Pro with easier drivability and improved sound performance. It takes the amazing performance of the PR1 and takes it to an all-new level of awesomeness.
Unique Design With Premium Metallic Face Covers and Transparent Resin Cavities
KZ PR1 Pro boasts stunning looks with its exquisite design finish. The pair features lightweight metallic alloy face covers attached to skin-friendly resin material ear shells. It has an ergonomic design that promises a comfortable fit for most users.
Dense, Crisp, High-Resolution Sound Performance
PR1 Pro inherits the capabilities of the PR1, it delivers crisp high-resolution clarity throughout a wide frequency band. With its improved driver unit, the high-frequencies show better dynamics and density. The detail retrieval is also improved over the PR1 model as well.
High-Quality 8-Strand Braided Silver-Plated Upgrade Cable
KZ bundles the PR1 Pro with an 8-strand 200-core silver-plated upgrade cable as stock. With its high-purity wire cores, the PR1 Pro delivers a natural sound signal transmission. The multi-strand braiding process effectively shields the signal against electrical noise interferences, reduces the distortion rate, and ensures quality high-res audio signal transmission. It has gold-plated 2-pin 0.75mm connectors and a 3.5mm termination.
package
The packaging of the KZ PR1 is the usual KZ standard packaging. The accessories are basically the same as those under $50, and there is no sense of luxury.
The quality of the packaging meets the price standard. The beauty is that it is relatively easy to dispose of.
Package contents
KZ PR1 Pro
Foam Eartips
Manuals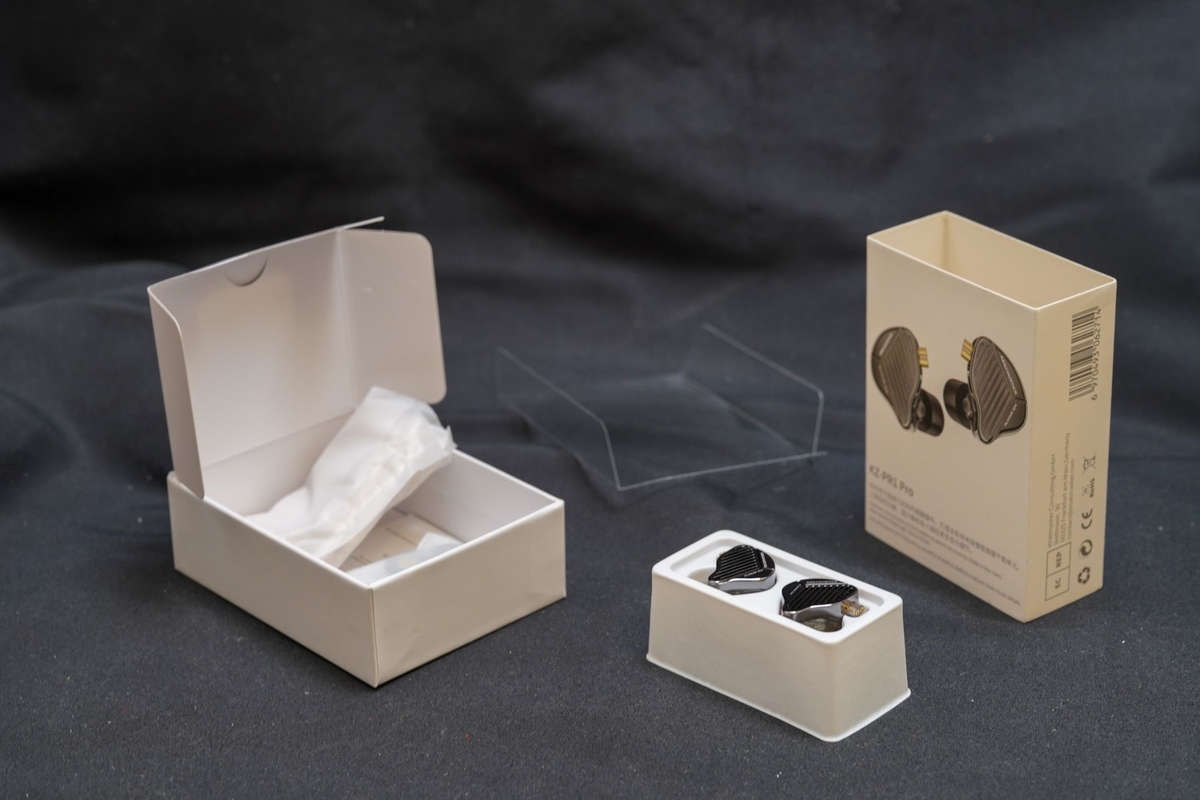 Build quality
Build quality meets the price standard.
The very well sculpted metal shell is quite upscale considering the price.
The build quality of the KZ is very much improved.
Fit
The fit is good.
Sound quality
REW Frequency Response
audio status
Sound quality description
In this review, I use the standard eartips size L and drive it with the FiiO M15.
The KZ PR1 Pro has a sound signature that is near neutral, relatively flat, and has high original fidelity. Sound balance was better with the PR1 HiFi.
Please see here for detailed reviews on sound quality.
Lows / Bass
The KZ PR1 Pro is relatively linear, but lacks in depth.
The bass drum kicks are not heavy, but they are not tight and a bit loose expansive, and they are not thick enough to be powerful.
The electric bass is also bright and not very expansive.
At the very least, the bass is not low enough to satisfy bass fanatics.
Mids
The midrange is almost completely neutral and has excellent texture expression, but the sense of structure is a bit weak, and the overall contours are dim and the delineation of individual sound images is a bit crude. The sense of definition is not high, and the sense of localization is also negatively affected.
Strictly speaking, this is a problem on the high-frequency side, but despite a very good build in the midrange, I have the impression that the performance is not fully utilized. Anyway, the midrange is vague and difficult to understand. 
The PR1 HiFi was also dull and fuzzy, but the PR1 Pro just added to that feeling of sluggishness. The vocals tend to be husky and dry with a strong "s" consonants, and the first impression is that they are crisp, but if you listen closely, the detailed articulation is not so good.
KZ claims to have used a second-generation planar driver, and it is true that the distortion that was so noticeable in the PR1 HiFi is much less pronounced.
If you like a mellow sound with rounded corners, it might not be bad, but I don't like it because the vocals are not very lively and it is easy to hear poor separation.
Highs / Treble
The KZ PR1 HiFi excelled in the high frequencies to an unprecedented level. The second generation PR1 Pro is similarly very extended and open, with a fine sense of air and delicate detail.
However, the definition is lower, so it does not sound as clear as I would have liked. The KR1 Pro is more piercing than the KR1 HiFi, but the sibilance has been softened, so it is probably safer than the PR1 HiFi for most people. Instead, for example, the "s" consonants in vocals sound strangely strong, so the breathing is too clear, and the music tends to sound more soda-like atmosphere, with splush, bubbly, whooshing or hissing sound.
The high frequencies were better on the PR1 HiFi.
Sound quality general comment
Original Sound Fidelity: A+
Recommendation: B+
Personal preference: A-
The KZ PR1 Pro demonstrates that KZ has corrected the problems of the previous generation PR1 in a very short period of time; KZ's planar-drive IEM manufacturing technology has been steadily improving, which shows the solid technical capabilities of this brand. Oops, let's not get into the "if they can improve it in a short period of time, do it from the beginning" nonsense.
However, what I was looking for was an improved PR1 HiFi, but apparently the PR1 Pro is not that kind of IEMs. The distortion problem seems to be pretty much solved, but the sound balance is worse, and KZ seems to have failed to replace the PR1 HiFi with the PR1 Pro.
Stay tuned for the next PR2 or PR1 Ultra.
Sound quality features
Pros
Accurate texture expression
Excellent damping characteristics
Excellent sound image consistency
Good sound balance
High-frequency extension for excellent airiness
Good listening comfort
Delicate
Refreshing
Good original sound fidelity
Elegant and pleasing to the ear
Cons
Lack of depth in low frequency range
Lack of sense of construction
S consonants too strong
Overall sound is blurred and lacks power
General comment
The KZ PR1 Pro is an attractive IEMs with good range and original sound fidelity and accurate texture representation. As with the planar driver, the damping characteristics are excellent, and the transparency problem that was an issue with the previous generation has been resolved to a large extent. However, the sound balance itself has deteriorated from that of the PR1 HiFi and has become quite unique, making this model not suitable for everyone.
Purchase link