Disclaimer
This review is based on "private purchases" or "items rented for a consideration".
No remuneration or compensation, such as a manuscript fee, has been received for publishing this, and it is an honest evaluation based on measurement data from personal testing and personal opinion.
Please read the privacy policy of this website.
Recommended for people like this
People who focus on the fidelity of the original sound
People who value a sense of range
People who are looking for well-balanced earphones
People who are looking for excellent monitor earphones
People who value sound balance
People who like delicate sound
People who like analytical sound
People who value cost performance
Overview of KZ PR1 HiFi
This review will give an overview of KZ PR1 HiFi. A complete review of this product can be found here.
audio-sound Score
Total Score: 8.9 / 10.0
Package: 7.5 / 10.0
Build quality: 9.0 / 10.0
Fitment: 8.5 / 10.0
High range: 10.5 / 10.0
Mid range: 9.5 / 10.0
Low range: 9.0 / 10.0
Less distortion: 6.0 / 10.0
Cost performance bonus: 11.0/10.0
Want to see the score ranking? Click here!
Basic Specifications
Frequency response: 20Hz to 40kHz
Impedance: 16±3Ω
Sensitivity: 96±3dB
Cable connector: 0.75mm 2pin
Features of KZ PR1 HiFi
Newly Designed Dual-Cavity Planar Magnetic Driver.
13.2mm planar driver.
Aluminum alloy face covers.
Comfortable and ergonomic.
Two different tuning versions to choose from.
Exquisite and rich sound performance.
Professional tuning adjustments.
High-quality OFC Silver-plated cable.
Smart in-line microphone.
Joining the Planar Wars is the all-new KZ PR1, a newly developed planar magnetic IEM with a 13.2mm planar driver that comes in two different tuning variants. PR1 is available in Balanced Tuned edition for a smooth, fun, engaging sound with powerful bass while the HiFi edition presents you with a reference-grade sound performance. KZ PR1 is a well-designed set that features nicely-crafted Aluminum alloy face covers with a Resin cavity for the Balanced edition and an electroplated ear cavity structure for the HiFi edition. Indulge yourself in an exciting sound with the all-new KZ PR1!!
Newly-Developed 13.2mm Dual-Cavity Planar Magnetic Driver
KZ PR1 houses a newly-developed dual-cavity planar magnetic driver unit. This driver features an ultra-thin silver-plated diaphragm and an independent acoustic cavity for N55 based double-sided magnetic circuit. The Planar allows the PR1 to produce a fast & accurate sound with ultra-low distortion in the output signal!!
Exquisite Finish With Aluminum Alloy Face Covers
KZ PR1 features exquisitely designed hollowed-out aluminum alloy face overs with a transparent Resin cavity. The HiFI edition adopts a high-cost electroplated bottom shell which is both lightweight and has a metallic finish. Both pairs look exquisitely beautiful and promise a comfortable wearing experience. Each component has been carefully chosen and uniquely designed to maximize the performance of the Planar driver unit.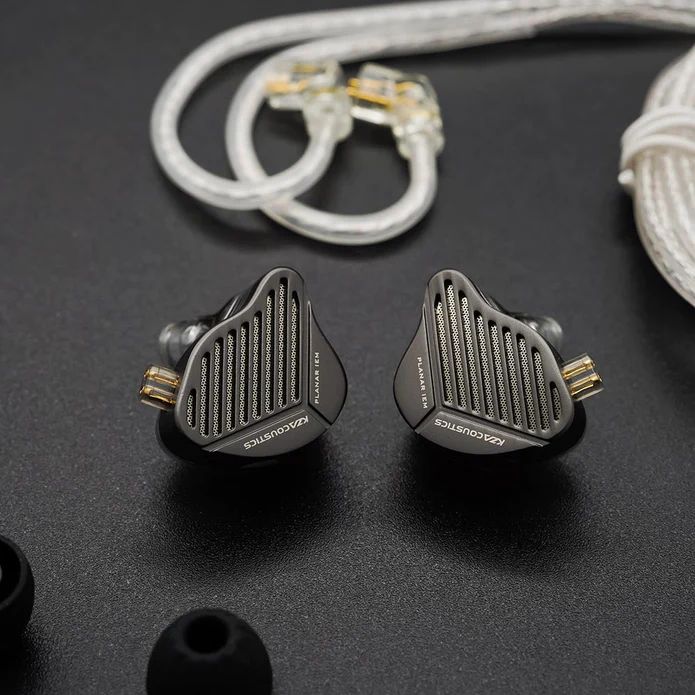 Professional Tuning Adjustments For Impressive Sound
KZ PR1 is available in two differently-tuned variants. The Balanced edition, as the name goes has a balanced sound signature while the HiFi edition has a more reference-grade tuning profile. The pairs have been tuned by professional acoustic engineers and the presentation has a good balance between the three-frequency regions.
High-Quality OFC Silver-Plated Cable
KZ bundles the PR1 with a high-purity oxygen-free copper cable that provides good signal transmission efficiency. The silver-plated surface layer of the wire reduces the signal attenuation and lays a solid foundation for high-resolution sound performance!! Users can also buy the PR1 with a cable that has an in-line mic and media key!!
package
The packaging of the KZ PR1 is the usual standard KZ packaging. The accessories are basically the same as those under $50, with no sense of luxury.
The quality of the packaging meets the price standard. The beauty is that it is relatively easy to dispose of.
Package contents
KZ PR1 HiFi
Eartips
Manuals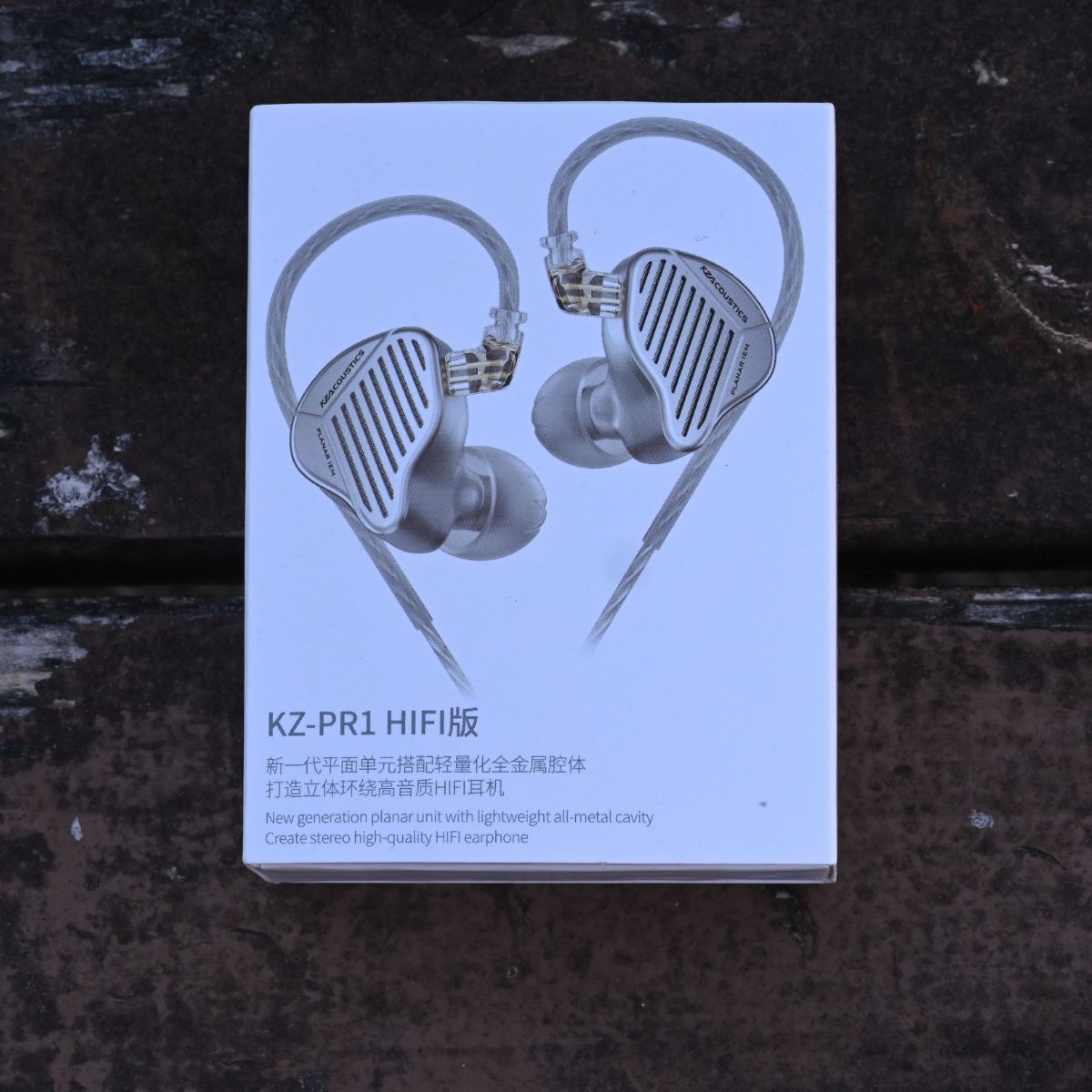 Build quality
Build quality meets the price standard.
The very well sculpted metal shell is quite upscale considering the price.
The build quality of the KZ is very much improved.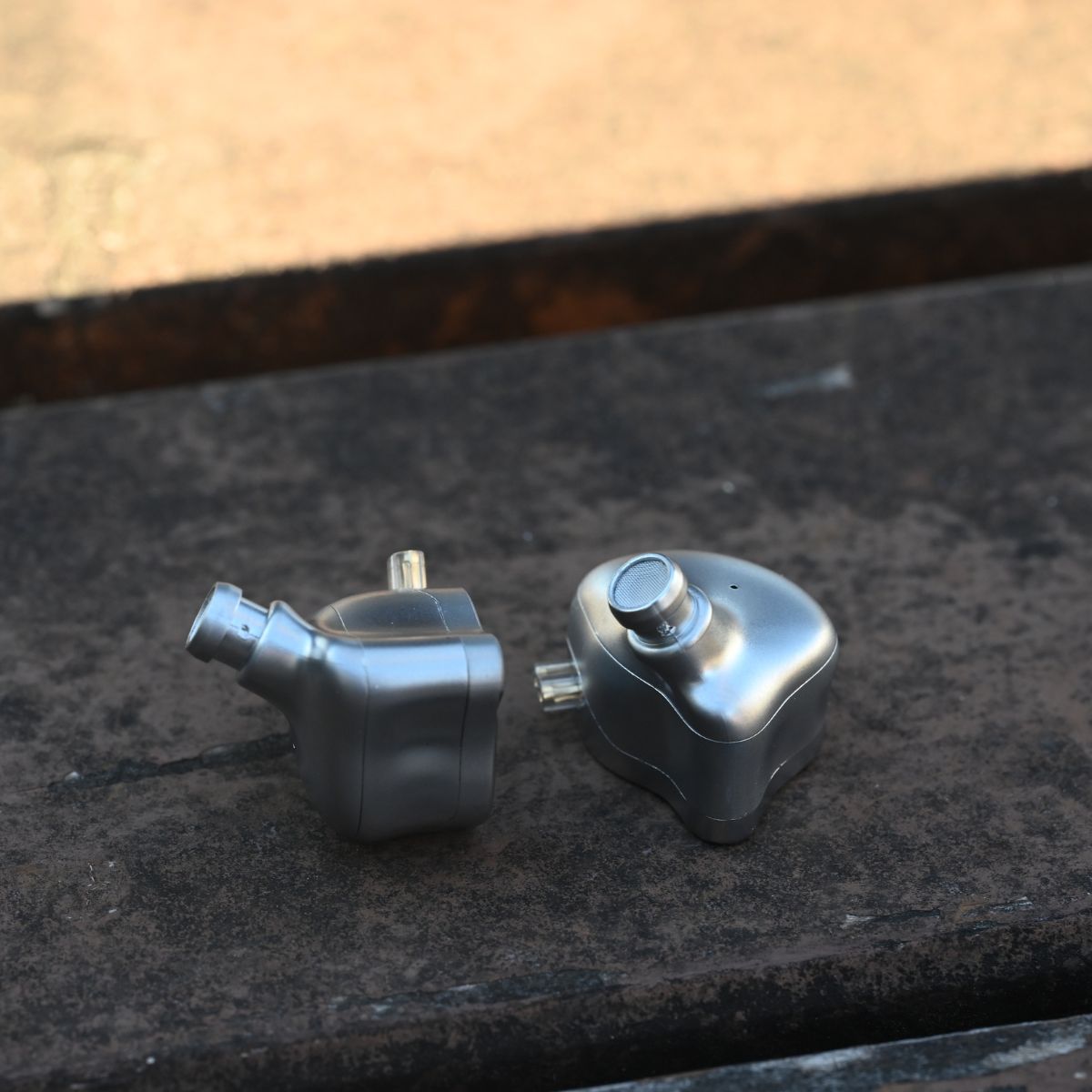 Fit
The fit is good.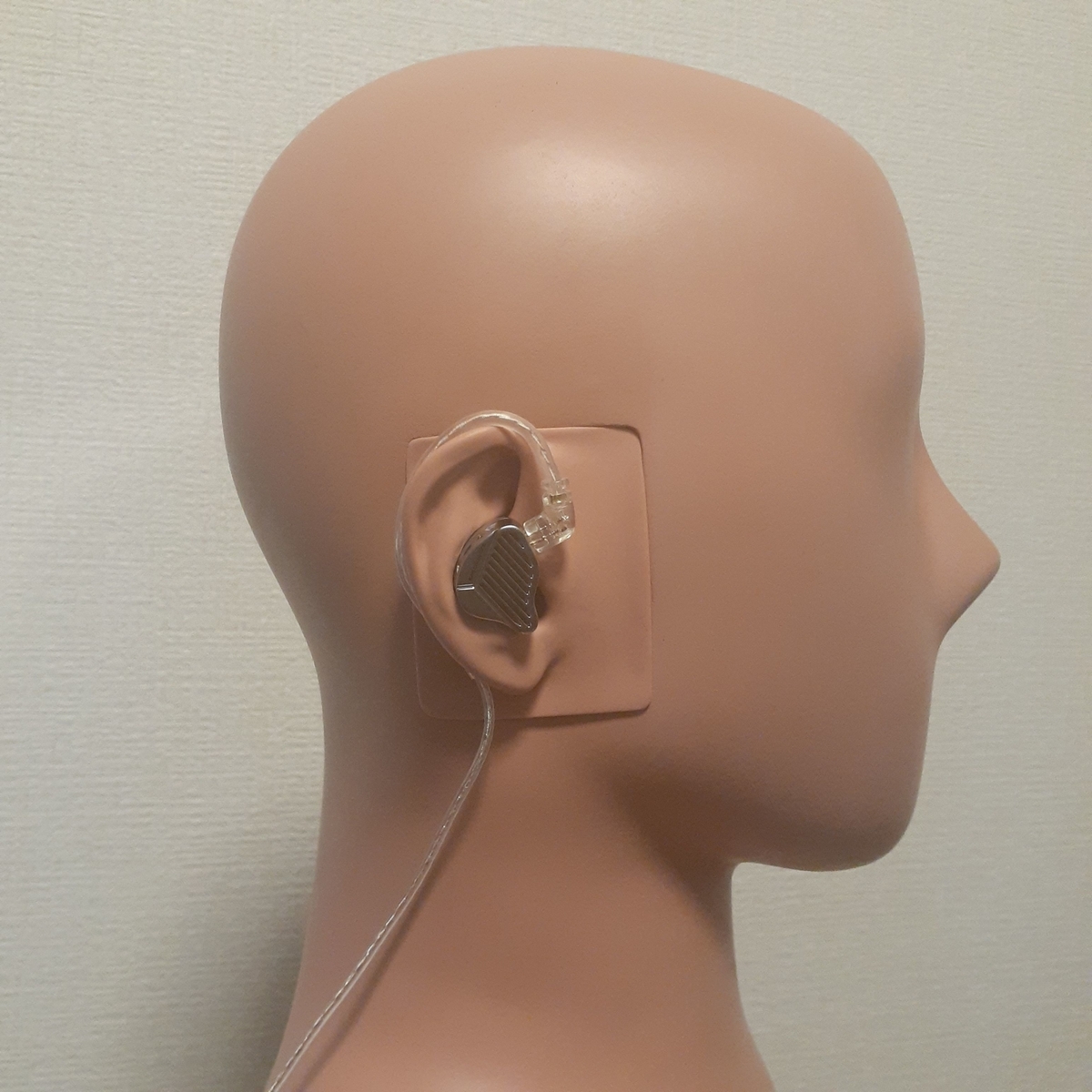 Sound quality
REW Frequency Response
audio status
Sound quality description
In this review, I use the standard eartips size L and drive it with the FiiO M15.
The KZ PR1 HiFi has a sound signature that is close to neutral, yet very flat and high in original fidelity.
Please see here for detailed reviews on sound quality.
Lows / Bass
The KZ PR1 HiFi's reach is sufficiently linear and deep enough, with monitor-like decay.
It has a very good sense of perspective, and bass drum kicks have a natural weight and rhythmic nimbleness that makes them sound lively and vibrant.
The electric bass is a bit bright for my personal taste, but it has depth and sounds black enough.
It sounds slightly expansive to me, not deep enough to satisfy heavy bass enthusiasts, and potentially lacking in tightness. However, like a monitor speaker, it has a relatively good low frequency range, with a decay that is linear enough but stonking without going too deep. Distortion is also more than sufficiently low.
Mids
In terms of the midrange sound curve, KZ is already at a mature level, no less than the best manufacturers. At least their tuning has evolved considerably over the past year or so, and we can confirm a very good sound balance even on the KZ PR1 HiFi.
The textures are very natural and atmospheric, and the beauty of the electric guitar, with its rich distortion, is enchanting.
However, there are clear shortcomings in this mid-range, which is heavily distorted and has a lot of incidental sounds, which is greatly lacking in terms of transparency and greatly inferior in terms of reproducing a sense of three-dimensionality.
So, for example, even though the sound balance is very good, acoustic instruments such as wind and string music sound more lively and lifelike to me with earphones that have a more transparent sound, such as the QCY T17.
When I saw the frequency response of these earphones online, I was very excited about their sound balance, so this lack of transparency is a real disappointment to me.
Highs / Treble
The KZ PR1 HiFi excels in the high frequencies to an unprecedented level. It is very extended and open, detail sounds rich and delicate, and airiness is fine.
However, many people may find it strangely forward and lacking in depth, as high frequencies are not often heard so clearly in everyday spaces.
For me, the highs are almost perfect and sound very monitor-like. Strings and wind overtones are extended very naturally and are heard cleanly all the way to the edges, and the dispersion is very good, so it sounds bright, delicate, clear, and crisp, with almost no harshness.
Because of the high pierce, s-sounds and sibilance are a little too strong, but they are not unpleasant because of the good sound transmission with air, but depending on the sound source and volume, you may be concerned that they tend to sound harsh (Keep in mind that I usually listen at a lower volume).
I was very excited to see these high-frequency characteristics beforehand, and they are even better than I expected.
Sound quality general comment
Original Sound Fidelity: S-
Recommendation: A
Personal preference: A
The KZ PR1 HiFi is an excellent monitor earphones that really demonstrates that KZ has achieved a very high level of technological capability, and its excellent high-frequency characteristics and range make it the most original sound faithful imaging you can expect in this price range.
However, it is true that the significant lack of transparency makes it somewhat lacking overall, and compared to rivals such as the JVC HA-AE5T, for example, it seems to me to be nowhere near as good.
Sound quality features
Pros
Accurate texture representation
Excellent phase consistency
Excellent damping characteristics
Excellent sound image consistency
Good sound balance
High-frequency extension for excellent airiness
Good listening comfort
Delicate
Refreshing
Excellent original sound fidelity
Warmth
Natural overtone expression
Speaker-like localization
Excellent range
Cons
Lacks a little depth in the low frequencies
Lacks transparency in the midrange
Lacks a sense of three-dimensionality
Too much distortion
A little too much piercing, s-sound, and sibilance
General comment
The KZ PR1 HiFi is an excellent earphones in terms of sound balance with excellent range and original sound fidelity. It also has excellent damping characteristics as is typical of plane-driven drivers, and is quite attractive in terms of sound quality, but unfortunately, it is quite lacking in transparency. Contrary to its apparent sound balance, these earphones are somewhat habit-forming and are not suitable for everyone. Still, the build quality is at a very good level for the price range, making them a promising investment.
Personally, I am a bit disappointed.
Purchase link