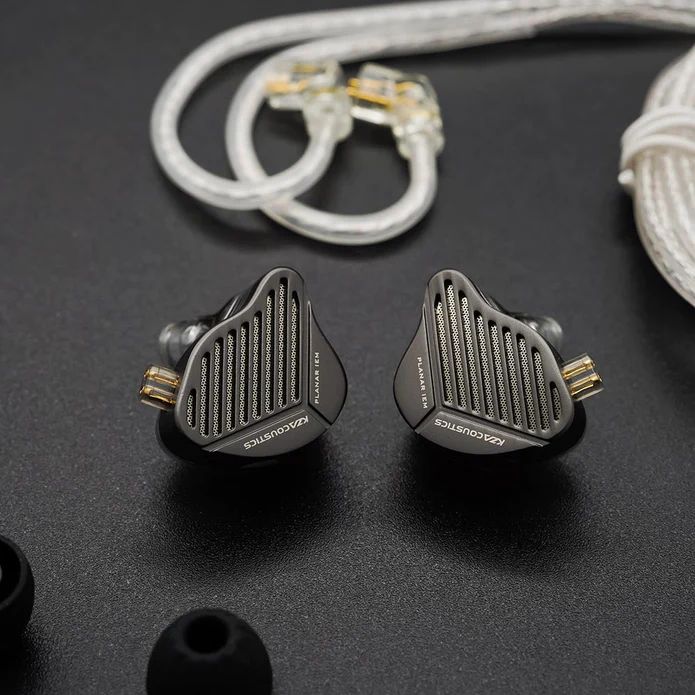 KZ has released the KZ PR1 planar-drive IEMs.
Features
Ultra-thin Silver-plated Diaphragm
N55 Double-sided Magnetic Circuit
Exquisite Finish With Aluminum Alloy Face Covers
Professional Tuning Adjustments For Impressive Sound
High-Quality OFC Silver-Plated Cable
PRODUCT SPECIFICATIONS
Product Name: KZ PR1
Driver type: Planar Diaphragm
Pin type: 0.75mm
Plug type: 3.5mm
Cable type: Silver-plated cable
Frequency: 20-40000Hz
Impedance: 16±3Ω
Sensitivity: 96±3dB
Newly-Developed 13.2mm Dual-Cavity Planar Magnetic Driver
KZ PR1 houses a newly-developed dual-cavity planar magnetic driver unit. This driver features an ultra-thin silver-plated diaphragm and an independent acoustic cavity for N55 based double-sided magnetic circuit. The Planar allows the PR1 to produce a fast & accurate sound with ultra-low distortion in the output signal.
Exquisite Finish With Aluminum Alloy Face Covers
KZ PR1 features exquisitely designed hollowed-out aluminum alloy face overs with a transparent Resin cavity. The HiFI edition adopts a high-cost electroplated bottom shell which is both lightweight and has a metallic finish. Both pairs look exquisitely beautiful and promise a comfortable wearing experience. Each component has been carefully chosen and uniquely designed to maximize the performance of the Planar driver unit.
Professional Tuning Adjustments For Impressive Sound
KZ PR1 is available in two differently-tuned variants. The Balanced edition, as the name goes has a balanced sound signature while the HiFi edition has a more reference-grade tuning profile. The pairs have been tuned by professional acoustic engineers and the presentation has a good balance between the three-frequency regions.
High-Quality OFC Silver-Plated Cable
KZ bundles the PR1 with a high-purity oxygen-free copper cable that provides good signal transmission efficiency. The silver-plated surface layer of the wire reduces the signal attenuation and lays a solid foundation for high-resolution sound performance. Users can also buy the PR1 with a cable that has an in-line mic and media key.
Review
Price & Availability
The KZ PR1 is now available at Linsoul and other stores for $70.