A new collaborative model IEM "RAPTGO x HBB HOOK-X" is now available.
Features
Adopts Double-sided Array N52 Magnet Desgin and Ultra-thin Diaphragm
Custom Made 14.2mm Planar Magnetic Driver
12 Layer Double-Sided PZT Driver with Upgraded Thick Double-sided Conductive Silver
Improved Open-Back Cavity Desgin for Less Hearing Fatigue and a better sound performance
Optimized Interchangeable Connector Cable in OCC Silver-plated Coaxial Shielded Wires
Specifications
Driver: 14.2mm Planar driver+double-faced 12-layer PZT driver
Impedance: 15ohm
Sensitivity (1KHz): 102dB±1dB SPL/mW
Frequency response range: 10Hz-20KHz
Audio interface: 0.78mm - 2.5mm/3 5mm/4.4mm
Earphone cable length: 1.25m
RAPTGO x HBB Collaboration IEM
Raptgo has partnered with one of the legendary audio reviewers in the audiophile world, "Bad Guy, Good Audio Reviews" (also known as Hawaian Bad Boy), to upgrade the previous success-Hook-X in-ear monitor to achieve next-level ultra-performance. To obtain greater analytical power and sound dynamics, the new Hook-X has increased the size of super strong magnet application to optimize magnetic circuit with 7*2 dual array N52 magnetic circuit design. Thinner diaphragm is adopted for better low frequency dives and richer dynamics. Combined with HBB's years of experience with thousands of HiFi audio products, the new Hook-X certainly will bring a storm to the hybrid driver world.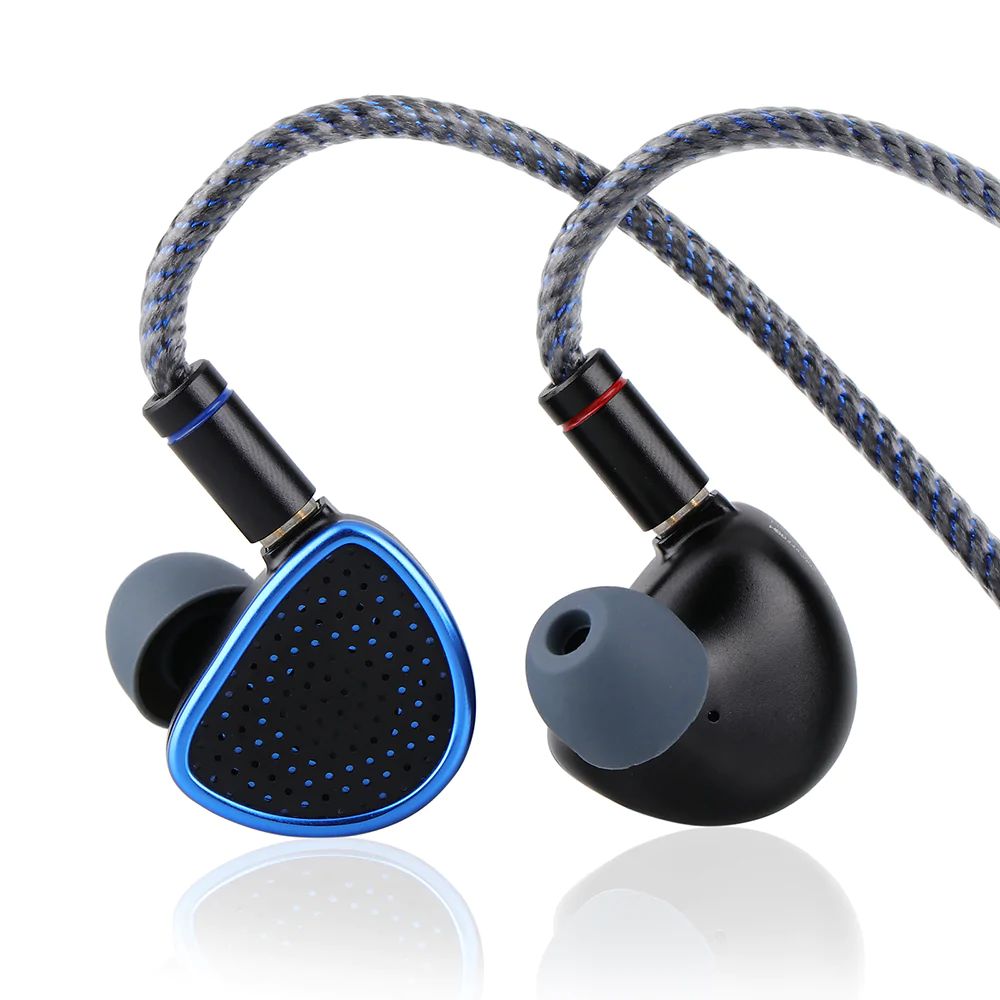 Novel Concept, Precise Execution
The new Hook-X follows its predecessor with a hybrid in-ear monitor design utilizing the planar magnetic driver in combination with a piezoelectric (PZT) driver. These two driver types are among the most sensational driver technologies in the audio industry, and have never been utilized together in an IEM format. We took on this momentous concept, and through careful engineering and testing, have successfully created an IEM that encompasses the powerful characteristics of these drivers fashioned with tonal perfection. Unlike other IEM novelties that simply cram in hyped drivers, we are proud to achieve a product that is tuned to balance and allows the listener to both appreciate the acoustic superiority of these drivers as well as enjoy the music through their harmonious tonality.
Custom Made 14.2mm Planar Magnetic Driver
The planar magnetic driver utilizes a thin ribbon suspended between two powerful magnets through which electrical currents run. The advantage of a planar magnetic driver is the extreme responsiveness compared to dynamic or balanced armature drivers due to its lower mass and strong magnetic field. We manufactured our own large 14.2mm planar driver, which is driven by powerful N52 magnets. The precision of this driver allows incredibly punchy and impactful sub-bass response, as the ribbon is more responsive to transient signals. Furthermore, the full frequency range is effectively extended from 20Hz to 40kHz to produce an upper treble response previously unobtainable in an IEM. Internal housing structure design and acoustic damping system were carefully brought about to achieve a balanced target tuning, a rarity among IEMs that utilize the planar magnetic driver. 
12 Layer Double-Sided PZT Driver & Upgraded Thick Double-sided Conductive Silver
The piezoelectric driver achieves enhanced treble response through vibration of piezo elements within the housing. In cooperation with an external team with military engineering backgrounds, we have designed a double-sided layering system consisting of 12 ceramic piezo elements that has been fine-tuned after more than 100 acoustic shock simulation experiments. Each of our PZT drivers undergoes 52 complicated processes during production, and is hand tested and paired. In addition to the planar magnetic driver's extended treble response, our PZT driver adds an extra dimension of sonic resolution and air that is incomparable with typical balanced armature or even electrostatic drivers.
Improved Open-Back Cavity & PZT Acoustic Shock Drive Bracket Structure
For both tuning and acoustic properties, the new Hook-X adopts an open-back design. This allows the maximum amount of airflow to highlight the planar magnetic driver's characteristics. Additionally, this opportunity opens up the soundstage compared to typical IEMs, mimicking the openness and realistic playback of open-back planar headphones. Finally, the open-back design prevents the buildup of pressure within the ear to reduce hearing fatigue. Moreover, the newly designed PZT acoustic shock drive bracket structure greatly avoid transmission loss and vibration to present a better sound performance. The housing of the Hook-X was software designed after a large number of simulation experiments to match the typical ear angle and wearing experience. Each unit is crafted from a high-precision 5-axis CNC to ensure uniformity of the acoustic chambers. From the housing design to the driver assembly, each aspect of the Hook-X is a demonstration of workmanship, engineering prowess, and acoustic tastefulness. 
Optimized Interchangeable Connector Cable
The new Hook-X comes with a optimized modular connector cable terminated to 0.78mm 2-pin jacks. This means that you can simply swap out the connector between the 4.4mm and 2.5mm balanced and 3.5mm unbalanced jacks to use with any of your devices. This incredible design limits the need for bulky adaptors. The cable itself is made using OCC silver-plated coaxial shielded wires that enhance the transparency of the hybrid drivers. 
Price & Availability
The RAPTGO x HBB HOOK-X is available now at Lisoul and other locations for $259.