IEM manufacturing technology is advancing day by day, especially in the last few years, with technological innovations in materials and driver construction. This article features earphones with planar drivers, which are popular for their unique and homogeneous sound.
Planar magnetic drivers have many advantages in terms of sound quality, but they are difficult to miniaturize and implement, and until now have only been used in high-end headphones. It is only recently that implementation in earphone-sized products has become possible.
What is a Planar Magnetic Driver?
Planar Drivers, or Planar Magnetic Drivers, are capable of providing ultimate clarity over a wide frequency response range with ultra-low distortion, thanks to a diaphragm material suspended uniformly between powerful magnetic fields. They can also provide very fast response times with little or no transient error in the output.
Operating Mechanism
The operating mechanism of the planar magnetic driver is a combination of electrostatic and dynamic mechanisms. The driver unit consists of an ultra-thin, flexible membrane suspended between two powerful permanent magnets. Sound is produced by the rapid movement of this ultra-thin film within the active magnetic field. They can produce a natural sound response with ultra-low electronic and harmonic distortion. They require additional power compared to dynamic and balanced armature types and are much larger, making them very difficult to implement in a hybrid driver setup. The latest products with planar magnetic drivers include the TINHIFI P2.
Advantages of Planar Magnetic Drivers
The main advantage of planar magnetic drivers is very low distortion over a wide frequency range. You will experience ultra-clean natural sound response with clear vocals.
Disadvantages of planar-magnetic drivers
Planar-magnetic drivers are usually more costly than balanced-armature or dynamic drivers. They are also larger in size and require more power to drive properly.
Moondrop Stellaris
Moondrop is one of the most popular Chi-fi IEM brands. For the first time, this very popular brand has released the Moondrop Stellaris with planar drivers.
Moondrop Stellaris is a high performance planar magnetic driver IEM with 14.5mm planar magnetic drivers in a beautiful iridescent ear shell. compliant with VDSF target response and delivering powerful sound performance. moondrop Stellaris offers an unparalleled performance experience with extremely low harmonic distortion of the output signal and high-resolution transparency.
Features
Newly developed 14.5mm planar magnetic driver
High-precision miniature-grade magnetic array
Sub-nanometer diaphragm
Exquisite iridescent shell design
Premium Softears Ultra Clear eartips
High quality Mis-Tip foam eartips
Professional tuning in accordance with VDSF Target Response
Ergonomic and comfortable fit
Articles about Moondrop Stellaris
Shuoer S12
Shuoer is an advanced Chinese IEM brand known by those in the know for its high technology.
Shuoer is known for its superior tuning technology and progressive research spirit that actively incorporates the latest materials, and has been an ODM and OEM for flagship-class products of various brands. Of course, Shuoer's own-brand products have also received high acclaim, with the Tape Series being a long-time hit and the flagship EJ Series being highly regarded by audiophiles with a deep knowledge of sound.
The Shuoer S12 is the first Shuoer brand to feature planar drivers, and it is the first product of its kind to break the price barrier and dominate the genre. The Shuoer S12 is already being touted by audiophiles with a keen ear as a candidate for the first domination earphone of the year.
Given the quality of Shuoer's previous products, it is easy to see how these earphones could become the eye of the typhoon. We may soon see a slew of favorable reviews coming our way!
Features
Full-size 14.8mm planar magnetic driver
Minimalist design
CNC machined aluminum alloy cavity
High-purity silver-plated monocrystalline copper cable with 3.5mm/4.4mm terminal option
Available to order in two color options, Nebula Gray and Frosted Silver
Articles about Shuoer S12
Shuoer S12
$142.99

TANGZU Zetian Wu
TANGZU is a brand known for manufacturing earphones rooted in traditional Chinese culture. The first plane-drive earphones released by this popular brand are the TANGZU Zetian Wu.
Inspired by the Tang Dynasty, the most prosperous and traditional dynasty, the golden age of Chinese art and culture, TANGZU has kept to its roots with a series of three iconic models: Yuan Li, Shimin Li, and a new model, the Zetian Wu, TANGZU is a brand with a broad vision and exquisite craftsmanship.
Features
Newly developed 14.5mm planar magnetic driver
4th generation DLP 3D printed resin cavity
CNC machined aluminum alloy face cover
Professional tuning adjustment
Traditional design
Ergonomic and comfortable design
High purity 5N OFC cable
Articles about TANGZU Zetian Wu
DUNU TALOS
The popular brand DUNU has introduced a unique product in the field of planar-drive earphones: the DUNU Talos.
DUNU has specifically designed the latest Talos audio architecture, featuring a 14.6mm planar magnetic driver and dual BA drivers. The planar magnetic drivers are tuned for the full frequency range, while the dual BA drivers are tuned for high and ultra-high frequencies.Talos features a switch that allows users to easily switch between Planar and Hybrid Planar modes. Planar mode delivers a smooth, natural, and warm output suitable for extended listening, ideal for most genres. Hybrid mode improves resolution and speed for a beautiful, transparent sound.
Features
Switchable dual-mode
Ultra-thin 14.6mm planar magnetic driver
Equipped with balanced armature driver.
Easily switchable between planar mode and hybrid mode.
Powerful N55 dual magnetic circuit
CNC machined aluminum alloy cavity
Expertly designed acoustic cavity structure
High-purity silver-plated monocrystalline copper cable
Standard 0.78mm 2-pin connector
Articles about DUNU TALOS
7Hz x Crinacle Salnotes Dioko
The 7Hz x Crinacle Salnotes Dioko are the most talked-about planar-drive earbuds from a collaboration between a popular up-and-coming brand and a popular reviewer.
In-ear earphones have excellent drivers, but without better tuning techniques, the drivers cannot be fully appreciated.
Working with Crinacle, 7Hz utilized a comprehensive tuning strategy to achieve a balanced sound throughout the entire frequency range, and the Salnotes Dioko is sure to be a great addition to your earphone collection. Dioko's treble and high frequency extremes are natural, and the sound characteristics of the three frequencies are tightly aligned with the characteristics of the planar driver; Dioko's tuning is based on Crinacle's definition of "natural sound," which means that the sound is balanced throughout the entire frequency range.
Features
7Hz x crinacle collaborative tuning
N55 magnet, double side array
Fine-tuned CNC aluminum shell
Tempered glass & sapphire coated surfaces
Premium OCC copper cable & storage box
Articles about 7Hz x Crinacle Salnotes Dioko
Tin HiFi P1 Plus
The plane-drive IEM that made TinHiFi famous is the TinHiFi P1. Last year, TinHiFi brushed up on this mythical earphone that it has a lot of affection for and released its successor, the TinHiFi P1 Plus.
With the P1 Plus, the P1's shortcoming of being difficult to drive has been solved, and it has been restructured as an easy-to-handle model that can be easily driven even by a smartphone. The sound balance has been improved while retaining the basic spirit of the original P1, with a more advanced range and resolution. The reborn P1 Plus has received praise from many reviewers.
Features
10mm planar magnetic driver
Ultra-thin nano diaphragm technology
High quality 304 stainless steel ear cavities
5N OFC copper alloy mixed braided cable
Double-sided magnetic array
Transparent, open and rich sound
Articles about Tin HiFi P1 Plus
Tri I3 Pro
The Tri i3 Pro is the successor to the very well received Tri i3.
The Tri i3 was a huge success with its unique triple-driver combination of Planar+DD+BA drivers on one side. This popular model is known for its smooth sound, comfortable fit, premium molding, and attractive price.
TRI has upgraded the famous i3 and released the new TRI I3 Pro. i3 Pro features many updates to the previous model, including an upgraded 10mm dynamic driver unit, a new design, and a premium aviation-grade aluminum alloy cavity. The i3 Pro is a completely new product with many updates to the previous model, including an upgraded 10mm dynamic driver unit, new design, and premium aviation-grade aluminum alloy cavity. It is made of high quality 7000 series aviation grade aluminum alloy material and is precision 5-axis CNC machined. The latest I3 Pro retains the natural tone of the popular i3 earphones, but with a smoother touch to the music.
Features
Proven 3-driver configuration (1 planar + 1 DD + 1 BA)
Equipped with 10mm flat diaphragm dynamic driver
Newly molded, comfortable design
High-grade aviation-grade ear shells
High-precision 5-axis CNC-machined carved one-piece molding
High quality 5N OFC cable
Articles about Tri I3 Pro
RAPTGO HOOK-X
The RAPTGO HOOK-X is the world's first hybrid in-ear monitor with a configuration that combines planar and piezoelectric (PZT) drivers. These two drivers are the most sensational driver technologies in the audio industry, yet they have never before been used together in an IEM format. The HOOK-X takes on the challenge of this groundbreaking concept and, after careful engineering and testing, has resulted in an IEM that perfectly expresses the powerful characteristics of these drivers in perfect sound quality.
The HOOK-X uses an open design for both tuning and acoustic characteristics. This allows for maximum airflow to highlight the characteristics of the planar-driven drivers. Furthermore, the sound field is expanded compared to a typical IEM, mimicking the openness and realistic sound reproduction of open-type headphones. This reduces strain on the ears and reduces listening fatigue.
Features
RAPTGO Customized double-sided 9-layer PTZ driver
Full open acoustic design, better hearing and wearing comfort
Exquisite workmanship for ultimate craftsmanship
Plug wiring can be replaced to reduce interference
Articles about RAPTGO HOOK-X
MUSE HiFi Power
MUSE HiFi Power is the latest planar-driven earphone released by the up-and-coming audio brand.
MUSE has recalibrated the structure of regular planar-driven drivers, creating a different acoustic structure for the nanoscale diaphragm and perfectly combining asymmetric magnetic circuits and customized acoustic brackets to form low distortion, accurate imaging, and transparent sound. This allows for a true hi-fi experience.
The planar magnetic driver developed specifically for Power solves the common problem of planar magnetic drivers being hard to drive by allowing the airflow in the developed chamber to make the driver run smoother and more stable during the physical spatial correction of the unit. 14.5 mm planar magnetic drivers, while maximizing their performance and eliminating the need for large driving forces.
MUSE created a dedicated chamber for the driver, calculated the optimal placement from the driver to the nozzle, and pressure-relieved the front cavity at different locations to eliminate pressure on the eardrums and further improve the performance of the diaphragm. This allows Power to reproduce a balanced and beautiful sound.
Features
Newly developed flat diaphragm 14.5mm planar magnetic driver
MUSE HiFi's proprietary correction technology
Sound tuning with balance and transparency
Exquisite shell design
Co-developed with Haygear
High-purity monocrystalline copper + silver-plated hybrid cable
High-quality accessories
Articles about MUSE HiFi Power
7Hz Timeless
7Hz Timeless features a 14.2mm planar magnetic driver and ultra-thin diaphragm with a powerful double-sided N52 neodymium magnetic architecture. It also features CNC-machined aluminum ear shells for an aesthetically pleasing appearance.
With its innovative circular-dome exterior and planar magnet driver, Timeless delivers rich, refined tones, including powerful bass, natural vocals, and subtle treble response.
With holographic imaging and excellent dynamics, including instrumental layering, detail, and tonal expression, the 7Hz Timeless delivers outstanding performance in the sub-$300 price range, sharing the best IEMs in its segment with the See Audio Bravery The 7Hz Timeless is priced at $219.99. Price will be $219.99.
Features
Large-diameter 14.2mm planar driver
Ultra-thin diaphragm
Powerful double-sided neodymium magnet
Uniquely developed high-grade cable
Standard MMCX connector
Both 3.5mm/4.4mm connectors available
Articles about 7Hz Timeless
Tin HiFi P2
After the great success of the Tin HiFi P1 IEM with planar driver, Tin has introduced the Tin HiFi P2. Like the P1, this IEM is the brand's newest flagship product, featuring the planar magnetic drivers that have gained a reputation for providing users with the best sound quality experience.
This IEM features a premium aluminum build with a high-purity 2.5mm fully balanced connection end cable in the package. 2.5mm-4.4mm balanced adapter and 2.5mm-3.5mm adapter are included in the premium package, with many earpieces and Premium carry case included.
Features
Beautifully crafted aluminum alloy earphones
2-pin QDC connector
High purity 2.5mm plug fully balanced connection compatible cable
2.5mm-4.4mm adapter
2.5mm-3.5mm adapter
Premium carry case
Articles about Tin HiFi P2
HarmonicDyne P.D1
HarmonicDyne is a manufacturer that has made a name for itself in the HiFi audio industry with its high-quality headphones Zeus and Helios. These two headphones were released last year and received a lot of positive feedback after their launch.
Harmonicdyne P.D.1 is the first IEM product from a manufacturer with a reputation for high performance. Harmonicdyne P.D.1 is a hybrid of planar and dynamic drivers that delivers powerful bass frequencies. shaped sound signature with emphasis on low and high frequencies.
Features
Natural and smooth sound tuning
10mm high magnetic force and high sensitivity planar driver
10mm high efficiency dynamic driver (CNTs for edge+DLC for dome)
Elaborate construction with aviation-grade aluminum alloy ear shells
Manufactured with high-precision 5-axis CNC machining process
Two high-purity cables (copper-silver hybrid balanced 4.4mm cable and silver-plated OFC copper 3.5mm cable) included
Uses standard MMCX connectors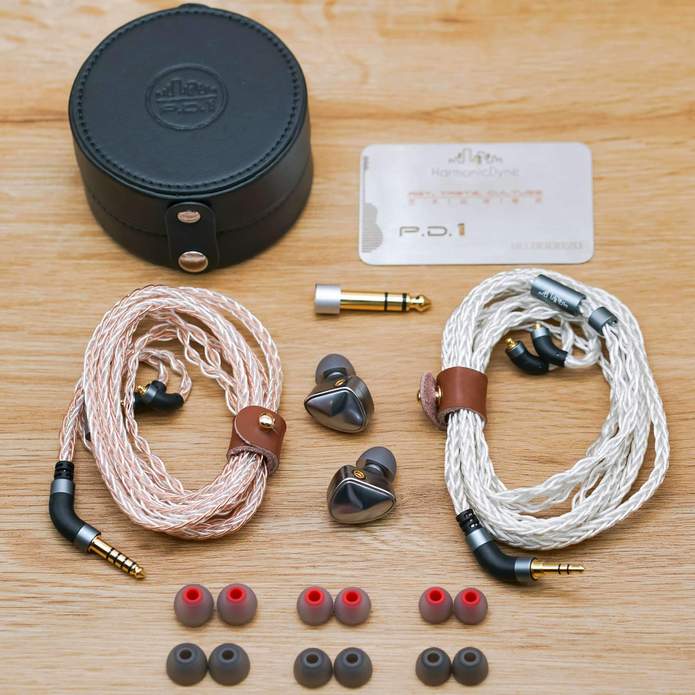 Articles about Harmonicdyne P.D.1
Dethonray Tender 1
Everyone knows the name Dethonray, they left their name and mark on the industry with their first product, the Dethonray DTR1, a high-resolution digital audio player with absolutely outstanding performance. after the success of the DTR1, they After the success of the DTR1, they released the Honey H1, a portable DAC/AMP, which was also a huge success.
Dethonray has released the Dethonray Tender 1, the brand's first high-resolution in-ear monitor with planar drivers.Dethonray has designed the Tender 1, as with all its products, to perfection for a natural and pure expression of sound. It is a crisp, high-resolution, and clear driver. It features a 10mm planar magnetic driver that produces crisp, high-resolution sound.
The Dethonray Tender 1 brings music to life with smooth, musical and warm sound tuning. It features bass with an approved full-bodied response, lush vocals, and smooth, fatigue-free highs. Users are greeted with unparalleled sound output that complements a wide variety of musical genres well.
Features
10mm planar magnetic driver
Sophisticated aesthetics
Ergonomic and comfortable fit
High-density alloy cavity
CMF processing technology
Soft and attractive sound tuning
Available in two color variations: Jazz Black and Sky Blue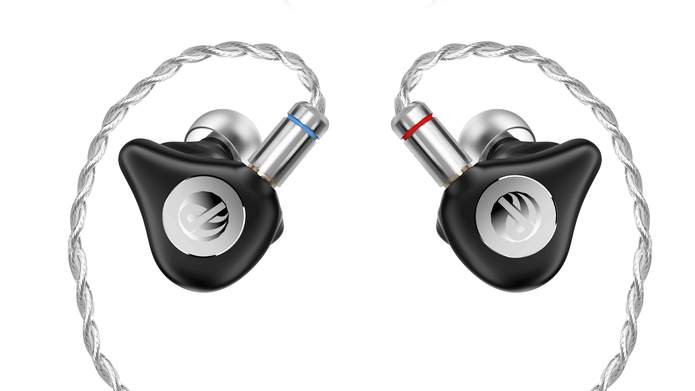 Articles about Dethonray Tender 1
KZ PR1
KZ Acoustics, a popular brand in the low-cost earphone segment, has finally joined the ranks with the introduction of the brand's first planar-drive IEM, the KZ PR1. the PR1 comes in two different tuned variations: the fun and engaging sounding PR1 Balanced and the reference-grade sounding PR1 HiFi Edition, which offers reference-grade sound.
KZ has designed a new 13.2mm planar magnetic driver for the PR1 IEM. The driver has a double-cavity structure and uses an ultra-thin silver-plated diaphragm coil. The driver is equipped with an N55-based double-sided magnetic circuit that generates a powerful magnetic flux. This driver is guaranteed to deliver fast transients, rich sound, and ultra-low distortion.PR1 Balanced and PR1 HiFi use the same planar driver, ensuring a great listening experience for the user.
Features
Newly designed 2-cavity planar magnetic driver
13.2mm-diameter planar driver
Aluminum alloy face cover
Ergonomic and comfortable fit
Choice of two tuning versions
Exquisite and rich sound performance
Professional tuning adjustment
High-quality OFC silver-plated cable
Smart in-line microphone
Articles about KZ PR1
Final Words
Planar-driven earphones offer a smooth, low-distortion sound that is unique and comfortable to listen to. Together with electrostatic earphones, it is becoming one of the current market drivers. This is especially refreshing for those who are accustomed to the artificial, dry sound of balanced armatures.
If you are looking for a natural, well-connected sound in the midrange, you may be happier with the planar drive type.